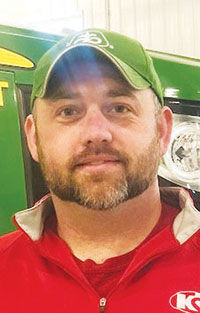 April 16, 2018
What a roller coaster. Is it warm today or do I need a coat? Some fieldwork has begun and even a few acres have been planted farther south. This week, fertilizer trucks and buggies were rolling, along with a few sprayers finishing wheat before the wind. We had 40 mph gusts at times, which is rare for our area. The ground dried a lot on top but is still spongy underneath. Another 1.5 inches of rain over the weekend, which will prolong fieldwork another few days. Once again, temperatures are dropping down to freezing. I hope the wheat can handle it one more time.
April 9, 2018
Spring is dragging its feet. "Mud season" is wanting to linger here in Jefferson County. We managed to get one good week to apply the first application of nitrogen on the wheat crop in early March. It has managed to grow enough in the cold weather to be fully jointed, which is behind a good two weeks from normal. No Harmony on most of the acres yet, but operators and applicators are setting on go. Overall the wheat actually looks pretty good. Major rains during the week before Easter gave us 3 to 5 inches of water, depending on location. Subsoil moisture should be good to excellent. The low temp over the weekend of April 8 was 23 degrees around our farm. Forecast shows warmer air moving up in just a few more days. Planting season is very close. 
---
Leon Adams is a sixth-generation corn, soybean and wheat grower in Jefferson County, outside of Bonnie. As an associate sales rep for Pioneer seed, he works with local growers on seed selection and placement in the varying soil and weather conditions of southern Illinois. He and his wife, Andrea, have three daughters.