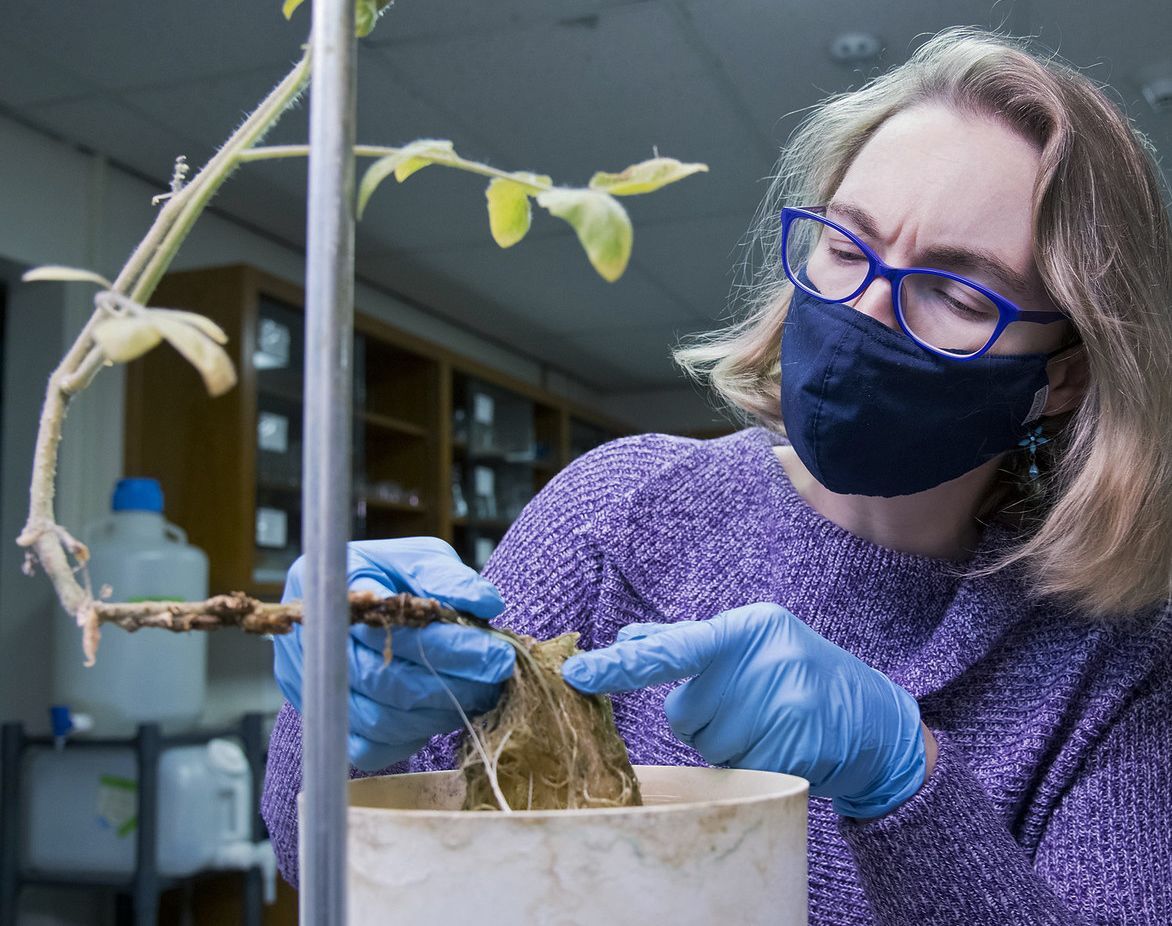 Developing faster more-robust defenses against soybean diseases and nematodes is the goal for a multi-state research project. The project is led by the University of Arkansas.
Fiona Goggin, a professor of entomology with the University of Arkansas-Agricultural Experiment Station, is leading the research. She is focused on plant elicitor peptides related to the defense response of soybean plants to root-knot nematodes.  The peptides are native signaling molecules that initiate a defense response in plants damaged by nematodes or disease. The signaling process begins with propeptides — amino-acid chains that are larger than peptides but aren't biologically active.
"They serve as disease or pest alarms — much like burglar alarms installed in windows or doors," she said. "When a disease damages the plant, they're broken. Part of the broken propeptide is a plant elicitor peptide that then becomes biologically active. It elicits a defense response in the plant."
Her goal is to increase the level of propeptides in the plants to boost the defense response.
"When propeptide levels increase, plants become more resistant to diseases," she said.
Goggin is working with co-investigators John Rupe and Alejandro Rojas, both plant pathologists with the University of Arkansas-Agricultural Experiment Station. The team is researching potential methods to achieve greater levels of peptides.
"We could use genetic engineering to increase the levels of propeptides in soybeans and potentially other crop plants," Goggin said.
But genetically modified organisms are restricted in many countries so the researchers are studying two potential methods of coating seeds with a peptide layer. Seed coating may offer improved nematode and disease resistance during the early stages of plant growth, she said.
One method is to artificially synthesize peptides for seed coatings. Goggin is studying ways to reduce the relatively high cost of synthesizing propeptides.
Another method is to engineer beneficial rhizobacteria to synthesize the peptides and apply the bacteria as a biocontrol.
"The rhizobacteria offer a less costly way to produce than synthetic propeptides," she said. "They also can offer resistance to other soil-borne diseases that affect crop seeds and seedlings."
Cynthia Gleason at Washington State University and Lei Zhang at Purdue University are working on a bacterial delivery system to use rhizobacteria as a biological-control agent. The research team will test each approach's effects on infection by nematodes and pathogens. They also will assess the effects of the treatments on soil health and on plant growth, health and yield.
Visit aaes.uark.edu/plantdefenses for more information.