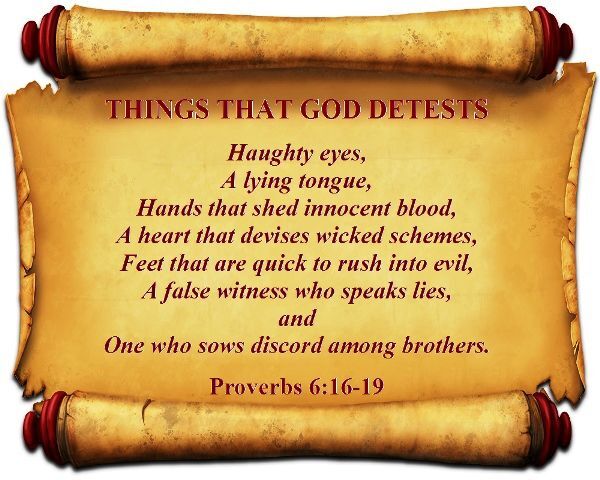 Brian Simmons, in his introduction to the book of Proverbs, calls it a "divine seminary of wisdom and revelation to learn the ways of God." He goes on to state the word "proverb" has two meanings – one is as a parable or saying that expresses wisdom. It can also mean to rule, take dominion or reign with power.
The book is written to the sons and daughters of the living God, as noted often throughout its verses. It's a father's words to encourage, warn and educate his children – to help them live a life worthy of being called an heir to the King.
King Solomon, son of King David, and considered the wisest man ever to have lived, wrote Proverbs 6:16-20.
"Here are six things God hates, and one more that he loathes with a passion – eyes that are arrogant, a tongue that lies, hands that murder the innocent, a heart that hatches evil plots, feet that race down a wicked track, a mouth that lies under oath (and) a troublemaker in the family." – Message
Arrogant eyes lay claim to superior rights, act unpleasantly proud and behave as if one is more important than others. They are full of self-worth or self-importance and pride. It's the opposite of the life of humility Jesus teaches us to live.
A lying tongue can never be trusted to tell the truth. Recall the tale of the boy who cried wolf – a young man lied twice when asking for help to chase a wolf away from the sheep. The wolf wasn't there; when the villagers came running the boy laughed at them. So when he really needed their help they didn't come.
The murder of innocents has been recorded through the ages. It happened in biblical times and happens in modern times. One appalling example would be the Holocaust; another was the Inquisition. Many others happened but don't have names attached to them. Often murder of the innocents involves genocide of people groups; often people are murdered for their faith. Some places innocent babies are murdered because of their gender or "abnormal" physical traits.
Hearts that hatch evil plots have been rampant throughout history. Herod's plot to remove any threat to his throne ended in the murder of all baby boys up to the age of 2 in Israel. Hitler's plot to promote the superiority of the Aryan race left devastation in many nations. There are contemporary leaders who hatch evil plots.
"Feet that race down a wicked track" is translated in the Passion as "gloating about doing what's plainly wrong." We've seen how perpetrators have bragged and even filmed themselves committing illegal acts, and then post those acts to social media.
Lying under oath is a prescription for fines and jail time. Yet some individuals think nothing of lying if it will keep them out of trouble or promote an agenda. Even some previously respected individuals think nothing of telling lies if it serves their purpose to do so.
It's interesting to note that of that list, the one thing the Lord abhors most is those who make trouble in a family, group of friends, a church, a community, a nation or the world. That can mean a plethora of things but the end result is disharmony, infighting and mistrust. All those are the polar opposite of what Christ tries to teach us the Kingdom of Heaven is like.
If those characteristics are taught and modeled to our children as things to avoid, we can be assured when they are older they will revert to what they learned as a child. That means they will be trustworthy leaders who will follow God's ways. Sometimes they will have learned the difficult way what to avoid, but the lessons will have long-term benefits.
Married for 44 years, Darlene Stern and her husband have raised a family of nine in rural southeast Wisconsin. She has been a stay-at-home mom, goat herdsperson, dyslexia tutor, midwifery advocate, newsletter creator, manuscript editor, published author, model for professional artists and passionate pursuer of Jesus Christ. Her degree in geography is from the University of Wisconsin-Platteville.