I enjoyed an opportunity recently to help serve lunch to the children who attend our church school. It was a chance to celebrate the food-harvest season. They were especially charmed with our little serving bowls.
Quick Chili Soup
1 pound ground beef
1 medium onion
2 t chili powder
2 t brown sugar
½ t ground red pepper
¼ t cumin
2 (15-ounce) cans tomato juice
2 cups beef broth
2 (15-ounce) cans red kidney beans
½ t salt
Fry ground beef and onion in a Dutch oven until fully cooked; drain.
Return to pan.
Add all remaining ingredients except salt.
Cook for 45 minutes over medium-low heat.
Stir in salt just before serving.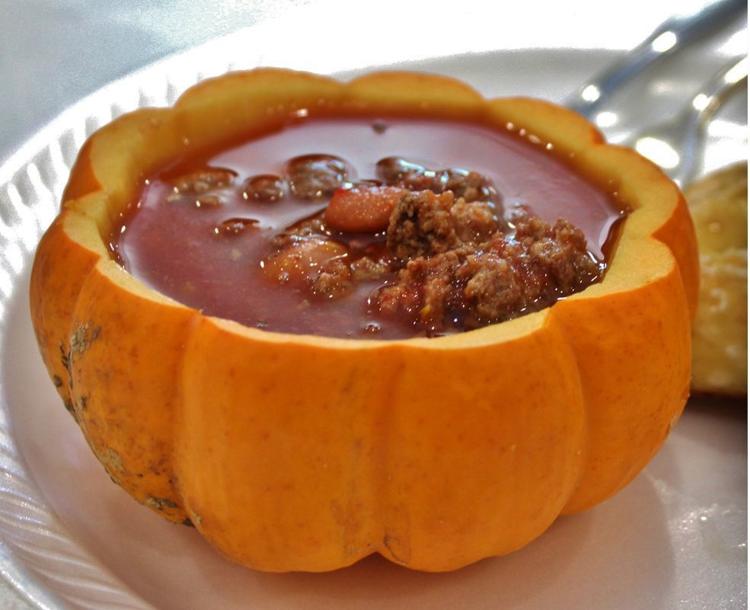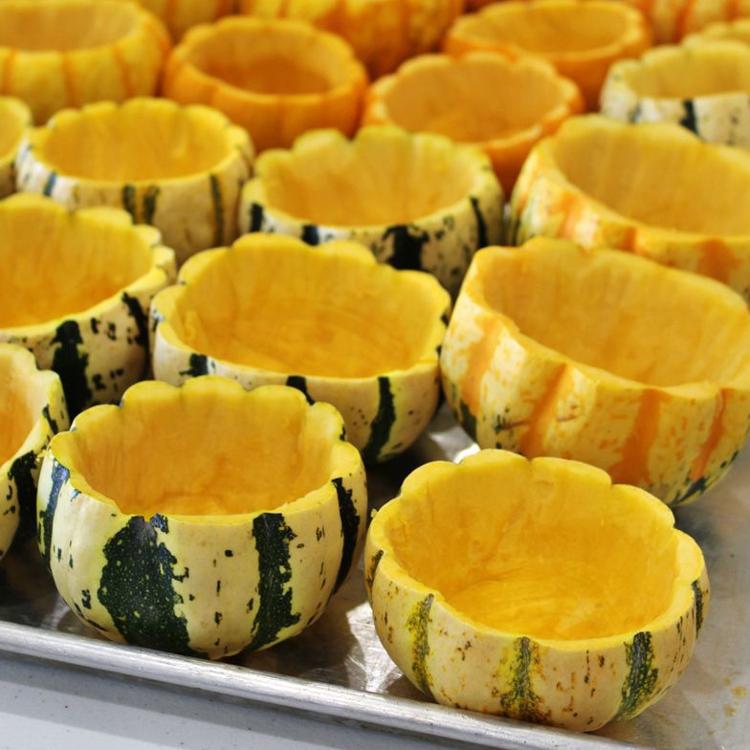 Soft Pretzels
4½ cups to 5 cups flour
¼ cup sugar
1 T instant yeast
1¼ t salt
1 cup milk
½ cup water
2 t butter
2 eggs
In mixer bowl combine with dough hook 2 cups flour, sugar, yeast, garlic and salt.
Heat milk for 40 seconds in microwave.
Add milk, water and butter to flour mixture.
Beat for 3 minutes at medium speed.
Beat eggs.
Add eggs and enough remaining flour to form a soft dough.
Mix 3 more minutes.
Place dough in a greased bowl.
Set in warm place and allow to rise for 15 minutes.
Punch dough down and divide into 24 portions.
Form each portion into a short rope; shape into pretzels.
Dissolve 2 T baking soda in 2 cups hot water.
Dip each pretzel into the water; place on greased cookie sheet.
Sprinkle with pretzel salt; allow 7-10 minutes for them to rise.
Bake for 10 to 15 minutes at 375 degrees.
Note: For the best flavor and browning place 2 T baking soda in glass dish.
Bake for 45 minutes at 250 degrees.
Proceed to use it as called for in the above recipe.
Applesauce Streusel Cake
3 cups flour
2 cups sugar
½ t nutmeg
½ t cinnamon
1 t salt
1 cup butter
2 t baking soda
1 cup applesauce
1 cup buttermilk
1 t vanilla
Mix together flour, sugar, spices and salt.
Cut in butter until it forms coarse crumbs; set aside 1 cup for topping.
To remaining crumbs add applesauce, milk, vanilla and soda; mix lightly.
Pour into a greased 9-inch by 13-inch pan; sprinkle with reserved crumbs.
Bake for 45 minutes at 350 degrees.
Note: Buttermilk can be substituted with 1 cup regular milk and 2 t lemon juice.