In our community, as with many others, the COVID-19 pandemic has busy mothers unexpectedly needing to homeschool. Meanwhile my schoolteacher friend is suddenly without much work – reduced to handing out and grading school assignments. When I mentioned to her that I wanted to make casseroles for several of those moms she eagerly offered to help. We chopped, stirred, poured, kneaded and baked. By afternoon we had produced casseroles, loaves of bread, side dishes and desserts. We happily delivered the food to the homeschooling mothers. And now I'm eager to share some of the recipes with our friends, the Agri-View readers.
Layered Breakfast Pancake Casserole
   Serves 7-8
Layer 1: Pancake Batter
1 egg
1½ cups buttermilk
2 T butter, melted
Mix together in a small mixing bowl.
Add:
¾ t baking soda
1 t baking soda
1 T sugar
Flour – slightly more than 1 cup
Stir together; pour into greased 9-inch by 13-inch baking pan.
Bake 12-15 minutes at 400 degrees until golden brown.
Layer 2: Scrambled Eggs
1 dozen eggs
1/3 cup milk
1 t salt
Mix and pour into hot skillet; scramble over medium heat.
Scoop up eggs and distribute over baked pancake layer.
Layer 3: Sausage Gravy
1 pound bulk pork sausage – breakfast or sage-flavored
6 T flour
4 cups milk
salt to taste
Brown sausage in skillet or saucepan.
Turn heat to medium-low; stir flour into sausage.
Pour in milk; stir well to combine.
Continue to stir until gravy thickens and bubbles gently.
Season with salt as needed.
Remove from heat; ladle over eggs.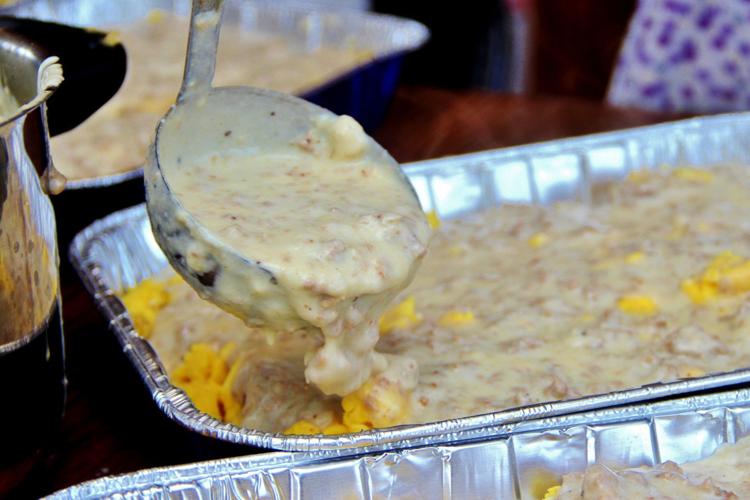 The casserole can be refrigerated for later use or served immediately. To reheat, bake 20-25 minutes at 350 degrees in preheated oven.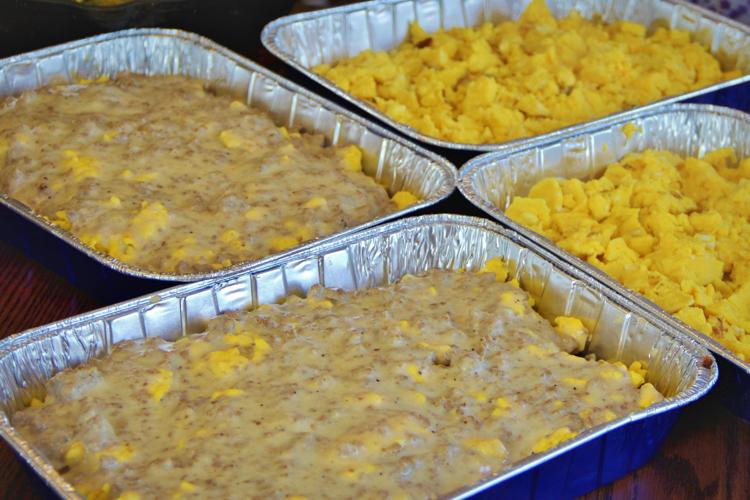 Lasagna Roll-Ups
   Makes about 6 servings
Sauce:
1 pound ground beef
1½ quarts pasta sauce
12 lasagna noodles
Filling:
12 ounces Ricotta cheese or small-curd cottage cheese
1 cup cheese, grated
1 egg
¼ t salt
1/8 t black pepper
1 T minced parsley
Topping:
Fry ground beef until it's browned.
Stir together with pasta sauce.
Cook lasagna noodles in large stockpot of boiling water until pliable but not quite fully cooked – al dente.
Cool in cold water; set aside to drain excess water.
Mix ricotta cheese, 1 cup grated cheese, egg, salt, pepper and parsley.
To assemble:
Pour about 1½ cups of sauce-meat mixture into baking pan.
Lay lasagna noodles out flat; spread with 2-3 T filling.
Roll noodle up like a round bale.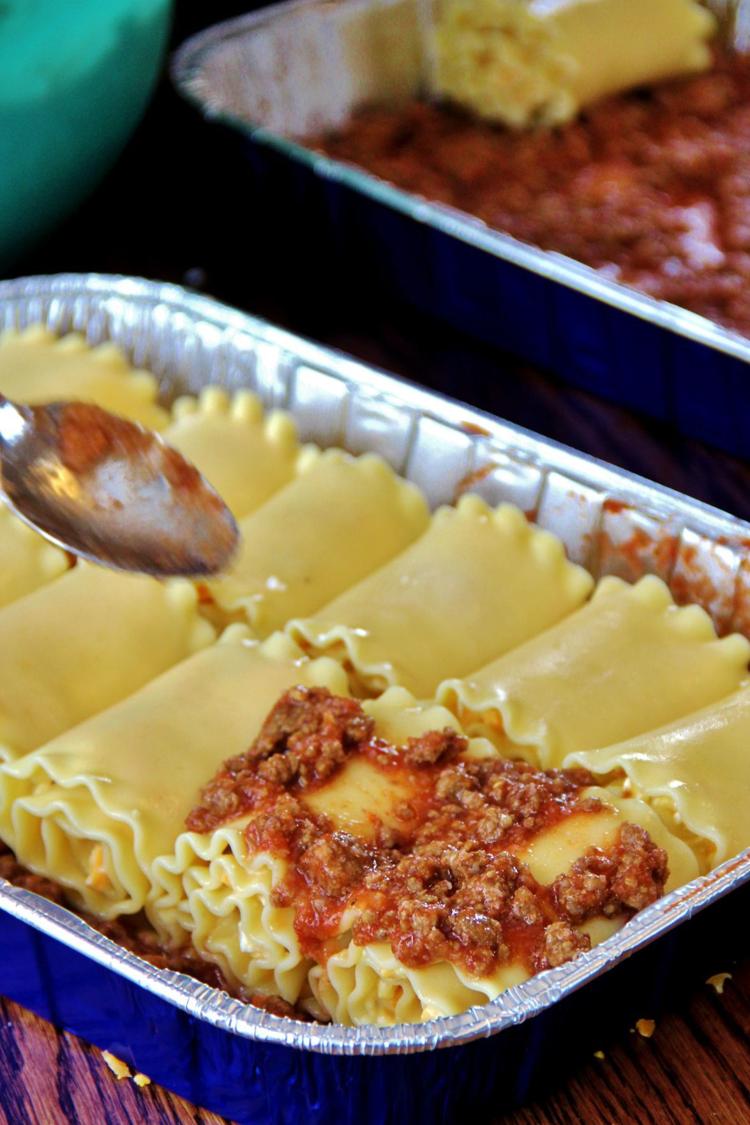 Place in baking dish; repeat for each noodle.
Spoon remaining meat and sauce over the noodles.
Bake 25 minutes at 375 degrees until hot and bubbly.