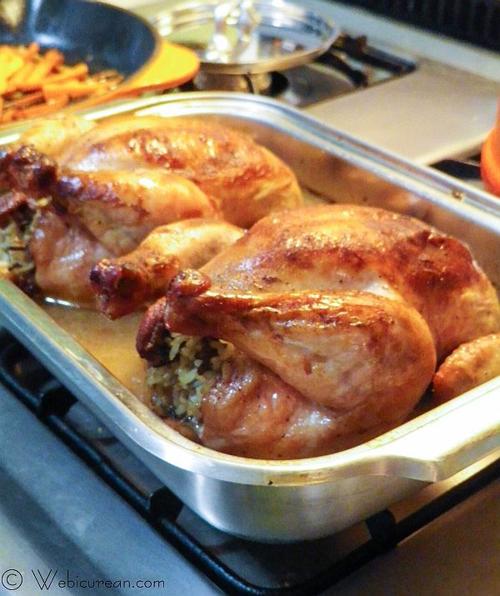 Each week, we're pulling a classic recipe out of the State Journal archives and sharing it here as it was originally printed years ago. Remember, ingredients and cooking techniques change over time so there might need to be some adjustments when trying out a classic recipe.
This week's recipe won second place in the State Journal's Entrees for Two category in 1979; it was submitted by Crystal Neuendorf of Windsor.
Cornish game hens with cheesy rice stuffing
1/4 cup butter
1/2 cup long-grain rice
2 tablespoons diced celery
2 tablespoons finely chopped onion
1 cup chicken broth or bouillon
1 2-ounce can mushroom pieces
1 1/2 cups shredded cheddar cheese
2 1-pound cornish game hens, thawed
salt
pepper
melted butter
In a medium saucepan melt butter; add rice, celery and onion. Cook 5-10 minutes, stirring frequently. Add chicken broth, bring to a boil. Cover and simmer over low heat about 20 minutes, or until liquid is absorbed and rice is fluffy. Stir in mushrooms; cool. Toss cheese lightly with cooled rice mixture. Wash birds, drain and pat dry.
Season birds inside with salt and pepper. Stuff birds lightly with rice mixture; place on rack, breast side up in a shallow baking pan. Baste with melted butter, cover loosely with foil. Roast at 400 F for 30 minutes. Remove foil, continue roasting, uncovered, for 45 minutes or until done. Baste occasionally with butter during last 45 minutes of roasting. Any additional stuffing may be placed in small baking dish, covered and baked during last 45 minutes of roasting time. Remove cover for last 15 minutes. Yield: 2 servings.