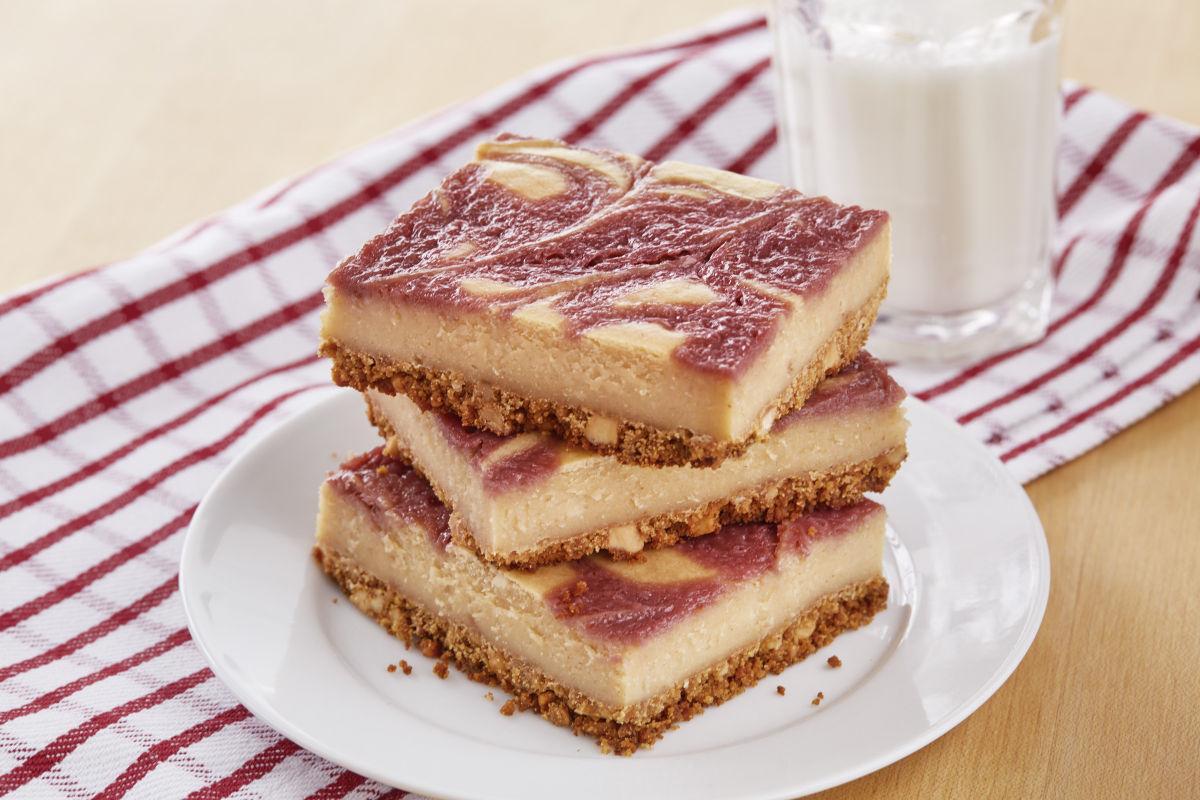 Servings: Makes 2 dozen bars
Ingredients:
1 1/2 cups graham cracker crumbs
1/2 cup roasted peanuts, finely chopped
1/2 cup (4 ounces) butter, melted
2 8-ounce packages Wisconsin cream cheese, softened
1 14-ounce can sweetened condensed milk
2 eggs
2 teaspoons vanilla extract
1/2 cup smooth peanut butter
1/3 cup raspberry, grape or strawberry jam
Cooking Directions:
Preheat oven to 350oF.
In medium bowl, combine graham cracker crumbs, peanuts and butter; press into bottom of 13 x 9 x 2-inch baking pan.
In mixing bowl, beat cream cheese until fluffy. Slowly add sweetened condensed milk, mixing until smooth. Add eggs and vanilla; mix well. Remove 1/3 cup batter to small bowl; set aside.
Add peanut butter to mixing bowl; mix well. Whisk jam into reserved 1/3 cup batter; mix well. (Mixture will appear speckled.)
Pour peanut butter batter evenly over prepared crust; spreading carefully with spatula to create even layer. Drop rounded teaspoonsful of jam mixture over peanut butter batter. Use knife to gently swirl jam mixture to marble peanut butter batter. Bake 35 to 40 minutes, or until set. Cool bars slightly before refrigerating to cool completely. Cut bars into 2-inch squares and store in refrigerator.