REDWOOD FALLS, Minn. – Farmers are making their misery known – both to the nation and to national leaders. U.S. Agriculture Secretary Sonny Perdue opened the doors of a metal barn this past week to thousands of farmers at Minnesota Farmfest. He as well as national media soon heard the discontent concerning President Donald Trump's escalating trade war.
Gary Wertish farms near Renville, Minnesota; he's president of the Minnesota Farmers Union. Drawing attention to what he called "the elephant in the room," he criticized Trump for his "go it alone approach" regarding China. He talked about China's recent announcement that it was halting purchases of U.S. farm products in response to Trump's threat of more tariffs on Chinese imports.
"This is causing long-term devastating damage to not only farmers, but rural communities," Wertish said.
He said farmers greatly appreciate the administration's aid program but said the bailout payments will cause farmers long-term political damage.
"The taxpayer is not going to stand for this," he said.
Others joined in the discontent. Brian Thalmann is president of the Minnesota Corn Growers Association. He disputed Trump statements that farmers are doing "great" again.
"We are not starting to do great again," he said. "We are starting to go down very quickly."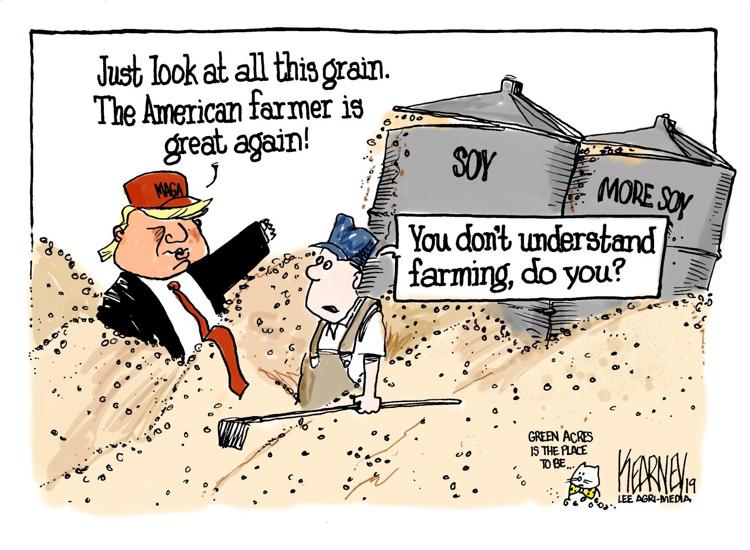 Joel Schreurs of the American Soybean Association agreed with what other agricultural leaders have already said – that soybean exports to China may never rebound.
"How are you going to keep the farmers farming?" Schreurs asked. "The exports just aren't going to be there. We've worked a long time to develop these markets, and we're going to lose this market share. It's just not going to come back in a day or two. So how do we make this work?"
Perdue said the U.S. government is working to develop other markets – in India, Thailand, Indonesia and Malaysia. He said the soybean industry has probably become too dependent on China.
"If your solution is to forget about what China has done, and sell and trade with them anyway with cheating, then I just fundamentally disagree with you," he said.
He has said repeatedly that no additional trade assistance is currently planned for farmers beyond what has already been announced. He again said that at Farmfest, even after Trump had hinted this past week that he may provide more money for farmers.
"As they have learned in the last two years, our great American farmers know that China will not be able to hurt them in that their president has stood with them and done what no other president would do," Trump said in a tweet. "And I'll do it again next year if necessary!"
Perdue tried to end the Farmfest session on a conciliatory note.
"Obviously there's a lot of stress out there over not only farm prices and trade, but also labor and adding weather on that," he said. "But it's a great constituency. Farmers are resilient and we want to do everything we can to help them not only survive but to thrive."
U.S. farm income decreased 16 percent this past year to $63 billion, about half the level it was as recently as 2013.
Bloomberg News and the Associated Press contributed to this story.