2020 From the Fields reports
Wayne Breitenfeldt chops corn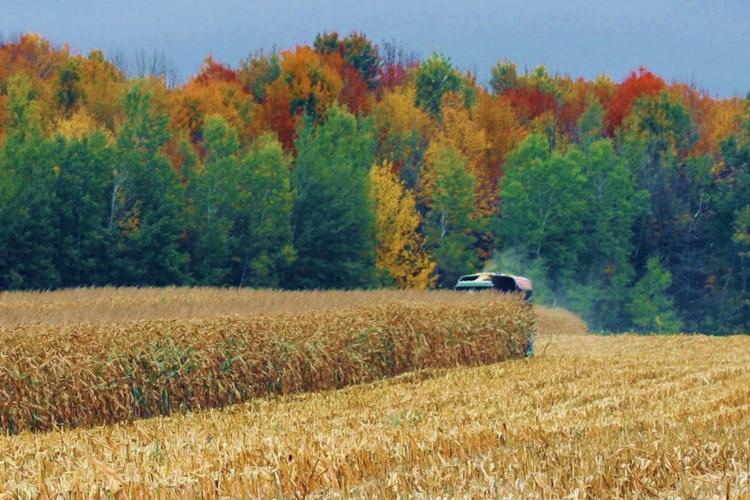 From the Fields: Jason Maloney
Short days. Cool temperatures. Increased humidity. The autumnal equinox.
Fall has arrived on the south shore of Lake Superior. Fall colors went from scarce to a beautiful peak in vivacious vividness within a few brief days. Already the leaves are falling like a colorful rain shower. Oct. 1 that four-letter word that begins with "s" was already in the weather forecast – snow!
Though it has been a short growing season, for many it was bountiful. A little fall haying was still being accomplished near Lake Superior. Corn chopping was finishing and high-moisture harvest had begun. Beans continued ripening with harvesting started. Fall tilling and planting were underway. Early frost shortened the season for some late crops for market growers who supply community-sponsored-agriculture subscriptions, farm markets and farm stores. Fortunately many growers use high-tunnel greenhouses to extend the season.
Farm-market season is almost finished. The October Apple Fest festival in Bayfield, Wisconsin, was canceled because the pandemic infection rate in northern Wisconsin continued to increase. Orchards and farm stores remained open. A cornucopia of produce and local products will remain available during October into early winter. Fruit Loop and Chequamegon Bay-area orchards and farms have a wide variety of produce including herbs, fresh vegetables, meat and chaga. Apple varieties include Connell Red, Cortland, Fireside, Honeycrisp, McIntosh, Akane, Hauser's Merlot, Sweet Sixteen, Wolf River, Honeygold, Spartan and Fugi. Bartlett, Sunrose and BOSC pears are available. Honey, syrup, preserves and salsa competed with pie, doughnuts, winebread and caramel apples for places in shopping baskets. Local cider, beer, wine and milk quenched thirst. Visit http://www.feastbythebay.org/listing-of-local-farms.html and https://bayfield.org/what-to-do/orchards-berry-farms/orchard-reports/ for more information.
Foragers found black trumpets on the forest floor. Some spied beautiful Hen of the Woods mushrooms under old oaks.
Fowl in formation were overhead beating a path south. Amphibians became scarce as they carefully chose snug homes for the long winter.
A few souls were still taking a morning swim in Lake Superior. Some mornings the lake water and the air were about the same temperature, about 50 degrees. Those mortals soaking in cool water and drying in cool air are either hardy or foolhardy. The answer depends upon one's perspective. Some prefer a warm bed; others prefer the crisp adventure nature provides free of charge early in the morning.
From the Fields: Dave Justman
Since my last article progress in the fields has been slow. The previous week some beans came off; we are probably 3 percent to 4 percent complete on the bean harvest. From what I've heard of yields so far they are average to good. I'm holding out hope that as we move into the longer-maturity beans the yields will increase. This past week was mostly cloudy with some spotty sprinkles, so a lot of folks are sitting waiting for the beans to dry back down. A few guys have switched to corn. The moistures have been fairly wet, at 25 percent to 30 percent, which is quite common. So there's been a lot of hunting and searching for corn to shell. With the limited sample size of corn, the yields have been all over the board. It appears our dry spell in August really hurt the corn crop on the shallower soil.
On the early-harvested bean fields I have seen a lot of wheat being put in. Wheat isn't a big crop in southwest Wisconsin, but I was driving around Thursday and saw three drills going. So I think it will be a big wheat year down here.
Keep safe and remember to enjoy the fruits of your labor. Harvest is the final chapter of this great story we will call 2020!
From the Fields: Greg Galbraith
Truth be told there isn't much difference between my last crop report and this one in terms of where north-central Wisconsin is regarding fall crops. Farmers are progressing through corn-silage harvest. Soybean combining is in full swing between gloomy bouts of lingering rain. Fourth-crop hay is almost complete and corn for ripe-grain harvest will begin soon.
As luck would have it I caught Wayne Breitenfeldt chopping corn for silage along County Road Z east of Wausau, Wisconsin, as I headed to my woodlot to cover tomato plants. Breitenfeldt is a third-generation dairy farmer who farms a total of 600 acres of cropland in Marathon County, Wisconsin. I watched Breitenfeldt's crops progress throughout the season. Now that the 20-acre field was opened by his John Deere self-propelled chopper the razor-sharp-straight rows of corn remaining were a testament to his years of experience. My plan was to photograph him at the far end of the field with a backdrop of fall foliage. The only problem was the corn was so tall that the top of Breitenfeldt's chopper was barely visible. It took 20 minutes for Breitenfeldt to make the trip down the row and back. I used a lens hood to protect my camera from the light rain that fell.
I asked him about the Calmer corn head on his chopper.
"I plant my corn in 15-inch rows because it canopies early and suppresses weeds," he said. "I consistently grow 200 bushels of corn per acre. The Calmer corn head is designed for no-till farming and works excellent in 15-inch rows. It has chopper rollers to help manage stalks."
Earlier in the week I received a text message from a long-time farming friend who told me he was custom-combining soybeans near my woodlot. I hopped in my truck and found Roger Thompson. His first custom-harvesting experience was some 40 years prior when he combined oats while still in high school. This year Thompson will custom-harvest 1,000 acres of beans and 1,200 acres of corn. He uses a 30-foot header when taking in a crop of soybeans.
When I arrived to photograph Thompson and his Massey Ferguson combine in action something unusual happened. I noticed a pile of burning bean stubble in one of the harvested rows. Across the field small pockets of chaff were on fire. Thompson also noticed and investigated. He found his electric clutch was hot.
"The combine had plugged, and bean dust began to smolder on the hot clutch," he said. "The burning chaff was being flung about inside the machine and (it was) occasionally ejecting the burning material."
Thompson and the land owner managed to extinguish the mini-fires; he was soon back to work finishing the harvest. The incidence was a reminder of why combines should always have a fire extinguisher on hand, and operators be alert despite the long hours they put in.
Have a safe remaining harvest as we progress through October.
From the Fields: Rich and Ellie Kluetzman
The day after we submitted our last crop report, Sept. 18, we saw the first soybean field in our area being harvested. It wasn't at all unexpected with the beautiful fall weather we've been having.
Al, our local grain-elevator operator, reported to us soybeans were coming in at 11.5 percent moisture. The test weights have been about 57 pounds per bushel. So far it's a healthy crop with no abnormalities or diseases noted. He said most farmers have now emptied their storage bins in anticipation of the new crop. He also said no new-crop corn had been brought in yet.
The end of the growing season was indicated Oct. 2 by our outdoor thermometer; it read 32 degrees. Other indications were a thin layer of ice across the birdbath and white frost on our lawn. The rainy period this past week gave us an opportunity to change sprockets and chains on our grain drill from beans to wheat. It takes only 15 minutes but it's a dirty 15 minutes. Hopefully we didn't jinx ourselves by doing it earlier than usual. This past year we did that and it never seemed to stop raining afterward.
We have filled our time with tree trimming along our lane. That fence line is shared with the Canadian Pacific Railroad. The wildlife loves the combination of sumac, gooseberries, raspberries, and dogwood and chokecherry trees. It's the chokecherry trees that we take issue with. They are grand trees but our combine must go through so the chainsaw was put to good use. We expect to begin our bean harvest this week; good weather for it is forecast.
Let's be safe this harvest season. For young people joining the team, demonstrate good safety practices. Instill in them a vigilance to be cautious, especially when using our roads.
From the Fields: Tim Boerner
The 2020 growing season started slowly. Growing-degree days were running far behind 2019 as well as the five-year average. Growing-degree days slowly began to increase, surpassing 2019 in June and catching the historical average in August.
Crops were planted quickly and efficiently with few weather-related delays. Emergence was a bit delayed but oats, wheat, corn and alfalfa began to develop at a normal pace.
There was little winter kill of alfalfa. Following the devastating alfalfa-stand loss of the previous year that was a good thing. Due to 2019 stand management we did see some heaving of alfalfa plants but that didn't totally destroy stands. But it left certain fields with the decision to terminate or risk crown injury when cutting.
Alfalfa-stand evaluations were the early scouting focus in April along with perennial and winter annual-weed-pressure evaluations. The alfalfa crop developed slowly with the temperatures at less than normal during the month. But first crop did happen on the historical target of Memorial Day, which created four and five cutting systems.
Winter-rye cover-crop-stand evaluation mostly left growers with the decision to terminate rather than nurse along an inferior stand. Of course waiting to make the decision may have meant the following-planted corn crop had issues with pests who would lay their eggs in the grass within the no-till corn.
Things really began to develop quickly in May as crop-planting progress rushed to a finish, and scouting began to focus on crop emergence. There were few issues with seed germination with only a scattered few instances of seed-corn maggot or white grubs eating the seed germ and killing plants before ever coming out of the ground.
Slugs were a bigger issue; they did lots of leaf-rasping on corn and soybeans. Slugs decreased total leaf area but never saw plants totally taken out. Final effects of partial defoliation at the early growth stages slowed plant development but the final effects on yield are unknown.
During the early corn-growth stages, scouting identified pre-emergence-herbicide escapes. Many rescue spray treatments were needed to take weed competition out of the equation.
In one particular instance a cornfield that looked good from the road was where a hayfield received a burndown plus residual herbicide spray application. Scouting at a V4 stage showed that weed control was very good until looking in the planted row. The no-till planter had disturbed the soil and residual herbicide so annual grasses were flourishing within the row. A respray targeting the in-row area took care of the annual-weed escapes.
Following second-crop alfalfa harvesting, scouting found a complex of insect pests – alfalfa weevil, clover worms, plantbugs, aphids and potato leafhoppers. But no economic threshold levels were reached and insecticides were not recommended.
New-seeding alfalfa was a different story. Southerly winds and especially Cristobal, the first tropical storm to pass over Wisconsin, brought a new flush of potato leafhoppers into the state. New-seeding-alfalfa stands were threatened by the invasion, especially on those fields where the cutting schedule gave a window for the insect to be established and repopulate.
About July 4 our area had an armyworm scare. A particular scouting client heard from a neighbor that armyworms were "mowing down" his adjacent corn field. Scouting the armyworm-threatened field showed less than threshold populations even though the end rows showed quite a bit of feeding activity. A following visit three days later revealed the pest hadn't moved any further into the field. Closer examination revealed an excellent degree of parasitism, by three different parasites, on the worms. Another scouting trip seven days later showed no live armyworms left in the field; feeding damage never extended beyond the outside rows.
Small-grain scouting began with population and stand counts along with weed surveys. Subsequent scouting trips switched to growth-stage monitoring. Identifying growth stage was important to judge the optimum timing for fungicide applications.
Soybean scouting was focused about the time the fields were in late-vegetative and prior to flowering. The main pest monitoring was to determine weed escapes from initial treatments and we did identify for control waterhemp infestations. But a number of other weeds warranted respraying – marestail, horsetail, lambsquarters and giant ragweed.
Soybeans insects identified but never found to be at more than economic treatment thresholds were Japanese beetle, soybeans aphid, clover worms and – when it became droughty – two spotted spider mites.
One soybean field had an insect new to my scouting experience. The thistle caterpillar had created pockets of severe soybean injury. I needed to go to the Iowa-Extension website to find an economic threshold number. The thistle caterpillar is seldom found in Wisconsin soybean fields.
Late-season crop scouting has focused on sampling for soybean cyst nematode and weed surveys to help plan for next season's crop-protection programs.
From the Fields: Thomas Maloney
The last week of September was cool and wet with .65 inch of rain received during the week. With cool temperatures and little sun, there was little opportunity to make any harvest progress. Harvest progress in general has been sporadic with only a few fields harvested. Some soybean fields are still a couple of weeks away from harvest; there is still a good amount of yellow leaves on the plants. But I expect that to change because this week's forecast shows temps in the upper-60s and plenty of sunlight.
We haven't harvested any corn or soybeans but have completed our potato and vegetable harvest. Soil sampling has also been done, with fertilizer being applied to our hay ground and harvested wheat fields that will be planted to corn in 2021. We have also been selling some hay to make room in the barn. The rainy weather has allowed time to do shop work and miscellaneous repairs to equipment.
Our first frost was Sept. 19 – a light frost with no noticeable injury to any crops. A second heavier frost came Oct. 2. The forecast called for 33 degrees Oct. 4 – that would have been our first freeze of the year if temperatures dipped to less than 32 degrees.
The crops in the field look good. Corn is standing well, with great ear retention. Now is a good time to start evaluating what fields may need to be harvested first – based on maturity and overall condition of stalks and ears. The later-planted soybeans took full advantage of the later rain showers to fill pods that would have otherwise aborted.
Looking ahead we will be planting wheat as soon as we harvest some soybeans. We prefer to no-till our wheat because it helps hold moisture and saves the labor of working the fields before planting. Once the wheat is planted we will concentrate on finishing soybean harvest. Then it's full steam ahead for corn!
From the Fields: Dave Justman
If I knew all I needed to do was complain about dryness to make it rain, I would have done it a few weeks earlier. While everyone was reading my previous article we were in the middle of a weeklong 5-8-inch rain event. I would say it helped about half the crop; the earlier maturities on lighter soil had already shut down. But the longer-day crops will benefit greatly from the rains. This week should mark the beginning of wide-scale harvest in our area. Most people are thinking they have some soybeans ready to cut as well as a few corn fields. I was in a field of early-maturing soybeans this past week. They were ready to be harvested though the bean size was small due to dry weather in August.
The last crop of hay for the year has been cut and put up. Most folks seem really happy with the tonnage of that last cutting. I keep hearing the new seeding alfalfa has finally started to yield. With the cold dry spring the first two cuttings didn't pile up, but the last two have been superb. Till next time have a safe harvest.
From the Fields: Jason Maloney
The second and third weeks of September were colder than normal near Lake Superior. Inland areas, especially lowland, suffered early frost. The area of the lakeshore near and including the city of Superior remained abnormally dry while the rest of the lakeshore had adequate moisture. Patches of forest were brilliant red and orange, but peak colors had yet to arrive.
Harvesting continued in earnest. With few rainy days much progress was reported. It was possible to see haying, corn chopping and fall tilling happening simultaneously on adjoining fields. A touch of frost and the changing forest added to the sense of urgency. Will beans ripen? Will corn mature? Early fall and late spring the same year?
Community-sponsored agriculture, farm markets and farm stores have had an amazing array of produce for sale; much will be available this fall until freeze. Farms and orchards in and around Chequamegon Bay and the Bayfield Fruit Loop offer blueberries, raspberries and a veritable cornucopia of apples. Available apple varieties include Connell Red, Cortland, Fireside, Akane, Beacon, Honeycrisp, Redfree, Dudley, Hume, Melba, Wealthy, Whitney Crab and McIntosh. Pears are ripe. Garlic, squash, herbs, tomatoes, peppers, cucumbers, carrots, broccoli, meat, eggs and even chaga were to be had at some farms. Locally sourced products include syrup, preserves, fresh and hard cider, wine, beer, milk, soap and fruit mustard as well as pie, crisp, donuts and caramel apples. Visit http://www.feastbythebay.org/listing-of-local-farms.html and https://bayfield.org/what-to-do/orchards-berry-farms/orchard-reports/ for more information.
Foragers and hunters have been out in force, finding abundant mushrooms including hedgehogs, chanterelles and black trumpets. Many were adding to collections of winter tea leaves – finding and drying raspberry, Labrador tea, wintergreen, mullein and other favorites. Hunters were out in the early deer and bird seasons gathering meat for the winter.
Acorns are less abundant in many areas of the lakeshore, making it a hungry season for bears. Bursts of blue along fencerows and roadsides exploded into wild-aster blooms. Bees were busily visiting the early fall blossoms.
Some migratory birds are flying overhead in formation while others make their way through forest and field on the way to warmer winter quarters.
Wild beings are in a frenzy of fall preparation for winter. Some like geese follow a leader on the journey; life depends on good leaders. Human beings are in a frenzy to choose leaders. Will we pick leaders to follow as wisely as do geese?
From the Fields: Greg Galbraith
U.S. Highway 8 cuts across northern Wisconsin like an asphalt dance floor. I saw an occasional burst of yellow and red as I traveled to my woodlot from a weekend at my off-grid cabin. Fall is knocking at the door.
Along the way hit or miss frosts withered random cornfields. Fourth-cutting alfalfa hay was well under way, with 60 percent of the farms in the north-central area reported being finished by Sept. 13.
Sam Zimmerman of On Q Holsteins near Ringle, Wisconsin, put 5,000 gallons of liquid manure on a harvested third-crop alfalfa field Aug. 5.
"It grew like crazy," he said. "I have never had such consistent alfalfa harvests as this year. Our harvest dates were May 30, June 30, Aug. 5 and we took fourth crop Sept. 4."
One of the hay crops that's a bit of an unsung hero in north-central Wisconsin is red clover. Many farms in the region are doing a third cutting of the crop this summer. It grows where alfalfa won't because it tolerates wetter ground. It mixes well with a blend of grasses to make good-quality hay but can be a challenge to dry.
"Red clover establishes quicker than alfalfa and is more winter-hearty," said Dan Olson, dairy farmer and owner of Forage Innovations LLC. "It has similar protein and neutral detergent fiber as alfalfa but has higher fiber digestibility and nearly twice as much bypass protein. In aggressive rotations with silages, red clover should be a part of any perennial mix."
Corn-silage harvesting has begun in earnest in the north-central region. Some of the early-planted corn is between 65 percent and 73 percent moisture. Prior to Sept. 13 it was difficult to find days suitable for field work of any kind; intermittent rains and cooler-than-normal temperatures prevailed. But the week leading to Sept. 18 saw ideal conditions with a lot of corn acreage falling to the knives of choppers for silage. Some early-harvested cornfields in the western part of the region have been seeded to cover crops thanks to the ability to aerial-seed.
Some early-planted soybeans are dropping their lower leaves; most have begun yellowing. That's a full two weeks ahead of 2019. The crop is exceptionally tall and forecasted yield estimates are running at more than average. Potato harvest is also ahead of 2019; about half the crop is in the bin and is running 92 percent good to excellent.
As temperatures fluctuate from 50 degrees to 70 degrees for highs, I tossed my old farm-chore coat and muck boots into the back seat of my truck. I never know when I'm going to be in a farm field snapping photos of the harvest taking place. As corn goes to the silage pile the fields open and the views are new once more.
Enjoy the harvest season.
From the Fields: Ellie and Rich Kluetzman
Nobody can deny that fall is here. Frost and freeze warnings have covered much of the state of Wisconsin at least once. Our growing season is coming to a rapid close.
Our major cash crop of corn is drying nicely; the rainy stretch neither helped nor hurt it. Examination of cob and kernels showed one variety of seed for corn-on-corn ground had 16 rows and an ear length of 8.5 inches. The variety planted on former wheat ground had 18 rows and an ear length of 8.5 inches. The kernels were long and deep. Both fields displayed the distinctive black layer denoting maturity. We will need to combine four rows of corn off our fields soon to access our soybeans.
Soybean fields are almost completely yellow; many top leaves have fallen, exposing the uppermost pods. Our fields went from looking sparsely populated this spring to a burgeoning crop. We are certainly more optimistic after the rains of mid- to late August. We counted the number of pods on one stalk; 52 were present. While not all will see fruition, they were there. One neighboring field is looking close to harvest. We expect to hear a combine rolling through it soon enough.
A lot of corn silage has been chopped and put up. The plastic-covered heaps grow larger by the day. Footage of a silo tipping over after being filled the day before was dramatic; what a shame. Thankfully nobody was hurt.
Hay cropping for a fourth time this year has been underway at varying times according to the rhythm and workload of each farmer's schedule. It's been a good year for hay and alfalfa – good but not great.
We have not begun the switchover of our combine to soybeans because we're still painting the house exterior. We're half-finished with that. It takes a while with two "past-their-prime" painters doing the work.
The only garden crops remaining are beets, carrots, Brussel sprouts, squash and peppers. The parsnips will remain until early spring.
From the Fields: Tim Boerner
The 2020 growing season is quickly coming to an end. What a great week it was for chopping corn silage. By the time this article is printed most of the state will have finished corn-silage harvesting.
The excellent growing season is being followed by a dry-weather stretch that has given farmers an excellent harvest window. It's a far cry from the two-tractor, drag-the-wagon-out-of-the-corn chopping conditions of recent years.
Corn silage represents a major harvesting event on Wisconsin dairy farms. As silage making has evolved from upright silos to bags to bunker and now compressed silage piles, harvesting is a time-specific operation. Chopped corn needs to be moisture-specific to the storage structure to create the right conditions for the ensiling process to take place.
My friend Chuck told me yesterday their silage is about 65 percent to 69 percent moisture, and that it packs very well at that moisture. If the corn is too dry it doesn't pack well; I assume won't go as efficiently through the anaerobic ensiling process due to too much air being trapped in the pile. After a very good week of silage chopping and only one major wagon breakdown, the Feider farm is about two-thirds of the way finished with silage harvest.
Chuck tells me, tongue in cheek, he may need to retire after this year because he's not sure he can grow a better crop of corn. Like all superstars he dreams of going out on top.
Corn-silage harvesting involves quite a harvest crew at the Feider farm. As they harvest fields further and further away from the farm the need arises to add another wagon to the team. And every wagon added means another person to deliver that wagon from the field to the packing pile.
Chuck has a neighbor who takes two weeks of vacation every year just so he can drive a silage truck for the farm. There are many neighbors and friends who come to help on the Feider farm, and it brings about memories of everyone pitching together during times of need. It's a true farming tradition of pulling together.
Chuck's wife, Julie, diligently makes lunch for everyone during the busy silage time. She has a meal ready when the crew covers the silage pile at night.
Chuck was the son who stayed on the farm and built it to the size it is now, but silage harvest brings back the brothers who left to pursue other careers. Chuck said it's great his brothers want to come back to the farm and help during this really busy time of the growing season. And he's also grateful for their involvement because it fulfills his mother's final request to "make sure you keep the family together."
Finishing silage harvest, like many operations on the farm, gives farmers a great feeling of satisfaction for a job well done – of enough feed in storage to supply the needs of a herd for another year and the completion of the circle of life that a growing season represents.
As Chuck has said to me many times, "There are many reasons why we farm."
Many years farm operations take precedence over other outside activities. As Chuck said, "When you have so many helpers involved in operations like silage harvest it makes it harder to shut down for a day."
But some things take precedence – like Chuck's granddaughter's birthday party Saturday. He's ensuring he "keeps the family together."
From the Fields: Zac Soltvedt
Well everybody fall is here. The weather is becoming cooler and the days are growing shorter. There have been some chances for frost but I haven't seen any yet by our place, which is good.
The choppers have been hard at it the past two weeks; most silage in the area is off now. With the weather being dry for the past week everyone was able to keep running trucks in the field, which really kept the process moving. It's sure a different sight from the past year! From the reports I've received it was a good year for them. I'm also starting to see the manure crews roll to suck out those pits.
I have quite a few guys putting their wheat in the ground as well. It seems to be a hot commodity with the early season we're having. I needed to combine some high moisture this past week for a customer and to my surprise it was drier than I was expecting. The yields were about average for the grower. We only needed to do 20 acres or so, which was enough to start the combine working and tuned in. I would guess by the first week of October we will be starting dry corn. I usually like to start a little wetter than most guys in the area because I don't like to see head shelling. I believe we're money ahead by putting more bushels in the tank and drying it a little bit longer.
As for the soybean harvest, that's started as well. The yields have been surprisingly decent for the dry spell we had. The weather looks to be dry this week so there should be a lot of those being cut. My beans are a good week and a half away yet so I'll just be waiting patiently.
I need to go back to work; talk to everybody in a couple of weeks.
From the Fields: Thomas Maloney
The change of weather this past week was welcome after rain every day the previous week. From Sept. 6 to Sept. 12 we received almost 3 inches of rain. Thankfully it came slowly and allowed the ground to take it in. With cloudy days and cool temperatures, crop maturity has slowed somewhat. But the forecast ahead shows sunny days with daytime temperatures in the mid-70s. It sounds to me like ideal September weather.
It was Sept. 14 when the last of the hay was cut for this year. We hope to small-square-bale all of it but the weather has been a little challenging. With the sky hazy from the wildfires in California plus the shorter day length, it's taken a pass or two with the hay tedder and baling during the heat of the day to make good dry hay. Most of the standing hay in the area has been cut down in the past week.
Almost 50 percent of our corn has reached R6 or full physiological maturity, with a black layer on the tip of the kernel. The rest of the corn will reach maturity in the next week or so. I have seen some Fusarium and Gibberella ear mold present, most likely from the week of wet weather. But with dry conditions and a small percentage of ears with mold present, I don't believe we will have any issues.
A good percentage of the soybeans have reached early R7. R7 is defined as beginning maturity with one pod on the main stem reaching mature pod color. Some fields are farther along, reaching R8 with 95 percent of pods reaching mature color. The most mature soybean fields in the area may be ready about Oct. 1. We hope to have some soybeans off early to be able to plant winter wheat. We like to plant our wheat between Sept. 25 and Oct. 10. We've learned through the years that timely wheat planting greatly affects both straw and grain yield.
Looking ahead, we will be cleaning hay equipment for the year and organizing hay for winter storage. Fertilizer will be spread on our hay fields soon to ensure a healthy stand going into winter dormancy and a good stand of alfalfa for next year. We will also harvest potatoes and the last of our vegetables. We want to finish some odds and ends so we can concentrate on soybean harvest, wheat planting, corn harvest and then tillage in the coming weeks. Harvest is a great season.
From the Fields: Jason Maloney
August ended and September began with cold rains. Many days high temperatures were in the low-70s with some lows in the 40s. With the sun rising after 6 a.m. and setting before 8 p.m., the days are shortening noticeably. The growing season is drawing to a close as fall creeps in. Jack Frost is lurking in low spots but all are hoping he stays inactive for a few more weeks. The warmth of Lake Superior should protect nearby orchards and farms from frost for a time. Some organic growers say it's a good year for slugs.
Haying continued as September began. Farmers who have a light hay harvest are wondering how much prices of feed will increase, and how much prices of meat will decrease. Corn chopping has commenced. Beans are looking good, as is pasture. The only part of the lakeshore that is abnormally dry is the area around Superior.
Orchards, vineyards and farms in the Bayfield Fruit Loop and the greater Chequamegon Bay region, including Mooningwanekaaning, are brimming with fruits, vegetables, meats, and precious potations and confections. Blueberries and raspberries are available. More apple varieties are ripe including Dudley, Whitney Crab, Duchess, Melba and Transparent. A large array of vegetables from squash to cucumbers, beets to carrots, and tomatoes, onions, garlic and more await hungry consumers. Fresh-pressed cider, honey, syrup, jam, apple butter, wine, hard cider, cider donuts and pies are too good to resist. Visit https://bayfield.org/what-to-do/orchards-berry-farms/orchard-reports/ for more information.
Jewelweed is blooming near Lake Superior. Hummingbirds hungrily devour the flower's nectar as they prepare for the long migration south. Some folks use sap from the plant as a soothing balm or an ingredient for soap. Mushrooms dot the forest floor. Loons are migrating but have not yet begun their season of silence. Beautiful loon calls still pierce the chill of lakeside mornings. Some crafty Pileated Woodpeckers are supplementing their diet with apples fresh on the tree.
It's difficult to fathom the peace of the land, water and woods so close to human-made strife. Not all the beings in nature get along, but they have come to respectful and fruitful relationships during many eons together on the face of the Earth. Will our own species learn from them – or take them with us when we go? What balm soothes human relations?
From the Fields: Greg Galbraith
The trend toward later frosts may continue as our climate trends warmer. The average date of first fall frost has shifted later as the world climate evolves. The north-central region has become more like the south-central part of Wisconsin as the state's climate warms. Time will tell as we plow forward into September.
Since the previous crop report the north-central region of Wisconsin has experienced dry weather and temperatures consistently peaking in the 80s. Farmers in the region have put a third crop of alfalfa in storage. They are watching as their more-vigorous stands of the forage crop come on, with a fourth cutting likely to be taken within days of this writing. Sam Zimmerman – owner-operator of On Q Holsteins near Ringle, Wisconsin, reported a knee-high 28-day-old fourth crop that he planned to cut Sept. 3.
Is there anything better than the smell of ripe oats freshly harvested and put up in an old wooden-floored granary? A few of those old granaries still exist although steel bins are the modern choice for most farmers. As of this writing the oat harvest is nearly 100 percent complete in the north-central part of the state. Langlade County led Wisconsin in 2019 in acreage dedicated to Avena sativa – oats. There were 11,400 acres of oats were grown there, in a county most notable for its acreage dedicated to potatoes. The average oat yield in Langlade County was 71 bushels, which was almost 20 bushels more than the state average yield.
Cash-grain farmer Jordan Weden of Aniwa, Wisconsin, grew 1,100 acres of oats this year. He was just finishing combining when I reached out to him.
"We averaged 87 bushels with a test weight of 37," he told me.
He agreed those numbers were good but he has hit 100 bushels per acre in the past. One of the side benefits of the oat crop is straw production. Demand for clean oat straw is great in the north-central region of Wisconsin; the demand is driven by its use as mulch in ginseng production. Marathon County, which produces most of the ginseng in the world, is no stranger to fields thickly mulched with oat straw as part of the ginseng-establishment process.
September's overall crop picture is looking positive in the north-central region. It reminds me of a quote from Jimmy Bloome, who operates a no-grain dairy near Unity, Wisconsin.
"It's been a lot easier this summer since Mother Nature changed her attitude," he said while comparing 2020 to 2019.
Corn development is almost two weeks ahead of 2019. Soybeans are setting pods – outpacing 2019 by almost a month.
Pasture-based producers had easy conditions most of the summer until the recent dry days of August. A recent half-inch rain will help, according to a fence-line conversation I had with a local grazier.
Until the next "From the Fields," happy and safe harvesting!
From the Fields: Rich and Ellie Kluetzman
Our previous report was rather dour but as we write Aug.21 rain clouds gather to the west. The forecasters say there's a good chance of us seeing rain. We're happy to report we've received 5 inches of rain in the past two weeks.
The soybeans are busy drinking that moisture to fill out their top pods. Upon checking those fields we found the pods are filling out nicely now. Many fields in our area are starting to yellow. Some white mold has been spotted in a nearby crop's lowland but the farmer didn't think it would affect yields with the crop this far along. Harvest is certainly not far off.
The corn crop has dented, with many husks turning brown. Stalks and leaves are doing likewise. Some ears have begun to hang down. Soon our friends will want cornstalks for decorating their porches. Every season has its rhythms and routines.
We saw farmers beginning to chop corn silage the last week of August. It appeared as though things were going along nicely for them.
Area hay crops have appreciated the moisture. Farmers have been taking their fourth cutting from those fields.
A rainy stretch is promised this week of Sept. 6. With cooler-than-average temperatures forecasted for the next 10 days, it will certainly look and feel like fall. The days of extreme heat indices are not missed because we're hand-painting our farmhouse. The only things standing in our way have been processing tomatoes every few days, and a particularly stubborn wasp hive in one soffit. Who will go up the ladder to deal with it next?
From the Fields: Tim Boerner
Composting of organic or carbon-based waste materials has been utilized by humans for a long time. Egyptian and Chinese cultures have utilized reduced waste products to supplement crop fertility for thousands of years. George Washington wrote about the composting process in his memoirs when he was pursuing his love of farming. Currently many farms are using the composting process to diversify manure-handling operations.
Mike Jenson, an Elk Mound dairy farmer, began composting 18 months ago in April 2019. He has composted all his farm's manure for 14 of those 18 months. He only skipped four months due to muddy lane conditions this past winter when we received 18 inches of snow following a thaw.
The Jenson family farm has a relatively new concrete manure pit, but it has become a complementary manure-handling system. Jenson told me he loves the compost process; the compost is easier to handle. The volume he now hauls to the fields is 75 percent less than when he was hauling and spreading all manure. He believes compost is more environmentally friendly, he said. And while this is only his second cropping season utilizing compost he can already see his feed quality increasing. His composted product has replaced the need to purchase commercial fertilizer.
Composting can be defined as a controlled aerobic method that utilizes the natural breakdown process of decomposing organic residues and solid wastes. Composting transforms raw organic-waste materials into biologically stable humic substances that make excellent soil amendments.
The composting process involves human inputs to maintain aerobic conditions that optimize internal heat and promote accelerated breakdown. The process takes advantage of naturally occurring microorganisms – fungi, earthworms, aerobic bacteria, rotifers, protozoa and other detritivores. They break down the organic material to manage the chemical process by converting the inputs into heat, carbon dioxide and ammonium.
The four major components of composting are carbon, nitrogen, oxygen and water. Certain ratios of those materials will provide microorganisms with a favorable environment to work at a rate that will heat the compost pile. Active management of the pile is needed to maintain sufficient supply of oxygen and the correct moisture level.
The air-water balance is critical to reaching and maintaining hot temperatures of 130 to 160 degrees until the materials are broken down. Achieving the hot temperature results in the composting process killing harmful pathogens and weed seeds that may be in the composting material.
Almost all organic composting materials have both carbon and nitrogen but the amounts vary widely. The most efficient composting occurs with an optimal carbon-to-nitrogen ratio of about 25:1. Composting of animal manure is gaining more acceptance as an additional handling strategy. Knowing the total carbon and nitrogen of inputs is important to starting and maintaining a successful composting process.
Properly maintained and ultimately finished compost will result in less material being hauled to the field; it can reduce the total volume by as much as 70 percent. The volume lost to the composting process is due to liquid evaporation, and carbon and ammonia volatilization. The reduced volume of the stabilized product allows for transport to fields further from the barn.
Compost has little or no odor from curing, storage or field applications. The finished compost product can be stacked, stored and transported more safely than traditional manure-handling operations. Some farm operations are using finished compost as an animal-bedding product and there's the potential to sell the finished compost. The finished compost product has more soil-amending properties than manure, but less of a nitrogen nutrient value.
Composting of animal manure and greater-carbon bedding materials represent a great complement to traditional manure-handling systems.
From the Fields: Zac Soltvedt
Wow! How is it September already? Time flies when you're having fun I guess. The past few weeks have been relatively slow for me. It seems like there's always busy work to be done but nothing too major.
We finally had some rain this past week. I think we've had about 2 inches. It seemed to help some of the later-maturity corn but I think the damage was already done. The beans seemed to take it pretty hard as well. What I've been finding is the top pods have aborted and the overall size of the beans were affected the most.
I've been finding some sudden death syndrome in a few fields as well. Some varieties of soybeans tolerate the disease better than others. The odd thing about the disease is that we start to see symptoms this time of year but the actual infection happens before the seed is out of the ground. It's usually caused by early-season stress such as severe compaction and ponding from heavy rains. Studies have also correlated the soybean cyst nematode count to sudden death syndrome. When driving around to look at fields start to make notes about those areas in order to address the issue when planning to plant beans back in that field. I'm always thinking about what things we can change for next year to better ourselves.
There hasn't been a lot of silage harvested yet but the choppers are going. I think this weekend and into next week that will change. I've been hearing moistures all across the board so far – anywhere from mid-70s to low-60s. The seed-company reps hand-harvested my silage plot today so it will be interesting to receive the results back from that.
The grain corn is maturing along as well. A neighbor of mine planted some early-day corn and from the road I can see cobs really starting to dry down. The plant is still nice, green and healthy, which is contradicting what we normally see. In reality this is the best though, as it allows the plant to pack the kernels with as much energy as possible. It will be interesting to hear what the test weight will be.
I plan on starting to plant some wheat so that should keep me out of trouble. I hope everyone had a nice long weekend and we'll talk next time.
From the Fields: Thomas Maloney
Unlike some areas we've not been without rain for more than 10 days at a time the entire summer. In fact there was a period from late June through the end of July we received double the average rainfall for that time. A friend of mine sent a picture of a field of soybeans near Rockford, Illinois, that looked like they were ready to harvest within a week or two. He also sent a picture of a field of corn with the ears tipped and the majority of the green in the plants gone.
This week we're working on our final cutting of hay for the year. A fair amount of hay is down in the area as a four-day stretch of good weather is available. Quite a bit of silage has already been taken in the past two weeks. I would guess that some are already coming close to finishing for the year, especially going south where it has been drier. It's certainly a different scenario than in 2019.
The corn is mostly all dented with a 50 percent milk line present. The most mature corn I could find was dented with a 25 percent milk line. I did hear of some corn in a sandy field that had black-layered or had reached physiological maturity R6. In 2019 most of the corn didn't black layer until Oct. 1.
The soybeans are starting to turn; the earlier-planted fields are showing more yellow leaves each day, with later-planted fields just starting to turn. We didn't see a sudden death syndrome flare-up in any of the soybean fields nor any white mold that was widespread. We've been evaluating corn and soybean varieties now that things are beginning to mature; it's a good time for that.
We hope to finish some of our outside summer projects this week because the forecast is predicting about 2.5 inches of rain the first part of next week. With cooler temperatures forecasted after the rain it will be awhile before anything can be done in the fields.
On a side note I would not have guessed earlier this summer that corn would be $3.20 per bushel and soybeans more than $9 per bushel for fall delivery. All summer we have heard about the huge crop out there. It's interesting how a stretch of dry weather in Illinois and Iowa – plus storm damage – can boost prices. We'll see if that continues into harvest.
From the Fields: Dave Justman
Dry, dry and more dry! As most of you will surely agree, after the past two years I never thought I would be praying for rain. But for two weeks now that's been the case. We've received some spotty relief during the past week, with total rainfall ranging from three-tenths of an inch to as much as 1.5 inches. It's been so spotty that within a half-mile the amount can vary an inch in total.
During the past week and a half the corn-silage season has gone to full steam. I'm hearing good to great tonnages, with a lot of stuff coming in at about 30 tons per acre. With the dry weather we've been having, a lot of good-quality dry hay has been put up during the past week or so. The fourth-crop cutting has not piled up like the first three but it's been of good quality.
On the soybean front some of the early-maturing varieties are almost completely yellowed. Some is because of the growing season and some is premature due to drought stress.
For corn it's kind of the same story. The lighter spots are dying or dead, with the corn dying from the top down. Where the soil is deeper the plants and husks are still green. One thing I've noticed this past week is tar spot in the corn. It's much spottier and later than the disaster we had in southwest Wisconsin two years ago. I think it moved in late enough this year that it may not affect yield. But it bears remembering when we make our hybrid selections for next year.
On the seed-corn front we started harvest this past weekend, and currently have about 40 percent of the crop out. Seed corn is harvested between 20 percent and 40 percent on the ear. We have a self-propelled picker with a 14-row head that dumps directly into dump carts; it's an ear-corn picker on steroids. The corn is then dumped into trucks with walking floors, and taken to the plant where it's husked, dried and then shelled. Yields look to be decent; hopefully that's a precursor to the commercial-corn harvest.
As we become busy during this fall please stay safe. And take a minute every once in a while to enjoy the beautiful fall sunsets!
From the Fields: Greg Galbraith
Driving across Marathon County, Wisconsin, on County Highway Z, I noticed a field tilled to a fine crumbly texture. That was prime farmland that grows alfalfa and corn. I waited to see what crop emerged but only saw small red flags at regular intervals across the black soil.
The field was going into ginseng. Marathon County in 2017 accounted for 74 percent of the ginseng harvested in the nation. Soon the field will be covered with an even layer of golden straw as the planting progresses. The telltale black shade cloth supported by a network of wood posts will be next.
Farmers in north-central Wisconsin are enjoying a bit of respite from July's extreme humidity and frequent thunderstorm downpours. It's the time of the year when corn husks swell and soybean pods grow fat with seed.
I stopped along a country road to look at a Sam Zimmerman cornfield. Sam and Jenn Zimmerman own On Q Holsteins near Ringle, Wisconsin. The plants were about 12 feet high and the ears were filling nicely.
"That alfalfa field next to the corn is coming with its fourth crop," Zimmerman told me.
He agreed it's been a great year to grow crops.
Closer to my woodlot I visited a neighbor who grew 30 acres of corn for grain on an older sod field. I caught up with Neil Martin and five of his seven children as they were finishing feeding calves. Martin planted a short-season variety of corn May 22. He's been tracking the stages of development and everything rings true to the variety description.
"The kernels should develop a black layer the first week of September," he said.
Summer annuals are also being harvested as silage across the region. Early-established Japanese millet that was harvested at the beginning of August is showing terrific recovery for a subsequent crop. Scattered amongst the countryside are random fields of grassy hay being cut for dry-baled second crop. Small-grain harvest is beginning on a portion of acreage in the region and will be in full swing as we proceed toward the end of the month. For farmers it's a good time to take a vacation or just take the work level down a notch to enjoy a brief break before the busy fall season arrives.
From the Fields: Ellie and Rich Kluetzman
We can now only rate our corn crop as "good." No amount of future rain will benefit the crop in any meaningful way.
The kernels are beginning to dent. Cornstalks have decent girth yet there has been little moisture for them to transport. This year the ears are not long and fat, but shorter and not as well filled out. We had great hopes earlier in the year but then this is our reality. Areas of heavy wildlife damage were also noted; the food plot for wildlife has been decimated. The ridges in our cornfields show marked "dry-down." Fall is advancing.
Our soybeans look drought-stressed with their leaves pointing toward the sky as though they are praying for rain. A gracious plenty of bean pods are noted. But the lower pods have medium-sized beans at best, with the top pods needing much more improvement. We join the crop in praying for rain.
On the upside weed control has been fairly successful this year. Different chemicals, strategies and a little hand-pulling all contributed to that gain. Insect damage is minimal. We rotate our cropland between winter wheat, corn and soybeans to avoid a lot of it. The lack of rain has certainly affected any crop still in the fields.
Nearby alfalfa has been slow to re-grow after its third cutting. What there is looks healthy; there just isn't a lot of it yet. Hay-making conditions have been perfect with the reduced humidity. Small grains appear to be finished.
Fall is coming fast. It's time to be thinking about harvest on our farm, but watching the grain markets is gut-wrenching.
The farming community of Wisconsin sends its prayers to our Iowa brethren. May they find hope and faith among their ruined fields and property.
From the Fields: Tim Boerner
"There are other reasons we farm."
That's a quote from my friend Chuck who thinks this growing season is going to go into the books as one of the best five in his lifelong history of farming.
He does admit it's not a successful cropping season until the grain is in the bin or the forage is in the bunker. But he said it's been nice watching his crops develop when they look so good. Soybeans are tall enough for the grandkids to hide in, and an alfalfa-hay crop looks like it will be as good as or better than the previous three crops. There's a corn crop that's already denting and may allow for an early silage harvest.
"We could be done making silage ahead of last year's starting date," he said.
And the small-grain crops are standing straight and tall without the first sign of lodging.
With everyone's focus on the pandemic, the economy and the nastiness of politics it's good to escape into our own optimistic growing-season realities.
Our accumulated Growing Degree Days have surpassed 2019 and are currently running ahead of the five-year average. Crop maturity is three weeks ahead of 2019 and a week ahead of the five-year average. Combine the weather with early planting and adequate rainfall, the 2020 growing season most would agree has given us much to be optimistic about.
Personally my garden canning season didn't really begin until after Sept. 1 in 2019; this year it looks like I will finish before Labor Day. But that's partly due to a pandemic-influenced shortage of canning supplies.
Chuck's growing-season optimism is in contrast to another good friend's cropping situation less than 20 miles from Chuck's claims of the best-five growing season. Bob has suffered a 50 percent loss of potatoes due to flooding from the 9 inches of rain he measured in July.
Bob grows commercial vegetable crops for a canning company. His canning-crop season has been a challenge. He was prevented from planting snap beans due to the contracted field being under water until the final planting date. His commercial pea crop was mostly drowned but was harvested because the canning company was desperate to harvest something to keep the factory running. The field man agreed it was a very poor stand and qualified for an insurance claim.
One of the benefits to growing canning crops is the short days needed to grow a marketable crop. The pea variety Bob grew this year only needed 48 days – 1,550 Growing Degree Days – to reach harvest maturity. A drawback to canning crops is the planting schedule is strict so the canning company's processing facility receives an even flow of crops coming in during processing time.
The Wisconsin Pest Bulletin from the University of Wisconsin reports the first case of late blight in potatoes was reported Aug. 10 in Adams County. But the dry weather in the following 10 days has limited the disease progression.
The potato leafhopper infestation in alfalfa has had its greatest reported counts in counties of west-central Wisconsin where precipitation is 2 to 4 inches less than normal.
Chuck and Bob have differing opinions regarding the 2020 growing season. Farming is a fluid occupation greatly influenced by many factors locally, regionally and nationally.
Typical of farming in Wisconsin the 2020 growing season has been a very good one for some and not so good for others. But then that's farming.
From the Fields: Zac Soltvedt
Hey everyone, Zac here again. I'm a little hesitant to use the word dry because I know what the past few years have been like. But we farmers always have something to say about it. It's starting to become dry out here. The last measurable rain we had was my last report, and that only amounted to about a half-inch.
The corn and beans are both starting to show quite a bit of stress; I believe we're starting to take some yield off the table. On the corn side I'm seeing some tip-back. The plants aren't quite rolled up to pineapples yet but if it stays as hot and sunny as it has been harvest will be starting prematurely. The weather forecasters were calling for rain a week ago Saturday, but it never came. I went out Monday to apply another shot of Priaxor on my corn to help mitigate some stress and keep the nutrients flowing. So far it looks to be working.
Once again it was supposed to rain this past Saturday so we'll see if I'll be back out again this week. The silage guys I've talked to say it will be anywhere from a week to two weeks for them to start. I just hope we are able to retain some kernel depth and test weight with the dry weather. Only time will tell I guess.
As for the soybeans I'm starting to see a lot of those top pods abort with the amount of stress they're under. As the weeks roll on some of the early-maturity beans are showing signs of leaves changing. At this rate it won't be long until the combines are starting to roll.
As for us, it seems there is never a slow time of the year anymore. I'm still busy with paperwork that has been neglected for too long. Plot tours and planning for next year have started as well; the list of things to change is becoming long.
I'm wondering how many producers are talking to seed dealers already and starting to look at different corn or soybean options. There are a lot of different platforms out there. I believe they all have a place but it's going to take a well-followed plan to keep everything straight.
All the wheat and oats are out in the area. A few guys have started planting cover crops, and fixing and removing tree lines. It seems there is always something to do around the farm.
That brings me to the end for this week. Have a safe week and pray for rain!
From the Fields: Thomas Maloney
Timely planting, well-timed rain and a good amount of heat have greatly contributed to the condition of the 2020 crop. Compared to 2019 when corn was just finishing pollination by the end of August, and the soybeans flowering a couple weeks later than ideal.
This year crops are moving along nicely. Corn has reached early R5 and has begun denting. Soybeans are R5 to R6; they could use a drink of water to finish pod fill. Some preliminary yield checks in the corn have ranged between 190 bushels per acre to 275 bushels per acre. In the soybeans some early pod counts have us estimating yield 50 bushels per acre to 85 bushels per acre. But until the combine hits the field I don't become too excited.
Disease pressure has stayed modest with only the edges of fields or low spots showing any symptoms. In the soybeans some white mold as well as Sudden Death Syndrome can be found. The Sudden Death Syndrome concerns me more as we are heading into a slightly dryer and hotter spell in the next week. Hopefully we don't see any big flare-ups. Some Northern Corn Leaf Blight and Gray Leaf Spot leaf lesions are present around the edges of the corn fields. With the drier weather ahead I don't see any problems there.
This past week our harvested wheat fields were sprayed for weeds. I've also been spraying low spots and drowned-out areas in fields. Keeping those areas weed-free makes harvest and fall tillage easier, and lessens the chance of dragging weed seed around the fields. We also did an herbicide burn-down evaluation in two of our wheat fields to better evaluate the current herbicides available on the market. To spray the treatments we used a 1979 International Harvester Cub fitted with a 10-foot boom and four sets of nozzles. It may not be the newest or fanciest tractor, but it's irreplaceable for certain jobs.
Looking ahead, we will be harvesting our final cutting of hay about Labor Day. The regrowth is looking good but we're starting to see some leaf burning from Potato Leafhoppers. We're planning to spray within the next week.
On a side note we received about 2 inches of rain Aug. 9 and 10, fortunately missing any severe weather. All in all we have the makings of a very good crop. We've had periods of heavy rain and sometimes too much heat, but I have no complaints.
From the Fields: Dave Justman
Two weeks ago we sustained moderate to severe damage along Wisconsin Highway 151; luckily most of our crops escaped major damage. We had wind gusts in the range of upper-80 miles per hour and 2.5 inches of rain but we haven't had anything measurable since. That's leaving some bushels in the field because we need the rain to fill ears.
Otherwise the corn crop is almost fully dented, with little to no disease pressure and nice temperatures for ear fill. The dairy farmers are starting to test their corn silage; I'm hearing mid-70 percent for moisture. I've seen a few fields have been chopped but that was where they really needed feed. Chopping will start this week in our area.
Soybeans are hitting their critical stage for pod fill; we have lots of pods and lots of beans but they're all small and flat. This past week I saw some bean leaves with their leaves flipped over so we really need some rain. Sudden death syndrome is showing in the fields; at this point it's looking like a light-to-moderate infestation but time will tell.
Alfalfa fall seeding is taking place and the thin stands from spring are being reseeded. Wheat has been off for a few weeks; people are thinking about their acres yet to plant for the fall. People seem to think because it's looking like an early fall we will be able to harvest wheat in a timely matter.
This past week's project in seed corn was destroying the border rows and the male rows of the field interior. Those are our last passes in a seed-corn field before we harvest. Seed-corn harvest should start late this week or the first part of next week. Seed corn is usually harvested between 35 percent and 40 percent moisture.
From the Fields: Jason Maloney
The middle weeks of August were mostly sunny and fair. Due to the spotty nature of the August rainstorms that blew through the area, some of the Lake Superior shore became dry again while some inland areas had an overabundance of moisture. Early-morning temperatures began dipping into the high-40-degree range.
There were many days of warm breezy weather that were good for curing hay. Haymaking continued in earnest. First-crop hay was light in dry areas but many areas with adequate rain had a good subsequent crop harvest. But some report 20 percent to 30 percent less hay yield this season. Corn and beans continue to look good. Most pasture is in good condition with some pasture near Lake Superior in need of rain. Some report late tomato and pumpkin ripening, but early pear ripening.
The brief time of great abundance in the far north is here. Farm stores, stands and farm markets are brimming with summer goodness. Farmers report that demand for produce is outpacing supply in some areas.
Farms and orchards in the Bayfield Fruit Loop have fresh blueberries, blackberries and raspberries. Melba, Transparent and Whitney Crab apples, cider doughnuts and pie are starting the apple season. Fresh vegetables and herbs along with frozen fruit and canned preserves are easily found. Visit bayfield.org/what-to-do/orchards-berry-farms/orchard-reports for more information.
Young Canada Geese are practicing flying in V formation under the watchful eyes of goose parents. The geese don't study geography or cardinal directions. They hatch with much of the knowledge they need to navigate the world.
Foragers are gathering leaves of sweetfern and sweet gale to sweeten homes and season venison this winter. Mushroom hunters are finding hedgehogs, lobsters, chanterelles and black trumpets in the forests near Lake Superior. Goldenrod is in bloom.
Many northern people carefully preserve food for the long winter, the time of the Wendigo. But in today's world the Wendigo appears at all times of the year, not just in the hungry times of late winter.
It has been a year of uncertainty with droughts, floods, a pandemic, fluctuating commodity prices, international tension and an upcoming national election. But with all the uncertainty, there is an abundance of many crops. Also in abundance are hungry people in our nation and the rest of the world. More than ever, farmers small and large are essential to the wellbeing of all. Maybe more people realize that now.
Mid-August haying reflects the harvest season along Marengo River Road near Marengo, Wisconsin.
A farmer rakes hay into windrows in mid-August along Richardson Road near Marengo, Wisconsin.
Goldenrod blooms along fields in northern Wisconsin. Dry flowers and leaves make refreshing winter tea.
Joe Pye Weed blooms in August in wetlands along Lake Superior.
Fungus among us dot the forest floor near Lake Superior. Learn which are poisonous and which are edible by apprenticing with an experienced mushroom hunter.
From the Fields: Rich and Ellie Kluetzman
We watched the storm clouds gather July 26 west of us – Rich with an eye on the radar and Ellie with an eye on the kitchen's westward windows. With a huge sigh of relief we spotted a white curtain of rain advancing across the fields. It's a critical time as beans are setting pods and filling them out. In the two weeks since that rain we have had next to nothing for moisture. The beans continue to blossom and set more pods with the bottom pods filled out now. There are chances for rain in the forecast; it's important that we have a good soaking. Hand-pulling and spot-spraying of weeds continue, mostly of water hemp.
Dew points have been exceptionally low, perfect for finishing the wheat harvest. Nearby fields of oats are also being harvested. Baling of that straw was almost immediate with the prevailing dry conditions.
The corn is in its milk stage. Cobs are filled to the tip with kernels, with some husks popping open to expose the corn underneath. Very little silk beetle was noted this year, and that threat has now mostly passed.
Third-cutting alfalfa and hay are starting; it appears to be a good year for hay production. Decent weather for drying and baling has helped with its success.
On our farm this is mostly a quiet time as far as crops go. There's still the long list of building and machinery maintenance of course. Besides crop checks and watching the weather, we just watch it all grow – and review the grain markets. No great news there but we are ever hopeful like every other farmer.
From the Fields: Tim Boerner
During my long career in Wisconsin agriculture I have had the fortunate opportunity to work and interact with many multigenerational farms. One of my more-recent opportunities was at the Scott and Kristie Culver Family Organic Dairy Farm near Bloomer, Wisconsin. The generosity and openness of that farm family welcoming me into their lives was reinforced to me by the many times I have been invited to share a meal with them.
The first year I began working with the Culver family I was given a hot meal while I was out in their fields soil-sampling. My hot lunch, as well as Scott's and his father's, was enjoyed while sitting on the pickup tailgate. It represented the first time I was served a hot meal while out in a field.
The Culver Family Farm is a multigenerational operation where every member of the "farmily" has his or her assigned chores, and is very proud of each individual role and the completion of tasks. The family's pride shows in their high-producing Fleckvieh dairy herd, an organic corn crop that has topped 200 bushels on the yield monitor, the family's successes every deer-hunting season and the many gymnastics awards the girls have earned. They all reveal a farming-family success story. The three Culver girls, Gracie, Olivia and Lilly, are all home-schooled. Completing their assignments is a priority before they can have fun with chores and play time.
Being an organic dairy farm there are certain challenges and operational focuses to growing feed for a 300-head operation. I've learned there are certain operational challenges to raising an excellent-yield and excellent-quality crop on an organic farm. Like all farming there are decisions that go into growing crops. Organic farming is similar to conventional farming in many ways. Crop rotations, manure management, seed procurement, wise use of companion crops, timing of crop harvesting, tillage and many other factors comprise an educated cropping program.
But pest management, especially weed control, is where organic and conventional cropping diverge. Most people look at the two systems and think weed control is defined by cultivation or chemical means to protect developing crops from the ravages of weed competition. In the Culver organic-cropping system, planting later than conventional and usually immediately following tillage has helped them to encourage corn plants to germinate quickly and provide competition with germinating weeds.
An organic weed-control system uses rotary hoeing and cultivating but many weapons are in the arsenal to protect the growing crop from weed pressure. One weed-control strategy the Culvers have used are ragweed warrior festivals to pull and destroy their most insidious weed, giant ragweed. For two to three weeks during the growing season the Culver Family Farm has engaged as many as 50 kids, 10 years old to high-school-aged, to walk corn fields and pull the giant ragweed plants. Usually starting at 7 a.m. and quitting by 11:30 a.m., the kids would walk corn rows and pull any 1- to 3-foot-tall giant ragweed plants they came upon.
When asked what signaled the end of ragweed fest Scott told me it usually ended when weeds were too difficult to pull from the ground. The Culver Family Organic Dairy Farm turned weed control into a summer activity for many local kids, culminating in a free "I survived Ragweed Fest" T-shirt and a bar-b-que chicken feed.
From the Fields: Zac Soltvedt
Hey all another two weeks have come and passed in this crazy year of 2020. We have finished cutting all our wheat finally and have some interesting results. Overall I'd rate my success 70 percent with a lot of room to learn.
The strips only averaged 45 bushels compared to the monocrop portion that averaged 65 bushels. I would say I easily left 10-15 bushels out in the field though as I wasn't able to cut low enough without clipping too many beans. Some parts of the field I was seeing as many as 80 bushels, but also as few as 30 bushels in the lows. I have a long list of changes to make for next year to make the system work better and be more profitable.
The beans have already stood back up for the most part. I cut the wheat and two days later we had a nice rain on them, which really helped. In the meantime I also did some strips of fungicide on the beans right away to see if we can protect the open wounds caused by the cutter bar and tires.
On the profitability side I think we will be even compared to just my average soybean yield. One opportunity I missed out on is the demand for straw this year. I can't even count how many people I've had to turn down that were asking for straw.
I plan to seed a cover crop of some sort into the headlands of the field where it was monocropped to keep living organisms and microbes working for me. The plan is to cut the beans when ready and hopefully have enough time to seed a cover on the rest of the field and prep for corn next year.
As for the corn and bean crop for this year things are still looking well. Most corn fields I've seen are just finishing pollination and entering into grain fill. Let's all hope the moisture keeps coming, along with the sunlight to really make those kernels heavy. I believe for the guys that have done everything right so far there will be some outstanding yields out in the countryside come fall.
From the Fields: Thomas Maloney
August is here; days are becoming shorter. Morning fog and humidity are back. Hay-baling time is starting to be cut short as the humidity increases earlier rather than later in the evening. Earlier this past week we had a day that barely broke 70 degrees with a night-time temperature of 49 degrees. In a couple of months that will sound warm but compared to the week earlier it felt a bit chilly.
We have received timely rain the past two weeks. Corn pollination is mostly done with most silks turning brown. After husking several ears the majority is R3, which is defined as having yellow kernels with milk. Some early-maturing hybrids are close to R4. A few planes and helicopters could be seen in the area this past week applying fungicide or insecticide on corn. Disease pressure in the corn is minimal so far.
Soybeans are R3 to R5 and looking very nice. White mold and bacterial blight can be found in some areas although nothing yield-limiting as of yet.
Plenty of hay has been harvested during the past two weeks. Regrowth looks really nice and I expect a decent final cutting in September. Speaking for my siblings the cooler temps have been nice for unloading small squares of hay into the barn.
With the winter wheat off we've been able to trim the field edges in those fields and do some tile maintenance where necessary. After finishing the last of the small grains, we're preparing the combine for soybeans. After changing the chopper pan, servicing grease points, and cleaning off the combine and header, we should be good to go for the fall.
Oh, one more thought … weed control! Now is an excellent time to go into fields to evaluate weed control and escapes. The best way to avoid problem weeds is to maintain good weed control. If you see an escape it might be worth the time to climb out of your tractor or pickup and pull it. There have been many fields with a few weeds that were not controlled that plagued the field in the future. It may also be time to reevaluate weed-control programs or change traits in corn or soybeans. Remember one year of weeds is 10 years of weeding.
From the Fields: Dave Justman
The past couple of weeks have seen us turn dry for the first time in two years. Luckily there is rain forecast for the coming weekend. While we're not in too bad of shape currently, the ground is starting to have some substantial cracks in it and the soybeans are starting to show some drought stress.
Wheat is almost completely harvested in our area, Yields were good, in the 90-bushel to 120-bushel range; the straw was a little less than it has been in years past. On the bright side we have been fighting vomitoxin issues in our area the past few years; this year the levels were almost non-existent.
The corn crop just keeps chugging along. Pollination is complete now and the kernels are almost completely yellow. It appears as though pollination went well, and now we have some great temperatures for grain fill as well – as long as we receive some rain.
The soybean crop is looking good but some problems are starting to appear. As I was walking my fields this past week I started to notice some Sudden Death Syndrome. In another week or so affected fields should be showing their symptoms so it will be time to assess which varieties are more susceptible. We'll need to correlate any planting issues we may have had in that field – planting date, soil temperature and soil moisture. As I was walking the beans this past week I noticed some drought stress. Till next time – let's hope for rain and lots of sunshine.
From the Fields: Jason Maloney
Welcome rain continued along the Wisconsin shore of Lake Superior as July ended and August began. With some nights in the 50-degree range one hates to think of it, but fall is approaching on the edge of the early-morning breeze. Jump into Lake Superior at 6 a.m. and the water may be warmer than the air!
Hay harvest continues. Baling slowed for a few days due to rain but has resumed with drier weather. Many farmers continue to report lighter yields of hay due to drought conditions earlier in the season. Corn and beans have bounced back and are looking good for this time of the season in many areas.
Farms and orchards in the Bayfield Fruit Loop have fresh produce in abundance. Some growers and vendors are reporting three times the usual traffic at markets this summer. Blueberries, black currants, gooseberries, raspberries, herbs, beans, cucumbers and garlic are available as well as fresh and frozen fruit, wines and hard cider. Visit bayfield.org/what-to-do/orchards-berry-farms/orchard-reports for more information.
Farm markets boast fresh produce, cut flowers, preserves, eggs and honey; visit websites for details. Most farm stores and roadside stands are open and doing brisk summer trade. Pandemic hygiene, mask use and social distancing improved after Wisconsin's governor issued a statewide order on the subject. Most people are willing to follow leadership if it leads to the public good.
American kestrel young and Bald Eaglets have fledged and are nearly done with flight school. Lessons on finding food continue. Mornings are now quiet as bird territories hard-fought-for weeks ago are now forgotten. Migrants are preparing to head south and year-round residents are fattening themselves for the lean months. Forest plants are displaying a duller mature green with some leaves turning yellow. Some maples are sporting patches of red and orange.
Mushroom hunters know one doesn't need to go to the ocean to find lobsters. They're in boreal remnants and newer forests now in northern Wisconsin. Can black trumpets be far behind? Mullein, a nonnative plant with many uses, is blooming along the edges of fields.
The affairs of nature seem settled compared to the affairs of humans. Wild things use time to prepare for the coming winter. Sometimes humans deny what they can plainly see coming.
From the Fields: Greg Galbraith
The continuing theme of warm weather and ample moisture has crops in north-central Wisconsin thriving. As each day passes the view of farmsteads becomes obscured behind fields of tall corn. Such was my view beyond the shoulder of Wisconsin Highway 29 as I locked the cruise control on my truck at 67 miles per hour and traveled west to Unity, Wisconsin, where I met with dairyman Jimmy Bloome.
The gravel roadsides in the Unity area are in full bloom with orange jewelweed and milkweed. Dairy farms range in size from thousands of cows to herds with 35 head. Second-crop alfalfa was almost finished in the area; black tracks through low points in harvested hay fields served passersby as a rain gauge.
Jimmy and Candace Bloome, along with their three young children, operate an all-grass-diet dairy farm near Unity. They milk 90 cows and farm 500 acres. Jimmy Bloome met me in a field of sorghum sudangrass that he no-tilled after taking off a light crop of first-crop hay. The crop is coming nicely and should result in a nice mixed hay that will keep the all-grass-diet theme going through winter. He will soon be combining part of the 55 acres of oats he established in spring. He seeded his oats down with a clover-grass-hay mixture; in some areas the hay mixture is more dominant than the oat stand.
"I'll probably cut some of the acreage with a discbine and chop it for silage rather than combining the oats," he told me.
The Bloomes also grow 56 acres of barley, 56 acres of soybeans, 25 acres of sorghum sudangrass and130 acres of established hay ground, along with 170 acres of mixed grasses and clovers for grazing.
"It's been a good year for raising crops," Bloome said "I have two full bags of haylage and my project for the afternoon is to get the unloader raised in the silo so we can start filling it. I should be set for my forage tonnage needs soon. It's been easier this year since Mother Nature changed her attitude."
I left the Bloome farm to head east on a gravel road that pointed right at Rib Mountain. Along the way farmers raked hay in hopes of baling some dry hay. Oats, rye and barley ripened and cast their shades of pale yellow on the green landscape. When this goes to print a fair amount of combining will be underway. Closer to my woodlot the Eau Claire River exceeded its banks along Marathon County N in the eastern part of the county. Further to the east the Eau Claire River raged over the rocks at the Dells of the Eau Claire County Park. If the 10-day forecast holds, a cooler drier trend is on its way.
From the Fields: Tim Boerner
Pollination season is here. Corn is silking, soybeans are in full bloom, small-grains crops are filling seed heads, and forages are maximizing feed value and will soon be harvested.
A dairy-farming friend of mine told me July is the month when farmers can take a breath, relax and appreciate the growing season. The hay and forage stores are more than half full and at this point the corn crop represents feed enough to keep animals fed for another year.
While adequate feed for the 2021 year is an early goal, the prize of a successful cropping year won't be realized until the grain bins are full and quality feed stocks are in storage. There are still potential pests that threaten our goals of excellent-quality and abundant harvests. We can't ignore pests and diseases that warrant us continuing scouting and monitoring our crop development.
Crop-diagnostics testing takes many forms. Sometimes we use testing to gauge a crop's progress and assess whether an additional fertilizer application is warranted. The opportunity is quickly passing to measure nitrogen-fertility need with a Pre-Sidedress Nitrate Test that could point to an immediate need to apply supplemental nitrogen fertilizer.
While crop scouting I've seen potassium-deficiency symptoms on corn and alfalfa leaves. I've noted fertility-deficiency symptoms of nitrogen, sulfur, zinc and manganese on crops, but a rescue treatment is difficult and may be too late for this year's crop.
This is a good time to complete a plant-tissue-test report card for crop fertility. Use it along with a sound soil-sampling program to make educated fertility decisions for next year's crops.
In the past I've used plant-tissue testing, in combination with soil testing, to help diagnose a particular field and visible plant-development issues. Soil testing for N-P-K and soil pH are great ways to quickly judge a land's ability to provide macro nutrients to a crop. But when it comes to micro-nutrients the truest report of a plant's total fertility needs comes from plant-tissue testing.
Our crops have entered reproductive stages and should be at their peak of nutrient uptake. So plant leaf, petiole or tissue sampling at this time should give us an accurate report of how our fertility program has scored.
There has been much talk in the recent past about providing for and teaming with the huge numbers of soil microorganisms that do so much for our cropping systems. Soil biotic organisms make our soil healthier, provide nutrients, improve water-holding capacity, improve soil structure, reduce erosion potential and do many other positive things.
This is a good time of year to give a field a soil-health checkup. A soil-health assessment combines the chemical and physical tests of traditional soil testing with biological assessments of microbial activity to provide a measure of the quality of the soil.
A soil-health analysis done by AgSource Laboratories provides a soil-health score based on many tests such as Solvita CO2 respiration, C:N ratio, water-soluble-nutrient analysis, and Haney extraction for orthophosphate-P, phosphorus, potassium, calcium, iron and aluminum. The ultimate field-crop report card combines plant-tissue testing and a soil-health assessment of the field's biological, chemical and physical attributes.
From the Fields: Zac Soltvedt
Boy the time sure flies when you're always working. We have been busy spraying fungicide on corn and beans, Y dropping and have just started to cut some wheat.
Most guys have been done with second crop now for a week or so at least; the reports I've heard are that it went well. We've been spraying for leafhoppers in the alfalfa. Most of the issues have been in new-seeding fields but there has been quite a few in established fields as well.
The majority of corn is beginning pollination time now so it's critical we keep having some moisture. I've been hearing reports of some stalk-strength issues already but so far the year is looking to be a good year for disease. I recommend putting a fungicide on both corn and beans. We've been seeing excellent payback above and beyond our investment. I know I can't afford to give up any dollars this year, can you?
Most beans are starting to reach that R3 stage where they will start to put pods on. It's also starting to be a critical time to receive moisture for beans so they can fill pods without aborting them.
On the wheat spectrum we've cut about 40 acres so far and we're surprised with the yield. The field averaged 80 bushels, which isn't great but the grower was more than satisfied given the circumstances this past fall. The test weight was good at 58 pounds and the moisture was right about 14.
The plan is to start on my first relay crop of wheat this week. I'm hoping the wheat does 65 bushels; that's my goal. I need to give credit to John Kutz for the idea. I stumbled upon him scrolling Twitter one day and just thought it was a neat concept. I'll hopefully have some pictures and yield data to show next. Have a great week.
From the Fields: Thomas Maloney
Since the beginning of the month we've received almost 10 inches of rain, most coming in the first two weeks. After the rain subsided daytime temperatures cooled, which has been ideal for pollination in the corn. After all the rain we chose to be patient to wait for a weather window; it came July 17.
We started harvesting wheat July 17 and finished July 24, with a brief rain delay July 18 after receiving .25 inch of rain. Yields were very good but greatly affected by planting date. Straw yield was very good as well but also affected by planting date. Grain moisture was not overly dry, with most running 14 percent to 16 percent moisture.
The lodged wheat straw was damp, making it difficult to bale until a couple of days of sun and wind dried the windrows. Plant stems were mature but due to the wetness of the soil the straw had picked up moisture. It wasn't going to dry until the wheat was harvested and the ground exposed to sun and wind. It was also one of the only wheat harvests I can remember that four-wheel drive was used on the combine to travel across the fields. With the weather lately there was no time to spare in getting the crop off.
Both corn and soybean are looking good. Most corn in the area is pollinating, with some silks starting to turn light brown. So far the corn looks disease-free. With the rain and humid mornings as of late, we can start to expect to see some show. There has been some silk clipping by Japanese beetles around the outsides of fields, but nothing to be concerned about so far.
Most soybeans are somewhere R1 to R3. Some early-planted soybeans are close to R4. In our area some of the fields with low spots have some crop damage due to flooding or standing water. Thankfully those areas aren't too big and the rest of the fields should make up for it. Nonetheless it's still disappointing to lose any portion of a crop at this point in the season.
A decent amount of hay has been cut down this past week, with most being second- and third-crop hay. Our second crop was delayed a little longer than we would have liked due to the wet weather. The forecast ahead looks promising to continue making good progress on hay harvest.
Looking ahead we'll be switching our combine from wheat for one field of oats, and then to soybeans in advance of the fall harvest. We'll also continue scouting fields and hand weeding any escaped weeds to reduce the seed bank of any herbicide-tolerant populations.
From the Fields: Dave Justman
It's been a busy two weeks on the farm. Since my last report we started detassling the seed-corn crop; we finished July 24. Our commercial corn crop is fully tasseled, and sprayed with fungicide and insecticide. Some of our early-maturing varieties should hit blister stage by mid- to late next week.
Soybeans are just hitting the R3 growth stage so we'll be flying them next week with fungicide and insecticide. The corn crop looks to be rebounding from a difficult start, with pollination looking to be very good on some early-pollinating varieties. The soybean crop, which has looked outstanding all year, just keeps impressing me more every time I walk into a field. One big difference so far this year is the amount of sunlight we're receiving. So as we move into ear fill and pod fill hopefully we can put on some nice size and test weight.
Some of the more-aggressive dairy guys have cut their third cutting of alfalfa but most of it will be cut this week. The ample rains and warm weather led to a really nice second crop, and third crop looks to pile up good as well.
Now to the biggest news, soybeans is at more than $9 on the Chicago Board of Trade! With the recent spike in prices the river terminals have been running at capacity as everyone in the countryside empties their bins. It's nothing to wait two to three hours just to dump a load.
In the next couple of weeks we'll be putting our cover-crop seeder onto our Hagie to start blowing cover crops into our standing seed corn. Our Hagies are truly like the old Uni system. As soon as one project is finished we put a different attachment onto them and use them again. Have a great day and stay safe!
From the Fields: Jason Maloney
The heavens opened the second and third full weeks of July to relieve most drought conditions along Lake Superior.
Haying continued to progress. Due to earlier dry conditions, many fields had light harvests. Some farmers harvested a light second crop in hopes of rain and a good third crop. With rain and predictions of more moisture and warmth to come, they likely made a good choice. Corn and beans in most fields weathered the dryness and are bounding skyward with the recent moisture. Pasture is improving.
Growers for farm markets are delighted with the rains. Many had been eking out survival for their crops by watering where possible. Those crops are rebounding now from Moningwanakauning – Madeline Island – to inland fields. Farm markets are loaded with fresh greens, squash, berries, preserves, meats, herbs, honey and eggs.
Orchards in and around the Bayfield Fruit Loop have blueberries, raspberries, currants, gooseberries and cherries. Strawberry season is ending. Many orchards and farms have preserves, honey and syrup. Call ahead to check for availability. Visit bayfield.org and click on "Berry Farm & Orchard report" for more information.
Cooler weather arrived with the new moon. Hens are happier; egg production is increasing. Some producers may credit improvement in laying to hatchets displayed in henhouses for inspiration but it's likely those "Get Tough" tactics had no positive effect. The hens say the chicken came first, then the egg. Treat the hens well and they'll lay. Maybe the Beatitudes apply to chickens as well as to people.
Thimbleberry bushes are showing delicate red berries in forests along Lake Superior. Fireweed and Joe Pie Weed are in bloom. Bunch Berry is ripe in boreal-forest remnants along the lakeshore. In secret places the forest floor and fence rows are blanketed with Chanterelle mushrooms.
Nationally there have been mixed messages regarding pandemic hygiene. Wisconsin's legislature has not agreed with the governor regarding mask orders. Local governments are taking the lead in pandemic public safety; that can affect small businesses including farm markets. Many customers take precautions to keep farmers and vendors safe. Some counties in Wisconsin have issued advisory public-health instructions requesting masks be worn and social distancing be practiced. Check local guidelines before visiting farms and markets.
From the Fields: Greg Galbraith
The Wisconsin River is running high along its banks; the boat landing near my apartment parking lot is under water again. North-central Wisconsin has seen its share of heat and humidity coupled with frequent storms as July progresses.
I hopped in my truck July 20 to head north of Wausau to visit Heinz and Erich Roth who farm just outside the town proper of Merrill, Wisconsin. Heading north on County Road K the road is like a great rollercoaster. I crested the high ground and descended repeatedly. The rooftops of steel sheds glowed in the sun between fields of mown second-crop alfalfa, tasseled corn and vast wooded acreage. Summer's in full swing in north-central Wisconsin.
"We just got our second cutting on 350 acres of a 'cocktail blend' of summer annuals packed in a bunker silo yesterday," Heinz Roth told me over the phone as I scheduled our meeting. "We covered it in the rain and eventually got 4 inches in the rain gauge after it was sealed up."
Heinz and Erich Roth are brothers who own Roth Farms and Morning View Dairy near Merrill. They raise crops on 1,100 acres of land, including 650 acres of corn and 350 acres of summer annuals in a cocktail blend of sorghum sudangrass along with a mix of clovers and grasses. The balance of their land is in grass or clover hay stands. Harvesting goes quickly because the brothers use two tractor-mower rigs that each cut 30 feet of forage in a swath for eventual chopping. The Roths also do some custom operating in the neighborhood.
Heinz Roth showed me the almost-empty manure lagoon behind freestall barns that house as many as 500 cows.
"This is the best part of growing summer annuals," he said. "In a five-cut system there's plenty of opportunity to get the lagoon emptied on the land after harvesting the annuals. It also makes great feed."
The brothers' reaction to this year's growing season was overwhelmingly positive.
"Growing-degree days are way up especially compared to last year," Heinz Roth said. "Our corn is fully tasseled and we're on pace to chop for silage in September rather than starting in mid-October like last year."
I left Morning View Dairy for the 30-minute drive to my woodlot. Corn ranged from full tassel to chest-high on later-planted fields. Oats and barley were fully headed; some was nearing maturity. I swung past a remote field of low ground where I at one time made canary-grass hay for bedding and heifer hay for my cattle. It hadn't been harvested yet; with the amount of rain the area is having it may never be cut. That marginal ground is an exception because most farmers are having a terrific forage-growing season, well into making second crop especially on alfalfa ground.
After tending to my gardens at the woodlot I headed to the apartment where the parking lot was slick with fresh rain. Earthworms worked their way across the warm wet black top.
From the Fields: Ellie and Rich Kluetzman
The week of July 12 was a big one for our corn. The tassels continued their emergence and fine silks appeared on the stalks. As ears began to set we were rewarded with some good rainfalls. Heat and humidity set the fields for making their own environmental bubbles. Thick sturdy stalks held the corn upright through some of the heavier winds we've experienced.
Weed control is optimal in the corn. There's no sign of pests; even the Japanese beetles are now absent. They may not be real trouble for corn but I don't like to see them anywhere. We're watching for silk beetle damage; there's none so far.
Our soybeans continue to blossom and set pods from bottom to top. They're gaining nice height with somewhat regular rainfalls. There's little damage from insects.
We observed the first wheat being harvested July 21 in our area. The scent of wheat chaff hit the nose a moment before spotting two huge combines. One was working away; the other seemed to have a sickle issue. Two men were bent over their work; one with a pry-bar and the other with advice. A baler was also beginning with determination. A small chance of rain was hurrying them all along.
Wheat is coming in with moisture between 13.3 percent and 14.5 percent. Data on yields is limited as of this writing but two nearby fields came in at 77 bushels and 74 bushels per acre. That farmer said test weights were in the 57 range with no sign of disease.
Oats appear to be coming along with harvest not far off. Second-crop alfalfa has been finished and the third cutting is coming on heavy. There's been strong re-growth in advance of the upcoming cycle of cut, dry, rake and bale.
From the Fields: Zac Soltvedt
I hope everyone was able to enjoy the holiday weekend. I worked Saturday on some of my own acres; Sunday we were able to go out on a friend's boat to relax a bit.
A lot of guys were out making second crop during the weekend. From what I've been hearing it was good; some say almost as good as first crop. I was finally able to cut my new-seeding grass-alfalfa mix this past week. It was rather thin for my liking but it should still make good feed for the farmer who's taking it.
We have been swamped Y-dropping corn. With the corn putting on so much height so fast during the past couple of weeks, guys with their own side-dress bars can't keep up. I'd say about 70 percent of the corn looks good to excellent, but there are a few fields that are uneven and suffering from the early-season stress.
I was able to put my early pass of fungicide and micros on my corn before we started Y-dropping; so far that's looking very good. I used Priaxor early on; I plan on coming back at R3 with either Veltyma or Revytek. Those are both new products this year from BASF. I've seen good results from the trial data. Veltyma has a super-long residual, which allows growers to put it on earlier with their own ground rig instead of needing to hire a Hi-boy sprayer or an airplane.
As for the beans most of them are pushing right along as well. The majority of them are now almost R3. This is the perfect time to spray a fungicide on beans for those who are planning to. Most guys are using Priaxor and adding in an insecticide along with a micro-pack. One thing we've been doing this year is adding sugar to every pass. So far I've seen good results.
I'm hoping to start combining my relay wheat within the next couple of weeks. With this heat I can't believe how fast it's drying. My goal is at least 50-bushel wheat and 45-bushel beans for this first year. As with anything I have a whole list of changes I'm planning on making for next year.
I need to go back to it; see ya next time.
From the Fields: Thomas Maloney
Our exceptional weather continues! The crops certainly look it as well. With a multiple-week stretch of temps at or about 90 degrees during the day and nighttime temps staying in the mid- to upper-60's, crop growth hasn't missed a beat. We received 3.3 inches of rain from June 26 to July 8. Then 3 inches of rain fell July 9, with most coming in a couple of hours. We'll need to wait and see what the aftermath of that will be.
Most corn has reached V8-V10. We saw a few plants July 8 with tassels emerging on July 8. Soybean growth stage varies from R1 to R2 – beginning to full-flower – with some early-planted reaching R3 – beginning pod – in another week.
Winter wheat has matured nicely and is now a nice shade of golden-yellow in color. I'm expecting a harvest date of about the third week of this month, weather permitting of course. The spring wheat and oats are farther behind, with harvest most likely after Aug. 1.
The majority of alfalfa in the area has shown some leaf chlorosis from potato-leafhopper injury. After sweeping our fields we decided to wait to spray because the counts were still at less than threshold and we are within a few days of cutting.
This year we have a new crop on our farm – a small commercial field of sunflowers. Two confectionery-crop varieties and three oilseed varieties. To tell the two apart, the confectionery-crop varieties are black with a white stripe; the oilseed types have all black seeds and are smaller in size. Sunflowers are seeded at 12,000 to 18,000 seeds per acre as a confection crop, or 18,000 to 22,000 seeds per acre as an oilseed. In the United States 80 percent of sunflower acres are planted into oilseed; only 20 percent is planted as a confection crop. I have a side-by-side picture of the two types of sunflowers.
Speaking of "new crop," it's nice to see the commodity prices increase this week for both old- and new-crop commodities.
As the season progresses the focus has changed from starting the crops to insuring crop success by evaluating fertility and weed control, as well as pest management by walking fields, tissue sampling and collecting imagery. I enjoy this time in the season because there's time to gather information, make notes and fine-tune plans for the following year.
From the Fields: Dave Justman
This week saw torrential rainfall along with extreme winds – the perfect recipe for downed corn. As is usually the case it's spotty and sporadic, but where it's down it looks like a steam roller went over the field.
Most dairy farmers have their second crop put up. Corn is close to tasseling; as I write this July 10 we're cutting our first field of seed corn. After the cut we'll come in two days later with pullers to take the tassels out of the female plants, rendering them true females. It's always nice to start detassling because it marks the halfway point of our season. We make 12 to 13 different passes in a seed-corn field, so hitting the halfway point is always exciting.
The soybeans were twisted up with the winds as well; they are at a full R2. In a week we should be at R3.
From the Fields: Jason Maloney
By Independence Day a drought that extended through parts of Minnesota had expanded along the south shore of Lake Superior. The lakeshore from Superior to Chequamegon Bay and Ashland has seen an abnormally dry spring and early summer. Most days have been hot and sunny. Abnormally dry or drought conditions existed in all of Douglas and Bayfield counties in Wisconsin. Considerable rain fell in some areas after July 5; others remained short.
Producers for farm markets are watering where possible. Some field crops touched by frost this past month are under more stress now from drought. Hay baling and chopping continue but some hay yields are light due to dryness. Many farmers celebrated Independence Day by haying. Farmers make hay when the sun shines!
Farm markets, pre-picked and pick-your-own berry farms are open as the season gathers steam. Though the Apple Fest in Bayfield this fall has been canceled, farms are open and produce is available. Strawberries have been abundant. Cherries, both sweet and tart, are available. Farm markets are loaded with lettuce, kale, chard, beets and other fresh vegetables. Fruit preserves, maple syrup and local honey are available. Visit bayfield.org/what-to-do/orchards-berry-farms/orchard-reports for more information.
The hot weather has caused a work slowdown among local hens; some henhouses are rumored to be displaying hatchets in nest areas for inspiration. Will those "get tough" tactics increase egg production, or lead to unrest and needless bloodshed? Time will tell.
In some areas wild berries are drying prior to ripening. It promises to be a hungry summer for bears and jam-makers who depend upon such wild bounty. Wild roses are blooming; elderberries are ripe. Green herons have now fledged. Woodpeckers and bald eagles nesting along the Lake Superior shore are looking forward to their young taking flight soon.
Farmers are grateful to have customers at farm markets, farm stores, roadside stands and pick-your-own farms. Still the huge influx of out-of-state license plates as the rate of COVID-19 infection increases in the nation has many worried about spreading disease and another lockdown. All are hopeful people adjust to pandemic hygiene practices, allowing for commerce while keeping people safe. We are seeing some people make the adjustment but we are seeing others who have not.
From the Fields: Greg Galbraith
Take a drive into a remote area of the country and pull up next to a corn field. Put the windows down; turn off the engine and cell phone. Hear that sound? It's the corn growing.
Wisconsin is in a prolonged heat wave; the corn has jumped a good 2-3 feet in the past 10 days. In north-central Wisconsin the frequent 90-degree temps coupled with copious amounts of rain before the hot conditions have produced ideal growing conditions for corn and soybeans. Small-grain seedings are in the late-boot to early-headed stages. Some winter-rye stands are nearly ripe, with seed heads bowed under the weight of their kernels.
Fields are ornate with round bales. Pasture-based farms have clipped excess pasture growth and can be certain regrowth will be rapid. Most farmers have put away their tractors for a respite before beginning second crop. The road ditches are a mix of milkweed, day lilies and trefoil while the wild plums are setting flowers.
I headed east July 9 on Wisconsin Highway 29 to meet with Dan Olson, who runs a diverse dairy operation near Lena, Wisconsin. He has an organic dairy farm and a conventional dairy about 10 minutes apart. Total milk-cow numbers are about 350 for both farms. He runs 1,500 acres, 1,000 of which are certified-organic. He also does some organic cash cropping.
"I have a hard time justifying growing conventional corn for cash cropping considering the market," he said.
He puts a big emphasis on producing a variety of forages including Brown Midrib Sorghum Sudangrass and annual "cocktail" mixes. Cover-crop "cocktails" consist of eight or more species chosen to maximize diversity. A popular mix is to combine Sorghum Sudangrass with Italian ryegrass and annual clovers such as berseem.
"We use the cocktail mixes for a variety of reasons," Olson said. "They're good for soil health in our crop rotations. It's like a full-season cover crop that you harvest numerous times through the summer."
They're excellent-quality forage for a dairy herd.
"They're great in our lactating rations," he said.
He has research plots on his farm to test forage varieties for his consulting business, Forage Innovations. He does on-farm consulting in a 22-state area through his business.
"Right now there are 60 varieties of corn along with 30 warm-season annual plots," he said. "Generally what we do with the plots is start very small and go bigger with varieties that look promising. Our 'Yield Max,' which is our most popular mix, started as a 10-by-10 plot. Then I planted 100 acres for one year on my farm. Then in the third year we used it on 30,000 acres of my consulting farms."
The season began dry this year but then his area had 15 inches of rain in the second half of May.
"As it stands we're looking at a really good year for forage production," he said. "Everything has really come around with the surge in temperatures."
From the Fields: Rich and Ellie Kluetzman
After consistent rainfalls in mid- to late-June, July began dry and hot. The corn didn't seem to mind; it had already achieved canopy earlier this past month. With no weed competition it took right off.
Soybean-herbicide application was finished so we went on to the spraying of noxious weeds along fence lines and in woodlot areas. With a portable sprayer in the bed of our Kubota RTV we knocked down small patches of the usual suspects. The arrival of water hemp in recent years has us changing tactics and chemistry because it seems to germinate later. Waiting a little while for most of the hemp to sprout has given us better control.
We had replanted June 25 some bare areas in one soybean field. With the long dry spell after that, I worried it might not germinate. But tiny sprouts from our efforts emerged July 2 from the dusty soil. In want of moisture, they languished in their rows. We blessedly received an inch of rainfall July 6-7. It was so welcome! The beans are now knee-high and blooming.
With that rainfall our corn pushed out its first tassels; it's now more than 9 feet tall. But to our dismay Japanese beetles appeared after the rain. And alfalfa weevils were spotted as we pulled up giant ragweed.
Grain heads in the wheat fields are starting to nod. The straw's color is beginning to lighten from green to gold, revealing a unique beauty. The second cutting of alfalfa and hay is underway; re-growth had been strong prior to the latest cut.
From the Fields: Tim Boerner
Integrated Pest Management is a practical concept of pest control in agricultural crops. It uses all the tools to make informed decisions regarding pest management. When a crop pest is deemed to pose such a risk that the cost of the treatment would be less than lost crop revenue if nothing is done, that's an economic threshold.
Integrated Pest Management incorporates all the factors involved with pest control – biological, crop harvesting, judicial use of pesticides, crop rotation, variety selection, field tillage and many more subtle considerations. It's defined as a broad-based approach that integrates practices for economic control of pests by suppressing pest populations to less than the economic-injury level.
The United Nations defines Integrated Pest Management as "the careful consideration of all available pest-control techniques and subsequent integration of appropriate measures that discourage the development of pest populations, and keep pesticides and other interventions to levels that are economically justified to reduce or minimize risks to human health and the environment. (It) emphasizes the growth of a healthy crop with the least possible disruption to agro-ecosystems and encourages natural pest-control mechanisms."
This past week I recommended both spraying and cutting for two new-seeding alfalfa fields due to potato leafhopper populations that were beyond the economic-treatment thresholds. One alfalfa field was flowering. Cutting it would eliminate the insects laying eggs in young-alfalfa-plant stems, which were seriously threatening stand yield and survival.
The other alfalfa field was only 6 inches tall and had leafhopper populations at well more than the economic threshold. The cost of the spray treatment was much less than the lost hay crop and possibly the lost stand.
Another example of Integrated Pest Management I performed this past week regarded armyworms. A neighbor spotted armyworm damage in our cornfield along the field edge that bordered his field; being a good neighbor he informed me about it.
The University of Wisconsin has established an economic threshold for true armyworms in corn at 25 percent of plants with two or more larvae, or 75 percent of plants with one larvae. That level of infestation was close to being represented along the cornfield edge's outer-most rows, but it was nowhere near that within the field. We held off spraying an insecticide.
Curious about the armyworm population in the cornfield, I walked the field edge the morning of July 4. I discovered there were four corn rows showing signs of feeding. But when I closely inspected the armyworms I noticed there were eggs on the backs of about half the larvae.
Some of the other armyworms I found were much smaller than those with eggs on their backs, so I eviscerated them and found maggots squirming in the armyworm guts. Both armyworm scenarios were forms of biologic pest control and an important part of Integrated Pest Management.
The Wednesday following my July 4 observations I revisited the same spot in the corn field and found only one armyworm alive. But on closer examination I found that individual had an internal parasite. It was doomed and was no longer feeding on the corn plant.
Crop scouting pays and is an important Integrated Pest Management tool.
From the Fields: Thomas Maloney
Summer is here! To me it seems like it would be more appropriate to have the first day of summer closer to June 1. Likewise the first day of spring should be closer to April 1 because rarely is any fieldwork done before April 1.
Rain showers have been very spotty the past two weeks. Areas around us have received some moisture while we have not. Since June 12 we have only received a quarter-inch – all June 23. The dry spell has encouraged the corn to go looking for water and tap into the fertility in the soil. But I would much rather have the corn show some moisture stress now than during pollination. The corn has reached V6.
The first planted soybean are at R1 and have begun flowering. Winter wheat is rapidly maturing, with spring wheat and oats close behind. Some rain for the winter wheat would be good for grain fill. Second-crop-hay regrowth is looking good. There have been a couple of fields of second-crop hay in the area that have been chopped or baled.
Our corn was top-dressed with urea this past week and showed more flashing-leaf burning than prior years. Driving around the countryside it's easy to spot fields that have been top-dressed; they all have a decent amount of leaf flashing. I believe that's largely due to the warm temperatures and less precipitation this year compared to the past couple of years.
We've completed our second pass of herbicides on our corn. Weed control has been very good this year. A two-pass herbicide program has helped us keep problem weeds out of our fields. Some of the first-planted soybean fields have received their second pass of herbicides as well.
With the lack of rain, our drip irrigation for the vegetable crops has been having a good workout. I'm happy with the results of the drip tape with the plastic mulch.
Looking ahead the weather looks great for crop growth, with sun and temps in the upper-80s. In advance of the celebration of our country's independence, Happy Fourth of July!
From the Fields: Dave Justman
This past week has seen a turn in our weather from a fairly dry stretch to heavy rains. We had 3 inches around Cuba City the weekend of June 20. Fields were just starting to dry Thursday with a quite a few wet spots remaining among the dryish spots. As I write this June 26 it has been a downpour for about 20 minutes.
Dairy farmers are starting to make second-crop hay this past week between the rain storms. Corn spraying is about complete, with attention turning to second-pass spray on the soybeans as well as y-dropping the corn – which is about waist-high.
As I walk my corn fields I am seeing a huge difference in our starter fertilizer trials. We put down 4.5 gallons of 6-24-6 as a standard practice, but trial increased rates and no rates every year to see if there's any difference. This year it's amazing, I was in a field yesterday with a no-starter-4.5-gallon trial. The corn with starter was a full foot taller. It may be a pain in the rear to mess around with the starter but it looks like it will really pay off this year.
Have a great Fourth of July!
From the Fields: Jason Maloney
Some farmers inland from Lake Superior had a visit from Jack Frost the morning of June 13. Temperatures at some farms fell to the upper-20s. Jack's icy fingers touched plants producing for farm-market trade as well as corn and bean fields. That same morning the coldest temperature along the south shore of Lake Superior was 41 degrees.
The south shore of Lake Superior from Chequamegon Bay to Superior was abnormally dry through the Summer Solstice on June 20. While much of Wisconsin has been treading water, some areas along the lake have been desperate for rain. Parts of the area did receive some rain during the last week in June but were still looking for more.
The good news about the dry weather was that it was some of the best hay-curing weather of the past several years in the area. First-crop haying is well along, with both chopping and baling progressing well. Livestock is enjoying lush pasture on many farms.
Thimble berry and wild iris are in bloom, as are blackberries. Wild strawberries are ripe in warm spots. With frost inland and dry weather in places, foragers and wild-jam producers who pick wild juneberry, blueberry, thimbleberry and blackberry are wondering if favorite patches will be barren this year.
By the third week in June area farm markets were operating. Some were late-starting due to the pandemic. All were prepared to provide social distancing to keep customers and farmers safe from COVID-19. Many though not all customers were adhering to simple hygiene measures as requested. Lettuce, beets, eggs, honey and maple syrup were among the items available.
Strawberries are ripening on the Bayfield Peninsula so some were available. Some farms are almost ready for pick-your-own strawberries to go on sale. Those wishing to pick should call ahead or check online for availability. The Bayfield Fruit Loop is coming to life for the season. Green sweet cherries are hanging on orchard trees foreshadowing a tasty harvest soon to come.
As usual one person's curse is another's good fortune. Dry weather has some farm-market producers watering, while hay was baled happily at other farms. But hope for the future springs eternal for all as we head further into a promising summer.
From the Fields: Greg Galbraith
Central-Wisconsin farmers have experienced a broad range of weather conditions the past two weeks. Temperatures bounced from less than normal to spikes of heat in the upper-80s.
With most first-crop alfalfa-grass mixtures sealed in silos and silage bags, many worked to make grassier stands into dry hay. The countryside was embellished with fields of hay raked into a tapestry; balers were busy.
Two rainfall events in the 3-inch range made that challenging. Those who took an early first crop in hopes of tilling in the residue and establishing summer annuals found conditions challenging, with fields too wet to be worked. Those who managed to plant summer annuals are seeing standing water in their newly planted fields. Organic farmers who can't use herbicides in their corn fields are forced to wait until cultivating can take place. Conventional corn growers wait for fields to be able to support their spraying rigs.
The sandy soils of the Central Sands region are a different story. With potatoes and canning crops planted ahead of schedule, irrigation units are at work. Crops are faring nicely. Alex Okray of Okray Family Farm near Plover, Wisconsin, provided an update for the potato-canning crop operation. The Okray farm consists of 8,000 acres. Crops grown include red and yellow Russet potatoes for fresh-market sales along with corn, beans and peas for canning. Okray said conditions are ideal for establishing crops this spring. He echoed the sentiment of farmers across central Wisconsin that they are overdue for good conditions after the past-two challenging years.
Okray Family Farms has worked since 2000 with the University of Wisconsin-Hancock Agricultural Research Station to find innovative ways to solve a problem common to the Central Sands region – soil erosion. The Okrays have added 25 miles of windbreaks along their farm's production fields.
Climate change is also a focus of the research station.
"We need to remain on the cutting edge of technology during this time of rapid climate change," said Dick Okray, Okray Family Farms president.
Alex Okray said the farm saw an increase in sales early in the pandemic, with a peak during March and April. Since then sales have returned to normal.
Back at my woodlot the rain gauge shows 3.25 inches as this crop report goes to print. Most farms in the north-central part of Wisconsin will be playing a waiting game before heading back to the fields to finish any remaining haying or field work as July comes knocking at the door.
From the Fields: Ellie and Rich Kluetzman
After many sprinkles, rains and downpours during the past two weeks, our corn took off. Our best-looking cornfield has a stand as high as my chest as of this report. Some corn plants continue to catch up but other areas of the same field have reached canopy. We need to remind ourselves that our worst field is actually the food plot for wildlife.
After applying glyphosate to our soybeans the first of the weeds died back, only to reveal our spotty and disappointing bean population. One field had a well-defined area in need of more beans. The cooler soil temperatures had raised heck with germination.
Spraying to kill back water hemp took place 10 days after that initial application of herbicide. But before we did that we needed to make a decision on replanting beans.
Rich and I weighed the pros and cons of replanting, holding up each factor for scrutiny. Fuel and seed were not a problem. Time was not an issue. But we didn't know how we would squeeze our 15-foot grain drill down the lane to the fields. There's a fence line on the left and a great stand of corn on the right. Our clearance is likely only about 12 feet.
Then Rich remembered our circa-1950s Minneapolis Moline grain drill. Its 9-foot span is perfect for the small strips we were going to replant. I rode in the back of the Kubota RTV pulling the trip ropes. We've almost sold that grain drill twice. Boy are we glad we never did. We planted every bean we had on the farm; our plant date was June 25.
Nearby wheat appears to have been sprayed. Most fields continue to look strong and healthy. Barring storm damage it looks to be a good crop year for those farmers lucky enough to have some.
Alfalfa re-growth after the first cutting looks good to excellent. Silage chopping of rye and oats has started.
From the Fields: Tim Boerner
Knee-high by the Fourth of July – I've heard that since I was a kid and always equated it to a very good corn crop developing right before our eyes. But nowadays corn that isn't knee-high by the Fourth of July is very disappointing and probably not going to be the bumper grain crop we are hoping for.
Much of the corn in our area is approaching waist-high; some might even be taller. Weed control in all crops and especially in corn is looking good; insect pressure has been light. Nitrogen side-dressing applications have brought the corn around to a healthy-looking dark-green color. Yield expectations are truly optimistic.
My good friend Chuck from Feider Farms near New Holstein is optimistic for a bumper crop. Chuck and I enjoy our conversations because we always spend most of our time dwelling on the positive things happening in our lives. We agree there is just too much negativity in our society.
Most of the world and national news seems to be dominated by the terrible and scary happenings that 2020 has brought to us. At times it's difficult to be optimistic and stay positive. But if we focus on our family and how lucky we are to be working in agriculture, things look bright.
Chuck tells me his planting season went as smoothly as any in his memory. Seeds went into the ground on all his crop land, spring manure-hauling went off without a hitch, and even first-cutting hay was cut and chopped without being rained on.
The growing season is progressing well for Feider Farms. Crops are looking good. The annual blessing of the seeds at the local church truly payed dividends this year. Chuck and Julie have raised three wonderful children. Their 10 grandchildren now enjoy coming to the farm to help out whenever they can. The Feider farm has many reasons to be optimistic.
In my previous column I related that the first-ever tropical depression to visit the entire state of Wisconsin may have brought some hitchhikers along with it. During this past full week of June some of the local agricultural experts are speculating that Cristobal may have brought true armyworm moths to the northwest part of the state.
Indeed there were reports of fields under siege from those caterpillars in the Spooner area. I've concentrated my scouting to edges of fields and areas where corn was no-till planted into sod because I know the moths like to deposit eggs in the grassy areas. On my scouting trips to corn and small-grain fields near Spooner I did find armyworms but have yet to see any at an economic-threshold level. But armyworm populations can increase quickly; I saw many early instar stages of the pest so scouting diligence will be necessary.
Many years ago I read that armyworms are one of the most heavily parasitized crop pests that we deal with in Wisconsin. Several times I have found what I thought were populations that were nearing economic spray-treatment-threshold level. But on closer examination I noticed parasitic eggs attached to the bodies of many of the armyworms. So we delayed an insecticide treatment.
On a subsequent scouting trip to the same field, I was hard-pressed to find any live armyworms in the field. Biologic pest control is a wonderful thing and is an important part of Integrated Pest Management.
How's that for optimism Chuck?
From the Fields: Zac Soltvedt
The summer seems to be flying by. The warm temperatures are pushing this crop right along. I don't see any reason why the corn shouldn't be knee-high by the Fourth of July, especially because the majority of it is already there or even higher.
With the corn stretching its height a lot of guys have been asking to start Y-Dropping. This past week has been full of rain; we've received more than 3 inches of rain. Even though the corn is stretching it's also showing some impurities. A lot of corn is showing nitrogen deficiencies.
But I challenge growers to look further. Go pull a tissue sample to see what's really going on. Most times sulfur is the issue. Sulfur-deficient corn will also affect the plant's ability to take up nitrogen. So just going out and adding nitrogen will more than likely just put a bandaid on a bigger issue. We try to achieve a 5:1 N to S ratio when side dressing. During that time I'll also add micros if the tissue test shows a deficiency.
On another note the beans are branching out as well. With the summer solstice happening this past week how many growers have flowering beans? I haven't seen any by me yet but I'm sure they're out there. One thing I have seen is water-hemp pressure coming on strong. With the Ninth District Circuit Court overturning the use of over-the-top dicamba herbicides such as Engenia, Extendimax and Fexapan, it's going to be a difficult battle against resistant weeds. Growers who have already purchased and received those herbicides are still legally able to spray them for this year. I'll be using any inventory I have.
For non-tolerant beans we've decided to use Flexstar. I'm hoping with enough crop oil and surfactants the water hemp will be controlled.
Well the rain has missed us; I better go back to work. Thanks for reading.
Toby Cartledge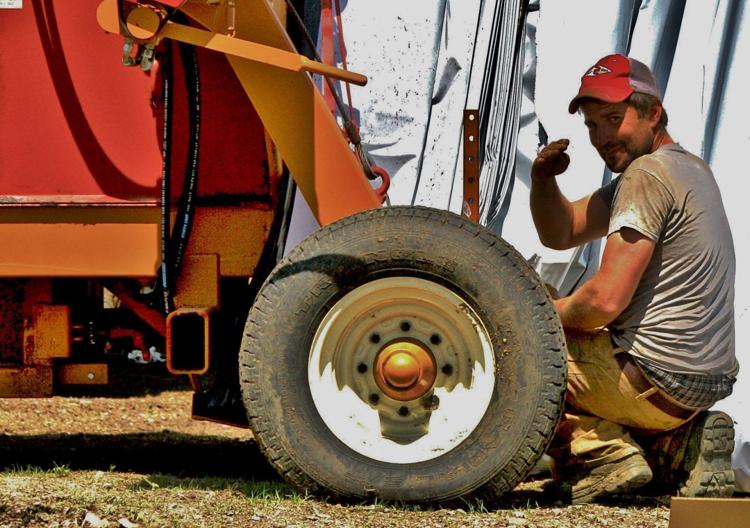 From the Fields: Dave Justman
There has been more than ample rain this past week – 2.5 inches in the area. I think we dodged a bullet because some areas to the north had 4 to 5 inches.
After first-crop hay was harvested there were a lot of fields ripped up and corn planted due to subpar stands. I have spent the past of couple weeks scouting; the sins of planting season are becoming evident. In true farmer fashion, "Mine looks good but holy bucket the neighbors look rough." In southwest Wisconsin the corn stands look to be less than desirable, especially on north- and west-facing hillsides. Whereas in the past two years trench integrity was not that important due to rainfall every few days, this year we're paying the price for air pockets and open slits.
There are also a fair amount of yellow spots in the corn, which could be due to compaction in the fall. There are weed-control issues, water ponding or a combination of all three. I have also needed to spray for armyworms this past week, although I think we were the only ones in the county. All in all our corn crop just doesn't have that shine to it that we are accustomed to seeing.
The soybean stands look more than adequate but they just seem slow to grow. My most advanced soybeans are at third tri-foliate, with a lot of them at first tri-foliate. Bring on the heat!
From the Fields: Jason Maloney
The first two weeks of June were mostly cooler than normal along the south shore of Lake Superior. The weather inland was warmer. It was mostly dry until the remnants of Tropical Storm Cristobal passed through the area. Some places along the lake shore had flash-flood warnings, especially in Ashland and Iron counties.
Planting is complete; corn, soybeans and small grains are up in most fields. First-crop hay is being harvested. Farmers were chopping and blowing hay ahead of Cristobal; chopper wagons were common sights on many fields. Those who plan on making bales are looking forward to the predicted dry weather this week.
In the orchards cherry trees had blossomed in late May. Apple blossoms were out in the orchards the first week of June but were somewhat spotty. Berry growers in Bayfield and Ashland counties report strawberry blooms look good. Also in early June the fragrance of wild plum was in the air; blueberry and other berry blossoms were out. The rain during the second week of June bodes well for the upcoming berry crops.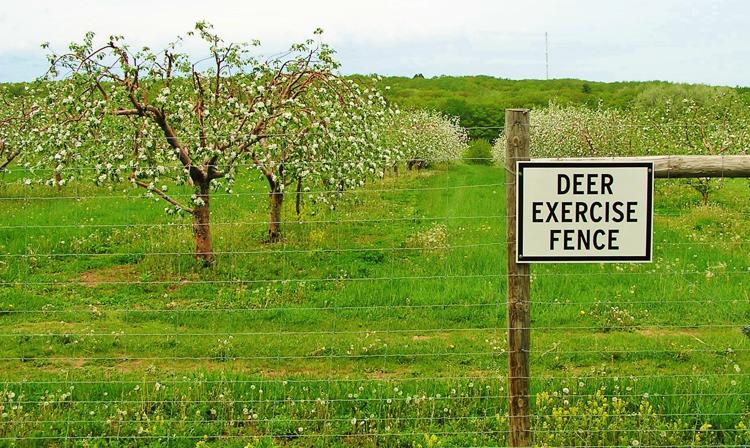 In the woods Star Flower, Bunch Berry and Thimble Berry flowers were like bright-white satin on a background of green foliage. Foragers are now searching the woods for oyster mushrooms on dead aspen in the Chequamegon-Nicolet National Forest.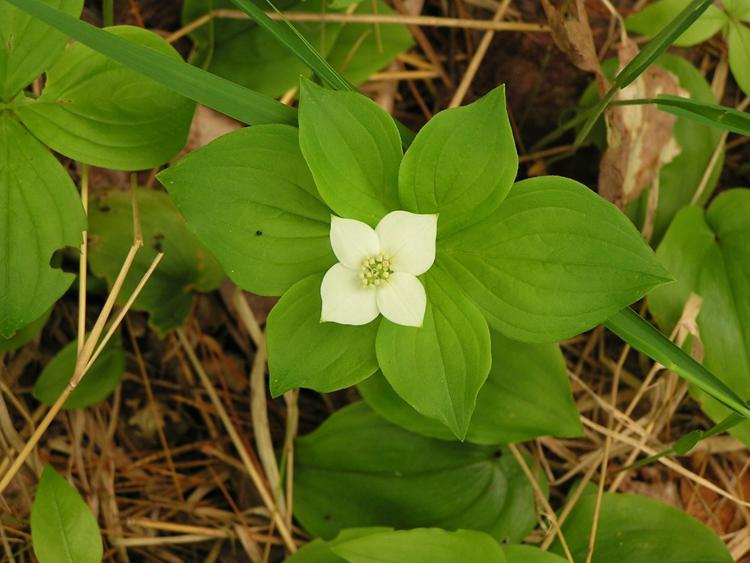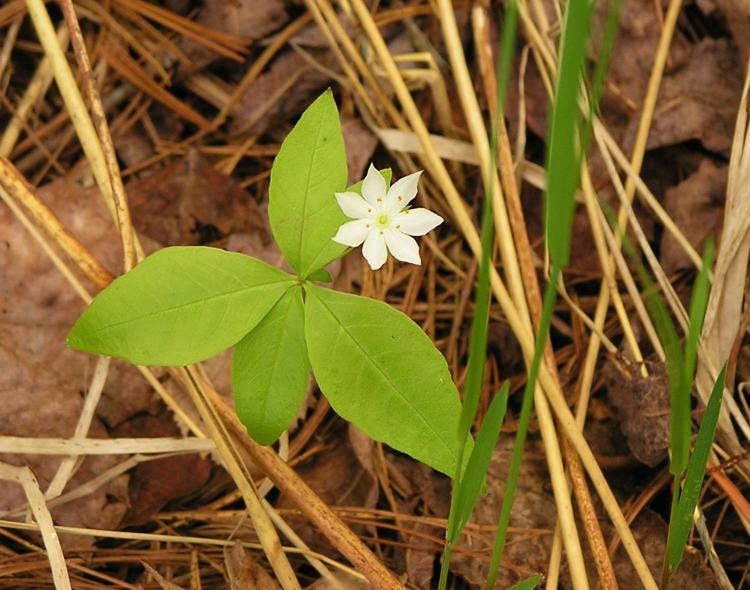 Farm markets in the area, including those on Madeline Island and in Washburn, are starting to open for the season. Growers have hoop houses populated with radishes, greens and other vegetables. Growers are also putting in larger crops of stew makings – onions, carrots, potatoes and other root crops to ward off the possibility of the coming winter being an especially lean one.
Farmers in the area are expressing some relief at the fact that dairy and beef prices have increased after the big market declines when the pandemic hit. All hope those prices, as well as the prices for grain and all farm produce, remain at levels that ensure a living wage for farm families.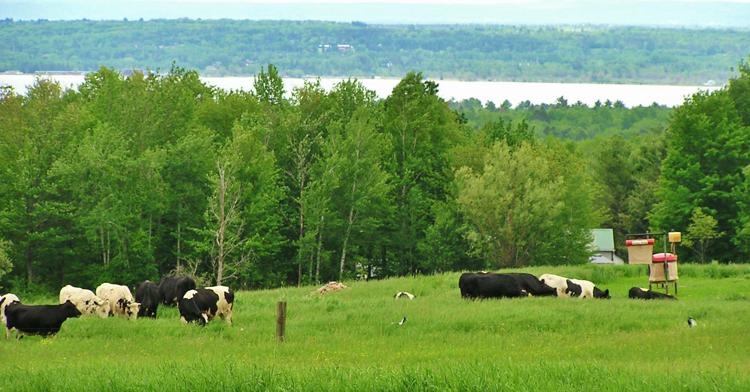 The year 2020 has been a roller-coaster ride for most people. Fortunately for those of us in rural America we have the natural world to provide us with balance and a ground that saps the electricity out of the digital age. It sure helps to be outside, look at the forest, take a deep breath and let nature restore our proper perspective.
From the Fields: Greg Galbraith
Farmers in north-central Wisconsin were happy to be ahead of schedule finishing first crop the week of June 7 through June 13. Early in the week I visited James Juedes of Ringle, Wisconsin, who grows crops on 180 acres to raise forage for his 60-cow dairy herd. He focuses on corn and alfalfa for his herd.
"I don't bother with beans anymore," he said. "I'm better off concentrating on getting quality forage put up."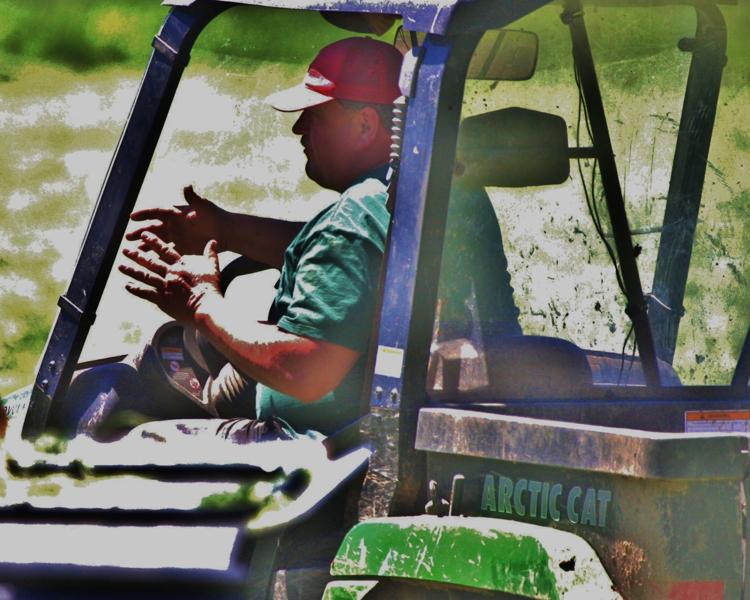 Juedes was making a push to chop and bag a field of alfalfa before the effects of Tropical Storm Cristobal could be felt on his eastern-Marathon County farm. He's having a custom operator take care of the chopping task.
"I can't justify the investment in forage-harvesting equipment and doing the work myself when these guys can come in and finish in a few hours what would take me an entire day if not more," he said. "It's hard enough to find reliable labor. These guys make it look easy."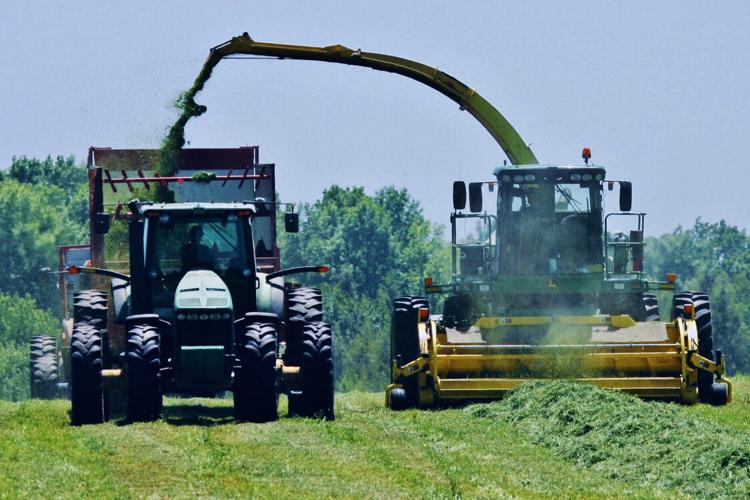 Temperatures in the upper-80s had the crop drying surprisingly fast. Juedes said he was glad to see the custom merger take six rows of cut forage and combine them into a single row for the chopper. That slowed drying. He grabbed an armload of the cut forage and judged it would make excellent silage. He told me it's been a number of years since planting was finished before haying commenced.
"It's been a good spring for planting and now we're ahead of schedule for getting first-crop hay in," he said. "It feels good; we needed it."
About 2 miles away as the crow flies Toby Cartledge was busy preparing a bagger for a day of chopping first crop on some of the 400 acres of land he grows organic crops on to feed his 100-cow rotationally grazed dairy herd. When I arrived Jake Amacher, owner of Cranky Jake LLC of Mosinee, Wisconsin, was there with his mobile welding truck taking care of a few welding tasks on the farm. Amacher told me he covers the entire state with his business.
"I get to meet different people from all walks of life," he said. "It's made my world smaller if you know what I mean."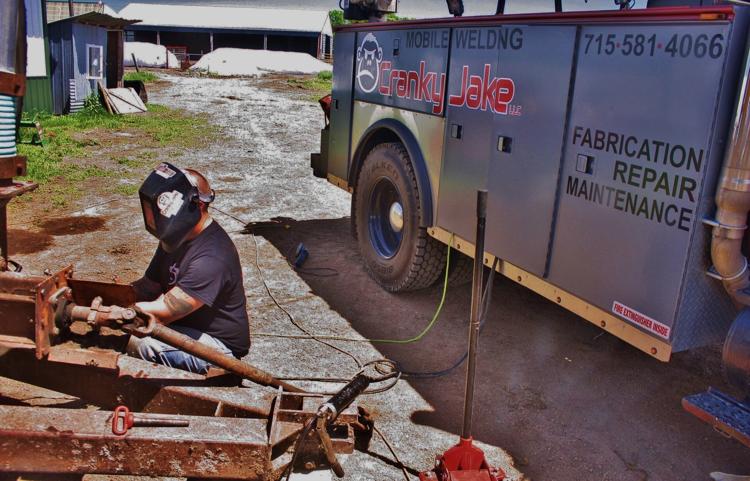 Cartledge and his wife, Mindy Cartledge, along with their two boys Eli, 6, and Oliver, 11 months, have an organic dairy farm a few miles from the Eau Claire Dells in eastern Marathon County.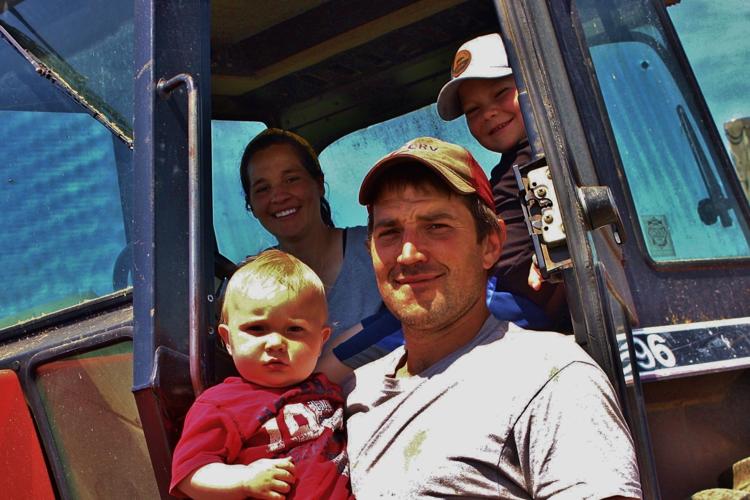 The Cartledge crop-acreage breakdown includes 90 acres of corn for silage, 250 acres of hay, 50 acres of millet seeded down with ryegrass and clover, and 200 acres of land dedicated to grazing their herd. Toby Cartledge said he likes what millet has to offer as an alternate forage for his herd.
"It's similar to sorghum-sudangrass in terms of yield but there's no prussic acid concerns," he said.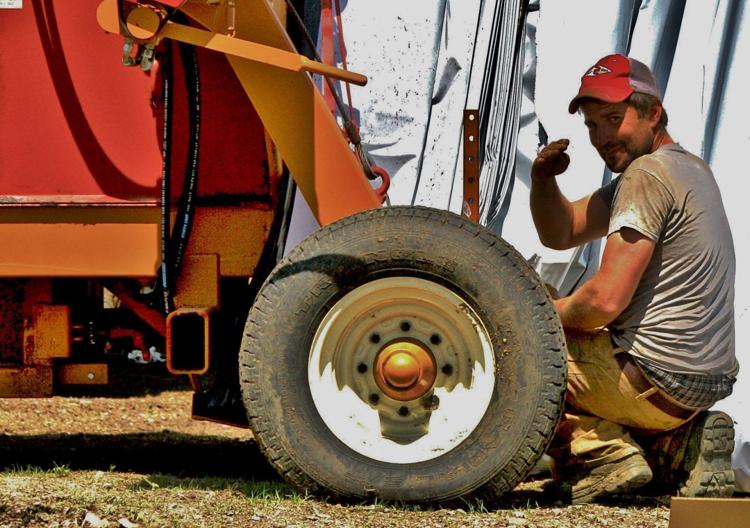 The Cartledges favor chopping and bagging instead of silage baling.
"I can get forage harvested much faster by chopping," he said.
Both Juedes and the Cartledges were glad to have a big chunk of first crop taken care of before the tropical-storm rains made their way into north-central Wisconsin. The skies opened in the late afternoon June 9. A slow steady rain came straight down and added almost 2 inches of rain to the region. That will likely guarantee a decent second crop of hay for farmers in the region when July rolls around.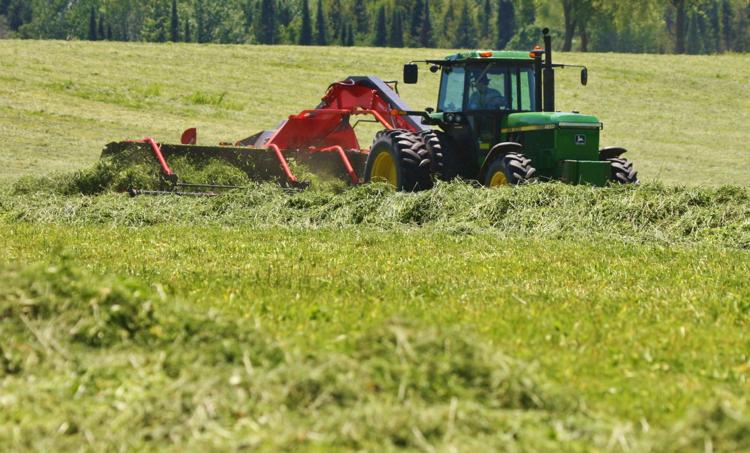 From the Fields: Rich and Ellie Kluetzman
Herbicide spraying on the corn ground was the first order of business at the beginning of June. In 2019 our farm struggled to beat back invasive water hemp. With a new formula of chemicals we had hopes of better control this year. The usual suspects were readily dealt with by the herbicides. After four to five days we saw pronounced die-back of the water hemp as well.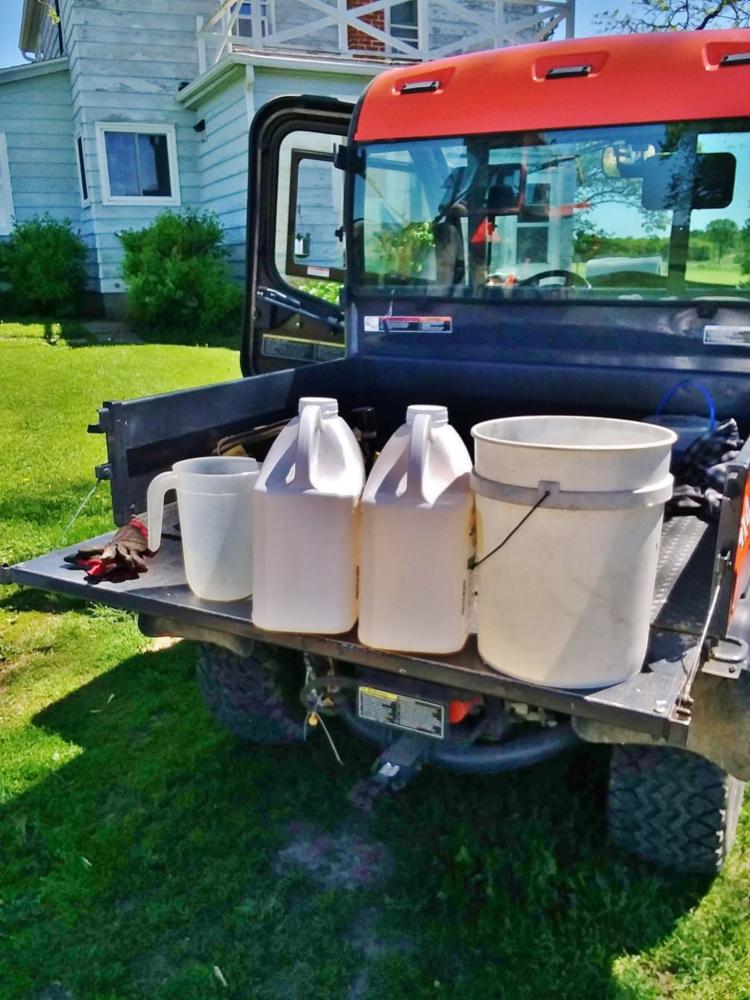 The best of the cornfields look to be in excellent shape, though local fields remain uneven due to some delayed germination. They should improve as we progress toward canopy. A few lower fields in our area have large tracts of stunted growth; other fields have gaps with no corn at all. Some of that is due to historically wet spots and some of it to poor germination because of weather.
Soybeans look good so far with more-even germination and growth. Spraying for weeds will be done soon; no real issues there yet.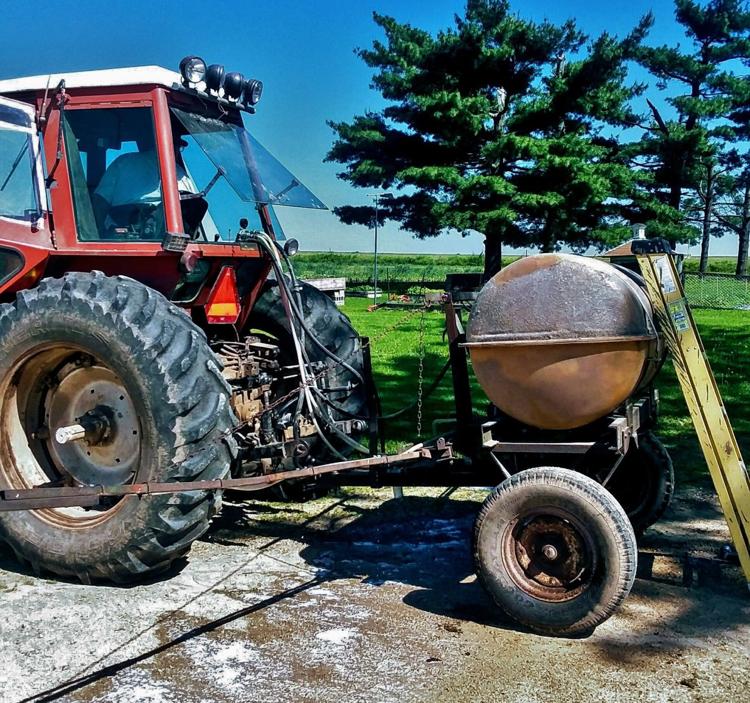 Seven-tenths of an inch of rain softened the soil overnight June 9 – just ahead of the deluge of 2.9 inches of wind-driven rain the afternoon of June 10 thanks to Cristobal, which pounded us for two hours. We watched as violent streams tore through the fields and over our gardens.
Upon surveying our land 24 hours post-storm, we were pleased to find relatively little ponding. With our close proximity to the Crawfish River we often have a delayed drainage of rainfall. Howling winds from the storm didn't flatten corn anywhere we could see. What corn was leaning that day was back up the next day.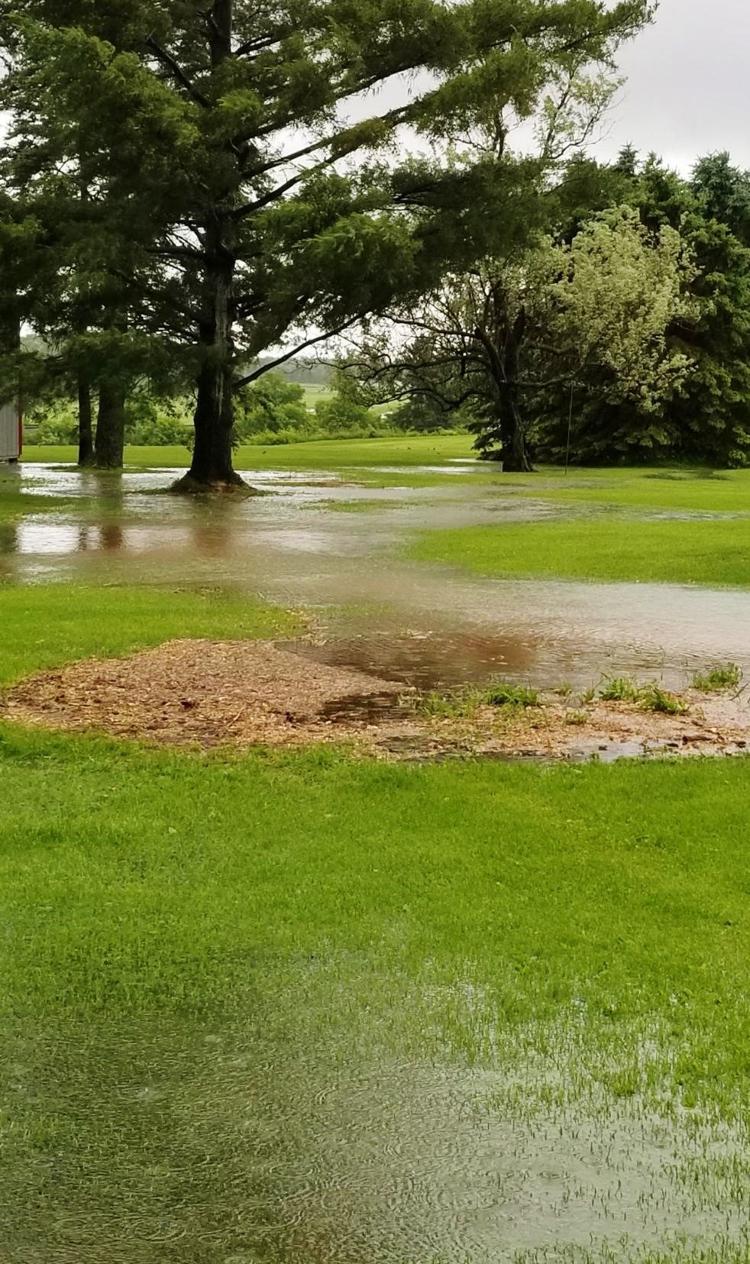 Nearby wheat has headed out; the crop looks healthy and strong. As of this report there's no wind damage to it in the immediate area.
First-crop hay harvest was progressing well before the heavy rain.
From the Fields: Tim Boerner
Reliable moisture and favorable temperatures has the 2020 growing season off to a very good start in spite of all the humbling issues challenging us humans.
We experienced a tropical depression June 10, sweeping all the way through Wisconsin for the first time in recorded history – since records began in 1850. Cristobal dumped as much as 4 inches of rain on certain areas of Wisconsin in a single evening.
The National Weather Service recorded the lowest barometric pressure ever in the month of June for Madison and Green Bay – 988 millibars. The previous record-low pressure for June was 990.2 millibars on June 1, 1936. As a result of this year's unusual incident Bryan Jensen, a University of Wisconsin entomologist, has written about the potential of Cristobal lifting insects up from the South. I would assume that brings disease potential to our crops as well.
The recent warm weather has bumped our growing-degree days ahead of 2019, but the total still lags behind the five-year average by almost half.
I have been spending a lot of time crop-scouting from the field and have noted a number of interesting conditions developing. No-till planting is saving lots of soil and building organic matter. It looks cool from the road watching the green rows emerge from a mat of brown dead vegetation. But going out in the field and walking the crop rows while doing a closer field inspection can reveal some developing issues.
A no-till-planted corn field I looked at recently had a great herbicide-burndown result on the grassy sod, which was the 2019 crop. The burndown spray had a residual herbicide applied with it and for the most part had done a good job.
The issue on that no-till field was that when the corn planter went through the dead sod it disturbed the soil enough so that the residual herbicide was unable to provide control of the germinating annual grass weeds. And throughout the field there was a carpet of developing weeds only in the corn rows.
On another no-till corn field I scouted this past week I found a field that had been planted into a rye-grass cover crop. The burndown spray was delayed; the growing corn plants were attacked by stalk-borer feeding because the moths found the rye a good place to lay eggs.
Scouting and walking crop fields I notice a lot of interesting things.
Recently while walking across a field of barley I stepped into a hole. I was scouting the field on a Friday following a Monday downpour that had made the soil very soft. When I looked more closely I saw the hole was really a footprint of a bear. My size-9 foot fit inside the bear paw print. On closer inspection I saw I could have followed the tracks for a long way. Next to the bear's paw prints were the tracks of a cub set perfectly alongside. I imagined the sow and cub crossing the barley field in search of a dry place to rest.
Many alfalfa fields were harvested the week after Memorial Day. I hadn't seen any of the fields matured beyond the bud stage, but as one grower told me, "the hay-drying window was open and the forecast looked good so we cut it down." It also keeps them on-schedule for four cuttings this summer.
The alfalfa has been relatively insect-free so far, or at least at well less than the economic threshold for pest-control measures.
I will continue to keep crop-scouting from the field.
From the Fields: Zac Soltvedt
Another two weeks have come and gone. Just like that we're halfway through June Dairy Month. A wise man once told me the older you become the faster time goes by. Boy was he right!
The past couple of weeks we have been fairly busy spraying once again. We are about 75 percent finished with posting corn and cleaning a few of those pre-fields that broke through with the dryer weather during spraying. A lot of my dairy guys have no tiled corn in after their first-crop alfalfa. So those we will just come in with some Status, atrazine and Roundup; it seems to do a really good job. The few reports I've had from my alfalfa growers is that the first crop they did have was pretty nice. Most of the first crop has been off for a week or so now; the co-op has been busy top-dressing.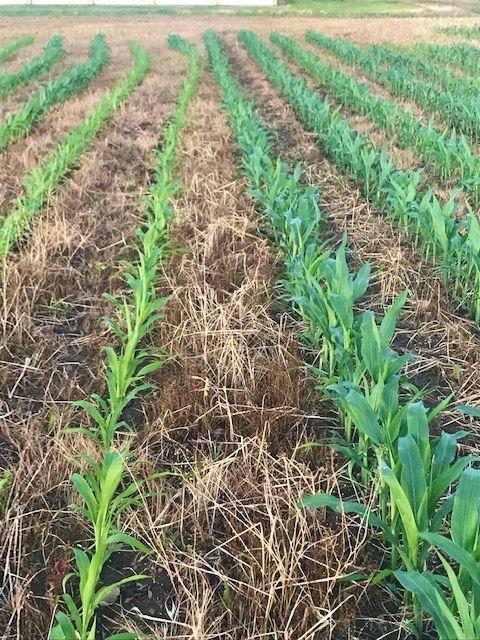 I was able to finally go out the other night to catch up on some scouting. The corn is really coming along on the dryer areas. With the amount of rain we had, the lower wetter areas are starting to show some discolorations. The majority of the corn is ranging from V2 to V4. With the heat coming this week again I'm hoping to start our weekly tissue sampling on most fields. I have a picture of a side-by-side where the 2x2 starter wasn't quite fully on; boy it sure does justify its place. There's a whole leaf-collar difference and just a much-healthier look. Our plan is to tissue-test and then we will start to side-dress according to what the deficiencies are and where we want our levels to be.
Most beans I've looked at are V2-V4. They are starting to nodulate and should really begin to take off. I'm thinking if the weather stays nice we will begin to start the majority of our post beans this week.
Let's hope the drowning rains slow for a while to give things a chance to breathe and dry. As for my relay wheat, it's coming along really nice. It's all headed out and just starting to flower. I'm hoping to find time to spray my Caramba before it's too far gone.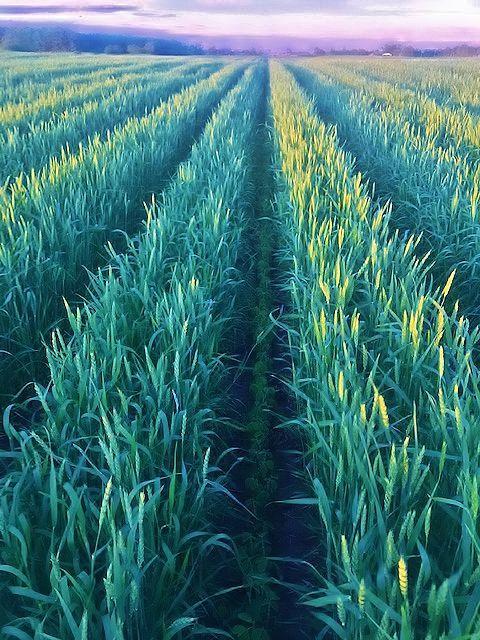 That's all I have for this week; talk to everyone next time.
From the Fields: Thomas Maloney
We've enjoyed some excellent weather the past two weeks. Full sun, 80-plus-degree temperatures and a little rain have kept the crops happy. Most of the corn in the area has reached V4 to V5. I would expect some to be knee-high within the next week. The soybeans are moving along nicely as well, with narrow-row beans starting to close canopy. Fungicides have been applied to our wheat; at this point the wheat looks great. A good amount of first-cut hay has been made as well. With another good stretch of hay-making weather coming I would expect the majority of first crop will be completed by the end of this week.
During a recent rainy day I took an afternoon trip down to northern Illinois. The crops generally looked good, as expected. But some of the corn was only V1-V2. There were some fields that had just been planted and had not yet emerged. It was better than 2019 but surprising.
As far as how crops look generally across the Midwest, I have heard some conflicting reports. Most have said they had some of the best planting conditions in several seasons. They disagree however on the general condition of the crops. Some say they're the best in a number of years. Others say good but delayed due to cold weather earlier in the spring.
I have seen a few replants in some low areas that have dried enough to plant. We did some replanting ourselves because we would rather have a slightly later crop than a blank area or weeds for the rest of the summer. The best way to keep weeds in check is to have a standing crop.
Tropical Storm Cristobal brought us 1 inch to 1.5 inches of rain that was welcome. We had some wind that leaned some corn over and blew down some small patches of wheat, but nothing serious.
The crops are really looking nice; corn has turned from a green-yellow to a dark green. Post-herbicides and nitrogen side-dress on corn will start this week.
From the Fields: Jason Maloney
Though areas to the south received rain earlier in May, only a trace of rain fell on the Bayfield Peninsula during the first three weeks of the month. Memorial Day afternoon the eastern part of the Peninsula, Ashland and Madeline Island received half an inch to an inch of rain with more in some areas.
But by midweek the whole south shore had received more much-needed rain. Temperatures went from cold and frosty the first two weeks of the month to seasonably cool from the third week on.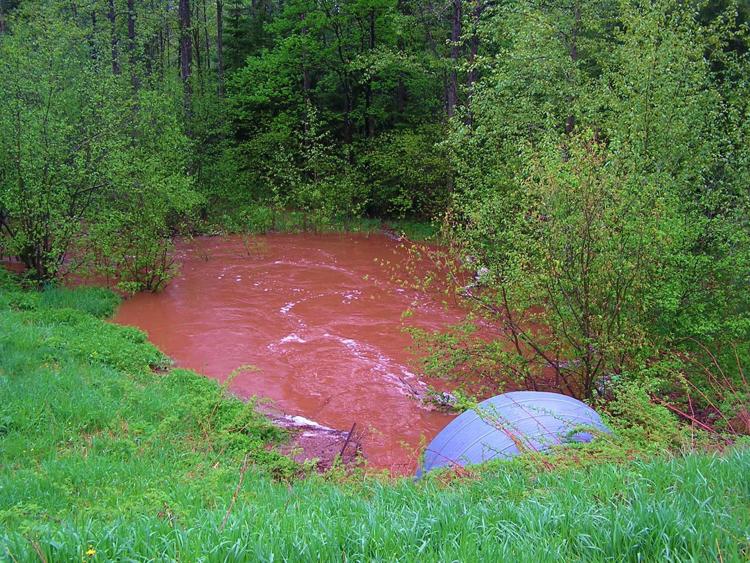 The dry weather was great for planting. Planting of corn, soybeans and small grain is almost complete with emergence on some fields. Pastures and hayfields are looking better with the more-moderate temperatures and rain. All in all May was a fair month with favorable weather for planting followed by needed moisture.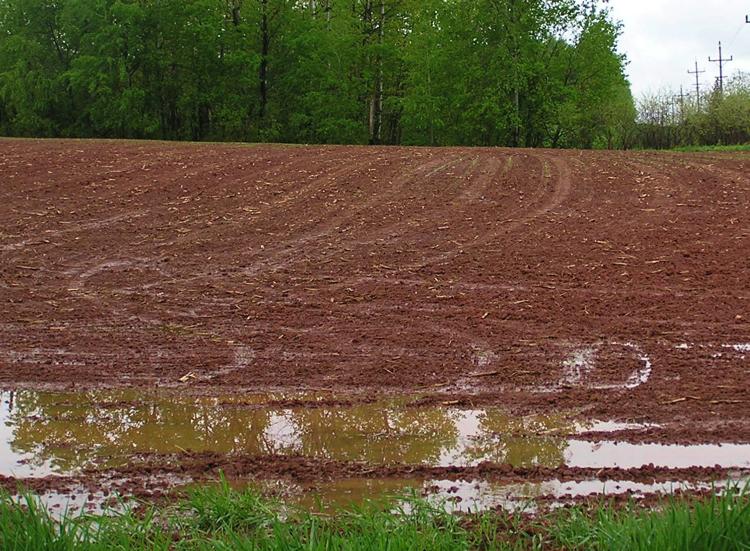 The further one ventures inland from Lake Superior, the better the crop of black flies and mosquitos. June berries and Trilliums are in bloom. Hummingbirds returned to the Lake Superior shore the third week of May. Chickadee broods are ready to fledge.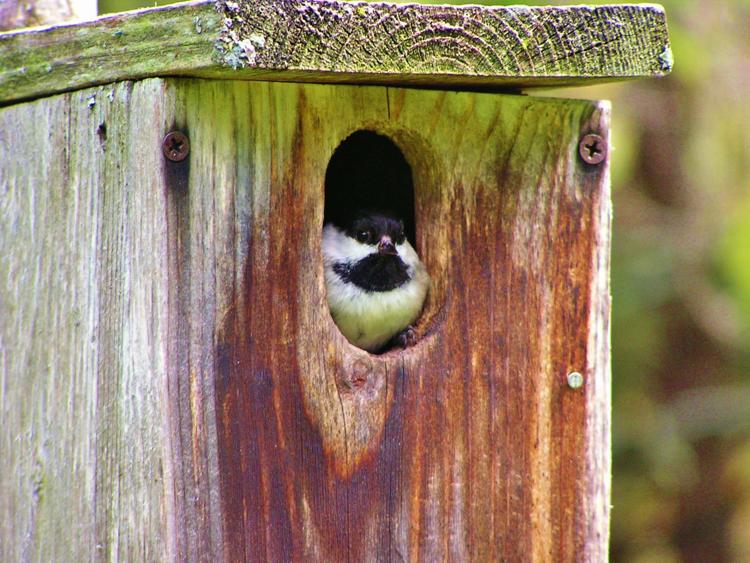 Orchard trees and berry bushes seemed to be waiting through the dry and cold weather to burst forth with leaves and blossoms. They had what they were waiting for the last week of May – rain and moderate temperatures. Now all will be looking to see if late frost caused any damage. Blossoms will be out in full force as June begins, sweet and tart cherries leading the way followed by apples. At this point the berry crop looks like it will be good. The Bayfield Fruit Loop is full of activity with summer on the horizon.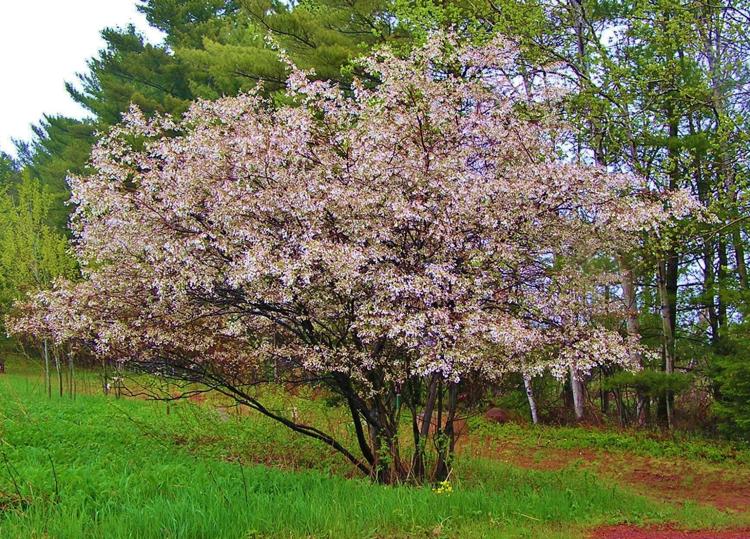 Producers for farm markets and community-supported-agriculture operations have plants out in the ground. All are hoping there's not a late visit from Jack Frost. Some producers with farm stores or roadside stands report good early-season business already for what's available. Asparagus is up. Morels are out. Many are waiting to see how and when farm markets will be operating this summer. Certainly this year there is wide interest from consumers in farm-to-table opportunities.

From the Fields: Dave Justman
I don't know what it is about this article; we seem to have an inch of rain every time I write it. As I am writing this May 29 we just had another inch of rain. We've been trying to finish planting our seed-corn crop for the past two weeks between the storms. It's been difficult to say the least. It's only 1,500 acres but we plant it at least twice, a lot of times three times to hit the pollination window. To battle the rains we've been running 24 hours a day when we can go.
The corn is growing slowly with my most advanced corn being v3. It's the same with the beans, being about second unifoliate. As I mentioned in my previous article the weeds are taking advantage of all the moisture so I will start spraying second pass earlier than normal, probably this week.
With the wet weather only some of the rye has been chopped; no first crop has been made. I hope the next two weeks finds you well; stay safe.
From the Fields: Thomas Maloney
As I write this report, May of 2020 is almost finished. What a month it's been. Cool temps and frost happened ¬nine different days – and then to almost-90-degree temperatures the week of May 24. Rainfall total for the month is 4.80 inches as of May 29. Average rainfall for the month May in our area is 3.25 inches.
With cooler temperatures for most of the month, emergence was slow in some areas. But generally most fields look good. The largest-growth-stage corn is at V2. The most mature soybeans are nearing the first trifoliate or V1. I've spent some time the past couple of weeks taking emergence ratings and stand counts to better evaluate the progress of different varieties.
Planting progress in the area is mostly complete, with a few fields of soybeans left to plant. Hopefully what is left can be planted during the next week or so. There's definitely a greater percentage of corn acres than soybeans this year.
The winter wheat looks excellent with some reaching the Feekes 10.1 growth stage, when heading begins. Fungicide timing will be ideal within the next week. The spring-seeded grains and alfalfa are coming along nicely as well. I expect the new alfalfa seeding will be cut by the end of June. The first field of hay in the area was cut Memorial Day. It was round-baled and wrapped for baleage.
We have been busy transplanting strawberry, tomato, pepper, zucchini and squash plants. This year we planted into plastic mulch with drip tape, which took extra time to prepare. Some of the advantages of planting into a mulch layer are weed control and water retention.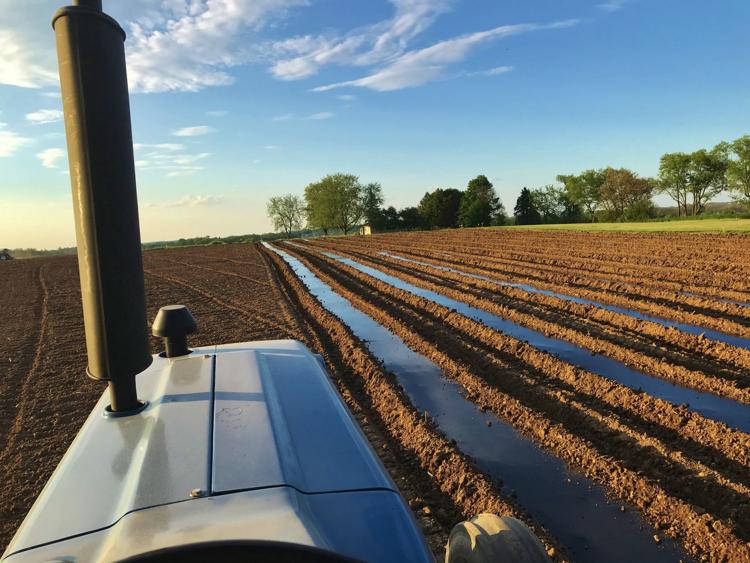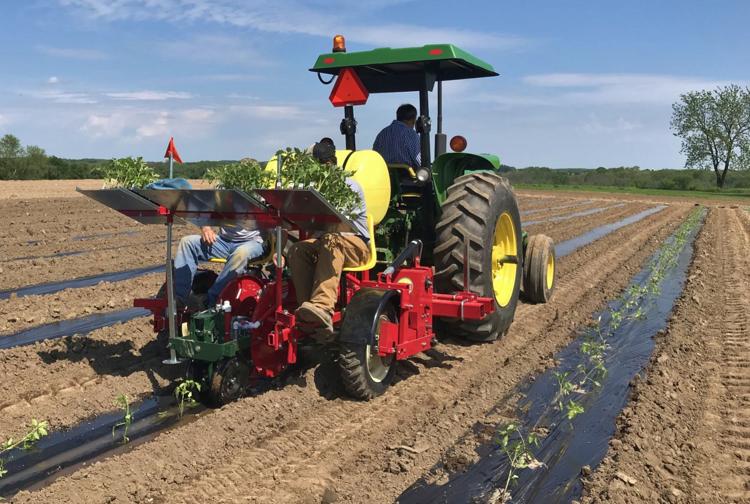 Looking ahead we will be preparing to start cutting hay during the next-available weather window. The majority of our hay is put up dry so we like to have at least three good days of drying weather in a row.
With cooler temperatures expected the next few days, most field activities will be slowed until the early part of next week.
From the Fields: Zac Soltvedt
Good afternoon everyone. I was able to sneak away from repairs for a minute to let everyone know what's been going on. In the previous article I wrote we had just received 2.5 inches of rain. As I'm writing this article we had just received another 3.5 inches. Let me tell you there sure is a lot of water standing.
We were able to finish planting Wednesday before the rain came in. It sure is a good feeling to be finished. This year we switched to 100 percent no-till except where we planted new seeding.
With the amount of rain we've received I'm really happy with how things are looking. I would say 95 percent of everything in my area is planted. A few guys have a couple of acres of corn to go in yet after first-crop alfalfa and also some beans to finish.
Along with planting we have been busy busy busy trying to keep up with the sprayer. We are caught up as of now, or at least until the phone rings again. So far I can't complain about the spring we've had, except for the large amount of rainfalls at one time.
I've had a few guys ask me about starting a second pass on beans already. It's hard to imagine that because the past two years we were just starting to plant at this time. Spraying second pass this early on beans makes me kind of nervous. The beans sat in the ground for a while before they came up so there's not a lot of foliage to shade the ground yet. I'm afraid if we lay our second pass down this early we are going to run out of residual before the beans are fully able to canopy.
I've heard a few reports of producers finding waterhemp starting to pop up already but I haven't personally seen any. It's starting to be warm enough that growers should start to keep an eye out. That's all for this week. I'll talk to you all soon.
From the Fields: Tim Boerner
Through the years many dairy farmers have had Memorial Day as the target for cutting alfalfa hay. This year alfalfa's slow development, almost a week after the holiday, finds the crop finally budding. PEAK-stick as well as scissor-clip Relative Feed Value predictions put cutting schedules at two weeks later than that.
The Wisconsin Department of Agriculture, Trade and Consumer Protection's weekly pest bulletin charts growing-degree days. Those numbers show growing-degree days increasing this past week by almost as much as the previous month.
To say that we needed a warming to the growing season is an understatement. Crop response has been phenomenal. During the Memorial Day weekend, almost overnight, planted fields have exposed the crop rows that make a testament to the frantic planting pace that led to the holiday.
Then rain and thunderstorms happened; local farm fields received as much as 3.5 inches of rain. The nearby Red Cedar River, which runs through our area, rose 2.5 feet in the two days after Memorial Day. And those field wet holes that were planted the previous week, for the first time in years, are now underwater.
At least the planting season went quickly before the heavy rain returned. But going into all fields with timely herbicide treatments may be a challenge in the coming weeks.
Although corn and soybean row crops finally had enough heat units to germinate and emerge, those pesky weeds have been growing for weeks. Many annual grass and broadleaf weeds can and do grow at much cooler temperatures than our preferred crops. They've begun to compete. And let's not forget the perennial weeds that have been establishing their claim to field space for more than a month now, with less regard for growing-degree days.
Corn is quickly moving thru the V1 or first-leaf stage. The experts say that corn's V2 stage is the start of the critical timing period for removing competition and establishing corn-plant protections. Annual weeds easiest to control when they're small and row-crop yield potential is influenced early in the crop's life cycle. The most crucial time for pest control and crop protection is early in the growing season.
The acceleration in growing-degree-day accumulation also has insect-pest species developing quickly. I've seen an abundance of cutworm activity recently in several different crops. Alfalfa-pest populations will hopefully be curtailed with some timely cutting of first crop.
As the crops emerge and the planting sins are exposed, look at small-grain drill patterns to determine if some planting-depth issues warrant seeder adjustments.
Most soybeans are planted with corn planters in this area of the state. With all the monitors installed on modern equipment, seed placement is almost always excellent. But situations arise that even when state-of-the-art equipment is used, planting into too-wet and especially clayey soils can create conditions like compaction – especially to the seed-furrow sidewall.
Sidewall compaction can restrict root growth and adversely affect a plant's ability to grow to its full potential. It's best to be sure that soil conditions are optimal for crop growth and development.
Remember to keep scouting fields. Anything that's not correctable for this season's crop, take note for future reference.
From the Fields: Ellie and Rich Kluetzman
Our corn planting was complete April 26. The first spikes of corn reported back May 13, but with a full month since planting we don't believe every sprout has pushed through yet. Every day we are still finding newly emerged plants. The cornfield with the most litter from this past year's harvest was the last to show green. A little rain coupled with warmer temperatures coaxed the final field to emerge.
With occasional small doses of quarter-inch rain during the week of May 17, the week then ended with light rain and mist May 22-23. The moisture was welcome because it compelled the soybeans to show. Green-yellow sprouts slowly uncoiled themselves from the soil.
A wave of warmth finally enveloped the area May 19, which led to heat and humidity during the next week. A lack of a good rain was felt by the land; we were teased by thunderheads going north, east and west of us. A rain dance was considered but one wasn't necessary. The morning of May 28 the heavens opened. What started as a nice gentle rain soon became a pounding tempest. The rain came down so hard and at such an angle that we became wet from working inside a shed under the eave vent. The tile drains will be working overtime.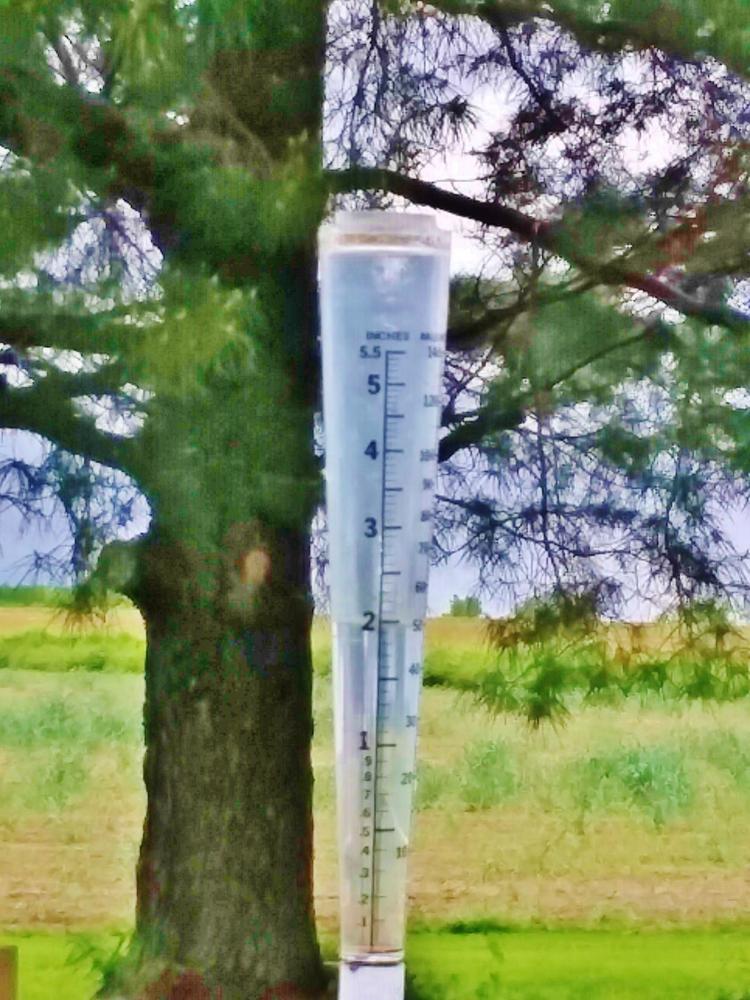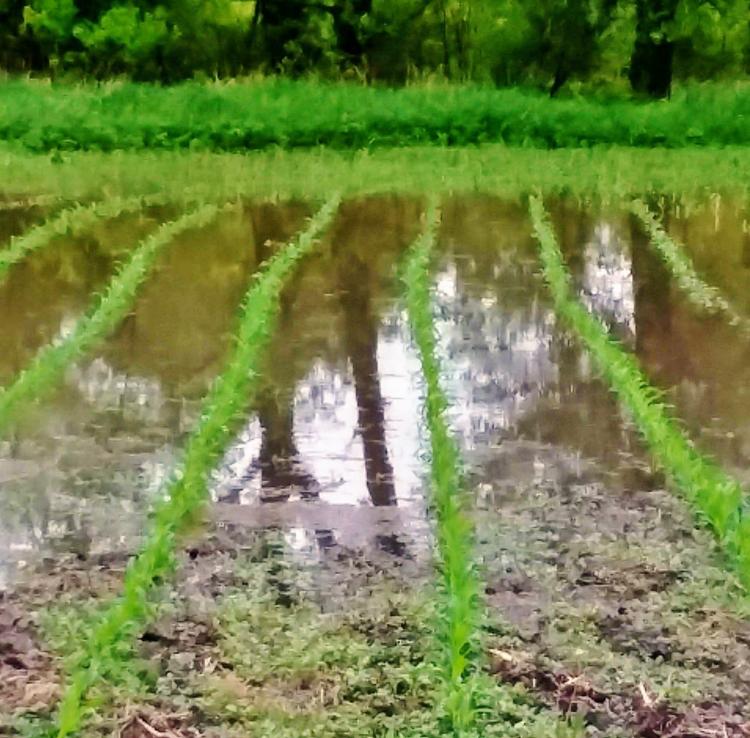 A thorough tour of our fields May 26 proved a great germination rate on our corn this spring. Populations are strong if irregular in height. Soybeans continue to emerge just as the corn did – irregular but strong.
Time between field checks has been spent preparing our sprayer; the weeds in our wettest cornfield are becoming aggressive. A new tire needed to be mounted. It was so much easier at 87 degrees than it would have been at any time this past winter – but sweatier. A new sprayer pump was installed and hoses reconnected.
Winter rye has been cut nearby. The lack of rain and cool weather early this season seems to have delayed the first cutting of alfalfa in our area. It's more than a foot high so any day now it should commence.
From the Fields: Greg Galbraith
Thunderstorms were in the forecast the day after the Memorial Day holiday as I traveled to the University of Wisconsin-Marshfield Agricultural Research Station in Stratford to meet with Jason Cavadini, the station's assistant superintendent. The research farm currently grows 250 acres of corn, 130 acres of alfalfa with 40 in a new seeding, 115 acres of Italian ryegrass, and 90 acres of perennial grasses and legumes.
Cavadini has been increasing the use of Italian ryegrass and scaling back on alfalfa.
"We can establish rye for $40 to $50 an acre," he said. "On top of that I'm automatically no-tilling it into any stand of alfalfa that's three years old."
The farm also uses a no-till planter to establish corn. Cavadini showed me 14-day-old corn that was fully emerged and thriving in the early 78-degree warmth. As I walked with him back to my truck we passed through a section of Kura clover strips that were part of a trial at the station. The tri-leaved plants were lush and hearty.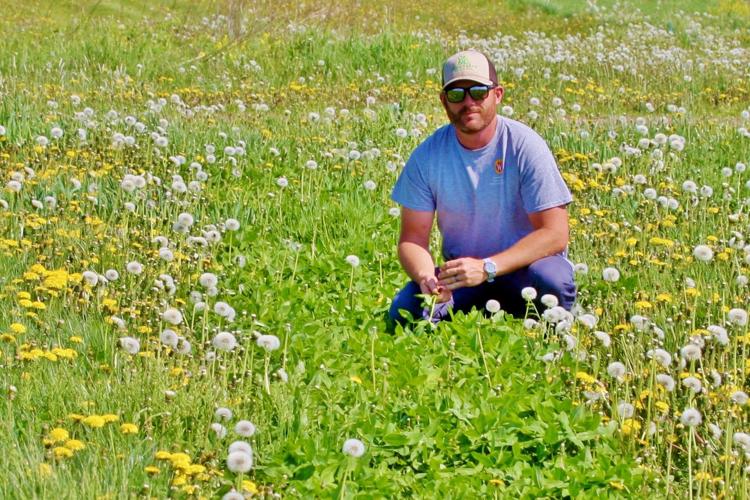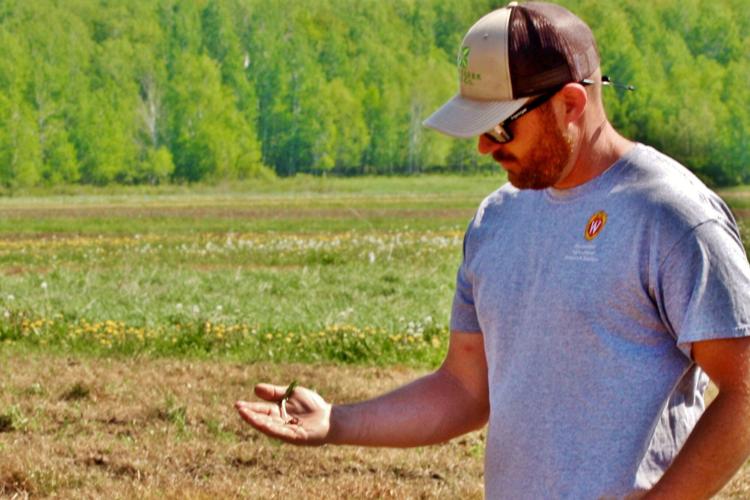 I headed east toward my woodlot property near Aniwa, Wisconsin. I noticed one farmer cutting a grassy field of hay along Wisconsin Highway 29 a few miles west of the Rib River Ballroom.
Scattered showers were beginning when I arrived at Ryan and Lindsey Prahl's Granite-Vu Farm near Wausau, Wisconsin. Despite light rain they were outside with their four children during a break from chores. The family farms 700 acres of land to feed a 125-cow dairy herd. They grow 375 acres of hay, 140 acres of soybeans and 120 acres of silage corn. They plan to market more hay this year so invested in a big square baler to make that happen.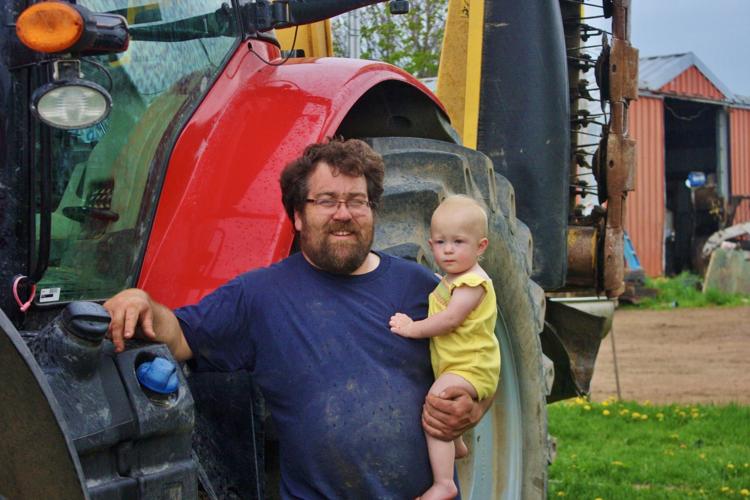 Ryan Prahl also does custom work cutting hay with his 530 New Holland Mega Cutter that has a 28-foot cutting width. He said he's seen a loss in revenue from his custom cutting business as farmers have reacted to hard times economically during the past five years. His custom acreage peaked at 4,500 acres but has reduced to 1,800 acres currently.
"Nobody has any money to spare so folks are using their older machinery and doing things themselves," he told me.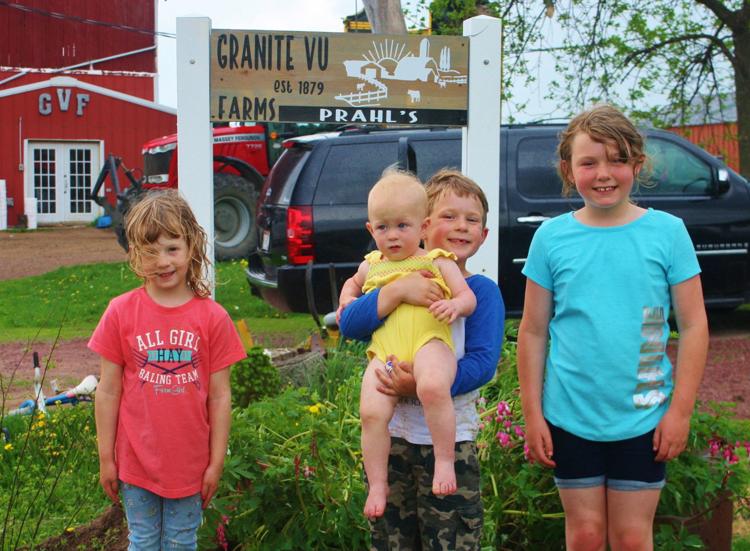 The couple agreed conditions were great for planting this spring.
"It's been several years since I finished planting and had time to spare before haying," he said. "It's a good feeling. I went non-stop for three days doing corn and another three for beans."
When I left the Prahl's farm I needed to put the windshield wipers in high range; I arrived at my woodlot in a thunderstorm. When the clouds parted the land was glowing like an emerald gem.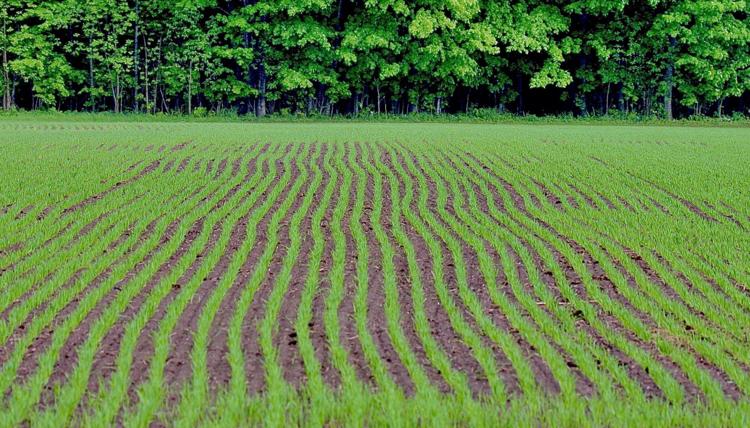 From the Fields: Jason Maloney
The south shore of Lake Superior the first half of May was colder than normal. Snowflakes fell on Mother's Day in Ashland. Temperatures in the 20s were recorded in some areas as late as May 13. Dry conditions continued and wildfire danger remained extreme through the second week of May.
The good news is the cold and dry weather was great for fertilizer application and working the soil. Trees are leafing out and blooming later than usual. Cowslips and Trout Lily are blooming. Wrens have returned to farm yards and fence lines.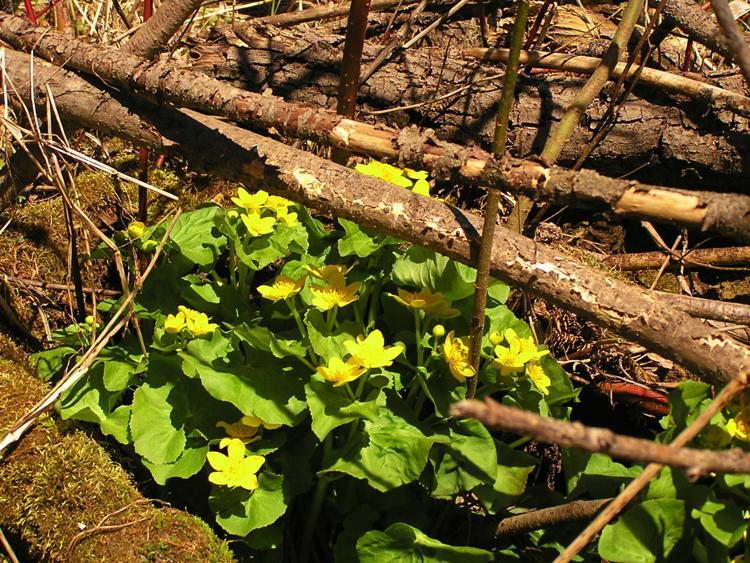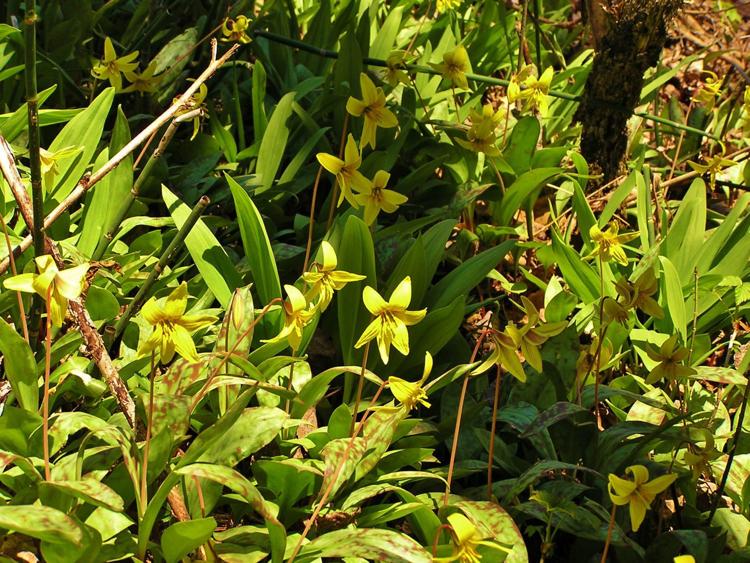 Spring planting of corn, soybeans and small grains is underway. Planting this year is raising dust clouds on the dry fields. Producers who grow for farm markets have potatoes and onions planted. More will go in when the soil warms and rain comes.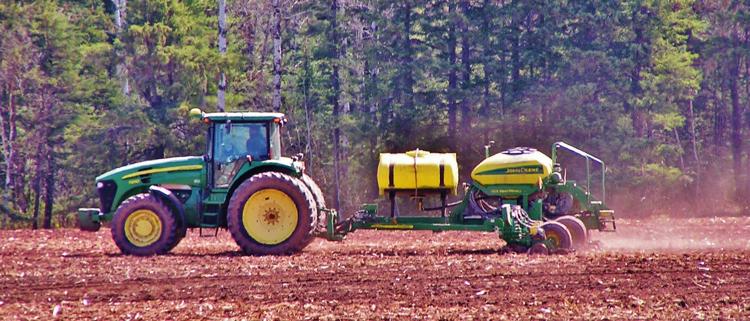 There is growing concern about first-crop hay. The cold has delayed growth, as have the dry conditions. Warmth and rain are needed soon or first-crop hay harvest will be pushed further into June. Pastures are green but they need moisture. Livestock is happily eating what fresh green forage is available.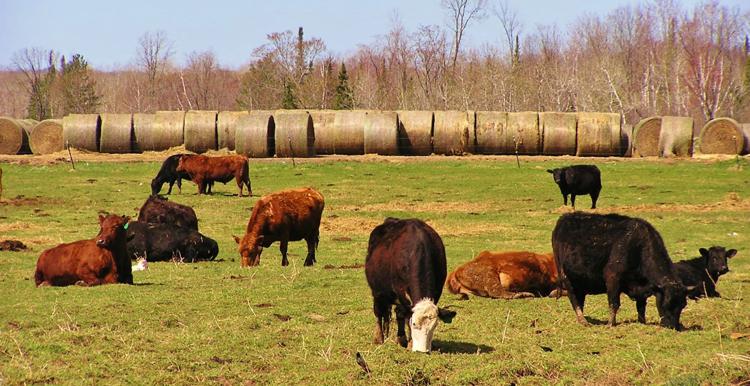 The cold weather has delayed blossoms on fruit trees and berry bushes in many areas. That's good because there were hard frosts most mornings through May 13 in some areas. The late appearance of blossoms may save the fruit crop for some growers.
Some farm-to-table producers are reporting a large increase in orders and sales at farm stores. It looks like more consumers are learning this year who produces their food. A friend of mine recently had some shoats from pigs raised in confinement for many generations, instead of the heritage breeds he usually raises. He reported those shoats were ignorant regarding how to be a pig on a pasture. I suggested maybe in time they would learn. After all pigs are smart. And many consumers are smart too. Maybe they are learning where food in supermarkets originates, and who produces it. A strong connection between consumers and farmers will be positive for all of us.
From the Fields: Dave Justman
May 14 we were having light rainfall; we received about .5 to .7 inch of much-welcome rain the night before Corn and bean planting are all but complete in our area, with some of the first-planted corn and beans just being able to row by May 14. It appears the crops in our area were just young enough to withstand the frost without much damage.
A lot of people are wondering when the alfalfa will be ready to cut. The extremely intense managers in the area like to take five cuttings; that means they are usually cutting first crop May 20-25. But the alfalfa is coming slow so it looks like they may need to wait another week.
There's talk in the countryside that with the warmer temps maybe some might cut their rye this week. On our farm we started planting seed corn this past week; by the time it rained we had half of it in.
The dry cool weather we have had this spring has shown in lack of control from our pre-emergence herbicides. Two weeks ago we had our first substantial rain of the spring, with .3 to .4 falling. That isn't even enough to activate most of our residual herbicides. I suspect we may need to spray a second pass a little earlier than we like due to lessened weed control. But isn't that like us farmers, always finding something to complain about! That being said I will take needing to spray earlier instead of 2019's late planting.
From the Fields: Thomas Maloney
Any season in agriculture can be stressful depending on the dynamics and variables at play. But for me spring is the most stressful time of year. Planting sets the stage for the entire season.
From April 30 to May 13 we only received .3 inch of rain – May 10. That allowed fieldwork to progress smoothly but the temperatures have been on the cold side. The good news about that rain was it nicely settled in the planted fields and gave everyone a chance to prepare for the next round of field work. Most of the corn and a decent percentage of the soybeans in the area are planted. Several sprayers were out in the area as well, spraying pre-emergent herbicides on corn and soybeans.
The first-planted corn and soybeans in the area – planted the week of April 20 – started emerging this past week. So far both are struggling a little, with the drier portions of the fields emerging and the wetter portions not yet emerged. The warm weather ahead will be welcomed to help those fields along.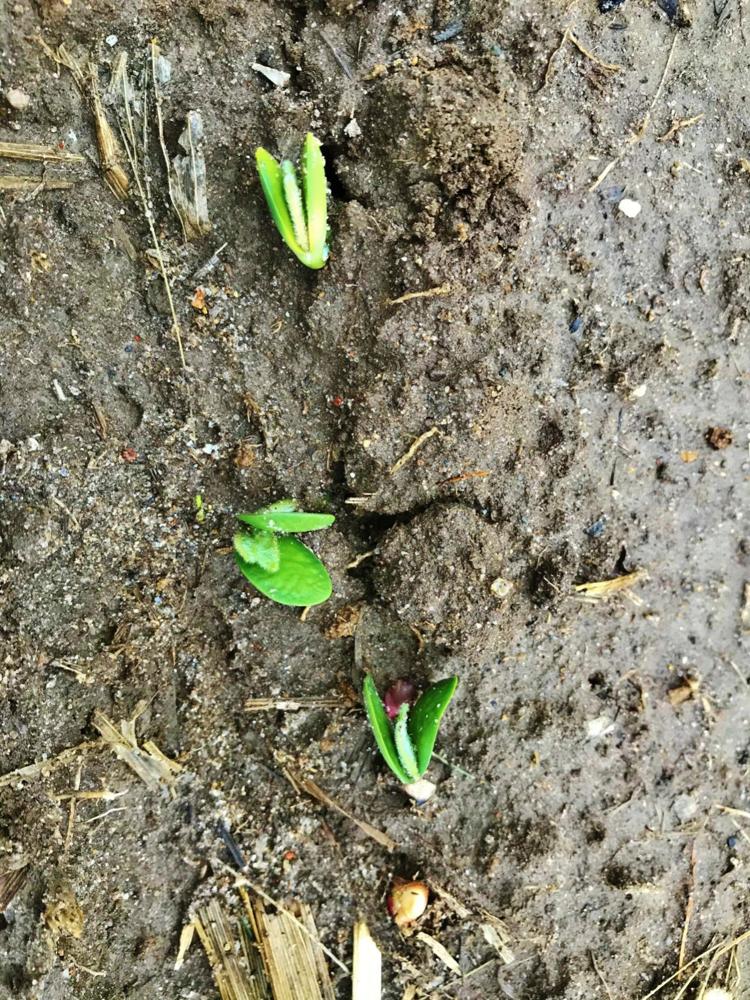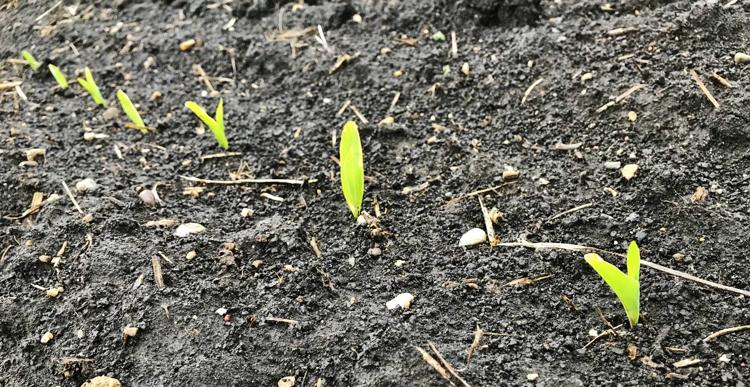 The wheat continues to generally look good, escaping the frost we had during the first week of May with only minor leaf flashing. Early this spring the hay fields looked good, with the alfalfa coming out of dormancy well. Currently some of the alfalfa, depending on variety and the field, seem stunted or paused in growth – most likely due to the cold temperatures. The forecasted temperatures for the week of May 18 should help.
May 14 we were rained out of the fields after receiving .5" of rain the night before. Rain this past weekend with forecasted, with totals in the 1- to 1.5-inch range. Spring has progressed nicely so far. Hopefully we'll be back in the fields soon.
From the Fields: Zac Soltvedt
Hey guys it's Zac here again. The past two weeks have exploded here! Planting has been full-steam for everybody. I've been talking to a lot of customers from around the area and most are 100 percent done.
We started planting this past week as well and were able to finish relay beans and mono-crop beans. With the rain that was coming in this past weekend our spray customers took priority over my own acres so I'll finish corn this week. The rain was much-needed in my eyes to activate those pre-emergents. Well I'm going to catch up on some paperwork; happy planting until next time!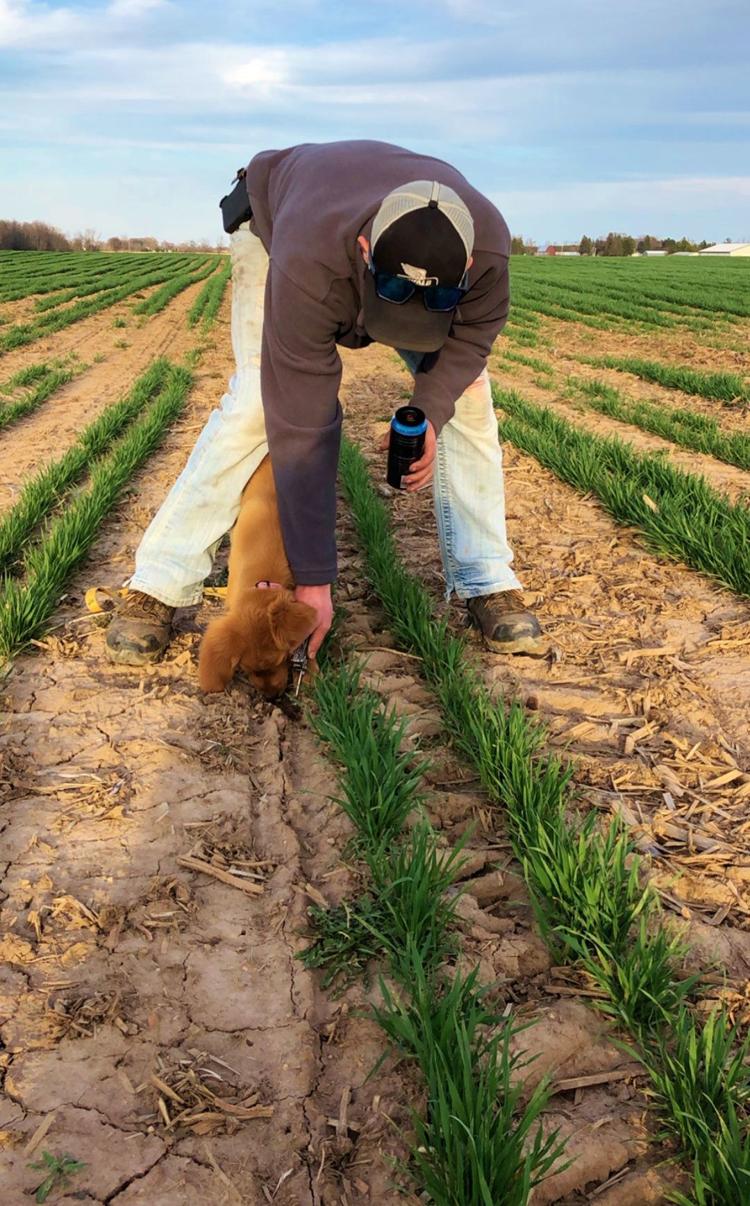 From the Fields: Tim Boerner
Record cold weather has kept planted seeds from germinating but dry soil conditions have allowed field work and planting to progress faster than it has in years. Wet holes and areas of fields skipped during the previous year's wet and late spring have now been planted this year.
Maybe it's a blessing that planting was done into cold soils that held crop emergence back. The mornings around Mother's Day saw mid-20-degree "freeze warning" conditions that would surely have affected emerged annual crops. It was not difficult to find frost-burnt tender alfalfa leaflets.
I have been keeping a record of soil temperatures; as recently as May 11 I was only able to record 41 degrees. I think soil temperatures fluctuate widely during the day and are greatly influenced by the time of day, soil type, orientation to the sun, soil tillage and many other factors. But the fact that no corn or soybean plants have emerged is attributable to the sustained less-than-normal soil temperatures.
Growing Degree Days for our area are reported behind 2019, and less than half of "normal." This week's forecasts are for a return to normal temperatures; we can expect crops to respond favorably.
During the past couple of weeks our local farmers were planting – small grains, new-seeding hay fields, potatoes, soybeans and lots of corn. During this hectic planting season I have observed a lot more no-till planting in our area; it seems like much more than I've seen in the past. The early green-up of cover crops seemed much more prevalent as well than in past years.
Soil-saving practices are attributable to Wisconsin Land & Water conservationists who have been teaching local farmers the benefits of improving soil health. Implementing soil building has had a boost from the many farmer-led groups that have been great at putting those conservational ideas into practice.
It's encouraging to see the soil-saving practices because no-till planting saves fuel, protects surface waters and leads to healthier soil. The soil-building microorganism's biggest enemy is steel, excess tillage, and practices that destroy and do not protect building soil organic matter.
Field-scouting planted corn or soybeans has been impossible because as of this writing neither of those crops have emerged. Small-grain fields, barley, oats and wheat have been emerging slowly; stands are even and looking very good.
Crop-scouting alfalfa has showed the plants have grown out of some of the slow over-wintering recovery symptoms observed earlier. They're now competing with annual weeds quite well. My field observations have shown some isolated alfalfa-weevil larval feeding in some fields. But those incidences have been largely isolated to fields with south-facing slopes and sandy soils that have helped warm those areas earlier than other parts of fields.
The Wisconsin growing season is well underway. Given the returns to normal temperatures things will be developing quickly.
From the Fields: Ellie and Rich Kluetzman
Upon completion of corn planting April 26, our attention turned toward soybeans. The rollercoaster temperatures gave us pause – especially the cold nights. As soil temperatures plummeted we waited.
About 10 days after planting the corn we dug up a kernel to check for germination. In the black soil of that field the seed had indeed found enough warmth and moisture. It was sending out a tender shoot we hoped would stay buried while the weather sorted itself out.
Some of the time between planting our two spring crops was spent clearing a short boundary fence line of immature trees and brush. An extended over-the-fence chat with a neighbor resulted in a fair exchange of information. Talk of milk prices, grain contracts and weather gave way to a lively conversation of family dynamics amid the pandemic. We grudgingly parted to resume our chores.
After some supply snafus fertilizer was applied and incorporated in the remaining cropland, made ready for soybean planting. There was rain predicted May 7 but dust rolled once again this spring as our grain drill went to work May 6. Aside from one quick trip to the co-op for more seed, we were golden; everything was in that evening. The loose fine seed bed provided excellent coverage for us. As predicted we received .3 of gentle rain the next day.
After many consecutive nights of temps at or less than freezing, the weather finally began to look favorable. We expectantly watched the cornfields for points of green. We spotted just a very few May 13. A good rain was forecasted for that evening, but became only a heavy drizzle before arriving; it garnered us another quarter-inch of rain.
During a tour of the fields afterward we could see rows appearing. Many of the tips were touched with those final nights of frost, but our soldiers of summer were coming. More moisture overnight and 52 degrees into the morning of May 15 was welcome.
The majority of cropland in our area has been planted, although no-till and low-till fields are difficult to discern sometimes. There isn't a lot of wheat in our area, but what there is looks great – deep green and good growth with little to no winter kill. Alfalfa is 8-10 inches high and healthy-looking, on pace for its first cutting about Memorial Day.
From the Fields: Greg Galbraith
Farmers in Wisconsin's north-central region were in high gear doing tillage work and planting, as dry conditions prevailed throughout the first half of May. Only a trace of precipitation fell May 8 and 9, barely affecting spring-planting progress.
The Breitenfeldt Family Dairy is located just east of Wausau, Wisconsin. The farmstead is on a sweeping curve that's like a gateway to farm country as one leaves the town proper of Wausau.
"It's good to have dust on the planter rather than mud like the past two springs," Wayne Breitenfeldt said.
He's a third-generation dairyman who farms a total of 600 acres of cropland; his family has worked his land since 1945. He said he was happy to be finishing planting his corn, soybeans and alfalfa stands. He's used no-till planting practices for 20 years and is happy with the results.
"People can't relate to putting corn into sod, but we've been doing it for years," he said.
He raises crops to feed his 110-cow crossbred dairy herd, which includes Montbéliarde cattle and Norwegian Reds. With a forecast of warm weather and rain on the way, Breitenfeldt predicted an early first crop of hay. With his planting tasks finishing, he has a brief respite before hay will need harvesting.
Jordan Weden, sole proprietor of J. Weden Farms LLC of Aniwa, Wisconsin, was finishing planting oats south of the Eau Claire Dells in eastern Marathon County when I caught up with him on a cold but sunny spring day. Weden farms 5,500 acres of ground ranging west to east from Wausau to Wittenberg, Wisconsin, and north to south from Pickerel to Rosholt, Wisconsin. He's finished planting corn in the southern part of his acreage but has held back from beginning in the northern counties because of less-than-normal temperatures and snow chances.
"My agronomist advised against it," he said. "We can finish planting our 1,100 acres of oats while we wait for warmer weather."
Weden plants a total of 3,500 acres of corn. He's also putting in 170 acres of malting barley to increase his diversity. Rounding out his cropping scheme are 700 acres of soybeans. He employs three full-time and three part-time workers. When corn planting is full-go he uses two 16-row planters and can average 350 acres every 10 hours. Nothing about the current pandemic and its effect on the markets have Weden holding back.
"We're going ahead with optimism," he said.
From the Fields: Ellie and Rich Kluetzman
We were fortunate this past fall to finish our stalk-chopping and chisel plowing. Not everybody did.
Earlier than most years we did our maintenance and tire checks on the machinery. We also changed the oil in our AC 7000 and AC 200. Using outdated machinery has its drawbacks, with numerous repairs and constant watchfulness. Old welds are re-inspected after every few hours. Our shop gives us ample opportunity to do our own repairs with its many saws for metal and wood. A drill press was recently used to make brackets. The welder is invaluable.
In April we began ripping up the earth with our digger; rock picking commenced. They need to be picked when they are small; otherwise they seem to grow bigger. Then with urea spread, we incorporated it into the soil with the disc. Next the cultimulcher conditioned the soil into beautiful flat fields.
This spring has been dry early so after working the fields with equipment, the seed bed looked to be the best it has in years. Despite less-than-optimal soil temperatures hovering at about 43 degrees the soil condition was perfect.
Looking ahead in weather reports, we listened for chances of rain. The bubble of warm air to our west could not help but move eastward we figured. Rain would come first.
With some trepidation and much forecasting of our own, we began planting corn April 25. We use a gravity wagon to dispense starter fertilizer into the planter bins. Rich had fashioned a "shovel" out of plywood and metal years ago. It's bolted into the bucket of our CBT tractor. Fill the shovel, position it over the bin and dump it in. It's easier on the back than those dreaded bags. Our 28 acres were all in by the next evening as the sun sank. With a big sigh and a late supper trip to Culver's drive-through, we rested and said a prayer.
Moisture began with a bit of drizzle April 27. The next day it rained again and by Thursday morning we had .9 inch. No flooding because the ground had been aching for the moisture.
Neighboring farms have also been heavy at fieldwork. On a re-supply trip to town April 30, we saw many acres planted to corn and grain drills at work.
From the Fields: Tim Boerner
Lots of field activities were happening two weeks ago, but the weekend's dust clouds gave way to rain clouds early in this past week. Most of our area got more than an inch of rain Monday into Tuesday – 1.5 inches in my rain gauge – and all fieldwork stopped. Without any more rain this past week the fieldwork should have started again this past weekend.
Tillage had been progressing quickly. There was a lot of oats and alfalfa seeding that happened in the last full week of April. Not much corn went into the ground and no soybeans at all that I know of.
I planted my potatoes Sunday in the garden, but I missed my grandpa's suggested planting date of Good Friday. I saw a local commercial potato grower starting but it looked to be only a small start.
On the last day of April I observed one of the remaining area corn fields was being combined. It must have been one of those 365-day corn varieties. About 10 years ago a farmer told me he always wanted to harvest and replant a corn field on the same day; since then he has done it twice. That says something about the challenging growing seasons we have had in recent years.
Area alfalfa fields overwintered much better this year than the previous year; it's likely due to a snow cover that lasted all winter. I've seen some alfalfa that heaved out of the ground and didn't come back as well as other fields, but most of those had late and wet harvesting issues.
Cool soil temperatures have caused the slow growth of pasture forages. It's still a bit early to turn the cows out onto grasses that are less than 5 inched tall.
According the U.S. Department of Agriculture's National Agricultural Statistics Service crop report, "spring tillage and planting operations are well ahead of last year and the five-year average". That may be for Wisconsin as a whole because here in northwest Wisconsin we are just starting.
The service is also quoted as saying that half of April 2020 – 15.6 days – has offered weather suitable for fieldwork. Its statistics also point out that growing-degree days are behind 2019 and at well less than the "normal" five-year average.
So farmers are anxious to continue tillage and planting operations, hoping for a good growing season in 2020. Considering the challenges of the past couple of years I think we deserve it – not to mention all the other distractions happening around the world.
From the Fields: Zac Soltvedt
The past few weeks have surely been picking up. We had a nice mild winter for the most part.
I've been busy putting together and delivering seed orders during the past two weeks. With the weather turning around, myself and many others are optimistic about planting the 2020 crop. There has been quite a bit of new seeding going in the ground already, and a few acres of corn and beans as well.
I've been finding quite a bit of alfalfa winterkill. I guess it was to be expected with the kind of year 2019 was in our area. Let's all hope for a better 2020 to help increase those forage inventories.
I've fielded a lot of calls from farmers lately, asking if it's too early to plant corn. My answer is to remember that soil temperatures need to be 50 degrees for corn to germinate. For me the temperatures are still a bit cold to plant corn yet. I like to see everything emerge within a 24-hour time span from the first emerged plant. I believe a nice even stand is the start for better yields.
Well I need to return to answering grower calls and to finish readying the planter. Have a safe and healthy planting season; see you next time.
From the Fields: Thomas Maloney
I hope everyone has had a safe and uneventful but productive start to the 2020 season. To put things into perspective, this report is being written April 30.
Our winter was mild with average snowfall and average temperatures. By the second week of March the snow had melted. The rest of the month had slightly-below-average rainfall, allowing the drainage ditches, creeks and rivers in the area to drain. That gave area fields a chance to dry for the first time in more than a year. It was a welcome change when compared to the start of 2019. The winter was easier on winter wheat; the fields in the area look good.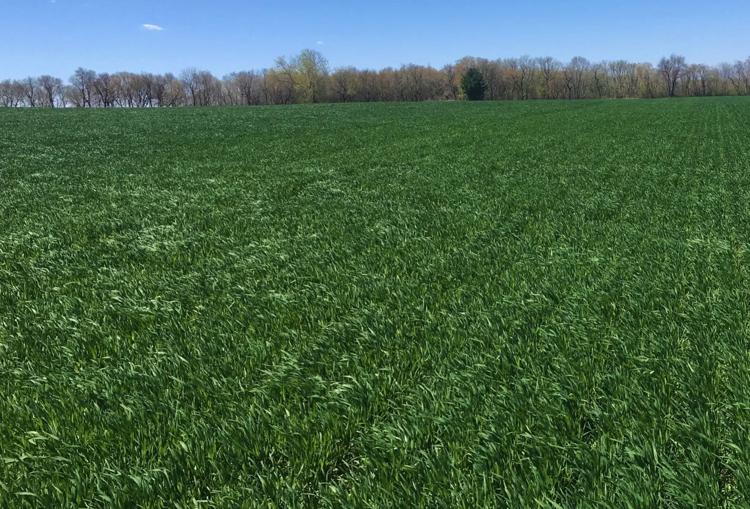 Field work started April 2 on our farm; we prepped fields for alfalfa seeding, spring grains and potatoes. Everyone's favorite job of picking up rocks took place ahead of seeding alfalfa. A good motivational pitch to the rock-picking crew – comprised mostly of my siblings – is, "The rock you pick up today you will not need to pick up again!" That doesn't seem to make a difference when I promise it will only take an hour or two but it then turns into most of the afternoon. About .5 inch of rain fell April 13, nicely settling the recently seeded alfalfa and spring grains. We finished our alfalfa seeding, spring grains and potatoes April 21.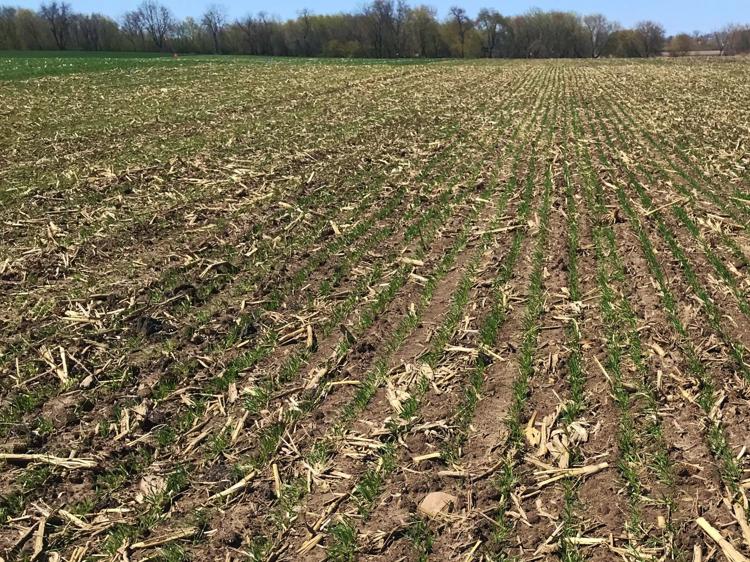 The first planted corn field I saw of 2020 in our area was April 18. During that weekend and through April 22 more acres of corn and some soybeans were planted. We received .45 inch of rain April 23, delaying fieldwork until the weekend.
Our somewhat dry period came to an end April 27 when it started raining. By the evening of April 29 we had received 1.75 inches of rain. To our south and east rain totals were almost at the 3-inch mark. It was sunny and very windy April 30; the tops of the fields where starting to dry by the end of the afternoon. We hoped to go back into the fields early this week on the high ground with sandy-loam soils, and mid-week on low ground with silt-loam or silty-clay-loam soils. But the forecast for this week is cooler with a chance of a few showers, so that may push things back. Also the soil temps on our farm have been hovering in the low- to mid-40s. Hopefully warm weather from the weekend warmed seed currently sitting in the cold wet soil.
From the Fields: Dave Justman
What a difference a year makes. Last year at this time we were still fighting the lingering effects of a late April snowstorm that would lead to a wet May. We finished planting our corn crop June 4. This year we had all our corn in the ground by April 23, and had about 60 percent of our beans planted by April 30.
All the alfalfa in our area has been seeded. Area-wide about 80 percent of corn is in the ground, and about 40 percent of beans. We've been fighting through some spotty showers for the past week, with a decent rainstorm finally falling April 28 bringing between .3 and .6 of an inch. We hoped to be back in the fields May 1 to finish our soybean planting by May 3. It would definitely be the earliest finish to planting in my 20 years.
We have a new weed showing up this year in force – cornflower. I saw a little bit of it in 2019 but this year it has expanded its footprint.
That's all for this week. Happy planting season and stay safe!
From the Fields: Jason Maloney
The northern coast of Ashland, Bayfield, Douglas and Iron counties is on the shore of Lake Superior so the land warms later in spring and often has frost later in fall. Some small growers on Madeline Island can sometimes be weeks behind some mainland farmers. Some areas near the lakeshore still had more than 2 feet of snow pack at the beginning of April, but by the end of the month snow only remained in shady ditches and wooded ravines.
April temperatures were normal – cold. But with dry weather the first three weeks of April spring fieldwork was underway, more advanced the further from the lake the field is. On high fields application of manure and commercial fertilizer was underway. Low spots were still wet from the overabundance of rainfall this past fall, along with snowmelt and late-April rain. Hay fields and alfalfa look good overall. Pasture was greening up and livestock was being turned out. Ramps and Trout Lily are up and partridge are drumming.
Orchards and berry farms on the Bayfield Peninsula suffered less damage from rodents this past winter, but many berry bushes and fruit trees were damaged by heavy winter snows. Blossoms are coming soon; all hope enough pollinators will still be on hand to do their essential job.
Hope springs eternal on farms, especially as the snow and cold recedes and another growing season begins. This year the usual uncertainty about the weather and growing season is joined by others. Markets are depressed, tariffs have increased and food supply lines have been disrupted. Some grain farmers are unsure of what to plant. Some farm-to-table producers and community-sponsored-agriculture operations are seeing new customers, but wonder if consumers will still travel to roadside stands. Farm markets will open, but will people come? Will food processors be open? Will pick-your-own operations be swamped with customers or deserted?
But soil is being worked, seed is being planted and livestock is being raised. Some things look dire now but people still need to eat. As the growing season progresses it may be that more farmers will overcome disruptions in the food supply chain by selling directly to consumers or using regional networks on the community-sponsored-agriculture model.
We can hope the pandemic brings consumers closer to the farmers who produce their food. Maybe consumers will develop a better appreciation for the land, farms, farmers and hard work that goes into putting food onto everyone's table.
From the Fields: Greg Galbraith
I stopped April 26 at Roger Thompson's farm near Ringle in eastern Marathon County, Wisconsin, on a beautiful spring afternoon. Thompson farms 110 acres of cropland; he also does custom corn planting and combining on more than 1,000 acres. He just finished combining 200 acres of late-harvested corn for customers. He said field losses weren't bad, and the corn was good and dry. He was preparing his corn planter to head the next day to the southern part of his customer base near Bevent, to begin the corn-planting season. A day of needed rain April 27 curtailed his plan temporarily.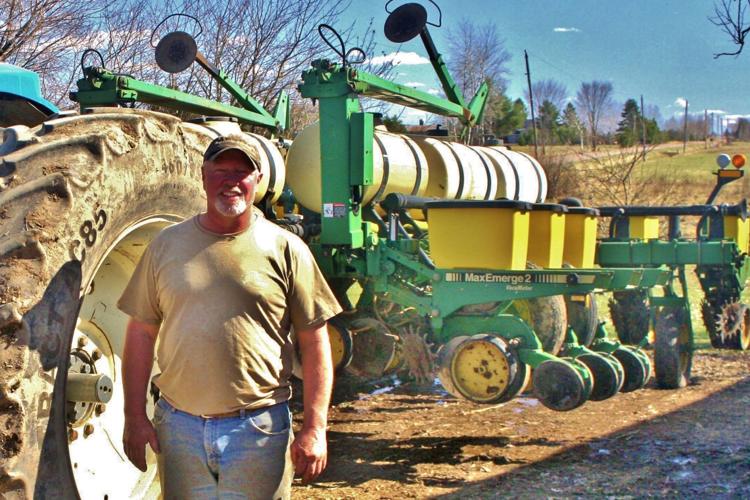 Conditions for field work were mixed depending on soil type for Marathon County farmers once the mid-April snow left the fields. No-till drills were busy as farmers took advantage of drier conditions to renovate pastures and hay fields with fresh seed. Hauling of stockpiled manure was in full swing by April 20. It was followed by some tillage on higher ground, which renewed the spirits of farmers and citizens everywhere who longed for familiarity and a sense of normalcy. As tillage progressed the land took on the appearance of a patchwork quilt in hues of ochre, charcoal black and pale green.
Sam Zimmerman, another Ringle farmer, milks 220 cows and runs a total of 450 acres. He was field-cultivating corn stubble in preparation for a crop of peas and oats seeded down with alfalfa. He took a break as we stood in a stand of alfalfa established in 2019. He said stand health looked excellent; he saw little to no alfalfa winterkill across his acreage and had heard of only spotty incidences in the area. He plans to diversify his forage program this year to include more excellent-protein forages like a sorghum-sudan mixture along with more peas and oats. He no-tilled some peas and oats in mid-April when conditions were right. The current rain and warmth has it finally emerging. It was difficult to make crop-input decisions during the current national crisis. "All bets are off this year; the level of uncertainty is high," he said. "We're proceeding cautiously. This has made us re-evaluate everything and realize what's truly important to us."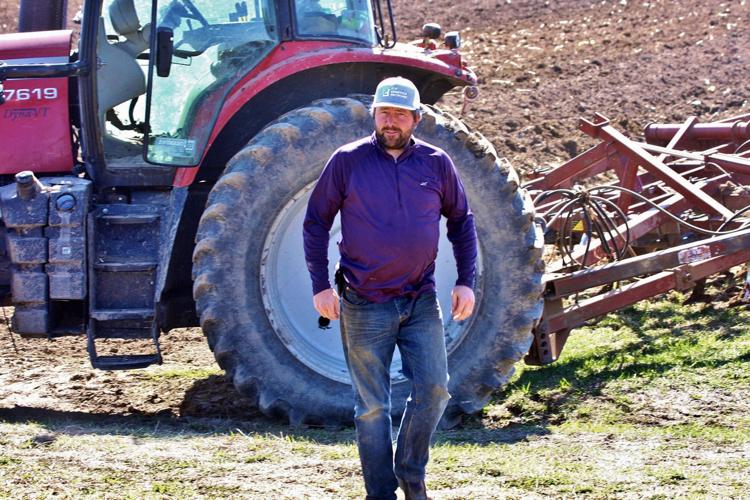 Zimmerman and Thompson had one thing in common as I spoke with them. Their demeanor was positive and they were glad to be doing what they do – working the land and making things grow.