2020 From the Fields reports
Jordan Weden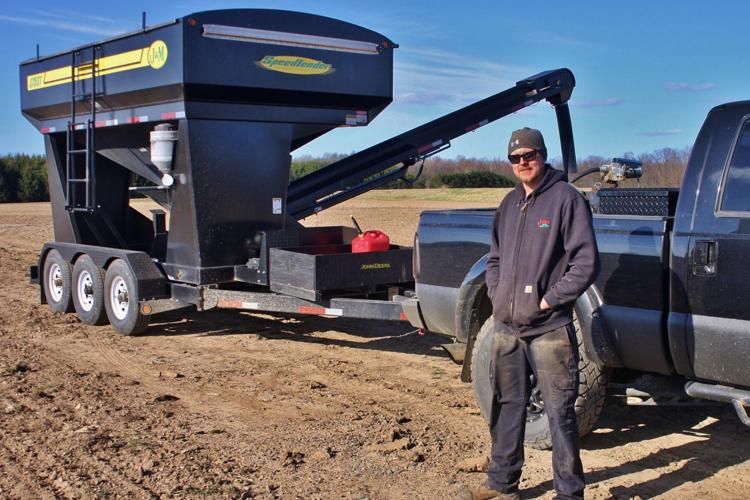 From the Fields: Jason Maloney
The south shore of Lake Superior the first half of May was colder than normal. Snowflakes fell on Mother's Day in Ashland. Temperatures in the 20s were recorded in some areas as late as May 13. Dry conditions continued and wildfire danger remained extreme through the second week of May.
The good news is the cold and dry weather was great for fertilizer application and working the soil. Trees are leafing out and blooming later than usual. Cowslips and Trout Lily are blooming. Wrens have returned to farm yards and fence lines.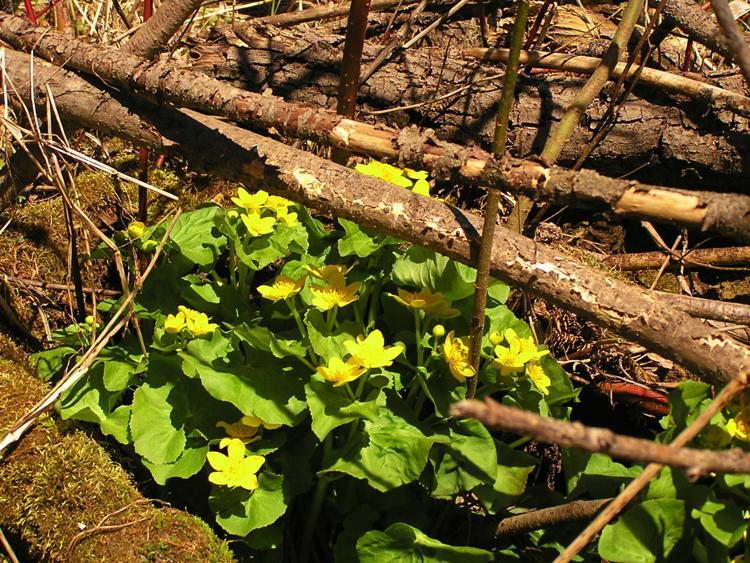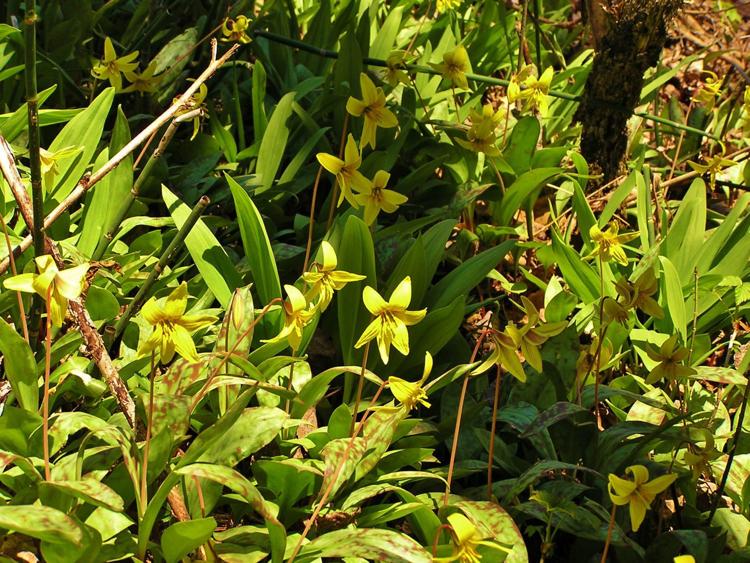 Spring planting of corn, soybeans and small grains is underway. Planting this year is raising dust clouds on the dry fields. Producers who grow for farm markets have potatoes and onions planted. More will go in when the soil warms and rain comes.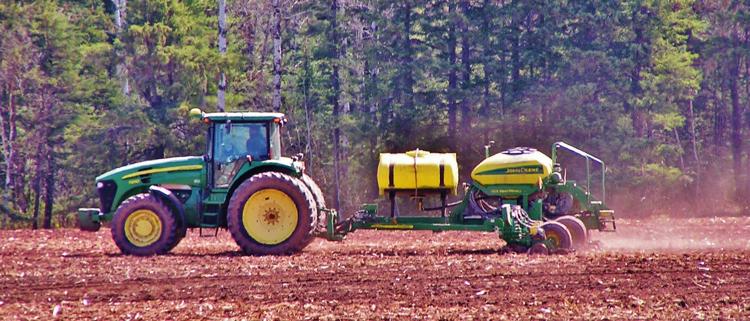 There is growing concern about first-crop hay. The cold has delayed growth, as have the dry conditions. Warmth and rain are needed soon or first-crop hay harvest will be pushed further into June. Pastures are green but they need moisture. Livestock is happily eating what fresh green forage is available.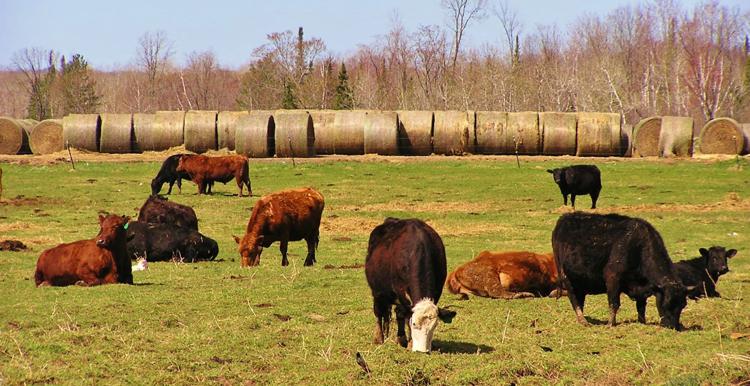 The cold weather has delayed blossoms on fruit trees and berry bushes in many areas. That's good because there were hard frosts most mornings through May 13 in some areas. The late appearance of blossoms may save the fruit crop for some growers.
Some farm-to-table producers are reporting a large increase in orders and sales at farm stores. It looks like more consumers are learning this year who produces their food. A friend of mine recently had some shoats from pigs raised in confinement for many generations, instead of the heritage breeds he usually raises. He reported those shoats were ignorant regarding how to be a pig on a pasture. I suggested maybe in time they would learn. After all pigs are smart. And many consumers are smart too. Maybe they are learning where food in supermarkets originates, and who produces it. A strong connection between consumers and farmers will be positive for all of us.
From the Fields: Dave Justman
May 14 we were having light rainfall; we received about .5 to .7 inch of much-welcome rain the night before Corn and bean planting are all but complete in our area, with some of the first-planted corn and beans just being able to row by May 14. It appears the crops in our area were just young enough to withstand the frost without much damage.
A lot of people are wondering when the alfalfa will be ready to cut. The extremely intense managers in the area like to take five cuttings; that means they are usually cutting first crop May 20-25. But the alfalfa is coming slow so it looks like they may need to wait another week.
There's talk in the countryside that with the warmer temps maybe some might cut their rye this week. On our farm we started planting seed corn this past week; by the time it rained we had half of it in.
The dry cool weather we have had this spring has shown in lack of control from our pre-emergence herbicides. Two weeks ago we had our first substantial rain of the spring, with .3 to .4 falling. That isn't even enough to activate most of our residual herbicides. I suspect we may need to spray a second pass a little earlier than we like due to lessened weed control. But isn't that like us farmers, always finding something to complain about! That being said I will take needing to spray earlier instead of 2019's late planting.
From the Fields: Thomas Maloney
Any season in agriculture can be stressful depending on the dynamics and variables at play. But for me spring is the most stressful time of year. Planting sets the stage for the entire season.
From April 30 to May 13 we only received .3 inch of rain – May 10. That allowed fieldwork to progress smoothly but the temperatures have been on the cold side. The good news about that rain was it nicely settled in the planted fields and gave everyone a chance to prepare for the next round of field work. Most of the corn and a decent percentage of the soybeans in the area are planted. Several sprayers were out in the area as well, spraying pre-emergent herbicides on corn and soybeans.
The first-planted corn and soybeans in the area – planted the week of April 20 – started emerging this past week. So far both are struggling a little, with the drier portions of the fields emerging and the wetter portions not yet emerged. The warm weather ahead will be welcomed to help those fields along.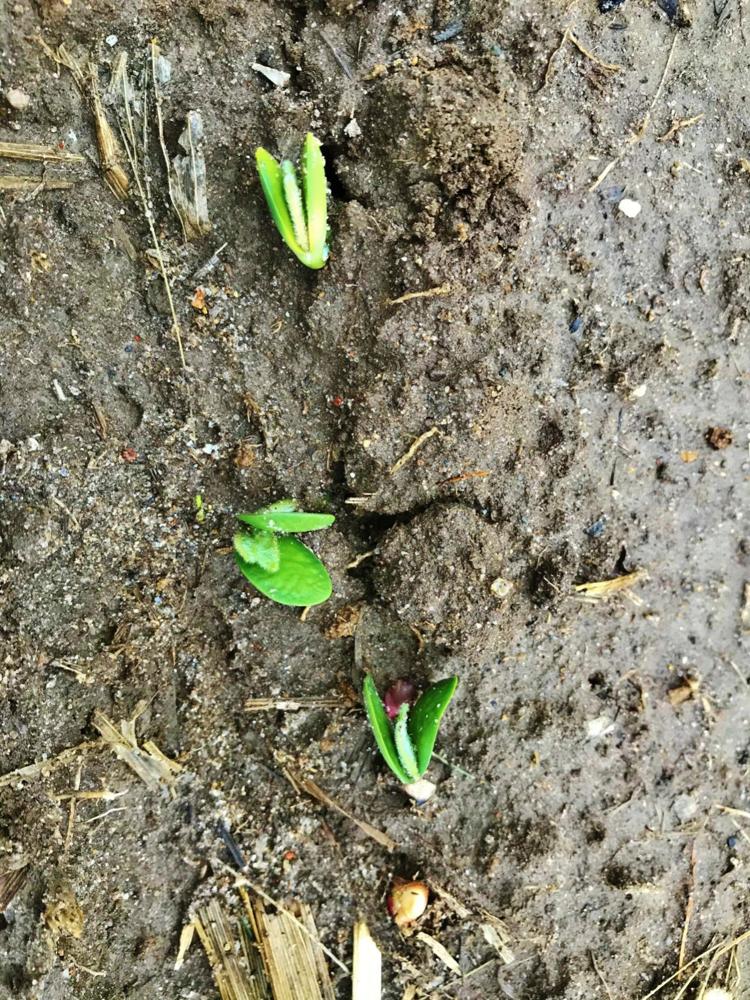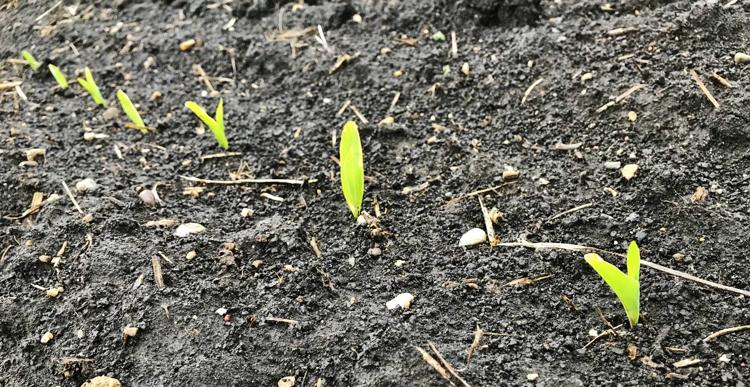 The wheat continues to generally look good, escaping the frost we had during the first week of May with only minor leaf flashing. Early this spring the hay fields looked good, with the alfalfa coming out of dormancy well. Currently some of the alfalfa, depending on variety and the field, seem stunted or paused in growth – most likely due to the cold temperatures. The forecasted temperatures for the week of May 18 should help.
May 14 we were rained out of the fields after receiving .5" of rain the night before. Rain this past weekend with forecasted, with totals in the 1- to 1.5-inch range. Spring has progressed nicely so far. Hopefully we'll be back in the fields soon.
From the Fields: Zac Soltvedt
Hey guys it's Zac here again. The past two weeks have exploded here! Planting has been full-steam for everybody. I've been talking to a lot of customers from around the area and most are 100 percent done.
We started planting this past week as well and were able to finish relay beans and mono-crop beans. With the rain that was coming in this past weekend our spray customers took priority over my own acres so I'll finish corn this week. The rain was much-needed in my eyes to activate those pre-emergents. Well I'm going to catch up on some paperwork; happy planting until next time!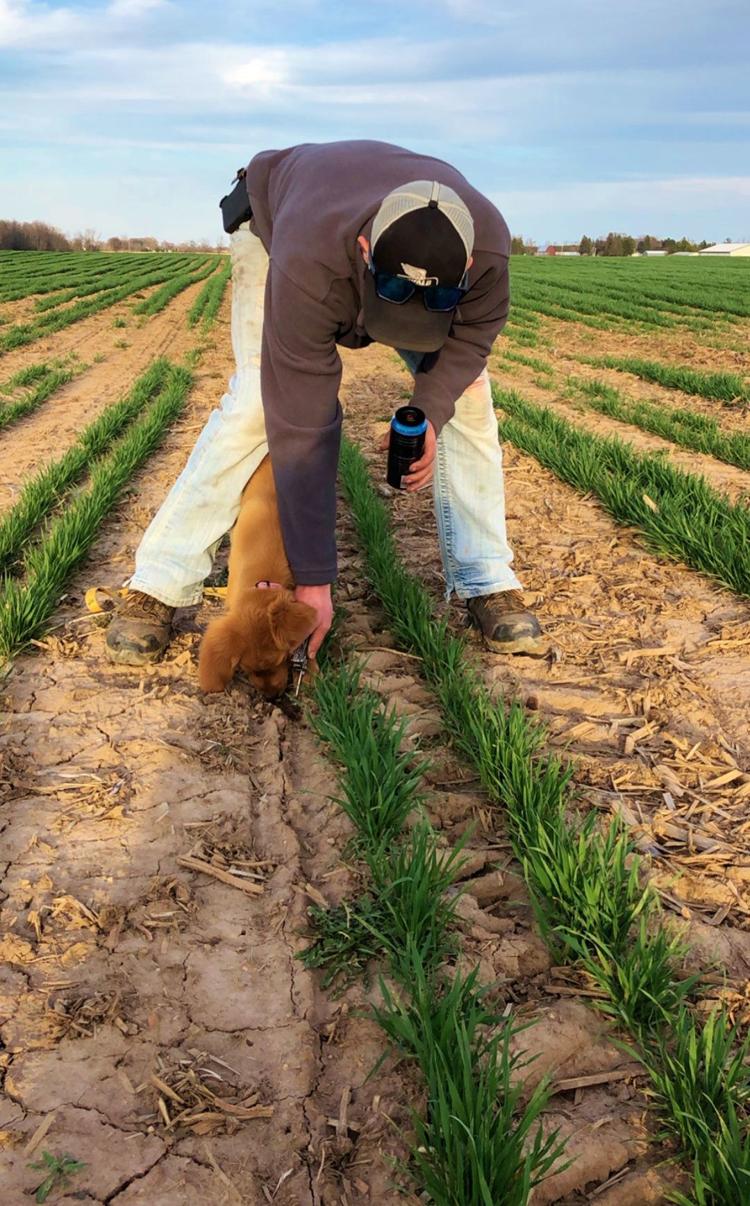 From the Fields: Tim Boerner
Record cold weather has kept planted seeds from germinating but dry soil conditions have allowed field work and planting to progress faster than it has in years. Wet holes and areas of fields skipped during the previous year's wet and late spring have now been planted this year.
Maybe it's a blessing that planting was done into cold soils that held crop emergence back. The mornings around Mother's Day saw mid-20-degree "freeze warning" conditions that would surely have affected emerged annual crops. It was not difficult to find frost-burnt tender alfalfa leaflets.
I have been keeping a record of soil temperatures; as recently as May 11 I was only able to record 41 degrees. I think soil temperatures fluctuate widely during the day and are greatly influenced by the time of day, soil type, orientation to the sun, soil tillage and many other factors. But the fact that no corn or soybean plants have emerged is attributable to the sustained less-than-normal soil temperatures.
Growing Degree Days for our area are reported behind 2019, and less than half of "normal." This week's forecasts are for a return to normal temperatures; we can expect crops to respond favorably.
During the past couple of weeks our local farmers were planting – small grains, new-seeding hay fields, potatoes, soybeans and lots of corn. During this hectic planting season I have observed a lot more no-till planting in our area; it seems like much more than I've seen in the past. The early green-up of cover crops seemed much more prevalent as well than in past years.
Soil-saving practices are attributable to Wisconsin Land & Water conservationists who have been teaching local farmers the benefits of improving soil health. Implementing soil building has had a boost from the many farmer-led groups that have been great at putting those conservational ideas into practice.
It's encouraging to see the soil-saving practices because no-till planting saves fuel, protects surface waters and leads to healthier soil. The soil-building microorganism's biggest enemy is steel, excess tillage, and practices that destroy and do not protect building soil organic matter.
Field-scouting planted corn or soybeans has been impossible because as of this writing neither of those crops have emerged. Small-grain fields, barley, oats and wheat have been emerging slowly; stands are even and looking very good.
Crop-scouting alfalfa has showed the plants have grown out of some of the slow over-wintering recovery symptoms observed earlier. They're now competing with annual weeds quite well. My field observations have shown some isolated alfalfa-weevil larval feeding in some fields. But those incidences have been largely isolated to fields with south-facing slopes and sandy soils that have helped warm those areas earlier than other parts of fields.
The Wisconsin growing season is well underway. Given the returns to normal temperatures things will be developing quickly.
From the Fields: Ellie and Rich Kluetzman
Upon completion of corn planting April 26, our attention turned toward soybeans. The rollercoaster temperatures gave us pause – especially the cold nights. As soil temperatures plummeted we waited.
About 10 days after planting the corn we dug up a kernel to check for germination. In the black soil of that field the seed had indeed found enough warmth and moisture. It was sending out a tender shoot we hoped would stay buried while the weather sorted itself out.
Some of the time between planting our two spring crops was spent clearing a short boundary fence line of immature trees and brush. An extended over-the-fence chat with a neighbor resulted in a fair exchange of information. Talk of milk prices, grain contracts and weather gave way to a lively conversation of family dynamics amid the pandemic. We grudgingly parted to resume our chores.
After some supply snafus fertilizer was applied and incorporated in the remaining cropland, made ready for soybean planting. There was rain predicted May 7 but dust rolled once again this spring as our grain drill went to work May 6. Aside from one quick trip to the co-op for more seed, we were golden; everything was in that evening. The loose fine seed bed provided excellent coverage for us. As predicted we received .3 of gentle rain the next day.
After many consecutive nights of temps at or less than freezing, the weather finally began to look favorable. We expectantly watched the cornfields for points of green. We spotted just a very few May 13. A good rain was forecasted for that evening, but became only a heavy drizzle before arriving; it garnered us another quarter-inch of rain.
During a tour of the fields afterward we could see rows appearing. Many of the tips were touched with those final nights of frost, but our soldiers of summer were coming. More moisture overnight and 52 degrees into the morning of May 15 was welcome.
The majority of cropland in our area has been planted, although no-till and low-till fields are difficult to discern sometimes. There isn't a lot of wheat in our area, but what there is looks great – deep green and good growth with little to no winter kill. Alfalfa is 8-10 inches high and healthy-looking, on pace for its first cutting about Memorial Day.
From the Fields: Greg Galbraith
Farmers in Wisconsin's north-central region were in high gear doing tillage work and planting, as dry conditions prevailed throughout the first half of May. Only a trace of precipitation fell May 8 and 9, barely affecting spring-planting progress.
The Breitenfeldt Family Dairy is located just east of Wausau, Wisconsin. The farmstead is on a sweeping curve that's like a gateway to farm country as one leaves the town proper of Wausau.
"It's good to have dust on the planter rather than mud like the past two springs," Wayne Breitenfeldt said.
He's a third-generation dairyman who farms a total of 600 acres of cropland; his family has worked his land since 1945. He said he was happy to be finishing planting his corn, soybeans and alfalfa stands. He's used no-till planting practices for 20 years and is happy with the results.
"People can't relate to putting corn into sod, but we've been doing it for years," he said.
He raises crops to feed his 110-cow crossbred dairy herd, which includes Montbéliarde cattle and Norwegian Reds. With a forecast of warm weather and rain on the way, Breitenfeldt predicted an early first crop of hay. With his planting tasks finishing, he has a brief respite before hay will need harvesting.
Jordan Weden, sole proprietor of J. Weden Farms LLC of Aniwa, Wisconsin, was finishing planting oats south of the Eau Claire Dells in eastern Marathon County when I caught up with him on a cold but sunny spring day. Weden farms 5,500 acres of ground ranging west to east from Wausau to Wittenberg, Wisconsin, and north to south from Pickerel to Rosholt, Wisconsin. He's finished planting corn in the southern part of his acreage but has held back from beginning in the northern counties because of less-than-normal temperatures and snow chances.
"My agronomist advised against it," he said. "We can finish planting our 1,100 acres of oats while we wait for warmer weather."
Weden plants a total of 3,500 acres of corn. He's also putting in 170 acres of malting barley to increase his diversity. Rounding out his cropping scheme are 700 acres of soybeans. He employs three full-time and three part-time workers. When corn planting is full-go he uses two 16-row planters and can average 350 acres every 10 hours. Nothing about the current pandemic and its effect on the markets have Weden holding back.
"We're going ahead with optimism," he said.
From the Fields: Ellie and Rich Kluetzman
We were fortunate this past fall to finish our stalk-chopping and chisel plowing. Not everybody did.
Earlier than most years we did our maintenance and tire checks on the machinery. We also changed the oil in our AC 7000 and AC 200. Using outdated machinery has its drawbacks, with numerous repairs and constant watchfulness. Old welds are re-inspected after every few hours. Our shop gives us ample opportunity to do our own repairs with its many saws for metal and wood. A drill press was recently used to make brackets. The welder is invaluable.
In April we began ripping up the earth with our digger; rock picking commenced. They need to be picked when they are small; otherwise they seem to grow bigger. Then with urea spread, we incorporated it into the soil with the disc. Next the cultimulcher conditioned the soil into beautiful flat fields.
This spring has been dry early so after working the fields with equipment, the seed bed looked to be the best it has in years. Despite less-than-optimal soil temperatures hovering at about 43 degrees the soil condition was perfect.
Looking ahead in weather reports, we listened for chances of rain. The bubble of warm air to our west could not help but move eastward we figured. Rain would come first.
With some trepidation and much forecasting of our own, we began planting corn April 25. We use a gravity wagon to dispense starter fertilizer into the planter bins. Rich had fashioned a "shovel" out of plywood and metal years ago. It's bolted into the bucket of our CBT tractor. Fill the shovel, position it over the bin and dump it in. It's easier on the back than those dreaded bags. Our 28 acres were all in by the next evening as the sun sank. With a big sigh and a late supper trip to Culver's drive-through, we rested and said a prayer.
Moisture began with a bit of drizzle April 27. The next day it rained again and by Thursday morning we had .9 inch. No flooding because the ground had been aching for the moisture.
Neighboring farms have also been heavy at fieldwork. On a re-supply trip to town April 30, we saw many acres planted to corn and grain drills at work.
From the Fields: Tim Boerner
Lots of field activities were happening two weeks ago, but the weekend's dust clouds gave way to rain clouds early in this past week. Most of our area got more than an inch of rain Monday into Tuesday – 1.5 inches in my rain gauge – and all fieldwork stopped. Without any more rain this past week the fieldwork should have started again this past weekend.
Tillage had been progressing quickly. There was a lot of oats and alfalfa seeding that happened in the last full week of April. Not much corn went into the ground and no soybeans at all that I know of.
I planted my potatoes Sunday in the garden, but I missed my grandpa's suggested planting date of Good Friday. I saw a local commercial potato grower starting but it looked to be only a small start.
On the last day of April I observed one of the remaining area corn fields was being combined. It must have been one of those 365-day corn varieties. About 10 years ago a farmer told me he always wanted to harvest and replant a corn field on the same day; since then he has done it twice. That says something about the challenging growing seasons we have had in recent years.
Area alfalfa fields overwintered much better this year than the previous year; it's likely due to a snow cover that lasted all winter. I've seen some alfalfa that heaved out of the ground and didn't come back as well as other fields, but most of those had late and wet harvesting issues.
Cool soil temperatures have caused the slow growth of pasture forages. It's still a bit early to turn the cows out onto grasses that are less than 5 inched tall.
According the U.S. Department of Agriculture's National Agricultural Statistics Service crop report, "spring tillage and planting operations are well ahead of last year and the five-year average". That may be for Wisconsin as a whole because here in northwest Wisconsin we are just starting.
The service is also quoted as saying that half of April 2020 – 15.6 days – has offered weather suitable for fieldwork. Its statistics also point out that growing-degree days are behind 2019 and at well less than the "normal" five-year average.
So farmers are anxious to continue tillage and planting operations, hoping for a good growing season in 2020. Considering the challenges of the past couple of years I think we deserve it – not to mention all the other distractions happening around the world.
From the Fields: Zac Soltvedt
The past few weeks have surely been picking up. We had a nice mild winter for the most part.
I've been busy putting together and delivering seed orders during the past two weeks. With the weather turning around, myself and many others are optimistic about planting the 2020 crop. There has been quite a bit of new seeding going in the ground already, and a few acres of corn and beans as well.
I've been finding quite a bit of alfalfa winterkill. I guess it was to be expected with the kind of year 2019 was in our area. Let's all hope for a better 2020 to help increase those forage inventories.
I've fielded a lot of calls from farmers lately, asking if it's too early to plant corn. My answer is to remember that soil temperatures need to be 50 degrees for corn to germinate. For me the temperatures are still a bit cold to plant corn yet. I like to see everything emerge within a 24-hour time span from the first emerged plant. I believe a nice even stand is the start for better yields.
Well I need to return to answering grower calls and to finish readying the planter. Have a safe and healthy planting season; see you next time.
From the Fields: Thomas Maloney
I hope everyone has had a safe and uneventful but productive start to the 2020 season. To put things into perspective, this report is being written April 30.
Our winter was mild with average snowfall and average temperatures. By the second week of March the snow had melted. The rest of the month had slightly-below-average rainfall, allowing the drainage ditches, creeks and rivers in the area to drain. That gave area fields a chance to dry for the first time in more than a year. It was a welcome change when compared to the start of 2019. The winter was easier on winter wheat; the fields in the area look good.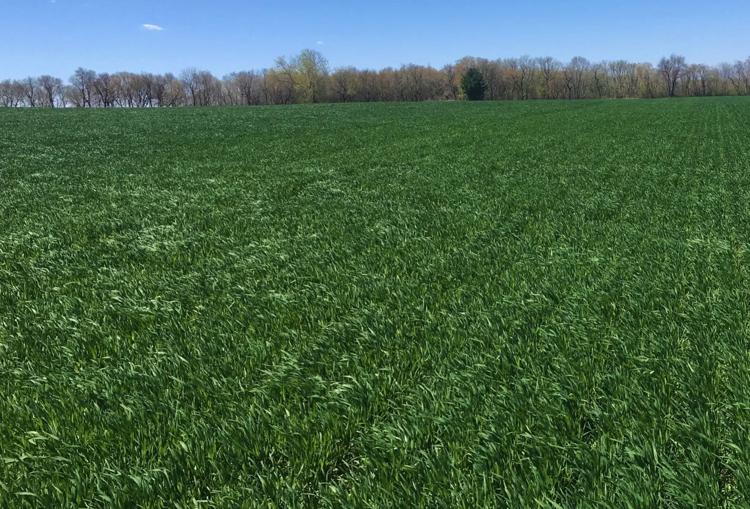 Field work started April 2 on our farm; we prepped fields for alfalfa seeding, spring grains and potatoes. Everyone's favorite job of picking up rocks took place ahead of seeding alfalfa. A good motivational pitch to the rock-picking crew – comprised mostly of my siblings – is, "The rock you pick up today you will not need to pick up again!" That doesn't seem to make a difference when I promise it will only take an hour or two but it then turns into most of the afternoon. About .5 inch of rain fell April 13, nicely settling the recently seeded alfalfa and spring grains. We finished our alfalfa seeding, spring grains and potatoes April 21.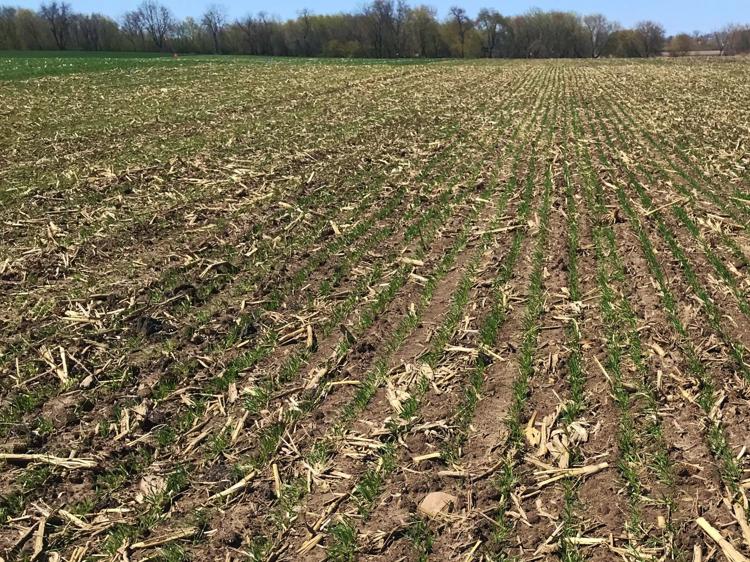 The first planted corn field I saw of 2020 in our area was April 18. During that weekend and through April 22 more acres of corn and some soybeans were planted. We received .45 inch of rain April 23, delaying fieldwork until the weekend.
Our somewhat dry period came to an end April 27 when it started raining. By the evening of April 29 we had received 1.75 inches of rain. To our south and east rain totals were almost at the 3-inch mark. It was sunny and very windy April 30; the tops of the fields where starting to dry by the end of the afternoon. We hoped to go back into the fields early this week on the high ground with sandy-loam soils, and mid-week on low ground with silt-loam or silty-clay-loam soils. But the forecast for this week is cooler with a chance of a few showers, so that may push things back. Also the soil temps on our farm have been hovering in the low- to mid-40s. Hopefully warm weather from the weekend warmed seed currently sitting in the cold wet soil.
From the Fields: Dave Justman
What a difference a year makes. Last year at this time we were still fighting the lingering effects of a late April snowstorm that would lead to a wet May. We finished planting our corn crop June 4. This year we had all our corn in the ground by April 23, and had about 60 percent of our beans planted by April 30.
All the alfalfa in our area has been seeded. Area-wide about 80 percent of corn is in the ground, and about 40 percent of beans. We've been fighting through some spotty showers for the past week, with a decent rainstorm finally falling April 28 bringing between .3 and .6 of an inch. We hoped to be back in the fields May 1 to finish our soybean planting by May 3. It would definitely be the earliest finish to planting in my 20 years.
We have a new weed showing up this year in force – cornflower. I saw a little bit of it in 2019 but this year it has expanded its footprint.
That's all for this week. Happy planting season and stay safe!
From the Fields: Jason Maloney
The northern coast of Ashland, Bayfield, Douglas and Iron counties is on the shore of Lake Superior so the land warms later in spring and often has frost later in fall. Some small growers on Madeline Island can sometimes be weeks behind some mainland farmers. Some areas near the lakeshore still had more than 2 feet of snow pack at the beginning of April, but by the end of the month snow only remained in shady ditches and wooded ravines.
April temperatures were normal – cold. But with dry weather the first three weeks of April spring fieldwork was underway, more advanced the further from the lake the field is. On high fields application of manure and commercial fertilizer was underway. Low spots were still wet from the overabundance of rainfall this past fall, along with snowmelt and late-April rain. Hay fields and alfalfa look good overall. Pasture was greening up and livestock was being turned out. Ramps and Trout Lily are up and partridge are drumming.
Orchards and berry farms on the Bayfield Peninsula suffered less damage from rodents this past winter, but many berry bushes and fruit trees were damaged by heavy winter snows. Blossoms are coming soon; all hope enough pollinators will still be on hand to do their essential job.
Hope springs eternal on farms, especially as the snow and cold recedes and another growing season begins. This year the usual uncertainty about the weather and growing season is joined by others. Markets are depressed, tariffs have increased and food supply lines have been disrupted. Some grain farmers are unsure of what to plant. Some farm-to-table producers and community-sponsored-agriculture operations are seeing new customers, but wonder if consumers will still travel to roadside stands. Farm markets will open, but will people come? Will food processors be open? Will pick-your-own operations be swamped with customers or deserted?
But soil is being worked, seed is being planted and livestock is being raised. Some things look dire now but people still need to eat. As the growing season progresses it may be that more farmers will overcome disruptions in the food supply chain by selling directly to consumers or using regional networks on the community-sponsored-agriculture model.
We can hope the pandemic brings consumers closer to the farmers who produce their food. Maybe consumers will develop a better appreciation for the land, farms, farmers and hard work that goes into putting food onto everyone's table.
From the Fields: Greg Galbraith
I stopped April 26 at Roger Thompson's farm near Ringle in eastern Marathon County, Wisconsin, on a beautiful spring afternoon. Thompson farms 110 acres of cropland; he also does custom corn planting and combining on more than 1,000 acres. He just finished combining 200 acres of late-harvested corn for customers. He said field losses weren't bad, and the corn was good and dry. He was preparing his corn planter to head the next day to the southern part of his customer base near Bevent, to begin the corn-planting season. A day of needed rain April 27 curtailed his plan temporarily.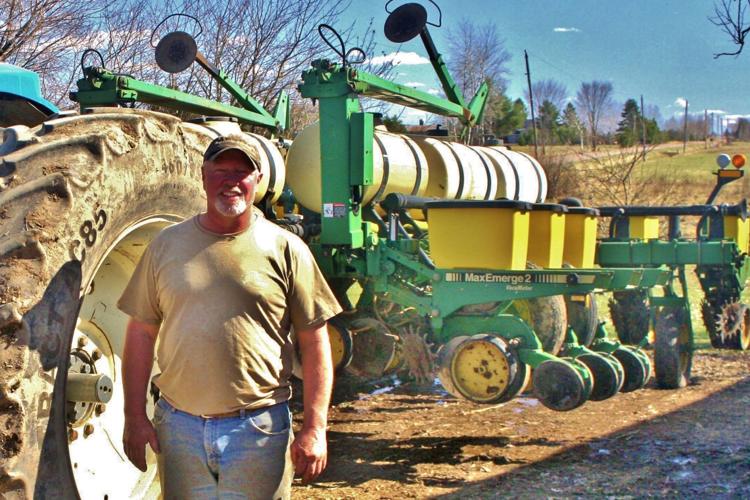 Conditions for field work were mixed depending on soil type for Marathon County farmers once the mid-April snow left the fields. No-till drills were busy as farmers took advantage of drier conditions to renovate pastures and hay fields with fresh seed. Hauling of stockpiled manure was in full swing by April 20. It was followed by some tillage on higher ground, which renewed the spirits of farmers and citizens everywhere who longed for familiarity and a sense of normalcy. As tillage progressed the land took on the appearance of a patchwork quilt in hues of ochre, charcoal black and pale green.
Sam Zimmerman, another Ringle farmer, milks 220 cows and runs a total of 450 acres. He was field-cultivating corn stubble in preparation for a crop of peas and oats seeded down with alfalfa. He took a break as we stood in a stand of alfalfa established in 2019. He said stand health looked excellent; he saw little to no alfalfa winterkill across his acreage and had heard of only spotty incidences in the area. He plans to diversify his forage program this year to include more excellent-protein forages like a sorghum-sudan mixture along with more peas and oats. He no-tilled some peas and oats in mid-April when conditions were right. The current rain and warmth has it finally emerging. It was difficult to make crop-input decisions during the current national crisis. "All bets are off this year; the level of uncertainty is high," he said. "We're proceeding cautiously. This has made us re-evaluate everything and realize what's truly important to us."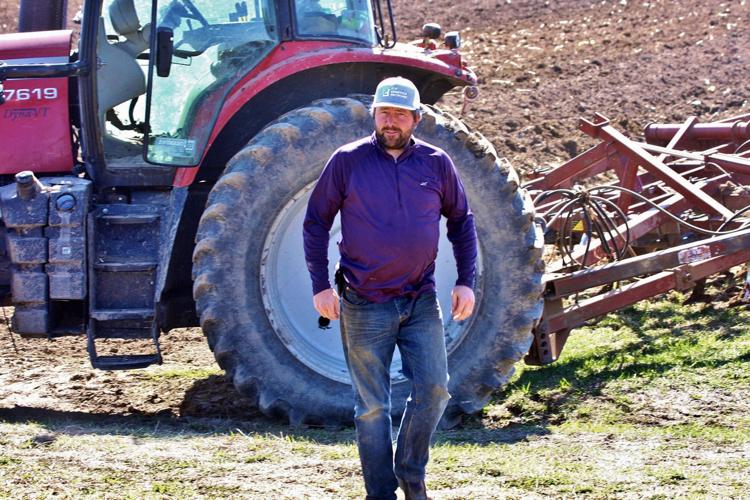 Zimmerman and Thompson had one thing in common as I spoke with them. Their demeanor was positive and they were glad to be doing what they do – working the land and making things grow.