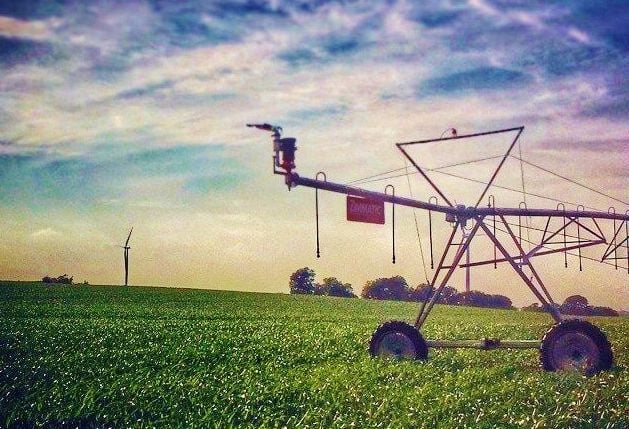 Agricultural production could be increased through extensification – more acres in production – or intensification. A rather obvious form of intensification – or increasing the output from an acre of land – is irrigation. This week's post reviews current trends in agricultural irrigation in the United States.
The United States had 58 million acres of irrigated farmland in 2017. That was more than 2 million acres or 4 percent more than reported in the 2012 Census of Agriculture. Throughout history the number of irrigated acres in the United States has increased. In 1949 the United States had 26 million acres under irrigation. That acreage number has been increasing but the rate has been relatively slow, averaging an average growth rate of 1.2 percent annually. The Rule of 72 would imply acres irrigated in the United States double every 60 years.
Notice that irrigated acreage expanded rapidly during the farm boom of the 1970s before slipping during the farm financial crisis of the 1980s. More recently acreage was an average of 55.8 million from 1997 through 2012, before increasing to 58 million in 2017. That's to say the periods of increased income seem to encourage additional irrigated production.
State-level irrigation trends detailed
Beyond the increasing national trend, significant variations have played out at the state level. Of irrigated acres 72 percent are concentrated in just 10 states. Acreage in Nebraska at 8.6 million and California at 7.8 million stand out; those states account for 29 percent of total U.S. irrigated acreage.
Figure 3 breaks down the state-level acreage changes between 2012 and 2017. Kansas and Texas stand out as irrigated acres contracted sharply. The national trend was a net increase of almost 2.2 million acres, those two states posted a combined contraction of 500,000 acres. On the other hand 11 states added more than 100,000 acres each, with Missouri at 348,000 and Nebraska at 291,000 adding the most.
Water – sips or gulps?
Another state-level variation is in the amount of water used. On average the United States irrigated 1.5 acre-feet of water per acre in 2018. That was a decrease from 1.6 in 2013 and 1.7 in 2008 and 2003.
At the state level nine states exceeded the national average. Arizona's irrigation rate of 4.7 acre-feet per acre was more than three times the national average. California at 2.9 acre-feet per acre, Nevada at 2.8 acre-feet per acre and Washington at 2.2 acre-feet per acre also irrigate intensely. Water usage on an acre basis is most for states in the Western regions of the United States.
Of course these data are a single year and are subject to several factors. First the annual rainfall could alter the need for irrigation. Additionally crops raised and management practices vary greatly across states and regions.
Wrapping It Up
In recent years acres of irrigation have increased in the United States. The expansion is likely due to a combination of boom-era profitability and the long-run increasing trends. Furthermore the drought of 2012 remains fresh in producer minds.
What's also worth noting is that trends in agricultural irrigation vary significantly at the state level. While the United States has added acres of irrigation, that isn't the case across all states. Kansas and Texas, for example, observed significant declines. Furthermore the amount of water applied also varies across the country. Some states – due to climate and crop mix – simply apply more water than other regions.
David Widmar is an agricultural economist with Agricultural Economic Insights. Visit aei.ag for more information.