Drizzly damp weather during the past few days, after a couple of days of heavier rain, has left fields with standing water and slow to dry. Corn-silage harvest has been halted.
Many soybeans are mature enough to harvest but moisture levels and field conditions hold back any harvest. There has been virtually no field activity for the past week.
Many corn fields still need some killing-frost-free days to reach physiological maturity. The weather app is not showing any killing-frost temperatures in our area during the next week. If these wet conditions persist, concern for field-developed molds and diseases will be a major concern.
This past week when conditions were allowing us to go into the fields we made a couple of passes to harvest a nearby soybean field's headlands to test everything. Noticing a couple of combine issues, we then focused on those repairs and completing end-of-season maintenance on other equipment.
I haven't seen any wheat being planted in our area, but I'm not sure how many intended acres of winter wheat there are for the area. I'm sure dairy farmers will be interested in reestablishing the alfalfa-acres base they wish to maintain after the losses they had this past winter and spring.
Potato farmers are struggling to harvest potatoes in these conditions; crop quality can deteriorate quickly.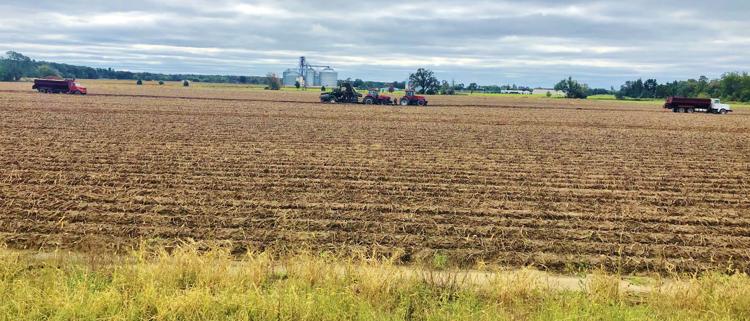 Cabbage harvest has also been a real challenge. Many area crop acres are grown on naturally lower and wetter soils so those conditions again make harvest impossible. Many of the fields have acres of standing water. Diseases have appeared in some fields; crop quality has again deteriorated to the point it will not be worth harvesting. Processors are going outside the area to find and truck in cabbage.