Focus has been directed to making haylage in the past week. I was married this past weekend so crops were delayed for a short period. Quickly after that the bagger was prepared, the machine was greased and chopper wagons were hauling full loads. This year feels like second crop and third crop blended together, leaving a small break. Weather has been favorable; stress levels feel manageable. A few fields looked to have more sorghum with fewer alfalfa plants. Other fields carried more alfalfa. Either way it all was chopped.
The soybeans grew fast, standing about 1 foot tall. Plants carry a strong healthy green color. Weed pressure is weak. After hay harvest is complete soybeans will be cultivated again in areas of need. The cultivator received a new disc with springs and a bearing.
Corn has also hit a growth spurt, reaching about 7 feet tall. The corn planted one month late in healthy soils had no problem bouncing back. Other fields tell a different story. The lacking fields could be due to the difficulty of manure or fertilizer spread in the wet spring.
Corn is tasseling. Even the delinquent growing corn is tasseling. The old grazing paddocks that were removed this year and seeded in corn are far superior in crop growth.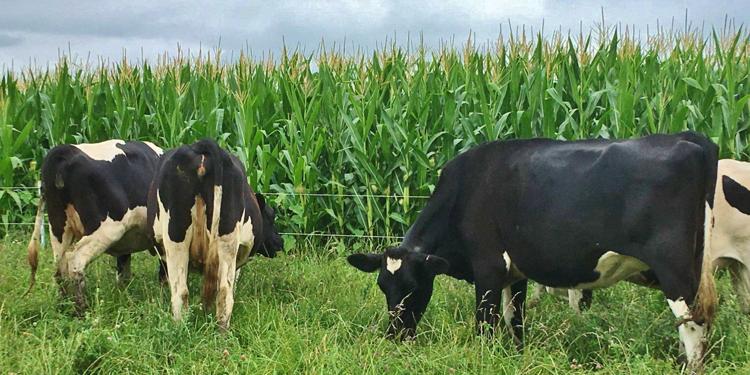 The grazing paddocks seem to have decent regrowth. But regrowth is slowing as the days progressively become shorter. Grazing season could last until the end of September. But day length and temperature are the two biggest determinants. Slowing plant growth could lead to risk of overgrazing.
There has been a noticeable increase in monarch butterflies. Milkweed is present; other weeds have blossomed in buffer strips making for a beautiful pasture walk.