UKRAINE – With his sheds still full of 2021's harvest, Ukrainian arable farmer Oleh Makushynskyi is desperately searching for foreign buyers to sell his grain to. Grain prices in Ukraine have slumped due to the ongoing war with Russia, which means Makushynskyi must search further afield for buyers.
With the potential of having two seasons of grain stuck in his storage, he's also searching for customers to forward-purchase next season's crop of mustard seeds. Because Black Sea ports are operating very slowly for now, the only other options are to ship grain by road and train – but that also is a huge challenge.
In addition to reduced prices, this year's crop yields are worryingly small for Makushynskyi; drought conditions in a number of areas of Ukraine have slowed grain growth and production.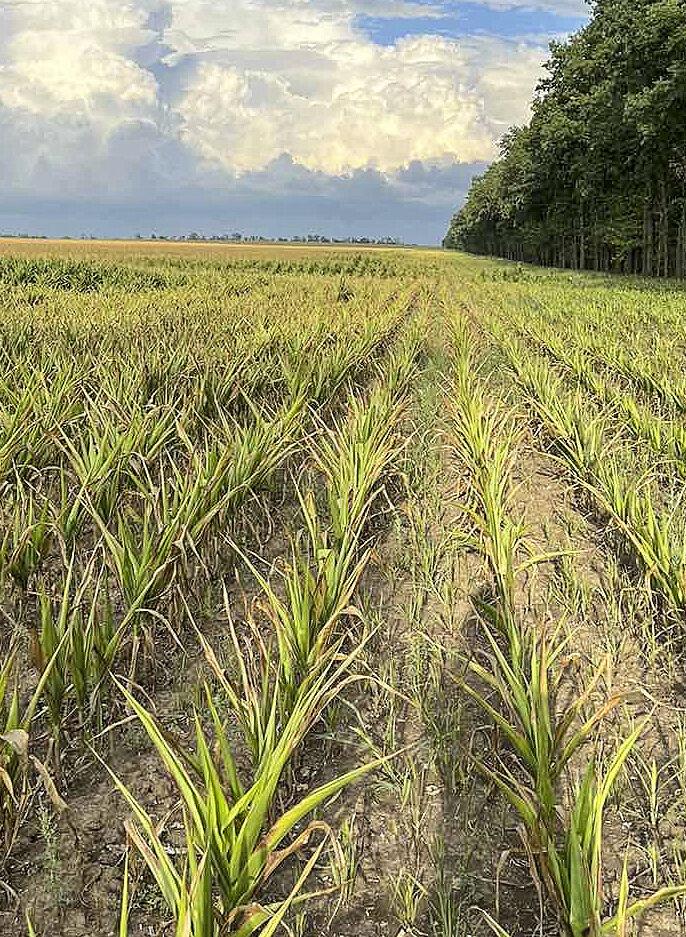 Makushynskyi runs Prydnistrovske Farm, located in Vinnytsia on the banks of the Dniester River; that's close to the border with Moldova. The farm, which employs 12 people, grows more than 1,000 hectares of crops – 2,471 acres. So far he's been relatively lucky to escape shelling by Russian forces.
But he's faced other problems – sourcing cash flow and diesel – as well as the drought conditions.
Makushynskyi said, "This year we are growing 150 hectares of rapeseed, 300 hectares of wheat and barley, 300 hectares of corn, 200 hectares of sunflowers, 50 hectares of soybeans and 50 hectares of millet and mustard.
"This year the harvest in general is tense, as there was a shortage of diesel fuel and its price had almost tripled. The war has brought a lot of grief and trouble to the lives of Ukrainians, and together with the war, drought came to our area.
"Due to the drought our crop yields are half of what they were compared to the average indicators for the past years. For example the wheat had 6 tonnes per hectare last year, but this year the yield was only 3 tonnes per hectare.
"The situation is the same with barley. And in previous years the rapeseed yield was 3.5 to 4 tonnes per hectare, but now it's only 2 tonnes per hectare.
"The forecasts for the corn and sunflowers are also disappointing, as the harvest is expected to decrease as well."
All of Makushynskyi's harvest from 2021 is still stored in his sheds due to the Russian invasion of Ukraine in February. Plans to build new grain storage were put on hold as the future was, and still is, quite uncertain.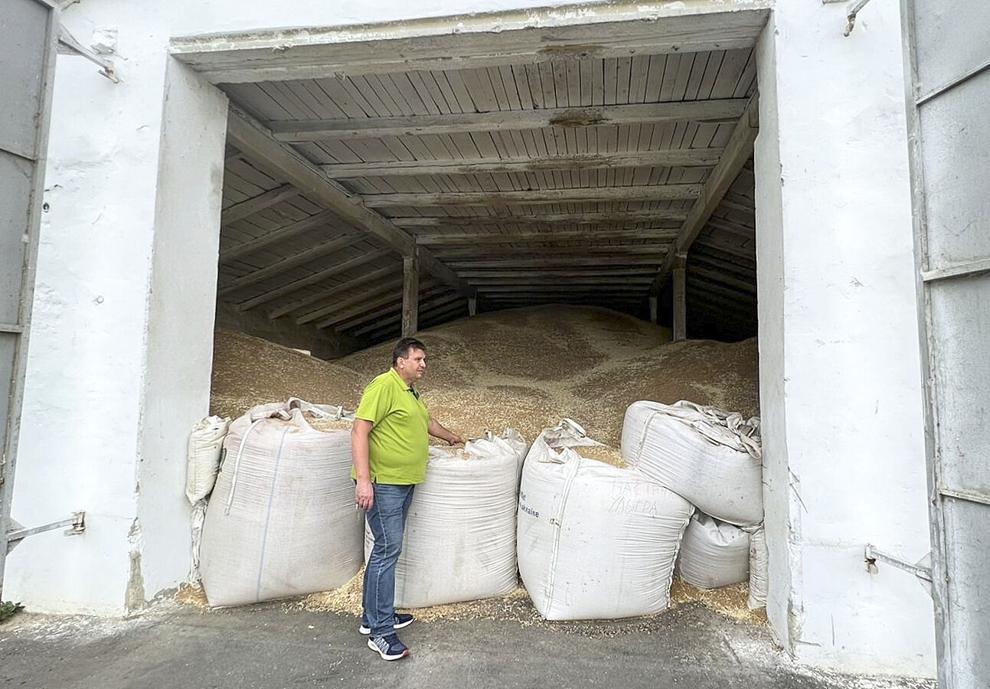 He said, "The farm still has last year's harvest in storage, as we did not have time to sell grain due to the military events in Ukraine. At the beginning of this year the construction of new storage sheds and a grain dryer began, but due to a lack of funds construction was suspended.
"As far as the harvest prices are concerned, they are less than half of what they normally would be. This year the price of wheat is down to $150 per tonne. We have sold almost nothing yet due to the low prices."
Other farmers share Makushynskyi's anxiety regarding the drought and the decrease in prices for crops. Vitalii Poida runs Peremoha PAE farm in the Kirovohrad region, where there has been a lack of rain since November 2021.
Poida said, "Problems with rain have been going on since last year. There was no rain in March, 12 millimeters in May (.47 inch), 8mm in June (.31 inch), 6mm in July (.23 inch) and 5mm in August (.2 inch). We had the last normal rains in November, and from November up to now only 152mm of rain (5.9 inches). For early cereals, crop losses are up to 50 percent.
"Wheat was harvested at 3.8 tonnes per hectare, although in previous years an average of 6 to 7 tonnes per hectare was harvested. Late-group cultures, in particular corn and sunflowers, are in unsatisfactory condition but corn has not reached a critical point.
"We plan to sow rapeseed with hopes for the forecasted rainfall. We are also preparing equipment for the harvest of late crops in the hope that there will be rains and the condition of the plants will improve."
In the Cherkasy region the situation with rain is better, but there's still a lack of moisture for the normal development of crops in the late group.
Oleksandr Popeliukh, owner of Dukra Agro LLC farm, said, "The rain that fell in Uman district of Cherkasy region is not enough for the development of late crops – in particular corn and sugar beets – as well as for sowing winter rapeseed.
"In August there was 12mm of rain (.47 inch), which will have a negative impact on the yield. We expect that the harvest of corn and sugar beets will decrease by 20 percent, but sunflower crops are in better condition. Sowing rapeseed is currently risky due to lack of moisture, but we will not postpone sowing; we are hoping for rains."
The worst situation for lack of moisture is in the Odesa region – where in some areas there has been no rain for more than three months. Yield reductions may exceed 60 percent.
Hennadiy Floria, owner of Maks Agro PE farm, said, "We are preparing to harvest sunflowers and corn. According to our expectations, the harvest will decrease by three times because of the drought; there was no rain in our fields for three months.
"Sowing of early crops usually starts at the end of August or the beginning of September as this is the time for sowing winter crops – rapeseed, wheat and barley. But there is no rain in our region and it is not expected. That means autumn sowing is in question due to the weather and a number of economic factors."
Search continues for foreign buyers
Like every other farmer in Ukraine, Makushynskyi needs to increase his cash flow to ensure he can purchase inputs for next year's harvest. In order to do that he's appealing for foreign buyers to come forward to purchase his grain in storage, and to forward-buy next year's mustard seeds.
"We are currently looking for buyers abroad as prices are very low in Ukraine," he said. "However there are problems with transportation because currently logistics by road is very expensive. After the ports were unblocked, exports by sea began, but they are still very slow. With exports leaving the ports there is a tendency for a slight increase in the price of agricultural products, but not significantly.
"Next year we plan to sow wheat, but will reduce the area of corn sown due to expensive logistics. We were quite lucky in that the rockets fired by the Russians were quite near us but didn't come to our area.
"The most important thing is that this war ends with the victory to Ukraine, and for the ports to work at full capacity. Going forward our main problem is the lack of funds for the purchase of diesel fuel, seeds and fertilizers. At the same time the price of grain decreased. (But) the prices of mineral fertilizers and plant-protection products, diesel fuel and spare parts have risen many times."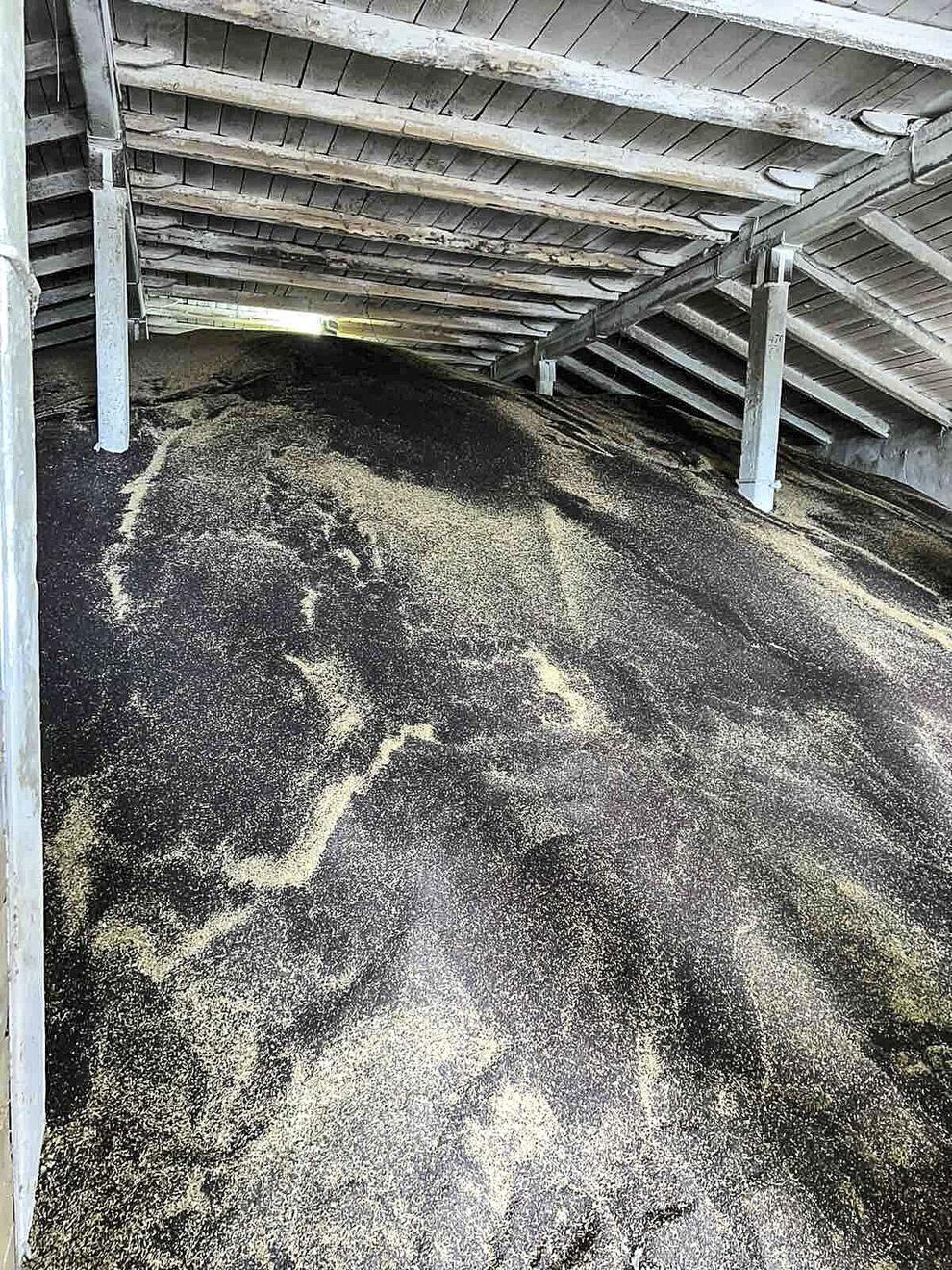 This is an original article written for Agri-View, a Lee Enterprises agricultural publication based in Madison, Wisconsin. Visit AgriView.com for more information.
With 20 years experience behind him, award-winning agricultural journalist Chris McCullough is always on the hunt for his next story. He grew up on the family dairy farm in the heart of Northern Ireland and is based on the country's east coast. He travels around the world to bring readers international news. He has many friends and colleagues in Ukraine.