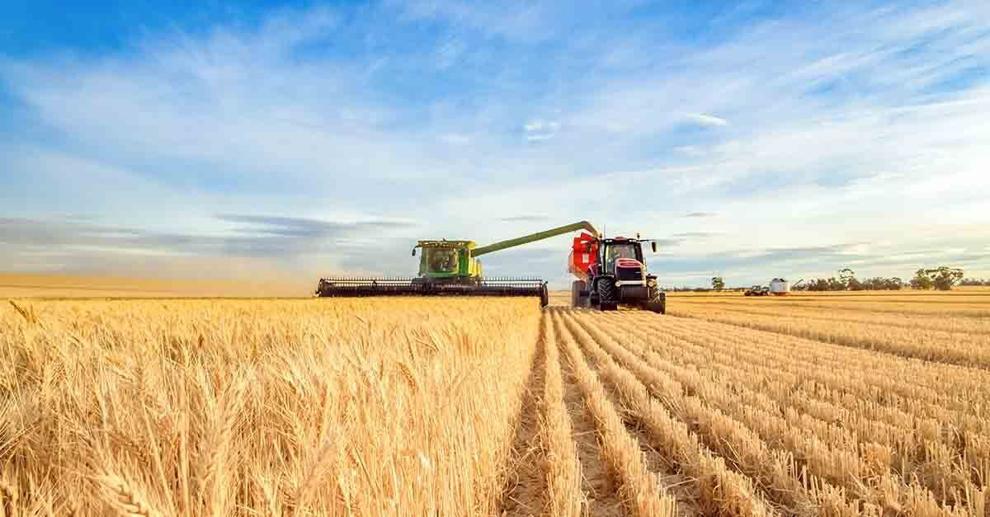 In a high-cost, limited input supply market, where should farmers invest their money? Look no further than family-owned farm and seed retailer Beck's, which serves farmers in the Midwest and Mid-South.
This year, Beck's Practical Farm Research Insight Meetings are based on the theme of how to invest money to make money. Sessions that will be included under this new theme are focused on helping farmers make the most profitable and impactful decisions on their operations, for each dollar spent.
Under each unique management topic, new harvest data and PFR Proven content will be featured. The spotlight on PFR Proven products and practices will tell stories of the knowledge PFR has captured from multiple years and locations of testing. Innovation is key to staying relevant with changes and opportunities in the industry. Here's a preview of what will be shared at these in-person and virtual Practical Farm Research Insight Meetings.

Planter setup, time is money
Undoubtedly the most important pass of the season: the planter pass. In this session, you'll learn how to decide early in the planting season which factors can best enhance yields, as demonstrated by PFR Proven data. Knowing which calendar planting window to choose can make a big difference the field on in your yield, PFR Proven data show.
Want to learn how to piece together the puzzle for the perfect planter for your fields? Fundamental takeaways from new, on-farm high-speed planting research will be a focus of this talk, covering Exact Emerge and Sure Speed. Planter technologies and equipment that became PFR Proven this year will be discussed.
Adapting to nitrogen markets, enhance your nitrogen investment (planter pass and in season)
With fertilizer prices on the rise, how can nitrogen (N) be managed to meet the Economic Optimum Nitrogen Rate (EONR) for your fields? This session will answer that question with insights. Being cost efficient and effective with nitrogen on the planter and in-season are ways to start. Understanding the environmental conditions your fields face will help determine which specific N fertilizer works best on your operations. Gaining familiarity with the corn N uptake curve, the soil/atmospheric N cycle and corn hybrid N response are foundations for investing N the best ways possible. At planting, PFR has done extensive testing with in-furrow and 2x2x2 N starter fertilizer studies.
A new study emerged for early-season N testing in 2021 — a dribble application of N fertilizer (on the soil) versus a 2x2x2 application (in the soil). PFR has new proven stories to tell about anhydrous ammonia placement, depth and timing for pre-plant N passes.
Enhancing the in-season N investment, this session will cover PFR findings on the relationship of N rates on increased plant populations to managing N with thin strands. The value of split-applications of N through sidedress applications will also be shared. Sidedress additive product Carbon Works CertaiN® became PFR Proven this year on corn. Stay tuned for continuous N research in PFR on new-to-market microbial N products like Envita™ and Source™.
Spraying for profit, corn
Curious about Xyway™ fungicide? This year, PFR tested this new flutriafol fungicide in two different studies on corn — in a 2x2x2 method and foliar application. Results on Xyway™ trials will be shown at Insight Meetings. This corn fungicide chat will review profitable PFR Proven decisions like application timing, fungicide additives, carrier rate and water conditioners to improve product uptake and plant nutrition, as well as the best corn growth stage to target for maximizing returns. Products Lucento®, Miravis® Neo and Harvest More® Urea Mate earned PFR Proven status in 2021 for this category.
Spraying for profit, soybeans
Making the most agronomically sound soybean fungicide pass — targeted around the R3 growth stage — is taught in this session. Similar to spraying for profit on corn, the optimal fungicide timing, additives, carrier rates and conditioners be will explained for soybeans. Lucento®, Miravis Neo® and Miravis® Top became PFR Proven products for soybeans this year. Additional fungicide timing products BRANDT® Indicate 5®, BRANDT® Smart B-Mo™ and BRANDT® Super 7 were also added to the soybean PFR Proven section.
Adding to the basics, small additions for big profits
In this session, learn how to monetize what's already being made in the field. Sugar based nutritionals, sulfur products and other additive products are the key to additional profits that can be made to those passes. Ammonium thiosulfate (ATS) in the sulfur fertilizer form of Thio-Sul® was tested on both corn and soybeans this year. Attend Insight Meetings to get the full scope on those trials. Other small ways to make large impact on soybeans include investigating new for 2021 soybean studies: the 2x2x2 starter fertilizer study and stress mitigation study.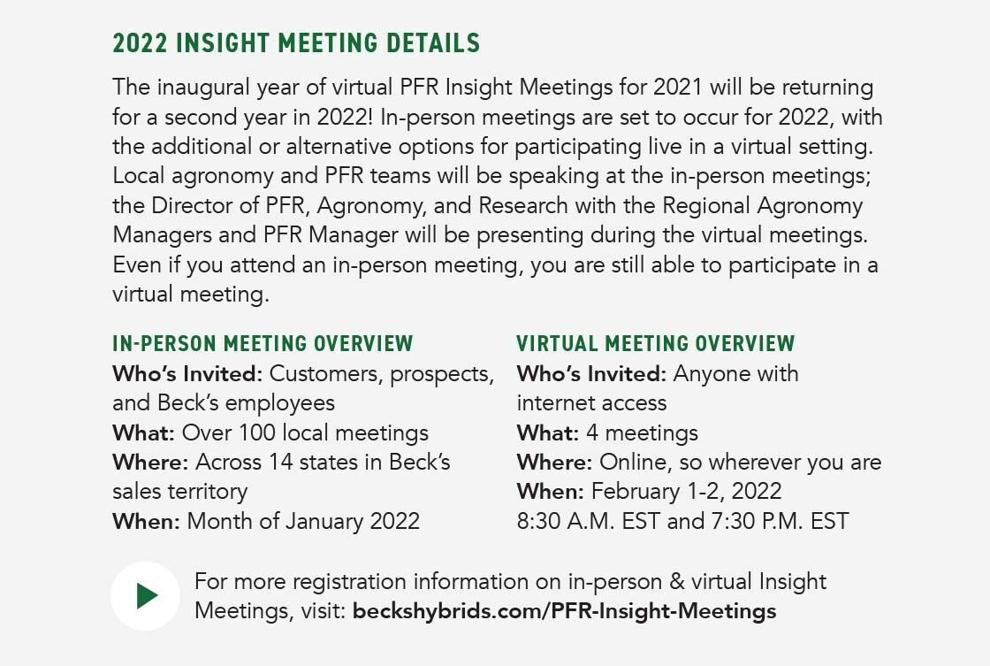 Wrap-up
Make sure to sign up for the 2022 FARMserver growth stage modeling notifications. PFR's money-making strategies will be sent out through the FARMserver notification system. The 2021 PFR books will be arriving in mailboxes and will be available to view on the Beck's website soon. The studies will provide you the foundation of money-making strategies planned for the 2022 PFR Insight Meetings.
Where on your farm will you be investing money to make money this upcoming planting season?
Join PFR Insight Meetings, in-person or virtually. For more information and to register to attend PFR Insight Meetings, visit beckshybrids.com.
---
This content was produced by Brand Ave. Studios. The news and editorial departments had no role in its creation or display. Brand Ave. Studios connects advertisers with a targeted audience through compelling content programs, from concept to production and distribution. For more information contact sales@brandavestudios.com.