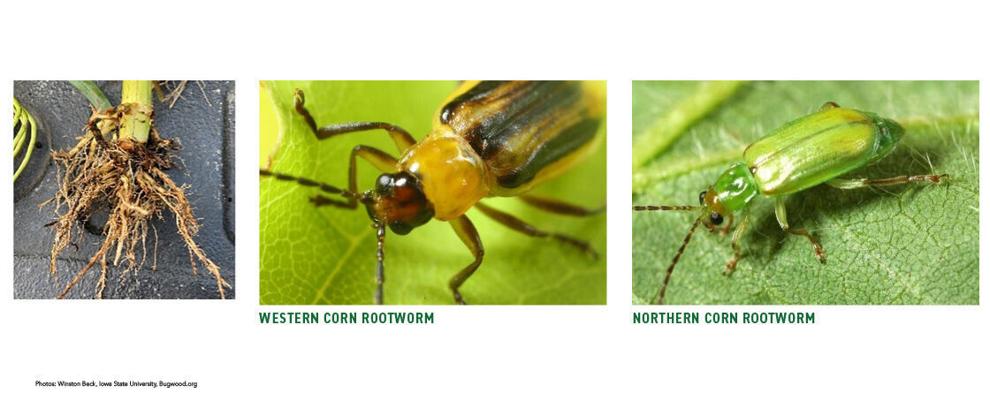 Innovate, adapt and overcome is a term you hear frequently at Beck's. It's become a motto used in all aspects of the business; a call out to look at things differently, change the way we approach life and follow through adversity in unique and innovative ways.
Although many employees, dealers and customers still echo those words today, unfortunately, Beck's believes that corn rootworm (CRW) has taken that motto to heart as well. Since the introduction of the first corn rootworm traits in 2003, millions of acres have been planted with Bt traited products to control the pest. New modes of action have been produced and rootworms have continued to evolve to overcome the effects of rootworm traited corn on a more regular basis. Management of CRW for 2022 will have a different approach, as levels of rootworm beetles and larvae are on the rise across the corn belt.
Corn rootworm life cycle
As with any pest in crop production, successful management needs to start with a well-defined plan and knowledge of the pest at hand. Throughout most of Beck's marketing area, they deal with two species of rootworm: Western Corn Rootworm (Diabrotica virgifera Virgifera ) and Northern Corn Rootworm (Diabrotica barberi).
Rootworms have a simple life cycle including eggs that overwinter and have a period of suspended development called diapause. Diapause prevents hatching during the winter or during dry periods when energy sources are scarce. After dormancy, when soil temperatures reach above 52° F, eggs will begin to develop. Rootworm larvae hatch after 680 to 770 GDUs accumulation in the spring. At this time the larvae will begin to feed on small roots and outer root tissue and go through a series of 3 instars, all the while feeding more aggressively on roots. This damage can cause standability issues later in the season and lead to decreased nutrient and water availability to the plant, ultimately causing yield reductions.
The threat to yield does not end with the larvae stage. After a pupation period, the adult beetles emerge from the soil and begin feeding on silks and pollen. Fields with elevated levels of CRW adults can experience poor pollination due to silk clipping. While the Western and Northern species have many similarities in their life cycle, each should be approached differently because of evolutionary factors that have allowed the CRW to adapt to different environments and threats to their reproduction. 
Western Corn Rootworm
To further complicate the battle, the Western Corn Rootworm (WCRW) has modified its behavior during the egg laying process. Known as variants, these WCRW will lay eggs in both corn and soybeans, setting up a population for the following year on fields that are first-year corn, and oftentimes are planted to non-rootworm traited products. Scouting soybeans from late June to September is the best way to know if these beetles are present.
Northern Corn Rootworm
The Northern Corn Rootworm (NCRW) has also altered its life cycle to combat crop rotation and trait pressure. The NCRW adaptation is know as extended diapause. In this situation, the adults will lay their eggs, but a portion of the eggs remain dormant for two or more winters and hatch in the second growing season. This adaptability has led to an increased survivability of the pest as well as rootworm pressure in rotations coming off a soybean crop.
Planning for change
Moving in to the 2022 crop, farmers must have a well-thought-out plan to combat the potential for rootworm pressure. Beck's agronomist, other industry professionals and many universities throughout the corn belt participated in a rootworm monitoring program in 2021. Traps were placed in corn and soybean fields to monitor the adult beetle population. The pictures below illustrate the results.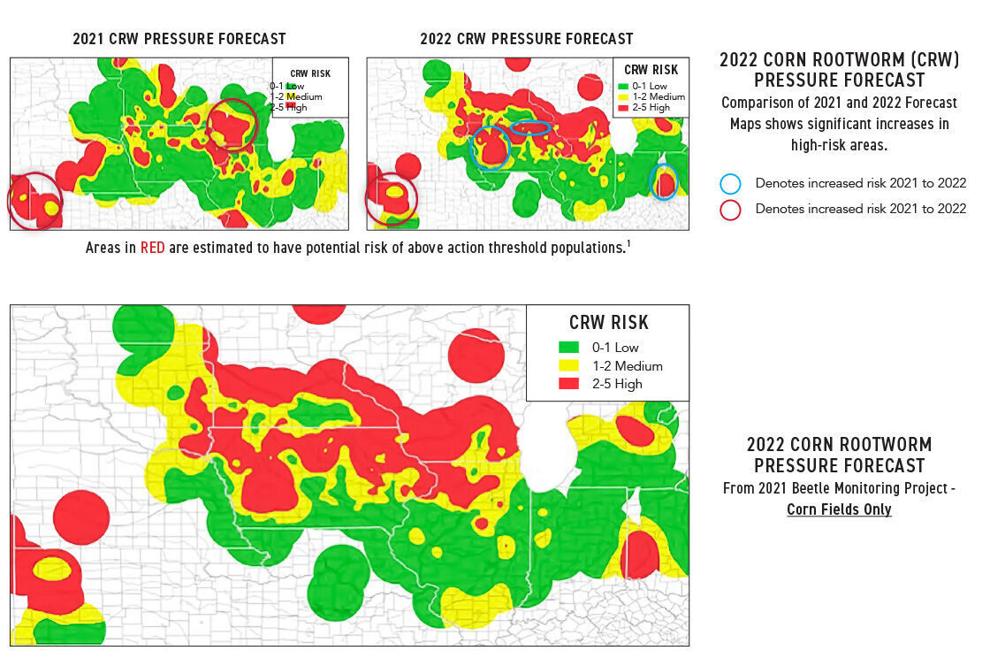 The underlying result from the project indicates an increase in rootworm pressure for the 2022 growing season. If you have observed pressure from CRW in 2021, considerations to rotate to a no-host crop would be advised for the following year. Other situations, such as continuous corn, planting a non-rootworm traited product and the use of insecticides should be discussed with your local Beck's agronomist. Many factors will influence their recommendations, and their recommendations will also consider resistance management concerns moving forward.
More information on CRW control, diagnostics, scouting methods and products can be found at BecksHybrids.com and accessing their Corn Rootworm Agronomy Brief here.
---
This content was produced by Brand Ave. Studios. The news and editorial departments had no role in its creation or display. Brand Ave. Studios connects advertisers with a targeted audience through compelling content programs, from concept to production and distribution. For more information contact sales@brandavestudios.com.