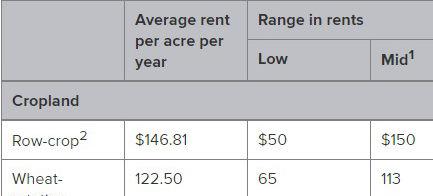 Every year, University of Missouri ag economist Ray Massey conducts surveys of ag rental rates and land values. Despite the challenging farm economy, he says the "2018 Cash Rental Rates in Missouri" survey results have been somewhat surprising.
"The trend is flat as flat," he says. "It is not going up, it is not going down. It has surprised us."
Some farmers have been trying to negotiate rents down.
"I have talked with some farmers who are negotiating rents downward; I have not talked with farmers who are negotiating rents upward," Massey jokes.
But he says there are some factors that help explain why the survey shows cash rents have not gone down, despite low commodity prices. One of those is an economic term, "sticky downward," which means it is always easier to renegotiate when things are looking up, but when the economy moves downward, people usually dig in and try to hold on to what they have.
"People are much more easily led up than they are down," he says. "If I increase the size of the pie, people are willing to negotiate up. If the pie is shrinking, people are not going to want to move any. People don't want to give an inch when things are going down."
Massey says a number of factors can affect rental rates, so it's hard to quote any one cash rent rate as the norm.
"Location is always big," he says. "The second one is the quality of the land."
Average yield and cash rent rates go hand in hand. The survey shows that for every 10 bu./acre increase in corn yield, the rent goes up about $9.
Another factor driving rents is the characteristics and structures in place on the farm.
"What are the amenities associated with the land?" Massey says. "Are there fences? Is it easy to get in and out of?"
Most rented farm ground stays with the same producer for multiple years.
"We do tend to see that land stays with a particular tenant for multiple years," Massey says.
Landowners and farmers often sign leases for three to five years, and many landowners like the simplicity of keeping the same renter.
"Landowners who are retired and not associated with the land anymore don't want to negotiate often," Massey says. "They think, 'I've got a good tenant, he did a good job and paid the bills.'"
Cash rent is much more common than crop share arrangements, Massey says. He estimates that about 90 percent of Missouri farm rental arrangements are cash rent. He says not enough people in the survey had crop share arrangements to get significant data.
"Definitely cash rent seems to be the most popular," he says. "Landowners enjoy the ease of cash rent."
The full survey is available on the MU Extension website at https://extension2.missouri.edu/g427.
The average rent per acre per year for row-crop ground in Missouri is $146.81, with irrigated row-crop land averaging $196.43. Good pasture ground averages $40.74 per acre, and fair pasture averages $32.15.
When it comes to deciding what to pay to rent a piece of farmland, Massey says the MU survey is useful information, but not the final word.
"If you look at the cash rental rate survey, that's a place to start, not a place to end," he says. "If the survey says $150, start at $150 and move up or down."