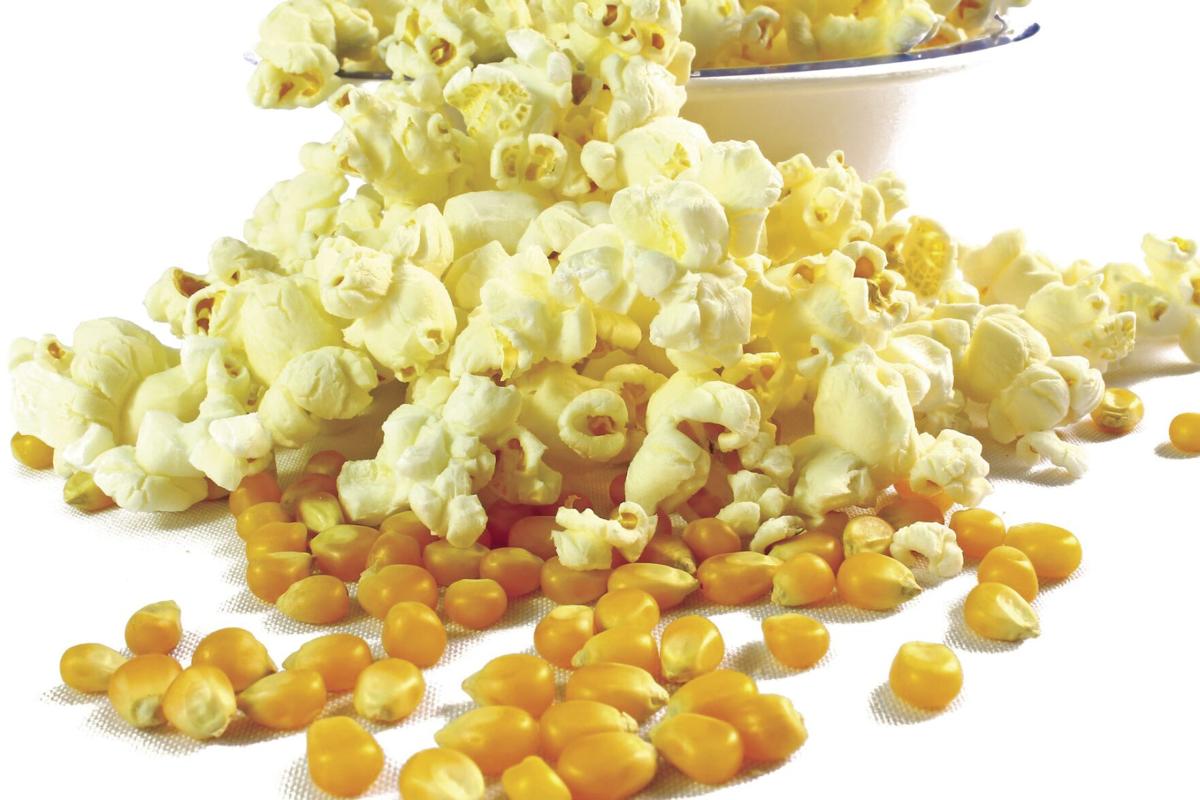 It was three in the morning. Jacob and his buddies were driving straight through to the K-State bowl game in Arizona, and they stopped for gas at a station in Texas. Jacob grabbed a bag of cherry-cheesecake flavored popcorn as a snack.
"It was not very good," he said. "I think I could do better than that."
Years later after college, Jacob would return home and join his family's popcorn business where he would perfect a cherry-cheesecake recipe. That flavor and others would become part of the offerings that this business provides at Christmastime and year-round.
Jacob Yingst is manager and co-owner of Schlaegel's Popcorn in Whiting. His grandparents, Gary and Marian Schlaegel, were dairy farmers and operated a tax accounting business. They also raised some popcorn on the farm for family use. They started giving the popcorn as Christmas gifts and selling the unpopped popcorn. Then they started flavoring the popcorn. The response was so positive that Schlaegel's Popcorn became the family business.
Jacob's great-grandmother had her own delicious recipe for making caramel corn. "All our sweet or glazed flavors are variations on her family recipe," Jacob said.
Gary and Marian had two daughters, one of whom is Jacob's mother. "My mom is a nurse and my dad is a teacher," he said. Jacob went to K-State and earned a degree in agricultural economics before returning to join Schlaegel's Popcorn. He remembered making that trip to the bowl game where he got some flavored popcorn that was not very good. He set out to make a better version of his own.
Today, Schlaegel's Popcorn offers more than 20 creative flavors of flavored popcorn from A to Z – or at least from Amaretto to White Cheddar. Other flavors include Bacon & Cheese, Butterscotch, Caramel, Caramel & Cheddar, Cheddar, Chocolate Drizzled Caramel, Cinnamon, Cinnamon Roll, Cotton Candy, Green Apple, Jalapeño, Kettle Korn, Rainbow, Ranch, Spicy Cheddar, Toffee, Vanilla, and, yes, Cherry Cheesecake. That is in addition to seasonal flavors such as White Chocolate Cherry, Caramel Apple, and Pumpkin Pie. Yum.
Not only does Schlaegel's use the old family recipe, but they also emphasize quality and freshness with their products. "We work really hard to offer the very freshest popcorn," Jacob said. It continues to be grown and flavored there on the family farm near Whiting. "We're the only gourmet popcorn company that I know that is growing our own popcorn," he said.
That makes for a direct supply chain and high quality control. "We grow the butterfly type of popcorn which can literally melt in your mouth," Jacob said.
This high-quality, tasty popcorn is especially popular during the holidays. "We will do almost two-thirds of our business between October and Christmas," Jacob said. The popcorn is offered in bags and colorfully decorated tins and boxes. For maximum convenience and safety, Schlaegel's Popcorn can be ordered online, gift boxed, and shipped directly to the gift recipient.
Many businesses buy popcorn as an appreciation gift for their customers. Schlaegel's can customize labels and logos for these customers. Schlaegel's can also provide products wholesale to local school organizations for fundraisers.
As mentioned, freshness is important to Schlaegel's. Unlike other vendors, when Schlaegel's sells tins of popcorn, the popcorn is bagged inside the tin to preserve freshness. The emphasis on quality and freshness has paid off.
"We have shipped to all 50 states and overseas," Jacob said. During the holiday season, there is a daily FedEx pickup at the farm. That's impressive for a business located on the farm near the rural community of Whiting, population 187 people. Now, that's rural.
For more information, go to www.popcorngifts.net.
We commend Jacob Yingst and Gary and Marian Schlaegel for making a difference with creativity based on a family recipe. It gives rural business a whole new flavor.