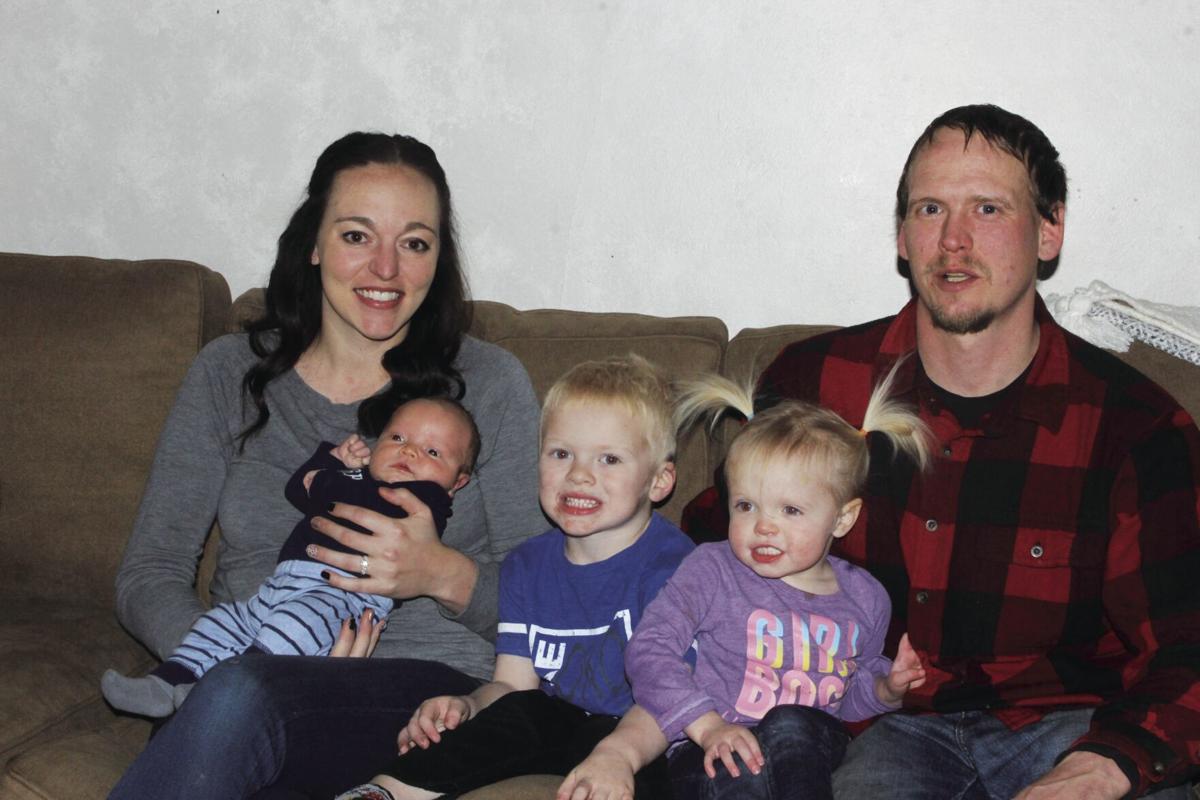 Two weeks early.
That's the schedule Kyle and Dani Krause's childbirths had been on.
Their third was no exception as Garrett Cyrus Krause was born Dec. 12 at Memorial Community Hospital in Blair.
Although the lad arrived early, he came in plenty of time to be named the Plaindealer's Last Baby of the Year.
Garrett Cyrus, after his maternal great-grandfather, joins brother Kason, 4, and big sister Harper 2.5, at the family's cozy home west of Tekamah. Grandparents are Gregg Miller of Tekamah and Jann Miller of Ashland; and Mike and Mary Krause of Tekamah.
Great-grandparents are Jo Chamberlain of Tekamah; Fran Pedersen, Fremont; and Neal and Janice Krause of Omaha.
Garrett entered the world at 7 lbs. 14 oz. and 20.25 inches long.
"My due date was Dec. 26," Dani said. "But both of the other kids came two weeks early. He did, too."
Although the drive to the hospital was a little slower than preferred that Friday night, everything else went off without a hitch. The best part, the couple said, was the environment at the hospital. They practically had the maternity ward all to themselves.
"It was so quiet," Kyle said. "The other two were born in Omaha and it was a lot busier."
Although she could have stayed another day, Dani was allowed to go home early. "The care was great and I wouldn't have minded another day, I just wanted to get home and see my kids."
And it's been all quiet at home, or as quiet as it can be with two siblings and a couple of dogs. Healthy and content, Garrett didn't make a peep during his brief encounter with the media last week. A very social brother and sister took care of the formalities for their new baby brother—even offering to show a reporter around the place.
"They just love him," Dani said of the other kids. "They're both glad it was a boy. Kason said he was moving out if it was a girl."
Dani is on leave from her job as a registered nurse at Cottonwood Clinic in Tekamah. Kyle continues his job as a civil engineer with Metropolitan Utilities District in Omaha.
Although she'll have about two and a half more months off, Dani said the winter is a great time to be at home with the new arrival thanks, in part to their quiet country life. After growing up in town, she said she wouldn't want to live anywhere else than the farm site they purchased over four years ago.
"We wanted our kids to grow up on a farm," Kyle said, "and enjoy the freedom that comes with it."
And the peace and quiet.