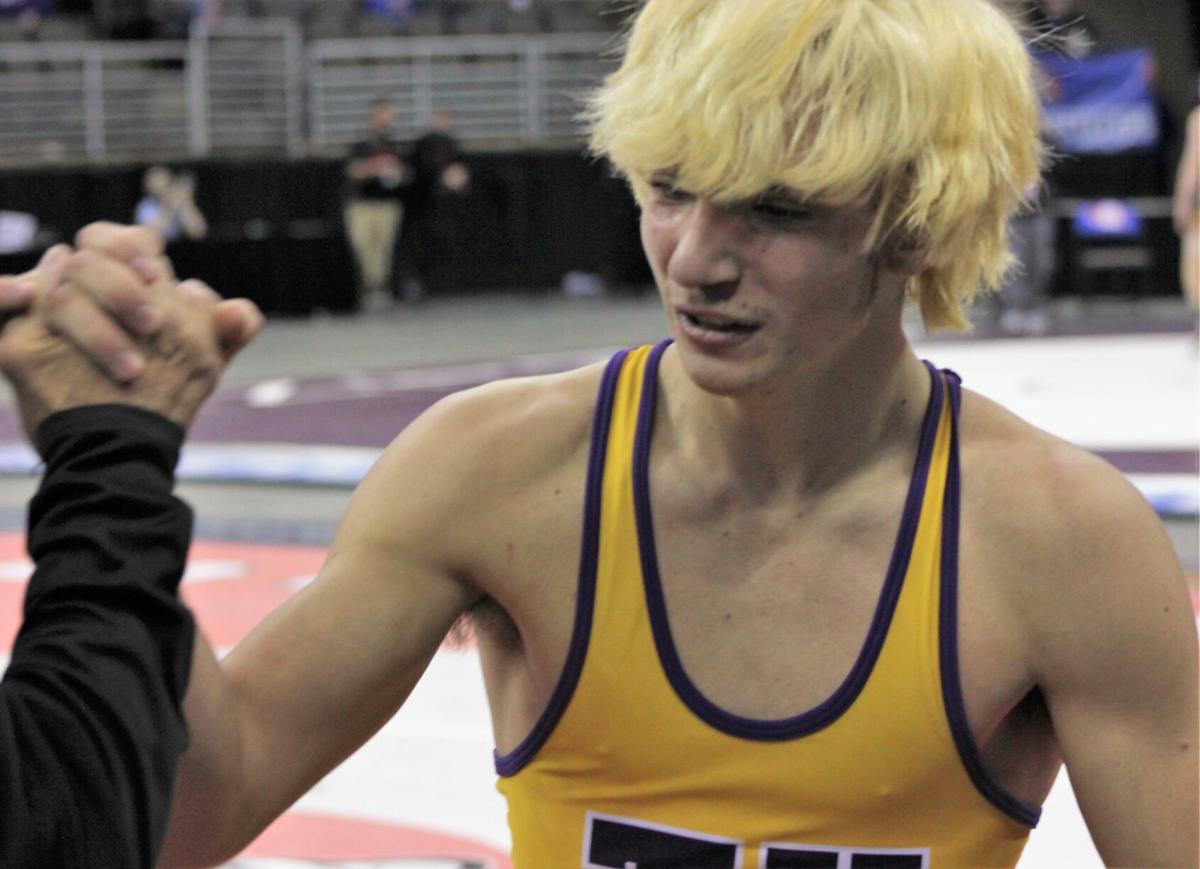 A new streak of successful Tekamah-Herman wrestlers at the state tournament got started Saturday.
When no one qualified for the 2020 state meet, it snapped a 50-year run of qualifiers and 38 straight years of Tiger medalists.
This year, T-H sophomore Logan Burt got a new streak started by placing third at 138-lbs. Taking the long way to the medal stand, Burt dropped his first match by fall at 5:47 to Bishop Neumann's Seth Fairbanks before winning his next five, four of them by pin. Fairbanks, a senior, erased a 4-0 deficit after the first period for the comeback victory.
Burt started his long climb back with a fall over Ravenna's Hunter Douglas. Burt nearly scored the fall at the end of the first period but time expired prior to the pin. Carrying a 5-0 lead into the second period, He needed only 32 more seconds to close the blinds on the Ravenna junior's season. Douglas ended at 44-10.
Burt's third match of the day was his closest of the tournament. Paired against Logan View senior Roberto Valdivia, Burt advanced with a 1-0 win. This time it was Valdivia who has hampered by the timer. Takedown bids at the end of the first period and the end of the third both were waived off. Valdivia needed the latter one. Starting the third period from the top position, Valdivia gave up the escape, planning to get the takedown that would win the match, but the takedown didn't come until it was too late.
Burt assured himself of a medal Saturday morning, pinning William Poppe of Crofton/Bloomfield in a brisk 24 seconds. It was more of the same in the consolation semifinals when he pinned Bridgeport's Damien Bell in just 29 seconds.
That pushed Burt into the bronze medal match against a very familiar opponent— Dylan Ancheta of Wood River. The two wrestled each other in the championship bouts at the subdistrict and district tournament. Burt won by fall at the subdistrict tourney Feb. 6. Ancheta won a 7-4 decision at the district meet the next Saturday.
Tied 2-2 going into the third period, Ancheta looked to have a pin combination working late in the match. But Burt seized an opening and pinned Ancheta with 13 seconds left on the clock.
His 5-1 campaign at state improved his record to 33-4. His 33 wins at 138 is second only to Justin Hansen's 40 in the 2014-15 season.
Also making his state tournament debut was Tiger junior Dawson Schram. Working at 160 lbs., Schram dropped his opener by fall to Malcolm junior Gavin Zoucha at 5:29. In a first round consolation bout against Central City's Bryce Sutton, Schram was more competitive but lost by fall at 2:39, ending his season at 15-16.
Zoucha advanced to take fourth in the bracket.
Sutton's win helped Central City to the team title. The Bison rolled to a 135-127 over the runners-up from Aquinas Catholic. District 1 champ David City was third with 110. O'Neill and Logan View rounded out the top five.
Burt's efforts tallied 21 points for the Tigers, good enough for a tie with Oakland-Craig for 30th place in the 53-school meet. East Husker Conference champion Twin River placed 35th, North Bend Central was 40th.
Class C State Tournament
Team Scores
1. Central City, 135; 2. Aquinas Catholic, 127; 3. David City, 110; 4. O`Neill, 79; 5. Logan View, 71.5; 6. Ord, 66; 7. Milford, 65.5; 8. Amherst, 55; 9. Cross County/Osceola, 50.5; 10. (tie) Arlington, Boone Central, 47.
Other Area Teams
14. Crofton/Bloomfield, 42.5; 18. (tie) Bishop Neumann, Raymond Central, 40.0; 22. Fort Calhoun, 31; 23. Battle Creek, 30; 26. Yutan, 29; 27. Conestoga, 28; 28. Norfolk Catholic, 27; 30. (tie) Tekamah-Herman, Oakland-Craig, 21; 34. Malcolm, 18; 35. Twin River, 17; 39. Archbishop Bergan, 13; 40. North Bend Central, 9; 42. BRLD, 8.
Individual Results
138—Logan Burt (33-4), pinned by Seth Fairbanks (Bishop Neumann), 5:47; pinned Hunter Douglas (Ravenna), 2:18; decisioned Roberto Valdivia (Logan View), 1-0; pinned William Poppe (Crofton-Bloomfield), 0:24; pinned Damien Bell (Bridgeport), 0:29; pinned Dylan Ancheta (Wood River), 4:47; placed third.
160—Dawson Schram (15-16), pinned by Gavin Zoucha (Malcolm), 5:30; pinned by Bryce Sutton (Central City), 2:40; did not place.