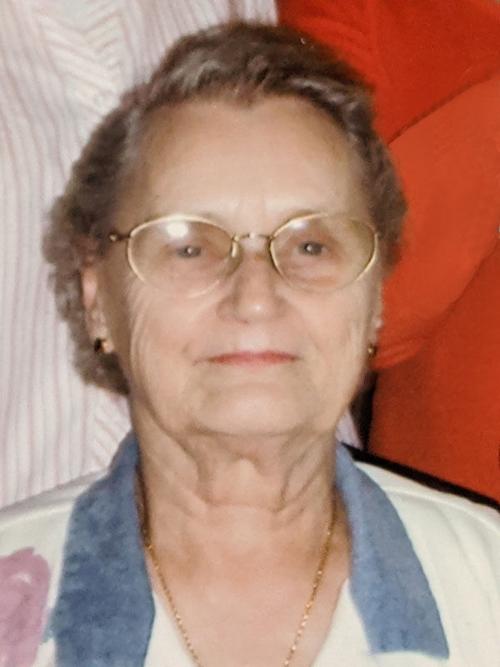 A private family service for Arlene Posvar was held on Saturday, Jan. 9, 2021. The 92-year-old Lyons woman passed away Jan. 4, 2021, at the Hooper Care Center. Burial was in Bancroft Cemetery.
Arlene Jeanette was born March 7, 1928, in Stanton, Neb., to Otto and Nina (Taylor) Hansen. She was the oldest of four children. Arlene graduated from Stanton High School in 1946 and married Rex Posvar in 1950 at the New England Congregational Church of Christ. To this union nine children were born.
Arlene worked for the Stanton County Assessor, Preston's Bar in Rosalie for 13 years but her biggest job was raising her family. She belonged to various organizations over the years, including Happy Hour Club, Fireman's Auxiliary of Rosalie and United Methodist Women of Rosalie. She spent many years in front of a sewing machine making clothes for her family, crafts and alterations.
Arlene was preceded in death by her husband, Rex Posvar; parents, Otto and Nina (Taylor) Hansen; in-laws, Henry and Mabel (Freel) Posvar; great-granddaughter, Tayiah Posvar; brother- and sister in-law, Norman and Katherine Hansen; brothers-in-law: Garry Neisius and Arvid Posvar.
Arlene is survived by her children: Janet (Jim) Wortman of Yutan, Neb., Roxien (Larry) Klintworth of Lyons, Kelvin (Lori) Posvar of Wayne, Gayle (Sandie) Posvar of Lyons, Kristine (David) Zeeb of Norfolk, Va., Norene (Randy) Stromberg of Lyons, Craig (Diane) Posvar of Winchester, Calif., Kae (Ron) Daberkow of Lyons, Fae (Andy) Fuston of Lyons; sister, Myrna Neisius of Norfolk; brother- and sister-in-law, Raymond (Delores) Hansen of Norfolk; sisters-in-law: Janene (Leo) Hunt and Renee (Lee) Floman and brother-in-law, Kay (Bev) Posvar, all of Arizona;.
Arlene's legacy will live on through her nine children, 23 grandchildren and 38 great grandchildren.
Memorials may be directed to the family for later designation.
Pelan Funeral Services was in charge of the arrangements.