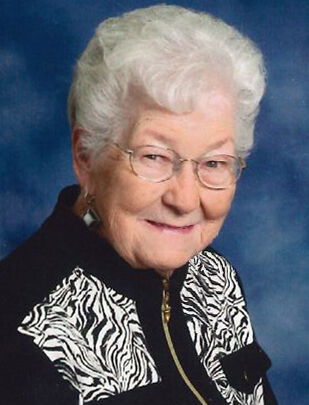 Memorial services for Eadie Gibbs will be held Tuesday, Feb. 23, 2021, 1 p.m, at First Presbyterian Church in Tekamah. Burial will be at a later date in Craig Cemetery. She passed away Feb. 14, 2021, at CHI Health Immanuel in Omaha at the age of 91.
Edith "Eadie" Louise Gibbs was born to Albert and Lillian (Willnard) Holm April 9, 1929, in Craig.
Eadie grew up in the Oakland and Craig area and graduated from Craig High School in May of 1946. On May 20, 1951, she was married to Richard "Dick" Gibbs of Craig. To this union were born three children. The family resided in the Craig and Tekamah area until 1980.
Eadie started working at the First National Bank in Tekamah in August of 1946. She worked there off and on until September 1980, when the family moved to Cheyenne Wells, Color. While there, she worked as the city clerk from 1985 until her retirement in 1999. She moved to Tekamah right after her retirement, where she resided until her death.
Eadie was a member of First Presbyterian Church and Chatt Center in Tekamah. She was also a member of the Tekamah and Craig Order of the Eastern Star chapters. Eadie loved spending time with her children, grandchildren, and many friends. Any chance she got, she would play bridge, dominos, euchre and many other card games with friends. Anyone who got to enjoy a card game with her knew how competitive she was. She loved to sit and watch the birds in her yard, having several different bird feeders.
She was preceded in death by her parents; husband, Dick; sister, Olga Badje; brother, Raymond Holm; son, Rick Gibbs.
She is survived by her daughter, Sharon (Bob) Wimer of Tekamah; son, Mike Gibbs and friend Sandy Ressler of Cheyenne Wells; grandchildren, Zach (Andrea) Wimer of Morse Bluff, Neb., Seth (Melanie) Wimer of Blair, Sara Wimer of Blair, Jessica (Shane) Tillery of Laverne, Okla., Amber Gibbs of Garden City, Kan., Wyatt Gibbs of Cheyenne Wells; 12 great-grandchildren.
Memorials may be directed to the family for later designation.
Pelan Funeral Services is in charge of the arrangements.