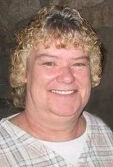 Memorial services for Edith "Skeeter" Brass, were Friday, Jan. 8, 2021, at Pelan Funeral Services Tekamah. She passed away Jan.3, 2021, at her home in Tekamah. She was 62.
Skeeter (Appleton) Brass was born May 13, 1958, to Ernie and June (Speulda) Appleton in Hampton, Iowa, and attended school in Hampton and Tekamah.
She married Billy R. Brass on Aug. 9, 1975, in Hampton. Together, they had two children: Cody Brass, born June 10, 1987, and Amanda Brass, born June 20, 1989.
Skeeter attended Vera Full Gospel Fellowship in Vera, Okla. She enjoyed working as a CNA/CMA and doing in-home health care. Bill and Skeeter also provided foster care. Skeeter also enjoyed camping, trail rides and motorcycle rides. Her greatest love was spending time with her children and grandchildren.
She was preceded in death by her husband, Bill; parents, Ernie and June.
Skeeter is survived by her son, Cody Brass; daughter, Amanda (Justin) Mossberger; grandchildren, Joslyn, Austin, Jayden, and Avery, all of Tekamah; sisters, Carlene, Midge, Ellie, Betty, Sharon, Marilyn, Sheryl and Elizabeth; stepbrother, Milton; many nieces, nephews and cousins.
Memorials may be directed to the family for later designation.
Pelan Funeral Services is in charge of the arrangements.