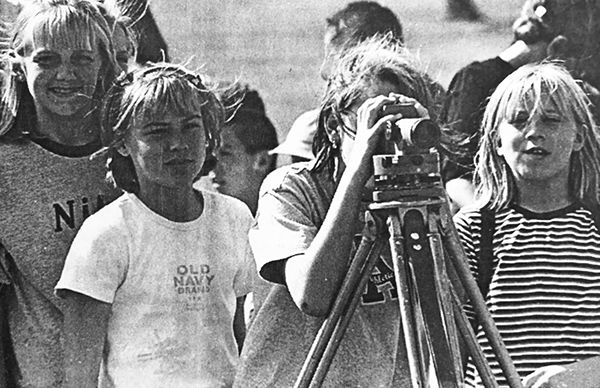 1 Year Ago (2018)
Donald E. Nielsen Foundation president Clarence Mock presented a $150,000 check to Burt County Board of Supervisors chairman Cliff Morrow to fund a commercial building renovation program.
5 Years Ago (2014)
Brent and Brenda Svoboda of Pender were selected as the state American Soybean Association DuPont Young Leaders for 2014-2015. They will attend four days of training at the 20th annual Commodity Classic Convention and Trade Show.
10 Years Ago (2009)
A ribbon cutting ceremony was held on Friday before the homecoming game to officially dedicate the new Oakland-Craig field house.
20 Years Ago (1999)
A dry summer has led to a dry fall, thus making harvest activity more dangerous. Overheated equipment has caused at least two rural fires last week.
After a two-month investigation, Game and Park biologists last week confirmed the presence of feral hogs on the Winnebago Indian Reservation. They look similar to their barnyard cousins but have become a serious problem in the southern states because they reproduce rapidly and cause extensive damage to crops and native plants, along with carrying disease.
30 Years Ago (1989)
Special hats and promotional balloons helped local ministers spread the word about this Sunday's CROP walk through Tekamah. An estimated 100 walkers will participate in the event which raises funds for hunger relief efforts.
40 Years Ago (1979)
A lack of students has forced the cancellation of a college level automotive mechanics program that was to be offered this fall at Tekamah-Herman.
A project to replace the roof on the Tekamah Public Library may begin this fall if a contractor can be found.
An extension of telephone cables from Northwestern Bell's Tekamah office of to rural lines in eastern Burt County is being completed this month. The work is part of a statewide program to make private phone lines available to rural residents by 1980.
50 Years Ago (1969)
Firemen make the move into their new home, the newly completed $70,000 fire station-municipal building.
A long abandoned main which had never been disconnected from the city's water system burst last week and flooded the lawn and basement of a Tekamah resident. Water poured in at such volume from the broken main and threatened the basement walls of Stan Miszkiel's home. Employees working on-site sank to their knees in the water logged lawn. The mains were so old the city records made no mention of their existence.
60 Years Ago (1959)
New Ford cars were to be on display this week at Tekamah Motors Inc., including new Falcon, Thunderbird and other Ford models. New Buicks could be viewed at Aronson Motors.
70 Years Ago (1949)
Representative of the Consumers Public Power District were in Tekamah Wednesday working out details for the new street lighting.
Arrangements have been made to permit Mr. Harker to use the city auditorium for a skating rink Wednesday, Thursday, Saturday and Sunday.
A hike to the sand rock and a picnic lunch was enjoyed by members of the seventh grade class.
WOW-TV will carry the first televised World Series baseball games in the Omaha area.
80 Years Ago (1939)
A daring daylight auto theft was staged in downtown Tekamah when a Ford coupe belonging to Fae Miller was stolen from its parking spot south of the Lyric Theater.
Area law enforcement officers have been enlisted in search and radio station WJAG at Norfolk broadcast a description of the stolen car, its 1931 model carrying license numbers.
90 Years Ago (1929)
Frank Vacek, new owner of the bakery recently purchased from Clark Deaver, enjoyed a busy opening day last Saturday. Roses were favors for the ladies and cigars were offered to the men. Tempting and tasty pastry and bread filled the show case.
Bones found under a burning haystack recently were found not to be of human origin, but of some animal. A dental bridge also found at the scene remains a mystery.