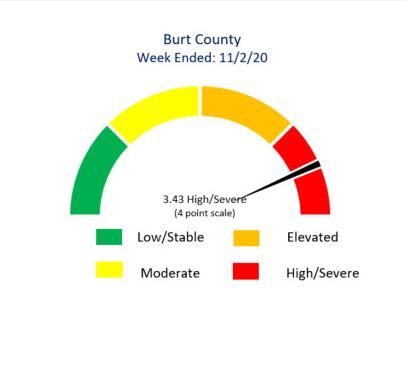 Burt County goes red. And we don't mean the election.
Elkhorn Logan Valley Public Health Department on Wednesday pushed the county's risk dial to a new high of 3.43 on the 4.0 scale, well into the High range. The increase marks the second consecutive week of large increases. The dial stood at 2.75 on Oct. 26 and 1.81 the week before that.
Figures from Nov. 4 show an increase of 43 active cases since Oct. 29, pushing the count to 103. The jump was part of a record one-day increase in the health department district of 113 cases on Wednesday alone. The county has seen 199 positives out of 1,767 total tests since the pandemic began. As of last Wednesday, 95 patients had recovered and the county had experienced one COVID-related death.
Madison County had 937 of the health department's 1,280 active cases as of Nov. 1. Cuming County had 157 while Stanton County had 83.
Following a meeting of all Educational Service Unit No. 2 school, ESU staff and representatives of the Elkhorn Logan Valley and Three Rivers public health departments,T-H Superintendent Dan Gross said on Wednesday that the local district, and the others in ESU 2—including Oakland-Craig, Lyons-Decatur and Logan View—are working with the two health departments in the area on revamping operating plans.
At the time, Gross said the school was not going to any form of remote learning.
He said Tekamah-Herman students are being diagnosed with the virus, but he declined to say how many, citing privacy concerns as well as the desire to provide accurate, timely information on a situation that changes rapidly.
He said the spread the district is experiencing generally isn't coming from inside the school.
"I don't want to say there isn't any, but we are following protocols inside the building, like wearing masks," he said. "Mostly the cases we're seeing are being picked up somewhere else, places that may not be as strict, and being brought in."
He called schools a microcosm of their communities, saying that since the virus is in the community it will show up inside the school.
Gross added that a transition to remote learning would likely remove many of the protections students and staff now enjoy.
"I won't say we'd never go," he added. "It may become a staffing issue at some point. All of this could change tomorrow."
It did, more or less.
On Friday afternoon, Gross released a letter to parents about a significant change. Starting Monday, Nov. 9, all junior and senior high students will go on remote learning. The change is expected to last through the end of the week.
The change became necessary, he wrote, because of the number of staff members forced to isolate due COVID exposure.
Because the majority of exposures are at the secondary level, PreK-6 students will continue their regular in-person schedule.
Students in the seventh through 12th grades are expected to complete daily online assignments for each class. Secondary staff members who are able will be in the building working.
Additionally, all before- and after-school activities are cancelled for the week.
Gross wrote that he hoped most of the staff and students currently quarantined will be out by the end of the week.
But he added a cautionary note. "This only works if secondary students take this time to stay home and avoid further exposures. Please follow the guidelines of wearing a mask in public and avoiding crowds."
Gross told the Plaindealer input from the health department will be crucial in determining where scheduling goes from here.
"We track absences and symptoms among students and staff and work with the health department to determine trends," he said. "If they tell us we shouldn't have school, we won't have school. It's that simple.
"Right now, we think school is the safest place to be."
The other three area schools also intend to keep students in class although Oakland-Craig is modifying some of its procedures to enhance social distancing.
Health department officials said that as the numbers increase, some cases may be handed over to contracted Department of Health and Human Services contact tracers. The goal of contact tracing is quick and efficient follow-up so that all close contacts can be identified and quarantined to slow the spread of COVID-19.
A department spokesman said that if you have tested positive for COVID-19, it is important to answer the phone if a number is calling you that you may not recognize. The person calling may likely be a contact tracer who will perform a brief interview with you to identify others who may have been exposed to COVID-19.
Under the department's guidelines for the High range, public contact with other people should be as limited as possible and the use of cloth face coverings in public is strongly encouraged. They suggest working from home whenever possible. Those ill with flu-like or COVID-like symptoms should stay home, even if they are considered essential personnel. Contact with symptomatic people should be minimized and people at work should have their temperatures checked daily.
At home, physical distancing and face coverings are not necessary for people without symptoms, unless they are under quarantine as a result of being exposed to someone who is infected.
People over the age of 65, those with underlying health conditions and others at a heightened risk should stay home as much as possible.
More information on the health department's recommendations can be found at its Web site: elvphd.org.
In a press release issued late Wednesday afternoon, an ESU spokesman said ESU 2 schools initially had plans to transition away from in-class learning once risk dials reached Elevated or High levels. Representatives of both Elkhorn Logan Valley and Three Rivers health departments said Wednesdaymuch has been learned over the last three months since the school plans initially were developed.
Administrators also urge families and members of their communities to remain vigilant in fighting the virus.
During his Thursday press briefing, Gov. Pete Ricketts urged Nebraskans to pay attention to the tools they have.
"Wash your hands often and stay home if you're sick," he said. "Keep social distance and wear a mask when you can't."
Ricketts said past experience has shown it takes two to three weeks for the impact of a change to show itself. As such, he said no further changes to DHMs are expected until later this week at the earliest.
He said some directed health measures were tightened two weeks ago, and could be tightened further,"but we won't have to if people follow the rules."