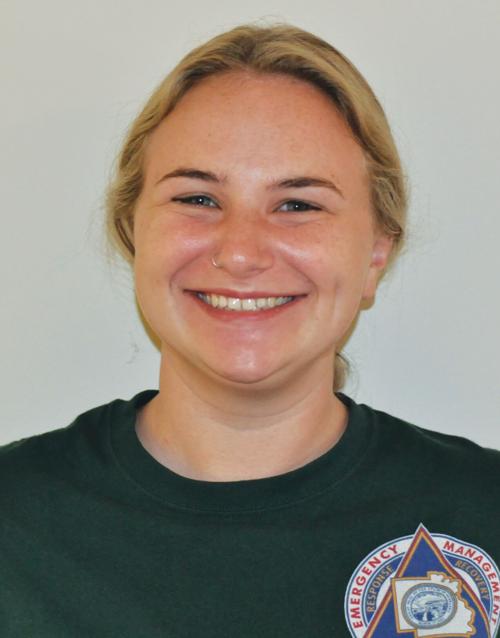 University of Nebraska-Omaha senior Emma Boyd spent some of her emergency management practicum working as an intern with the Burt County Emergency Management Department. Boyd said she chose Burt County because it was the only county-wide department on the list from which the students could select.
"The rest were jails, schools or hospitals," she said. "Those weren't of any interest to me at this time."
While here, Boyd has responded to several calls, including two major vehicle accidents – one in Decatur and one in Oakland. During those calls she experienced working with multiple counties and with agencies from Iowa and Nebraska.
"It was informative to see how important coordination between emergency management and first responders – especially the Sheriff's Department – is during large incidents," Boyd said. "I noted how valuable communications and relationships with other departments is."
Her time in Burt County also taught her that there is a big gap between classroom instruction and the day-to-day realities of the job.
"Just having a degree will not prepare you for this job," Boyd said.
She does have prior experience dealing with emergency situations. Her familiarity comes from having volunteered with AmeriCorps. She said that was limited by the fact she arrived at scenes (primarily natural disasters) about six months after the incident. Seeing people still dealing with the fallout made her want to learn what went on between the response and the recovery.
At this time, Boyd doesn't plan on going into a career search directly from graduation. She wants to learn multiple facets of emergency management before doing that. She said she will train to be a qualified EMT and then travel with FEMA for a while, first.
Currently, she is working in Douglas County. While it is less hands-on there, they have more drastic situations with which to deal and, with full-time personnel, they train for those more frequently, she said.
Boyd said she would recommend to other emergency management students to choose Burt County for their practicum. She said it is a realistic representation of the job.
"If I am looking to compare and contrast with my previous experiences," Boyd said. "Emergency management is supposed to be bipartisan; I see that isn't always the case."
Burt County Emergency Manager Andrew Donawa said this is his second intern since coming to Burt County. He said it is difficult to demonstrate to students a close working relationship with various entities in a negative political climate.