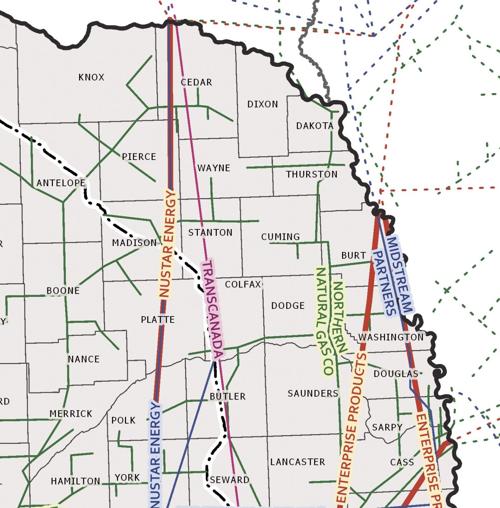 There are four major pipelines in Burt County. Two of them have failed in the last 26 months. The most recent, on Dec. 24, 2020, north of Oakland, is believed to have been caused by a construction accident.
State pipeline regulators say it could take years before damage to a pipeline causes it to fail.
The Office of Pipeline Safety, within the U.S. Department of Transportation, Pipeline and Hazardous Materials Safety Administration, has overall regulatory responsibility for hazardous liquid and gas pipelines under its jurisdiction in the United States. Request for comment from OPS were not returned.
OPS inspects and enforces the pipeline safety regulations for interstate gas pipeline operators in Nebraska. OPS also inspects and enforces the pipeline safety regulations for intrastate and interstate hazardous liquid pipeline operators in Nebraska.
Through certification by OPS, the state inspects and enforces the pipeline safety regulations for intrastate gas pipeline operators in Nebraska. This work is performed by the Nebraska State Fire Marshal.
According to the federal DOT, excavation damage is the leading cause of natural gas distribution pipeline incidents, and a leading cause of other pipeline incidents, nationwide.
A critical step in preventing excavation damage is for the excavator to notify pipeline operators of intent to excavate at a specific location. This is normally done by the excavator calling a one-call center. The one-call center then issues a locate ticket to inform pipeline operators and other underground utility operators with facilities located near the planned excavation activity.
Nebraska's one call center, also known as Digger's Hotline, can be contacted through a toll-free three-digit number, 811.
The pipeline operators can then locate and mark the location of their pipelines and otherwise communicate with the excavator as necessary to prevent damage to the pipelines.
The number of excavation damage occurrences per 1,000 locate tickets is an established benchmark within the damage prevention industry and an important indicator of damage prevention program performance. Regulators also say that variations among state laws regarding locate ticket size and scope, along with the length of time a locate ticket is valid, will limit any state-to-state comparison of this metric.
Nebraska was at 1.8 incidents per 1,000 locate tickets for 2019, the last year complete information was available.