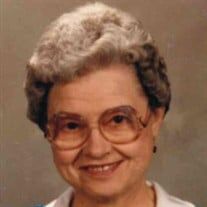 A celebration of the life of Gracie Husk was held Monday, Oct. 11, 2021, at Herman Community Church. Burial was in Herman Cemetery. A longtime Herman resident, Gracie died on Oct. 4, 2021, at Crowell Home in Blair. She was 99.
Gracie Jean was born May 30, 1922, to John and Gladys (Hovendick) Jackson at their family home near Herman. She attended New England School and graduated from Blair High School in May, 1939.
Gracie met the love of her life, Gene Husk, at a local dance. Gene and Gracie were married Dec. 31, 1943, while Gene was home on leave from the service. When Gene returned from World War II, they settled in the Herman area where he worked for Hynes Ranch. When the ranch sold, the family moved into Herman. Gracie lived there until she moved into Crowell Home. To this union four children were born, Carole, John, Sharon, and Jacque.
Gracie was a devoted wife, mother, grandmother and friend. The highlights of her life were when the family gathered for holidays and other occasions.
She worked at Dana College for 25 years, making many friends with staff and students. Gracie is best known for her piano and organ skills. She played for weddings, funerals and many community programs for over 50 years. If anyone needed music for any occasion, Gracie was the one to call.
Gracie was a member of Eastern Star for almost 80 years, an American Legion Auxiliary member over 50 years, a United Methodist Women member over 65 years and a member of the Herman Methodist Church most of her life. She held offices and other leadership positions in all of these groups.
Gracie is survived by John (Judy) Husk of Goodyear, Ariz., Sharon (Perry) Gydesen of Odell, Neb., Jacque Orvis of Norfolk; Grandchildren Amy VanKirk, Julie (Tony) Synovec, Bill (Kristine) VanKirk, Harley VanKirk, Sara (Michelle) Husk, Jason (Anna) Husk, Brian (Jen) Gydesen, Scott (Stacey) Gydesen, Jenny (Luke Edwards) Orvis, 17 great-grandchildren, and five great-great-grandchildren.
She is preceded in death by parents John and Gladys Jackson, husband Eugene Husk (1997), daughter and son-in-law Carole and Ronald (Mick) VanKirk, son-in-law Larry Orvis, granddaughter Anne Marie VanKirk, and great-grandson Dillon Synovec.
Memorials may be directed to the family for later distribution to local organizations.
Campbell Aman Funeral Home was in charge of the arrangements.