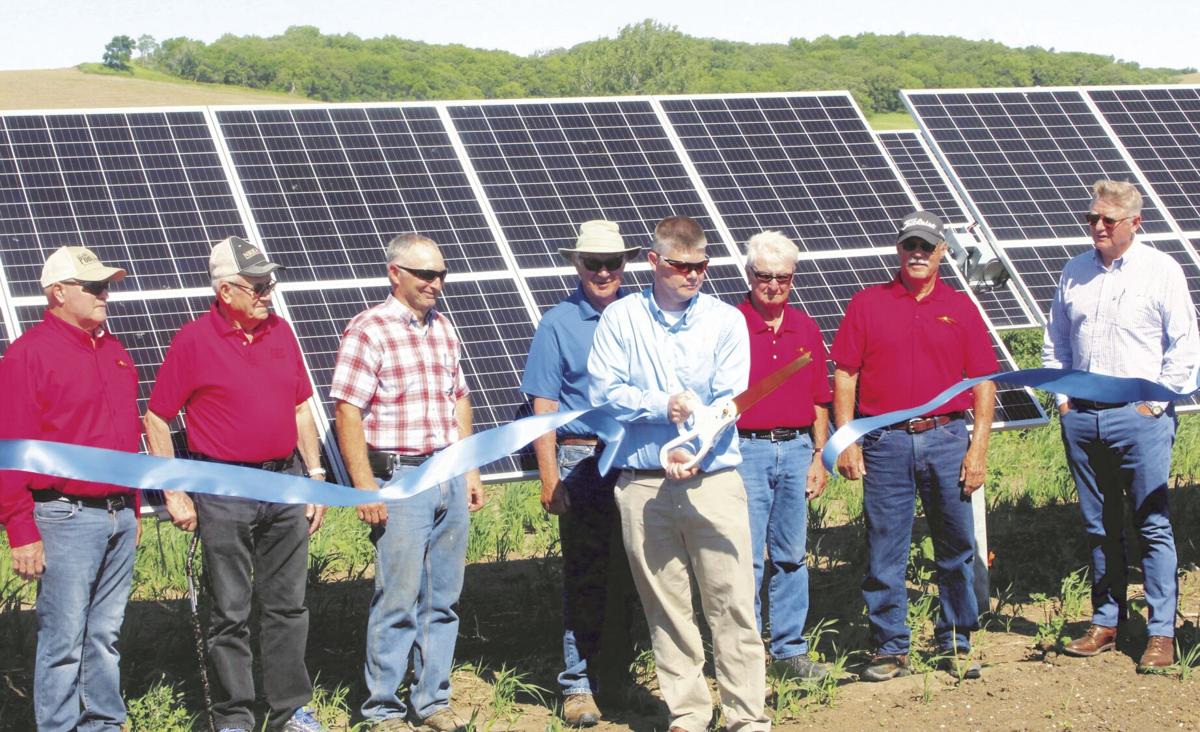 One of the first in the Midwest with a utility-scale storage battery
Burt County Public Power District in partnership with Bluestem Energy Solutions has completed a two-year project that features a 1.4-megawatt AC solar array and a 6-megawatt-hour Tesla Megapack battery storage system.
The two entities hosted a ribbon-cutting Friday morning, June 4, to show the new facility to the public.
The solar-plus-storage project, located about five miles north of Tekamah along Highway 75, is one of the first installations in the Midwest to feature the Tesla battery system. It also is the first solar and utility-scale battery storage system to be built in tandem in Nebraska.
"Nebraska has seen solar arrays built and batteries built, and even batteries connected to solar arrays," said Will Crane, Director of Product Management for Bluestem. "However, this is the first utility-scale project built in Nebraska with solar and battery being designed and built at the same time specifically sized to work together to deliver the most value to the utility."
Crane said the local generation facility will help deliver more price certainty both for BCPPD, but also for its ratepayers.
Developed by Bluestem Energy Solutions and constructed by Boyd Jones Construction Company, the project is now operational in BCPPD'S service territory.
The solar-plus-storage project consists of a battery storage system and two solar array sites located in Burt and Dodge counties, which will provide a tax boost to both counties. The battery storage systems will enable the interconnected, renewable energy facilities to become a dispatchable resource during peak hours.
Crane said multiple site development is most common on projects that interconnect to the distribution network.
"Distribution lines typically have less capacity than higher voltage transmission lines, therefore it makes sense to spread projects across multiple sites to enlarge the size of the project, without producing too much energy for a specific distribution circuit," he said.
The Tesla Megapack is a utility-scale lithium-ion battery storage product installed by Boyd Jones Construction and manufactured at the Gigafactory in Sparks, Nev. Megapacks store energy generated by intermittent renewable power sources, such as solar and wind.
BCPPD will experience financial value from the project through various load management activities. In addition to the savings to BCPPD, the project will also provide financial benefits to Burt and Dodge counties through the Nebraska nameplate capacity tax. That tax, calculated by taking the nameplate AC generation of the facility and multiplying it by $3,518, will be paid by Bluestem. Initial calculations show the tax to be just over $4.9 million which makes its way back to Burt County.
"It's important to note that the underlying property is still taxed as it was prior to the solar battery project, so this is a true addition to the tax base, not a replacement," Crane said.
Crane added that the project would not have been built without the partnership with Burt County Public Power.
"In addition to being the sole off-taker for this project, BCPPD was also instrumental in the sizing and optimization of the project," he said.
"Burt County PPD is excited to continue our partnership with Bluestem during the operation of this solar project," said the company's general manager, Jon Dockhorn. "The projected savings and educational opportunities will benefit our customers for years."
Dockhorn said the local utility's only risk is the purchase of the electricity generated at the site over the 20 years of the purchase contract.
Until now, the power company didn't generate any of its own electricity. Instead, it purchased power from Nebraska Public Power District.
Dockhorn said Burt County PPD's purchase contract with NPPD allows them to buy 10 percent of their electricity from renewable generation sources. The two-site project is expected to generate exactly 10 percent of the company's power load. As such, it will provide local access for all of the power generated at the two sites.
"We pursued the project to allow our customers to participate in renewable energy without having to put up their own systems," Dockhorn said, "The plan is to send the electricity out onto the grid and let everybody use it."
The solar-plus-storage project is partially funded through a grant from the Nebraska Environmental Trust. The Trust is funded by proceeds from the Nebraska Lottery and has awarded more than $349 million to conservation projects in Nebraska since 1994.
The solar fields will be sown with native grasses and flowers, which will provide a pollinator-friendly habitat. Yale University's Center for Business and the Environment has published research showing that pollinator-friendly solar power sites can boost nearby crop yields, reduce soil erosion and increase the recharging of groundwater.
"This project is an important step, not only for Bluestem and Burt County Public Power, but for Nebraska in general," Crane said. "As more renewables come online, battery energy storage systems will play a key role in the continued deployment of renewable energy while providing increased reliability and cost savings."
Burt County Public Power District is a distribution utility in Nebraska with headquarters in Tekamah. It serves all of Burt County and portions of Cuming, Dodge, Thurston and Washington Counties.
Bluestem Energy Solutions is the project developer, as well as owner and operator. Headquartered in Omaha, Bluestem has been developing and operating renewable energy projects in states throughout the country since 2012.