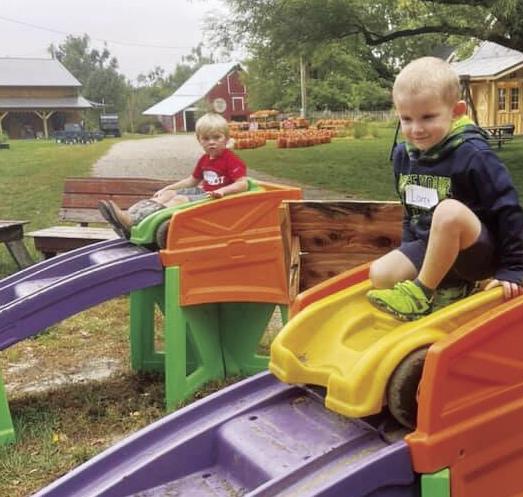 It's been a few years since I've turned west onto County Road N, off Highway 77. My destination was Harvest Moon Pumpkin Patch, between Oakland and Lyons.
First, a little history. In 2007, requests of two groups merged. The three youngest Wallerstedt children wanted to sell pumpkins by the side of the road. Other folks asked for a fall festival or barn dance. Terry merged these requests into a one weekend festival.
After it was over, she said "I'm never doing this again! It's so much work."
Her husband, Mark, had another view, as so much money had been spent on the pedal go-karts and trikes. Mark urged her to do it one more year.
She gave in and 14 years later in 2021, 67 people work to make it a fun destination for families.
When I arrived before noon on a Wednesday, there were around 20 cars and one school bus in the parking area. My first impression after passing through the entry area was "Wow."
Everywhere I looked, the grounds were meticulously groomed and visually attractive. Entering the barn, complete with cement floors and a fireplace, several tables were found to be occupied by children and adults eating lunches, which can be brought in or purchased on site. When finished, small clusters drifted outside to enjoy the multitude of offerings.
I wandered around the site for well over an hour, seeing children really enjoying themselves and getting lots of exercise. Two jumping pads were a big hit. Pedal go-karts and tricycles could be ridden or used to conduct races. There was a corn maze for exploration and an obstacle course to conquer.
Typically there was a line at the carnival strikers with one designed for younger aged children and another, taller one that provided an adult-sized challenge.
A couple of visitors on this day, Tyler and Monica Seaman of Fremont, both said they liked Harvest Moon better than Valla's, as it was more kid friendly with more activities and fewer crowds. Tyler also mentioned that he enjoyed taking a zip line ride on the adult one (up to 225 pounds) and Valla's didn't have that.
On a reproduction, a child can pretend to be a pirate and steer a ship or play in the sand of the beach. From a second level of a barn, kids can zip down one of two slides. In yet another area, a corn pit was an enjoyable activity for many children.
What is the cost for this clean, well planned destination? Kids 2 and under are free. General admission is $8.75, military $6, senior $7 and a season pass is $18. A private fire pit can be reserved for $30. On weekends, Memories Cafe in Oakland provides concessions, a gift shop is open and at 2:30 there is a free magic show. Pumpkins also are available for sale.
When asked for a memorable story, Terry told me about the following encounter. One year, a teacher came up and expressed that it was understood that Harvest Moon was a place for wholesome experiences, but there was a stuffed animal that was very scary.
This puzzled Terry as she didn't have any stuffed animals as part of any display.
The pair visited the offending site. Sticking halfway out of the tree's hole was an opossum—a dead opossum.
Terry, in a near panic, called her husband. "You must come home!"
Despite multiple restatements, Mark's response was the same, "Can't come, I'm harvesting." (I'm sure many farm wives can appreciate the situation.) Finally he expressed that she was going to have to deal with it. In front of an audience of teachers, a slightly uneasy Terry skewered the critter with a pitchfork and disposed of it. That was the end of the scary display.
Terry is looking forward to another successful year in 2022 with Mark's promise of working some open hours and no more dead critters.