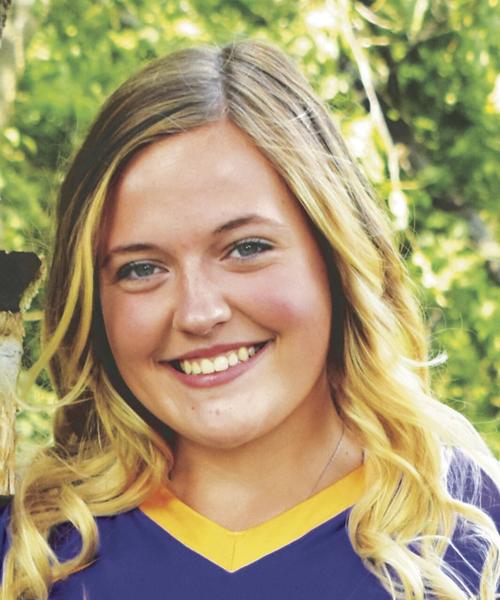 The East Husker Conference advanced five teams into district volleyball finals in three different classes, four of them made the state tournament, two of them won titles.
With that much talent on the court, it's tough for other players to find openings for postseason honors.
Still Tekamah-Herman had a player named to an all-conference berth. Senior Brynn Schmidt was named to the third team following a vote of conference coaches last week. She moved up a notch after being named an honorable mention selection the previous two years.
Schmidt paced the 9-20 Tigers with 241 kills and 261 digs. Her nine total blocks were second on the team.
For her efforts, Schmidt was voted by her peers as the team's most valuable player.
Head coach Manni Belfrage said she was thrilled for Schmidt but disappointed that no other Tiger player was selected. She said honorable mention selection requires only one vote from a conference coach.
"Obviously we can't vote for our own," Belfrage said. "All we can do is nominate."
Senior setter Rylee Lawson was named the winner of the Tiger Award for her sportsmanship, character, teamwork and leadership. Only the second player in school history to post more than 1,000 assists, Lawson finished her senior year with 564. She also posted 25 ace serves and 209 digs.
Elena Jetensky, another senior, joined Schmidt in forming a solid one-two tandem up front for the Tigers. She hit at a .162 clip, recording 177 kills. She cranked out a team-high 29 ace serves and posted 233 digs to go with her eight total blocks.
Senior libero Aubrynn Sheets was close behind Schmidt in digging, recording 257.
The fifth Tiger senior, Kaitlyn Quick, added 73 kills, and 8.5 blocks.
Most improved honors on the varsity squad went to Carly Freidel. A sophomore, Freidel is expected to be among the team's leading hitters next season. This year, she produced 30 kills in 166 attempts. Committing only 16 hitting errors, the lowest of any of the Tiger regulars, she was credited with a .084 hitting percentage.
Freidel is expected to be joined by Kennedy Pagels who could be the only senior on the 2022 Tiger squad. During her junior campaign, Pagels racked up 183 kills, second on the team and the most for any returning player. She also led the Tigers with 11.5 total blocks, including eight solo stuffs. She also contributed 137 digs to her solid all-around game.
In the junior varsity ranks, Preslee Hansen, who saw duty with the varsity, was named MVP. She saw enough floor time with the varsity to record 218 digs, the most of any returning player; and 23 ace serves, second among projected returnees to the 24 drilled by Pagels.
Most improved honors at the JV level went to Cassie Jacobs.
From the C team, Addysen Lytle was the MVP while Hayley Niewohner was named most improved.
Class C2 state champion Oakland-Craig had six players named all-conference at various levels led by senior Bailey Helzer who was named to her fourth posting with the first team.
Howells-Dodge, the Class D1 state champions, had seven players named, including first teamers Ellie and Grace Baumert, both of whom were repeat first team selections, and five honorable mentions.
Wisner-Pilger's Lindsey Kneifl led six Gators named to all-conference teams for the third place team in Class C2.
Pender saw six players named as honorable mentions.
All-East Husker Conference
First Team
Chloe Hanel, Clarkson/Leigh; Ellie Baumert, Howells-Dodge; Grace Baumert, Howells-Dodge; Josie Cleveringa, North Bend Central; Kaitlyn Emanuel, North Bend Central; Bailey Helzer, Oakland-Craig; Adi Rennerfeldt, Oakland-Craig; Lindsey Kneifl, Wisner-Pilger.
Second Team
Alyssa Buchholz, BRLD; Makenna Held, Clarkson/Leigh; Kennedy Settje, Clarkson/Leigh; Addison Schneider, Humphrey/Lindsay Holy Family; Brandi Helzer, Oakland-Craig; Jadyn Meiergerd, West Point-Beemer; Emily Buhrman, Wisner-Pilger; Adison Meyer, Wisner-Pilger.
Third Team
Paige Beller, Humphrey/Lindsay Holy Family; Lexi Frauendorfer, Humphrey/Lindsay Holy Family; Abi Schneider, Humphrey/Lindsay Holy Family; Madelyn Gaughen, North Bend Central; Laryn Johnson, Oakland-Craig; Caitlyn Heise, Pender; Brynn Schmidt, Tekamah-Herman; Joslyn Jacobs, Wisner-Pilger.
Honorable Mention
BRLD: Megan Beutler.
Howells-Dodge: Jade Bayer, Blair Fiala, Brooklyn Macholan, Natalie Pieper.
Humphrey/LHF: Claire Korth.
Madison: Claudia Rivera Saldana.
Oakland-Craig: Maycie Johnson, Shea Johnson.
Pender: Brieann Bruns, Isabelle Felber, Kirsten Frey, Alyssa Geisert, Trista Hansen, Olyvia Nelson.
Stanton: Olivia Cunningham, Sylvia Cunningham, Kinley Pohlman, Savannah Siebrandt.
Twin River: Libby Held.
West Point-Beemer: Katie Rainforth, Emily Toelle.
Wisner-Pilger: Cameryn Bellar, Kennedie Ott, Lily Otten.