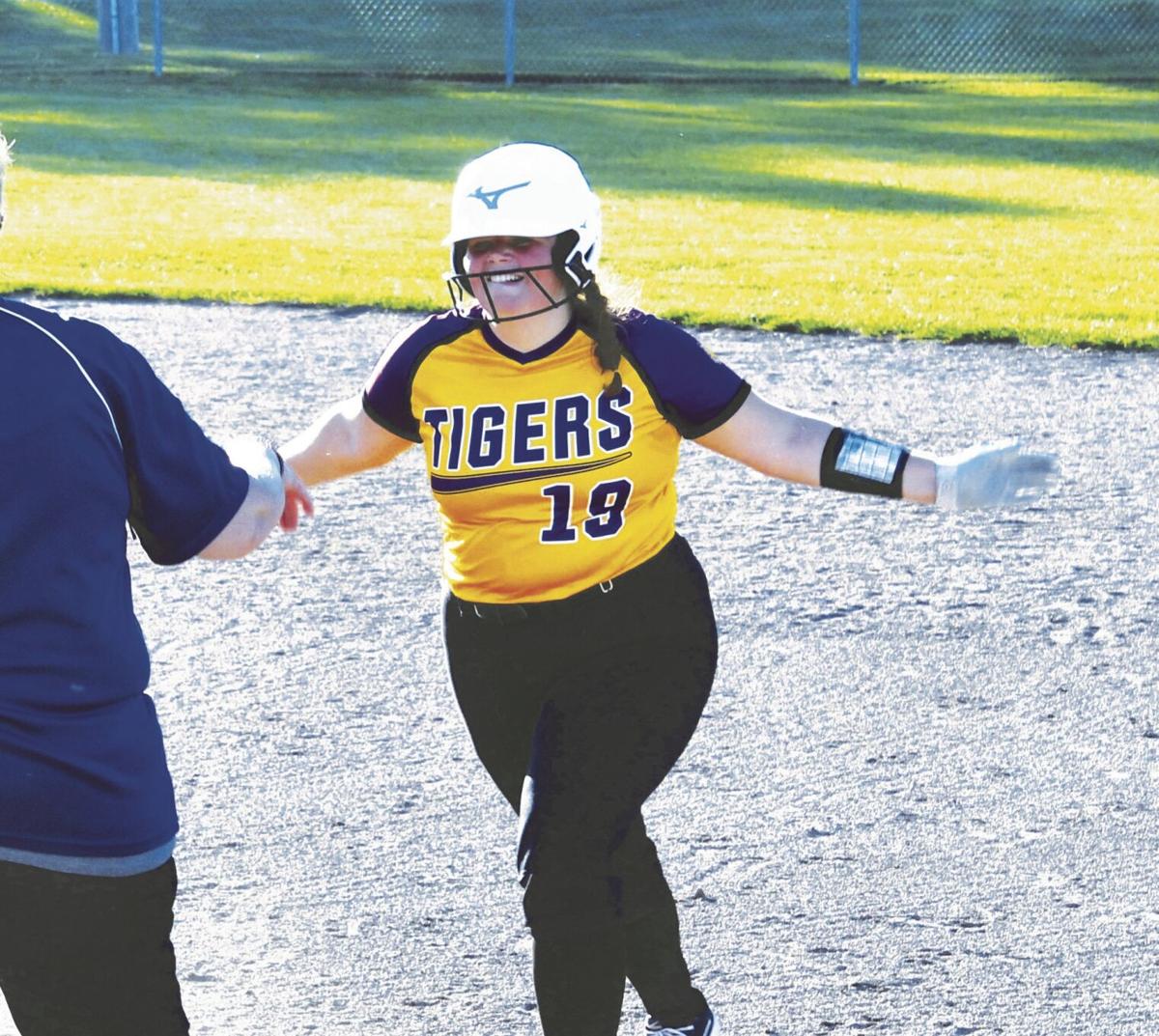 Tekamah-Herman's softball team posted its best week of the 2021 season, posting a 2-1 mark.
Coach Abby Sheets' Tigers started off their week with their second home triangular in as many weeks, hosting Blue River and Logan View/Scribner-Snyder on Tuesday.
Blue River, a cooperative involving David City, East Butler and Shelby-Rising City, jumped out to an early 6-0 lead, but the Tigers refused to give in and rallied for an 8-7 win in extra innings. Time had expired after five innings with the game tied at 6-6. Rachel Sadler's walk-off hit in the bottom of the seventh drove in Jenna Voskamp with the game-winner. Ryan Braniff got the win in the circle, striking out seven in a relief appearance.
Sadler and Braniff led the Tiger offense with three hits apiece. Sadler scored two runs and drove in another while Braniff scored a run and drove in two.
Emma Wakehouse smacked two hits, including a double, while scoring a run. Voskamp also drilled a double.
Also hitting safely for the Tigers were Lacey Petersen, Hannah Rief, Brinley Stahr and Sammie Brodersen. Petersen, Stahr and Brodersen each drove in a run while Petersen scored a run.
It was almost the same scenario to start in Tekamah-Herman's second game of the evening against Logan View/Scribner-Snyder. The Tigers got out to a 3-1 lead after an inning before LVSS scored five in the second to take a 6-3 lead. Back-to-back four-run innings in the third and fourth proved to be the difference in the Tigers' 11-6 win over the Raiders.
Voskamp pitched the win with Braniff getting the save.
Rief and Olivia Chatt poled three hits apiece to lead the Tiger attack. Rief ripped a pair of doubles, scoring three runs and driving in three more. Chatt scored two runs.
Wakehouse stroked a triple and a double and scored two runs while Sadler drove in four runs with a pair of doubles. Stahr also posted an RBI double.
Petersen scored a run while Braniff scored two and drove in one.
The Tigers' week ended with a 12-3 loss to Wayne in five innings at home Thursday night. Braniff was saddled with the loss.
Petersen and Wakehouse drilled two hits apiece for the Tigers. Wakehouse's output included a double. Petersen scored two runs while Wakehouse scored another.
Rief and Voskamp also hit safely for the Tigers. Voskamp drove in a run while Chatt brought another after drawing a walk. Brodersen also reached base safely for the Tigers.
Another busy week awaits Tiger softball. Last Saturday, the Tigers were in Valparaiso for a triangular with Malcolm and their hosts from Raymond Central. Tonight (Tuesday) the Tigers take part in another triangular, this time at Valley with Class B ball club Douglas County West/Concordia and Class C power Wahoo. On Thursday the Tigers travel to Class C's top-ranked Yutan-Mead before taking part in the Arlington Invite on Saturday, Sept. 18.