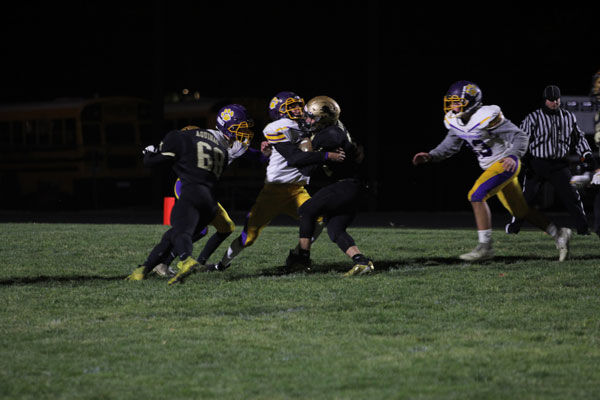 Aquinas Catholic's playoff-bound football team cruised past Tekamah-Herman 46-7 at home Friday night, but no without some anxious moments.
The Tigers put a scare into their hosts by playing perhaps their best half of football all season.
Aquinas regrouped after halftime, scoring on their first three of their first four possessions of the second half to put the game away.
Tekamah-Herman slipped to 1-8 on the year. The game marked the final contest in Tiger colors for seniors Connor Feiling, Cole Bottger, Dylan Chatt, Read Booth, Eldridge Jensen, Garrison Potadle, Cole Freidel, Lucas Birdsong and Eli Lingle.
Aquinas improved to 7-2 and visits Norfolk Catholic Friday night in the first round of the Class C2 playoffs.
A 22-yard TD run by Aquinas' Curtis Humlicek capped a 60-yard drive on the Monarchs' first possession. When the Tigers mishandled the ensuing kickoff, Aquinas scored again nine seconds later on Caleb Thege's 12-yard yard run. When Feiling blocked the PAT try, the first of his three blocks on the night, Aquinas held a 13-0 lead with 6:16 left in the first half.
But the Tigers stiffened defensively, stopping Aquinas on their next three possessions. On offense, they advanced the ball to the Monarch 30 on possession and had a 28-yard field goal attempt blocked on another.
It was another turnover that gave Aquinas their last score of the half. Kyle Napier made a leaping interception of a Brock Rogers pass and scooted 28 yards for a score and a 21-0 lead.
The Tiger offense again showed life before intermission. Rogers moved the team more than 80 yards in the last minute and a half before the clock ran out with the ball at Aquinas' four-yard line. The drive was helped by a 42-yard pass play from Rogers to junior end Jed Hoover. The catch was one of his five on the night, totaling 215 yards and a touchdown. The yardage set a new school record, snapping the old mark of 201 set by Brandon Schram.
"The kids wanted to play well. We challenged them to get after it and play hard," Tiger head coach Graig McElmuray said. "I told them at halftime I have been asking them to play like this all year."
Aquinas opened the second half with a 65-yard scoring drive and followed that up with a 59-yard march.
Trailing 33-0, Rogers and Hoover hooked up again, this time for a 64-yard play that got the Tigers on the scoreboard with 4:46 to play in the third period.
Two minutes later, Aquinas converted another turnover into a touchdown, a 54-yard burst from Keegan Lavicky.
Rogers finished his night going 9-of-28 for 266 yards and a touchdown. He also was intercepted four times.
Garrison Potadle again led the Tiger defense, racking up 17 tackles in his final game. Kody Bitter aded 10, including three for losses. Bottger notched 11 stops from his safety position, Kaleb Quick counted two quarterback sacks among his seven tackles.
The Scoreboard
Tekamah-Herman 0 0 7 0— 7
Aquinas Catholic 13 8 18 7—63
First Quarter
AC—Humlicek, 22-yard run (Cech kick) 6:25
AC—Thege, 26-yard run (kick blocked) 6:16
Second Quarter
AC—Napier, 28-yard interception return (Andel run) 4:55
Third Quarter
AC—Andel, 12-yard run (kick failed) 9:48
AC—Thege, 9-yard pass from Sellers (kick blocked) 5:11
T-H—Hoover, 64-yard pass from Rogers (Hoover kick) 4:46
AC—Lavicky, 54-yard run (kick blocked) 2:10
Fourth Quarter
AC—Thege, 6-yard run (Cech kick) 8:35
Team Statistics
T-H AC
First downs 8 18
Rushes-yards 18-3 56-333
Avg. per rush 0.17 5.95
Pass comp.-att.-int. 9-28-4 2-4-0
Passing yards 266 43
Total yards 247 376
Return yards 107 108
Punts-avg. 5-29.8 4-33.8
Fumbles-lost 4-1 1-0
Penalties-yards 5-35 6-51