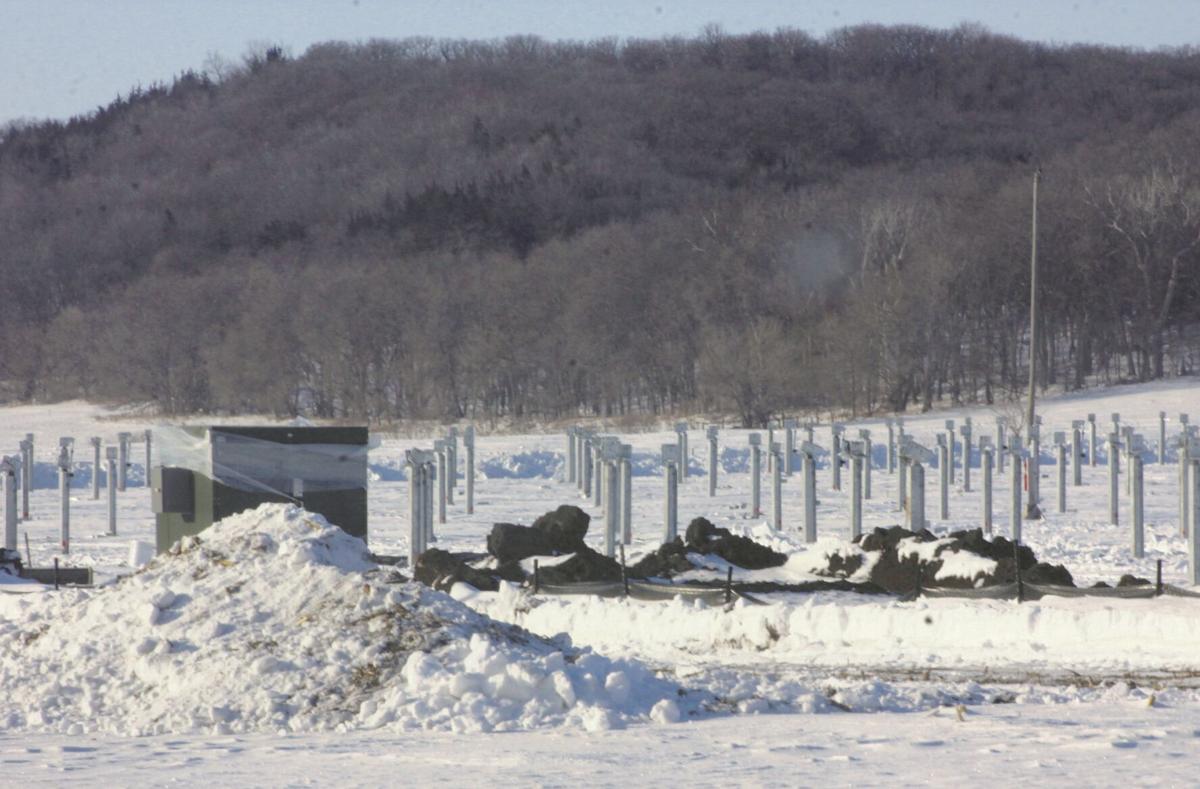 Wind, solar and natural gas generation technologies accounted for more than 98 percent of total capacity added to the electricity grid in the United States in 2018. Investment in U.S. electric-generating capacity in 2018 increased by 9.3 percent from 2017, driven by natural gas capacity additions.
According to 2018 data from the U.S. Energy Information Administration for newly constructed utility-scale electric generators in the United States, annual capacity-weighted average construction costs for solar photovoltaic systems and onshore wind turbines have continued to decrease. Natural gas generator costs also decreased slightly in 2018.
From 2013 to 2018, costs for solar fell 50 percent, costs for wind fell 27 percent, and costs for natural gas fell 13 percent.
The average construction cost for solar photovoltaic generators is higher than wind and natural gas generators on a dollar-per-kilowatt basis, although the gap is narrowing as the cost of solar falls rapidly. From 2017 to 2018, the average construction cost of solar in the United States fell 21 percent to $1,848 per kilowatt. The decrease was driven by falling costs for crystalline silicon fixed-tilt panels, which were at their lowest average construction cost of $1,767 per kW in 2018.
Total U.S. wind capacity additions increased 18 percent from 2017 to 2018 as the average construction cost for wind turbines dropped 16 percent to $1,382 per kW. All wind farm size classes had lower average construction costs in 2018. The largest decreases were at wind farms with 1 megawatt to 25 MW of capacity. Construction costs at these farms decreased by 22.6 percent to $1,790 per kW.
But the price tag remains astronomical. A 25-megawatt wind farm costs roughly $44.5 million using these figures.
Burt County is fast becoming a potential site for alternative energy development. A solar array currently is under construction north of Tekamah and Burt County Planning Commission has a public hearing set for 6:30 p.m. Monday night to take input on a proposed site southeast of the city.
Wind energy is becoming a controversial subject as proposed development sites in the center of the county make their way through the local regulatory system.
The Burt County Plaindealer is taking a look at the two energy sources, offering the advantages and disadvantages of each.
Wind
Proponents of wind power say it is a more cost-effective alternative energy source.Land-based utility-scale wind is one of the lowest-priced energy sources available today, they say, costing 1 to 2 cents per kilowatt-hour after the production tax credit. Because the electricity from wind farms is sold at a fixed price over a long period of time—over 20 years, for example—and its fuel is free, wind energy mitigates the price uncertainty that fuel costs add to traditional sources of energy.
Wind also creates jobs. The U.S. wind sector employs more than 100,000 workers, and wind turbine technician is one of the fastest growing American jobs. Northeast Community College in Norfolk was one of the first schools in the nation to offer a wind technology maintenance program to its curriculum.
According to the Wind Vision Report, wind has the potential to support more than 600,000 jobs in manufacturing, installation, maintenance, and supporting services by 2050.
New wind projects account for annual investments of over $10 billion in the U.S. economy.
It's a clean fuel source. Wind energy doesn't pollute the air like power plants that rely on combustion of fossil fuels, such as coal or natural gas, which emit particulate matter, nitrogen oxides, and sulfur dioxide—causing human health problems and economic damages. Wind turbines don't produce atmospheric emissions that cause acid rain, smog or greenhouse gases.
Wind is a domestic source of energy. The nation's wind supply is abundant and inexhaustible. Over the past 10 years, U.S. wind power capacity has grown 15 percent per year, and wind is now the largest source of renewable power in the United States.
It's sustainable. Wind is actually a form of solar energy. Winds are caused by the heating of the atmosphere by the sun, the rotation of the Earth, and the Earth's surface irregularities.
Wind turbines can be built on existing farms or ranches. Farmers and ranchers can continue to work the land because the wind turbines use only a fraction of the land. Wind power plant owners make rent payments to the farmer or rancher for the use of the land, providing landowners with additional income.
Among its challenges, wind power must still compete with conventional generation sources on a cost basis. Even though the cost of wind power has decreased dramatically in the past several decades, wind projects must be able to compete economically with the lowest-cost source of electricity, and some locations may not be windy enough to be cost competitive. Most turbines automatically shut down when wind speeds reach about 55 miles per hour to prevent mechanical damage. This reduces electricity production when high winds occur and people need continuous power from the wind. They also don't produce electricity if the wind is blowing too slowly. If the wind speed decreases by half, power production decreases by a factor of eight.
A good quality, modern wind turbine will generally last for 20 years, although this can be extended to 25 years or longer depending on environmental factors and the correct maintenance procedures being followed. Shorter lifespans lead to significant upgrades costs earlier in their usable life as compared to conventional power sources which have a much longer operational life.
Good land-based wind sites are often located in remote locations, far from cities where the electricity is needed. Transmission lines must be built to bring the electricity from the wind farm to the city. However, building just a few already-proposed transmission lines could significantly reduce the costs of expanding wind energy.
Wind resource development might not be the most profitable use of the land. Land suitable for wind-turbine installation must compete with alternative uses for the land, which might be more highly valued than electricity generation.
Turbines might cause noise and aesthetic pollution. Although wind power plants have relatively little impact on the environment compared to conventional power plants, concern exists over the noise produced by the turbine blades and visual impacts to the landscape. Wind plants can impact local wildlife. Birds have been killed by flying into spinning turbine blades. Most of these problems have been resolved or greatly reduced through technology development or by properly siting wind plants. Bats have also been killed by turbine blades, and research is ongoing to develop and improve solutions to reduce the impact of wind turbines on these species. Like all energy sources, wind projects can alter the habitat on which they are built, which may alter the suitability of that habitat for certain species.
Solar
Solar is a proven technology: The history of photovoltaic solar power began with scientific experimentation during the late 1800s. The first PV silicon cell capable of converting the sun's energy into power that could run electrical equipment was introduced in 1954, and by 1983, worldwide PV production exceeded 21 megawatts. Currently there are 47.1 gigawatts of total solar capacity installed nationwide, so it's safe to say solar is a proven technology and that its adoption as a source of clean energy will continue.
Solar works in many climates. Solar panels actually work more efficiently in colder temperatures because excessive heat can reduce output voltage. While more hours of direct sun exposure will indeed help a solar system generate more electricity, modern panels are quite efficient and can still generate energy in low light situations. Bottom line: solar works anywhere there is daylight.
Solar panels also have a long lifespan. Most industrial solar panels can last at least 15-20 years. Solar panels are quite durable and can withstand even harsh weather conditions, including the impact of hail up to one inch in diameter. They are also low maintenance. They lose a minuscule amount of efficiency each year, normally about half a percentage point. This means that after 20 to 25 years, the panels will still be working to around 85 percent of their original capacity
But solar can't work at night. While many solar companies are investing in battery storage solutions, the batteries are not quite yet a widespread option. Solar energy is mostly uused in real time.
While solar panels are not attractive, beauty is in the eye of the beholder, but today's solar panels are generally sleek and compact with a minimalist design.
Solar panels also are a manufactured product, and — as with any building process — there is an environmental impact, from the chemicals used to make the panels to the transportation and beyond; however, solar is one of the least-polluting forms of energy generation available.