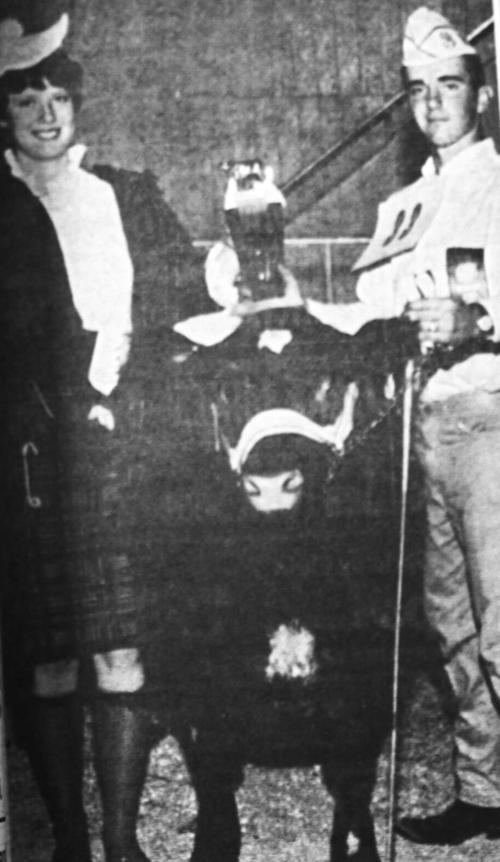 1 Year Ago (2020)
The Center for Rural Affairs, based in Lyons, has been awarded a $57,050 grant from the U.S. Department of Agriculture. The center plans to use the funding to provide training and technical assistance in Lexington, Madison, West Point and Nebraska City for small and emerging food businesses to assist Latinos who want to develop or start new business enterprises in their community.
5 Years Ago (2016)
Tekamah's Historic Bryant House is soon to become its own entity. Progress is being made toward incorporation and the granting of tax-free status for the Victorian-era home listed on the National Register of Historic Places. Burt County Museum officials announced last winter it intended to close the Bryant House because of the financial requirements restoration of the Bryant House will demand.
10 Years Ago (2011)
Receding Missouri River floodwater has left behind hundreds of acres of mud as well as severely rutted land. A variety of meetings and workshops have been held over the last few days to help property owners start the recovery process. Federal Emergency Management Agency also is bringing a mobile disaster recovery center back to Tekamah this week to help residents further the cleanup process.
20 Years Ago (2001)
Money from the country's leading public health problem could provide funding to solve public health problems in northeast Nebraska. Interest income from the nationwide tobacco settlement is expected to pay from multi-county public health departments throughout Nebraska. Burt County is offering to join Dakota and Thurston counties to form such a department.
30 Years Ago (1991)
Fundraising by Decatur's PIE organization netted Decatur Elementary 88 new books which were delivered to school librarian Janice Larsen Monday afternoon. The large variety of books will benefit all Decatur Center students as they participate in this year's reading program.
40 Years Ago (1981)
Bids for construction of Tekamah's new compactor transfer station were opened by city council members Tuesday evening, but a final decision on awarding a contract was delayed until Monday. Bill Jones, a representative of the Lincoln architectural and engineering firm Hoskins-Western-Sonderegger, Inc., asked for the delay to review the seven competing bids.
50 Years Ago (1971)
Enrollment figures in Decatur Public Schools showed 239 students attending classes, down by 38 from last year. School officials have noticed a rapid decline in the number of beginners over the last few years. This year's kindergarten class hit a new low with only eight students. The number was 12 last year and 14 the year before.
60 Years Ago (1961)
Sandra Stork, the 17-year-old daughter of Mr. and Mrs. Clyde Stork of Tekamah, won championship honors on her Shorthorn steer at the Nebraska State Fair last week. She also was silver medalist among the top three 4-H beef showmen in a field of over 200 exhibitors at the event in Lincoln. The 1961 Shorthorn Lassie, Stork is a member of the Jolly Jills and Arizona Boosters 4-H clubs.
70 Years Ago (1951)
The Tekamah Athletics emerged as champions of the Eastern Nebraska-Platte Valley baseball league. The Athletics went 14-2 on the year, losing only to Valley and Fremont. Members of the 1951 team include: Kenneth Christensen, manager and pitcher; Stan Hale, pitcher; Don Thomas, pitcher; Neil Connealy, pitcher and left field; Eugene Thomas, catcher; Whitey Fleharty, catcher and shortstop; Jerry Rainforth, first base; Tom Tobin III, first base and right field; Bernard LeMaster, second base; Leonard Jackson, shortstop; Francis Morrow, third base; Frank Korshoj, left field; Earl Graff, center field; Jack Bryant, center field; Dale McAllister, right field.
80 Years Ago (1941)
Four Burt County trainees: Vernon Fankhouser, Tekamah; Dorman Lewis, Decatur; John Martinson, Oakland; and Francis Gorgen, Ewing; are scheduled to leave Friday morning to fill the quota from this county for the Sept. 12 draft call. The county draft office has been notified of a new call for draftees on Oct. 7. Thirteen will be called that day. The quota will be filled by 12 registrants from the original draft and one from the July registration list.
90 Years Ago (1931)
Will Hartnell, son of Mr. and Mrs. Mac V. Hartnell of Tekamah, last week received word from the Curtis Publishing Co., which he represents in Tekamah, that he has been admitted into the League of Curtis salesmen. Will, 12, recently took over the position of Curtis representative here from Bobby Chatt.
100 Years Ago (1921)
Mrs. Grace Houston has been appointed librarian of the Carnegie Public Library here. She takes the place of Margurite Nesbit, who goes to Lincoln on the state library board.
The county fair will be held Sept. 27-30 inclusive at Oakland on new grounds near the park.