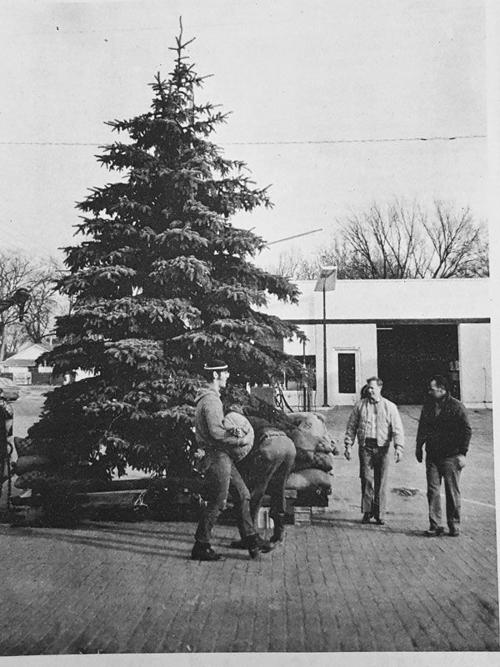 1 Year Ago (2019)
The Teammates chapter at Tekamah-Herman is looking for a few good men. The group is hoping to launch a second round of mentoring in January but needs more local men to match with local boys.
5 Years Ago (2015)
Many area residents braved the cold, wet conditions Sunday to witness the tree lighting at the Tekamah minipark.
The annual toy drive will be working with the area churches this year to help with bring some Christmas cheer to underprivileged children of Burt County.
10 Years Ago (2010)
The purchase of a Christmas decoration through annual Love Lights a Tree campaign at Blair's Memorial Community Hospital will give area residents an opportunity to honor a special person during the holiday season.
20 Years Ago (2000)
A damp and chilly day, typical for late November, greeted those who attended the Veterans Day celebration in Tekamah. A new monument dedicated to those lost in wars was unveiled at a ceremony on the courthouse lawn.
30 Years Ago (1990)
Many area EMTs trained on fractures, slings, splints and soft tissue injuries during recent training sessions. The classes helped the volunteers keep their training up to date in order to be able to properly help local residents when they are in need of the rescue squad.
40 Years Ago (1980)
Tekamah electric customers will be paying higher monthly rates in 1981 due to action taken by the Nebraska Public Power District.
50 Years Ago (1970)
Corn and small grain crops are virtually 100 percent harvested in Burt County.
Three Burt County operators were in a grim race with winter. Beet growers Claude Englert, Bob Tobin and Ed Morrow are battling the mud and weather to get more than 550 acres of beets out of the fields and into waiting railroad cars.
60 Years Ago (1960)
Dr. D.C. Scott, a practicing veterinarian for the past 55 years, is retiring from active practice. He graduated from veterinary school in 1905 and practiced in Omaha for 13 years before coming to Tekamah in 1938.
70 Years Ago (1950)
Vandals were generous with stolen Christmas trees. According to reports 100 trees were stolen from a truck that had broken down at the edge of Tekamah. The trees were then distributed to homes in town.
80 Years Ago (1940)
Alex Peters of Lyons was honored at Lincoln as one of the Nebraska Master Farmers of 1940. Peters operates a 531-acre farm near Lyons,. The farm is equipped with electricity and are among one of the heaviest users.
90 Years Ago (1930)
Sixty business are sponsoring the second annual Turkey Day Party, where 60 turkeys, chickens and other fowl will be given away. The committee in charge of the bird catching contest has divided the birds with 15 reserved for only women, 15 for only men and 10 for boys 10 for girls and then 10 for a free-for-all. The birds will be will thrown from the high tower on the athletic field so there will be equal chances for all to grab.