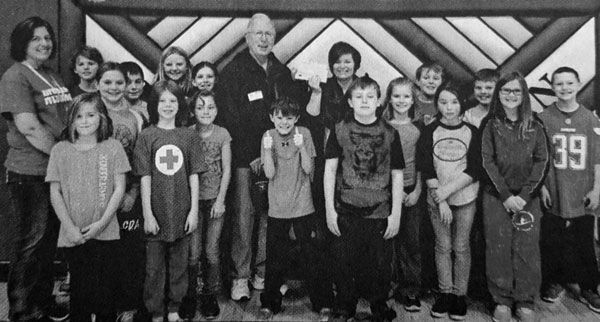 1 Year Ago (2019)
The Craig Alder Grove Parish honored Pastor Gregg Gahan with a coffee and cake reception after church to celebrate his 10 years of ordination.
John Wilson was recognized by Burt County Pheasants Forever Chapter with its outstanding conservationist award.
5 Years Ago (2015)
Tekamah-Herman celebrated several impressive state test scores, including the third grade achieving a higher score on NESA math than any previous third grade class in the district. The fourth grade improved scores in math and reading, proficiency rates in math were higher than ever. The sixth grade achieved higher reading scores than any previous sixth grade class, the 7th through the 12th grades also showed higher scores that the past. They had 31 students who had perfect scores.
10 Years Ago (2010)
Herman broke ground on a new fire hall after countless hours of paperwork to receive grant money. Donations are also accepted at any time even bushels of grain can be donated
After 45 years of service in various levels of the same office, County Clerk Illa Davis announced she is retiring at the end of the year.
20 Years Ago (2000)
A second annual Chamber of Commerce Holiday Light Parade with the grand marshal, jolly old Santa Claus, climbing aboard a float for the uptown tour.
30 Years Ago (1990)
Care packages for military personnel and their families will be sent to service families in the United States and abroad.
40 Years Ago (1980)
Eyeglasses will become a top priority for the Tekamah Lions Club as members are asking residents of the community to donate old discarded glasses.
50 Years Ago (1970)
Anhydrous ammonia gas leaking from a riverfront storage tank east of Blair forced evacuation of farm homes and closed schools between Blair and Tekamah.
60 Years Ago (1960)
More than 400 dairy farms representing NFO members from Iowa, Illinois, Minnesota, Missouri, Kansas, Nebraska and Indiana met at Ottumwa, Iowa, to establish aholding price on dairy products.
Christmas Seals funds to pay for medical teaching aids, nurse training and research were approved by the board of directors of the Nebraska Tuberculosis Association.
70 Years Ago (1950)
Young people will learn about their government the County Government Day. This is a comparatively new function in our state as well as our county. The State has observed it for two years, the county offices will have many students in-house this week.
80 Years Ago (1940)
Arnold Nordstrom owner of the Tekamah Gambles Store has leased the large stone building in the Mitton-Nesbit block formerly occupied by the Schafer & Peck Furniture store. That operation also will have a new location.
A southbound M & O freight train killed about 50 head of sheep owned by Howard Paine northwest of Lyons. It is thought they must have been spooked, broke through a fence and then laid down to rest on the tracks.
90 Years Ago (1930)
Boy Scouts are now overseeing the traffic control in the school zone each day to save children from possible injury.
The fifth district of Nebraska State Medical Association held its 24th annual meeting in Oakland with attendance of about 40 physicians. A program of scientific nature was given during the afternoon meeting.