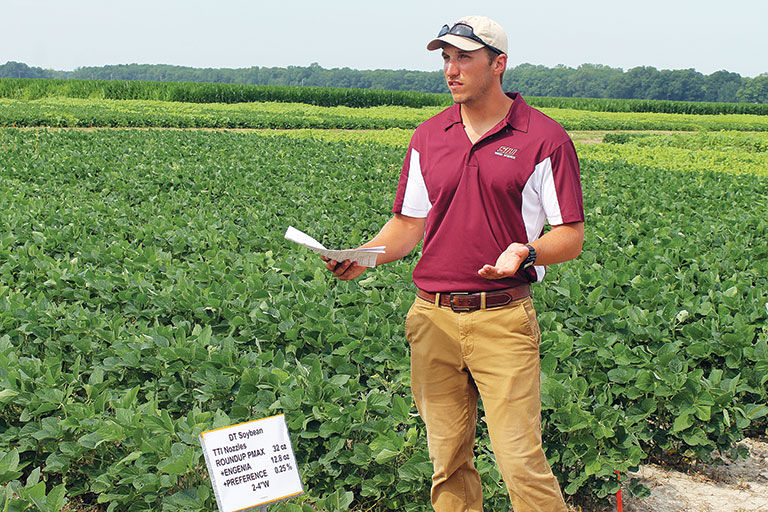 BELLEVILLE, Ill. — The spread of Palmer amaranth in the Midwest may be partly the result of good intentions gone bad.
Escapes from seed bags used in conservation programs are one component in the increasing presence of the troublesome weed, Southern Illinois University weed scientist Karla Gage told growers at a field day here.
"It's a seed contamination issue, and it is happening throughout the country," Gage said. "Iowa is particularly hard hit. It is now in areas there that did not have Palmer amaranth."
The weed seeds are included in collections of grass and broadleaf plant seeds intended for pollinator plantings, cover crops and CRP programs. Gage urges growers, landowners and conservation officials not to curb such plantings.
"This is unfortunate, because these programs are wonderful in their intent," she said. "There are new tools available. You don't have to give up on these programs."
She recommends ordering seeds early enough to send some to a laboratory. Since amaranth seeds are tiny, they gather at the bottoms of bags.
It's no surprise that seeds of obnoxious weeds are mingled with favorable seeds, she said.
"Seed bags were labeled 0 percent weed seed. But obviously, they're not," she said. "... There is always going to be some kind of contamination. It should say 0.01 or 0.001."
Meanwhile she and her colleagues are busy with the outbreak of the weed increasingly getting the attention of farmers.
"Palmer amaranth is absolutely consuming the field of weed science right now," she said. "The large majority of work is devoted to this plant."
The makeup of the plant is virtually changing before their eyes, taking on the form of crops in continuous rotation.
"You get tall plants from continuous rotation of tall crops and short plants from continuous rotation of shorter crops," Gage said. "When you take those seeds from that continuous cropping over time, and you remove all the environmental components, then you can see the genetics. These are genetically taller plants now, and these are genetically shorter plants."
While resistance to glyphosate has been well documented, strains are also shedding vulnerability to PPO inhibitors such as Blazer and Cobra.
"We confirmed PPO resistance last year in Illinois and also in Missouri," Gage said. "This past spring, the University of Illinois published two new mutations in a different region of that gene. We're now looking at three potential genetic alterations that can cause PPO resistance."
This past year, Arkansas confirmed a resistant PPO inhibitor to pre-emergence herbicides.
"In Illinois this is important for us, because right now our PPO-inhibitor resistance is to post-emergence applications, and our (pre-emergence herbicides) are still working," Gage said. "This is a cautionary tale from Arkansas. If you're using a pre-emergence program that's heavy on PPOs and you have escapes, you need to control those escapes."
There have also been reports of resistance to Liberty and glufosinate, herbicides used in the LibertyLink system.
"I have yet to see true resistance documented," Gage said. "But work out of Arkansas has found potential tolerance to Liberty in Palmer amaranth populations."
Research into tolerance to dicamba at SIU has mirrored that done at Purdue University.
Gage urged producers not to give up on cover crops, though some fields this year suffered from stand loss and required replanting. A variety of methods, both cultural and mechanical, can be utilized in an integrated management program.