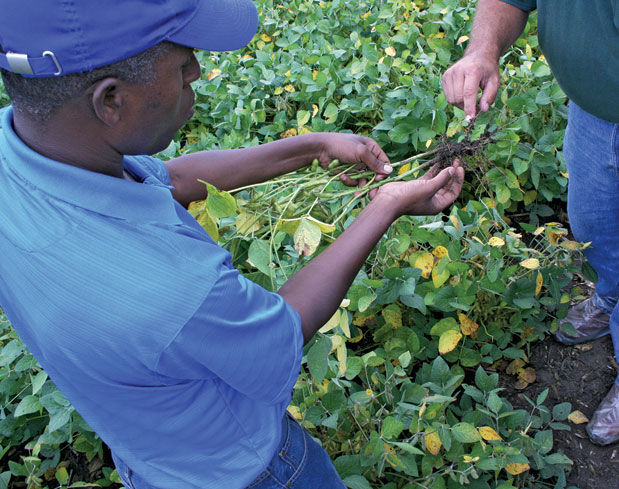 After harvest, if soybeans come out with inexplicably low yields and the field hasn't been tested for the parasitic soybean cyst nematode (SCN), fall is a good time for a soil test, experts say.
Populations of the tiny roundworm are at their height in the fall, and that's when it's easiest to find the little white specks living in the soil.
SCN soil tests are free year-round, though, offered at the South Dakota State University diagnostic lab and paid for by the soybean checkoff through the South Dakota Soybean Research and Promotion Council.
SCN can cause yield losses, and SDSU researchers are finding that it can be a pathway for more disease problems, including root rot.
It first was found in South Dakota in 1995 and currently is in 29 counties. The southeastern corner of the state has been hardest hit. SCN most recently was detected in Clark and Campbell counties.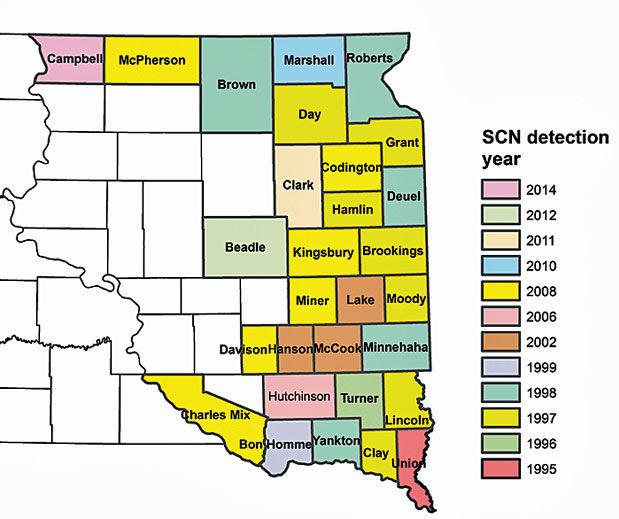 "It's a really big problem across the state," SDSU Extension plant pathologist Emmanuel Byamukama said.
Once a field is infected, there's no way to get rid of SCN. It reproduces quickly and in high numbers, and it can survive in the soil without a host plant for as much as 10 years. Even South Dakota winters don't kill it.
Better safe than sorry
In an infected field, the soybean plants might look healthy.
"Even when you don't see any symptoms, test," Byamukama said.
He gave tips on how best to manage SCN on Sept. 7 at a test plot south of Hurley, S.D.
In the center of a field there, he had planted two varieties of soybean seeds – one resistant to SCN and one without the genetic traits that make it resistant. On each, he is testing seed treatments meant to help battle SCN.
Some of the seed treatments offer a pesticide to kill the nematode and a fungicide that helps protect the plant from other soybean ills such as sudden death syndrome. Others have bacterial controls meant to stop the nematode from completing its life cycle.
Digging up a resistant though untreated plant, Byamukama had to hunt to find a few white specs along the root. SCN on the untreated susceptible variety was easy to spot.
Managing SCN takes a combination of seed treatments and resistant varieties, especially if populations are high. Those tools, along with crop rotation, help keep numbers in check.
Byamukama said that seed treatments help to improve yields, but it seems they won't knock down the population of SCN. He'll be analyzing SCN numbers in the test plots after harvest and hopes to have recommendations for growers before they buy their seed next spring.
When taking a soil sample for SCN, Byamukama suggested using half of the soil pulled when doing a fertility test. They both require 6-inch samples.
The soil sample should come from the spots in the field most likely to have high SCN populations. That would include the entrance to the field, where SCN often is spread by equipment caked with contaminated soil from another field.
Along the fence line is another hot spot. Equipment can leave muddy tracks there, and the soil, along with any SCN, can blow into a new field to take up residence there.
"It can hitch a ride on anything that moves soil," Byamukama said.
Soil samples also could come from low spots in a field or persistently low-yielding areas.
South Dakota Soybean funds between 1,200 and 1,350 SCN soil sample tests per year.
For more information about SCN soil tests and to get a free sample bag, contact the South Dakota Soybean office at 605-330-9942.