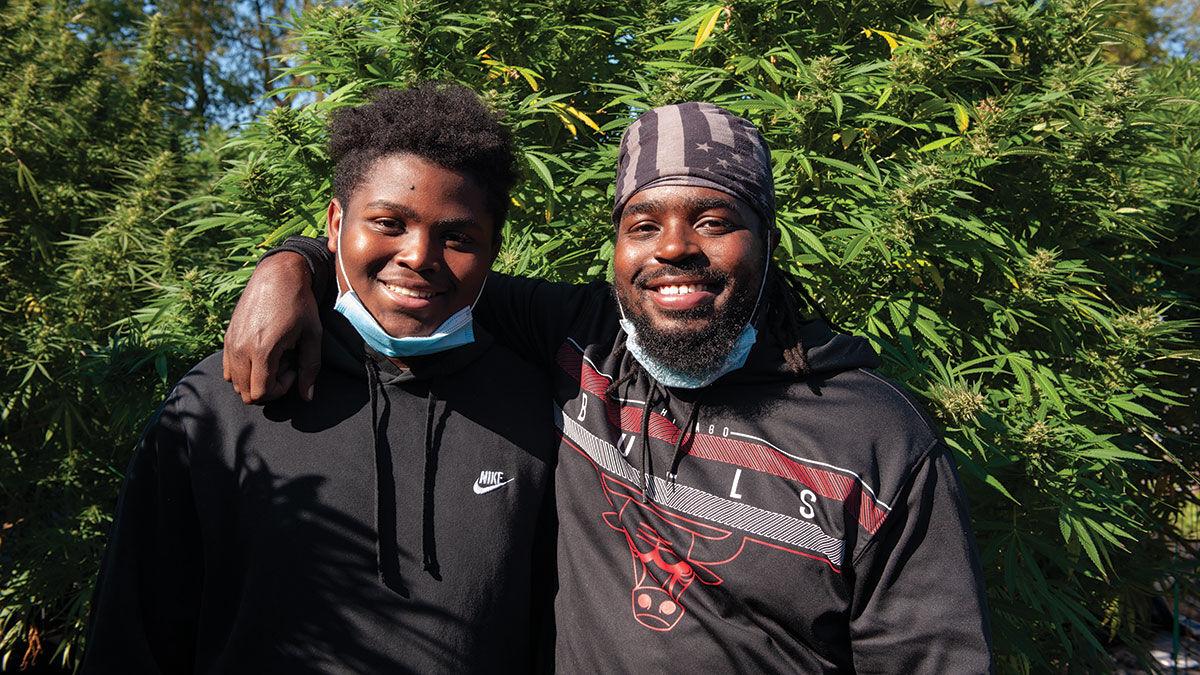 Some new hemp growers in the Midwest disappear as quickly as a puff of smoke. But others, including Demarkius Medley, continue to grow despite a variety of challenges.
Industrial hemp has become the most profitable part of his small urban farm in western Illinois.
"There is a market for craft-style growers," he said.
Comparable to the demand for local products for craft beers, hemp processors favor locally grown ingredients, said the owner of Greenlords Inc. in Galesburg, Illinois.
While 43,000 farmers grow soybeans in Illinois, Medley is among only 483 licensed hemp growers in the state in 2021, according to the Department of Agriculture. The number of growers is down from 2019 when there were 646, according to Krista Lisser, Illinois Department of Agriculture public information officer.
Even so, there is more hemp than the processors and markets demand right now.
An important part of his success is having a processor, Indo Hy Organics in Chicago, Medley said.
"I think that the hemp market is over-saturated, and less farmers are growing this year. I think a lot of farms lost a lot of money growing it," Medley said.
It hasn't been easy so far. In the few years he has been in business, he has dealt with both police and thieves mistaking his crop for marijuana.
In September 2019, as he was close to harvesting his first industrial hemp crop, he worked on his Knox County property in the wee hours of the morning, wearing a headlamp in the darkness.
"I had a day job too, so I worked here before I left," he said.
A police officer arrived responding to a trespassing call. Medley explained that he was on his own property and was working on his hemp crop.
"He didn't believe I was a farmer with black dreadlocks," Medley said. "A bunch of cars starting coming in. They had me surrounded."
Police demanded his license for growing hemp. He couldn't find it. Luckily, his neighbor, who worked for Medley, had a copy of the license.
"They believed him. He was white," Medley said.
A Facebook post of the story got more than 20,000 views. In a year when racial tensions were high, Medley received a lot of attention as a result of that incident.
One of the good things that came out of that stressful experience was finding his processor and meeting others in the industry. It also improved awareness of hemp growing and created a new picture of what a farmer could look like, he said.
The next time police were at his 4-acre urban farm a month later, Medley called them.
In mid-October 2019, Medley's crop was mistaken for marijuana again. This time by thieves. Initial police reports estimated that more than $20,000 worth of plants were stolen.
Medley's reaction was to put up fencing, add guard dogs and grow some of his products indoors. As a plus, plants grown indoors are higher quality and get better prices, he said.
Despite the disruptions, Medley said he would grow marijuana if he received a license to grow it.
"It would be a great opportunity for myself and my family," he said.
Medley said he would like to inspire others, just as a Black farmer growing fish and food in Wisconsin inspired him.
Medley grew up in Chicago. He didn't take any agricultural classes, and fell into his career as a result of some life changes. In 2011, he had back surgery to remove a tumor related to spina bifida, which required a long recovery.
During that time, he visited an urban farm in Milwaukee. The hydroponic farm growing fish and food in a loop transformed that community, he said. It also inspired Medley that a Black man operated the farm.
"I was really impressed," he said.
It prompted him to search his roots. He discovered that both his mother and grandmother picked cotton in Mississippi.
"My mom and grandma were sharecroppers," he said.
Knowing he had a generational link to farming inspired him more.
"My son loves it so much. He wants to go into it full time when he gets done with school," Medley said of his 17-year-old son, Demarkius Jr., who helps on the farm.
Medley shared his story with people attending an Illinois Stewardship Alliance virtual event. The alliance hosted "The Dish" in October as part of its annual fundraiser.
His connection with the group started in 2019 as the alliance worked to promote growth of hemp in Illinois.
In 2018 the Industrial Hemp Act went into effect, expanding opportunities for growers and processors, and in April 2019, the rules became effective. Medley worked with Liz Rupel, the alliance's policy organizer on the topic, said Liz Moran Stelk, executive director of Illinois Stewardship Alliance.
Stelk learned more about his story after "he was hassled by law enforcement officers," she said. Such events remind Stelk the alliance's role is not only to lobby for favorable policy, but also to follow its implementation. It is about educating the people who administer the laws. Just as county health boards must have information when cottage food laws change, other officials need to get updates on crop laws.
"We don't want farmers to be harassed," she said.
Medley and others with compelling stories help bridge those gaps.
"He's building a farm business in an unexpected place," she said.