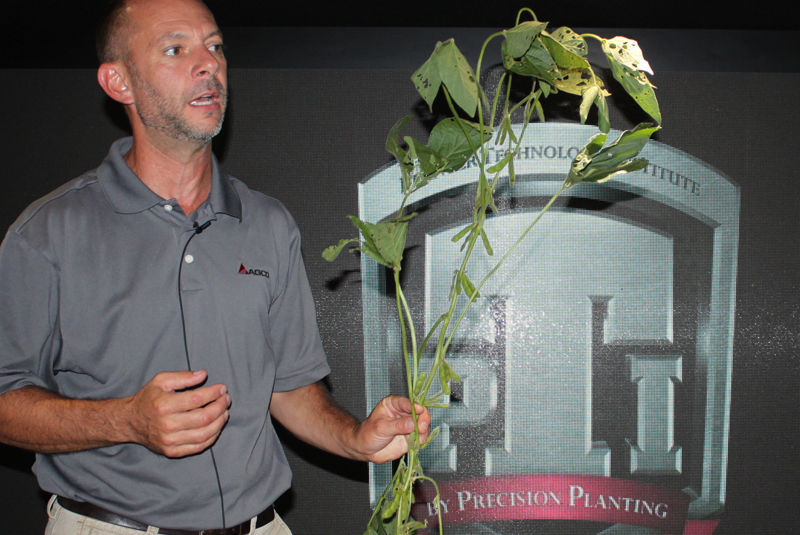 HANSKA, Minn. – As farmers begin soybean harvest, it's time to think about things to do differently in 2017.
We often think about seed variety, genetics, traits, seed treatments, fertility, and chemical applications to improve yields.
Farm equipment – and correctly using equipment – also has a huge role in final yield.
Recently, Darren Goebel, AGCO director of Global Commercial Care, spoke at an AGCO Crop Care Field Day near Hanska in Brown County, Minn. The field day was set up to demonstrate how various mechanical factors – such as a consistent planting depth – affect yield potential.
He spoke primarily about the roles of planting date and row spacing in determining soybean yield.
Goebel pointed out that yield is divided into three components – total number of pods produced per plant, number of beans produced per pod, and the weight of each bean.
Getting the soybean seed into the soil as early as possible allows the plant to maximize its height, number of nodes, leaf area and yield potential.
"There have been a lot of yield results that if you plant soybeans about the same time as corn, you can get another 4-5 bushel advantage planting soybeans – that's just because you give this plant a longer period of time to grow, to put on branches, to put on places to grow pods," he said.
The challenge in Minnesota is the short growing season, with the potential for frost in the spring and fall.
In Brown County, there is a 50 percent chance of 28-degree frost on April 21, although in 2016, Minnesota experienced an unusual 30-33 degree frost on May 14-15. In general, 2016 frost damage was negligible as the soybeans were still below ground.
Goebel suggested that later planting dates for soybeans call for higher seed populations. If farmers are generally planting 140,000 seeds per acre, then that population can be increased by 10 percent per week beginning in late May.
He also suggested that soybeans would yield 4-5 bushels per acre more when planted in 15-inch-rows compared with 30-inch-rows. Yields increase by another 1-2 bushels when planted on 7.5-inch rows compared with15-inch rows.
Minnesota farmers have stayed with 30-inch soybean rows because of disease pressure, specifically white mold, but the verdict is still out on whether the wider row spacing reduces disease pressure.
Narrower rows give each soybean plant more space and more access to sunlight because there are fewer plants per row. This can result in more branching and greater yield.
"Most people would agree if you go to 15 inches, you get more lateral branching, you get canopy faster, and you'll also shade out weeds quicker," he said.
During harvest this fall, he encourages farmers to evaluate how their equipment affects yields and productivity.