Wheat is no longer Canada's king crop.
Farmers planted more canola this year for the first time since Canada developed the oilseed used to make the cooking oil used in everything from salad dressing to french fries.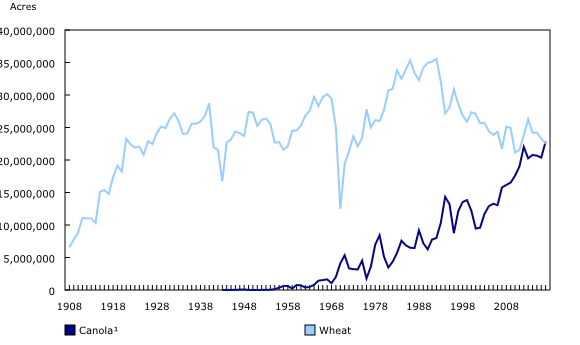 Canola planting rose 12 percent to a record 22.8 million acres from a year earlier, Statistics Canada data showed June 29. Wheat seeding fell 3.7 percent to 22.4 million acres, trailing the 23.2 million the government forecast in April and the 22.8 million expected by analysts in a Bloomberg News survey.
After the data was published, spring-wheat futures jumped by the exchange limit in Minneapolis, extending a rally to a three-year high.
Farmers in Saskatchewan, the province whose flag is emblazoned with a wheat sheaf, cut back on the grain used to make bread. Planting declined 6.9 percent to 11.3 million acres, the fourth straight annual decline. Canola seeding rose 14 percent to a record 12.6 million acres.
"The weather challenges in Saskatchewan and Alberta probably caused a lot of growers to switch from wheat to other crops," said David Reimann, a market analyst at Cargill Ltd. in Winnipeg, Manitoba. "Canola is easier to seed in wet conditions."
On the Minneapolis Grain Exchange, spring-wheat futures for September delivery jumped 7.2 percent to $7.5925 a bushel at 9:48a.m. New York time. Earlier, the price jumped by the limit of 60 cents to $7.68, the highest for a most-active contract since May 15, 2014. The grain has surged 41 percent this year amid adverse weather in the northern U.S.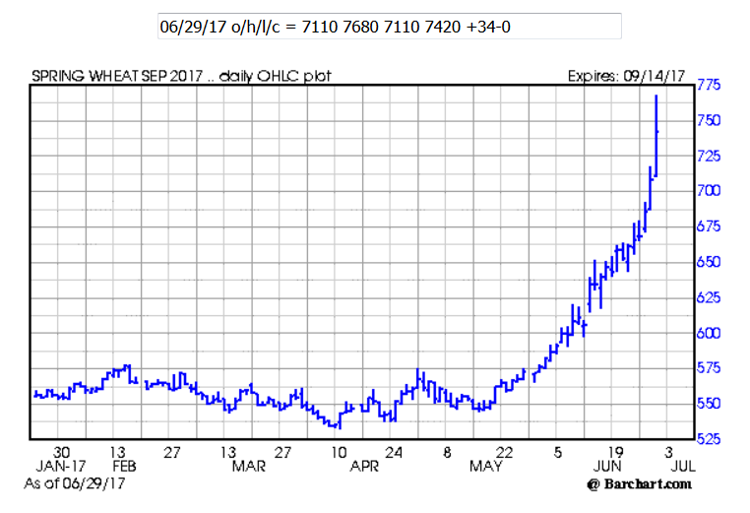 Rain delays
Seeding in parts of Canada's prairies was delayed this spring after fields in some areas got too much rain. Planting in northern regions fell two weeks behind schedule after precipitation in April and May was as much as four times the average. In contrast, parts of southern Saskatchewan and Manitoba had less than 60 percent of average precipitation since April 1, according to the nation's agriculture ministry.
Development of 40 percent of Saskatchewan's cereal crops is behind normal, according to government reports.
Canola is "one of Canada's greatest crop inventions" and began with 3,200 acres planted in 1943, Statistics Canada said in describing changes before the country's 150th anniversary on July 1. Futures on ICE in Canada have dropped 3.2 percent this year.
The survey of 24,500 farms for the latest data was taken from May 26 to June 12, and the final 2017 tally will be released on Dec. 6.