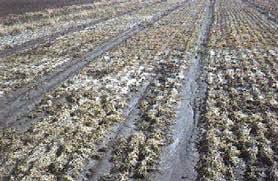 Mike Ammeter barely received a drop of rain on his Alberta farm all summer. Now, wet and snowy weather has kept him from harvesting his crops for five weeks.
"There's a lot left to be done," said Ammeter, 58, who hasn't been able to harvest any of the 1,300 remaining acres of canola, wheat and barley that's sitting under 1 inch of snow on his farm west of Red Deer, Alberta. "The wheat is going to be downgraded for quality. Those losses are already done."
It's unfortunate timing for Canada, one of the world's top wheat suppliers and the biggest canola exporter. The U.S.-China trade war and production problems for Russia and Australia are creating an opening for Canada to grab more market share in the global crop trade. While the nation's wheat exports are running ahead of last year so far, further harvest delays could impede some of those sales.
The global wheat issues drove December futures in Chicago up 7.3 percent this year to close at $5.1725 a bushel on Friday.
Still, investors are wary the gains may not last as Russia hasn't curbed exports and Canada's shipments have yet to significantly slow. Speculators held a net-short position, or the difference between bets on a price increase and wagers on a decline, of 16,885 futures and options in the week ended Oct. 9, according to U.S. Commodity Futures Trading Commission data published Friday.
Those bearish bets could end up squeezing hedge funds if weather problems continue. Canada's harvest delays are now causing a backlog in exports as ships are sitting idle in Vancouver waiting for grain.
"Vessels arriving now were booked back in early August when no one would have guessed we'd be getting this kind of weather," said Mark Hemmes, president of Edmonton, Alberta-based Quorum Corp., a company hired by the federal government to monitor Canada's grain transportation system. "Not a good start to the shipping season."
In Saskatchewan, the weather has slowed harvest across much of the region and stopped it altogether in northern areas, the province's agriculture ministry said in an Oct. 10 report. Many crops are coming out of fields too damp and need to be placed in dryers, exacerbating delays.
It's a similar situation in neighboring Alberta, where 47 percent of major crops have been harvested, trailing the five-year average of 82 percent, the province's agriculture ministry said Friday in a report.
"It's not unusual to have this kind of weather, but it is for it to last this long," said Norm Hall, a farmer and vice president for the Canadian Federation of Agriculture.
Any wheat that's left out in farmer Ammeter's field will probably end up declining to a lower grade or be sold as feed after some plants were flattened by snow. Declines for crop quality could lower his revenue by thousands of dollars, while his costs could go up as he'll have to spend more on fuel to dry the grain once it comes off the field, Ammeter said.
"It's definitely a stressful time for farmers," said Daryl Fransoo, who has yet to harvest 4,400 acres of canola on his farm 50 miles north of North Battleford, Saskatchewan. "There's a lot of guys that are down in the dumps right now."