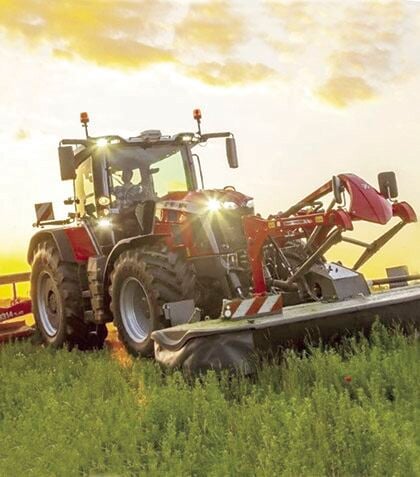 AGCO Corporation announces a new era of farmer-focused technology and straightforward dependability of the Massey Ferguson 8S tractor.
The 8S features the exclusive Protect-U design, creating a 9.4-inch gap between the engine and the cab, reducing noise and vibration, making it one of the quietest cabs on the market. Because the engine is separated away from the cab, it increases airflow which contributes to better engine performance through improved cooling capabilities. It also contributes to heat insulation for the cab.
The 7.4-liter Tier 4 Final AGCO Power engine delivers performance and stability in the 8S Series tractors. The 8S is available in two transmission options. The Dyna E-Power, the new Dual-Clutch transmission designed by Massey Ferguson for the 8S range, provides smooth shifting and speed changes with no torque interruption and superior power transfer to the ground. The Dyna-VT, Massey Ferguson's CVT transmission, allows operators to select the exact speed and engine RPM needed for the job at hand.
For more information visit www.masseyferguson.us