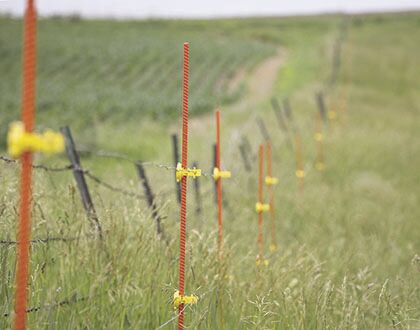 EZ Step Products is an innovative and versatile post support system designed for farmers, ranchers, landscapers and gardeners. All EZ Step Products are built and designed to withstand extreme weather and wind conditions.
EZ Step-In Post uses include fencing, livestock containment, plant support, trail marking, and a multitude of other applications – season after season. Two 45-degree cutting edges penetrate the terrain with ease, while the beefy, 4-inch anchor platform makes it easy to step the post into the ground. Unlike traditional post support systems, EZ Step-In Post does not require digging, hammering, or pounding.
Heavy-Duty EZ Ring, made of military grade polymer with UV-stabilizer, easily attaches to the EZ Step-In Post, or your existing post support (between 3/8-inch and 3/4-inch in diameter). An adjustable D-Lock design, secures the EZ Ring in place.
For more information, visit www.ezstepproducts.com; e-mail info@ezstepproducts.com; phone 507-216-7818.