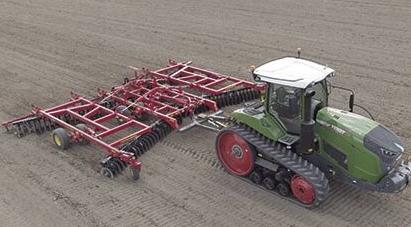 Fendt, a brand of AGCO Corp., introduces the Fendt 900 Vario MT Series track tractors. The 900 Vario MT tractors deliver a high level of track tractor performance, ride comfort and operating efficiency.
The Fendt 900 Vario MT is available in three models from 380 to 431 hp, powered by AGCO Power 9.8-liter diesel engines equipped with concentric air systems (CAS). The tractors feature the convenience and smooth, seamless speed control of the Fendt VarioDrive continuously variable transmission (CVT), combined with Fendt iD low-rev engine operating technology that delivers 1,500 foot-pounds of torque at 1,100 rpm, for maximum torque and great fuel efficiency. All systems, including the hydraulics and 2-speed PTO, run at lower engine rpm for lower fuel costs and reduced engine wear.
The Fendt-exclusive dual-pump, dual-circuit hydraulic system delivers up to 116 gpm of hydraulic oil flow. This unique two-pump system allows operators to connect implements according to oil pressure and flow requirements, high or low. It keeps full capacity on reserve until the tractor is paired with an implement with high hydraulic demands or until the connected implement requires additional hydraulic power. The tractors also are available with a single hydraulic pump providing 58 gpm at 1700 rpm.
Fendt 900 Vario MT tractors are equipped with a standard Category 3/4N three-point hitch with 19,000-pound lift capacity and a 2-speed 1000 and 1000E PTO shaft. The tractors offer standard gauge settings from 72 to 88 inches, wide-gauge settings of 72 to 120 inches and three track styles in six widths from 16 to 34 inches.