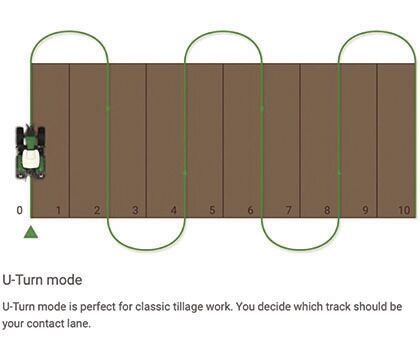 AGCO's latest smart farming automation, the Fendt TeachIn (TI) Turn Assistant, turns the tractor and its implement hands-free at the field's headland according to a precalculated turning process.
TI Turn Assistant is part of Fendt TI Headland, the advanced headland management bundle launched in 2020. Fendt TI Headland automatically triggers a series of work steps to prepare the tractor and implement for the turn, including slowing down the tractor and raising the implement before it turns. Fendt TI Headland executes the programmed turn precisely every time, helping to reduce operator fatigue and the chance of error during headland turns.
Fendt TI Turn Assistant features two ways for operators to turn the tractor at the end of a field. Manual start requires the operator to push a button before the tractor starts to turn. Automatic start maps out all the headland turns in the field in advance and makes the turns automatically, without any operator assistance. Fendt TI Headland is currently available on tractors equipped with Fendt Guide on the Vario terminal. Older Fendt tractors with the Profi+ trim package and VarioGuide can be upgraded to Fendt Guide with a visit to a local Fendt dealership.
For more information visit Fendt.com/us.