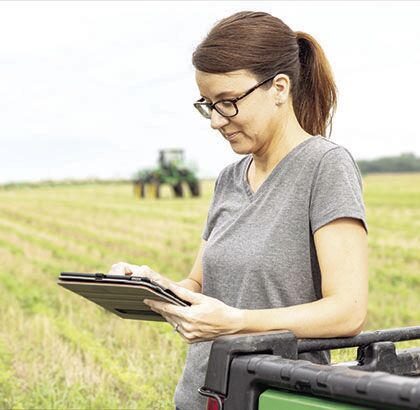 John Deere is now offering customers JDLink connectivity service at no additional charge, making it easy for customers to connect machines and to stay connected. The change allows customers to quickly activate the JDLink connectivity service and manage their connected machines within their John Deere Operations Center account, either on the web or the mobile app. Connectivity subscriptions or renewals are no longer required so customers can simply activate the service and leave it on.
After logging into Operations Center, customers will be prompted and asked if they want to activate the service. After completing a few easy steps, JDLink connectivity service will be enabled to provide simple, seamless, continuous wireless service and make it possible for customers to monitor their machines and their farm anytime from anywhere.
Customers with existing JDLink subscription service agreements can allow them to remain in place until they expire. However, customers can convert existing subscriptions to the new connectivity service at any time, at no additional charge.
Specific service, feature, and options available to customers may vary depending on their location and the machines. For more information about JDLink, visit the John Deere website, or a local John Deere dealer.