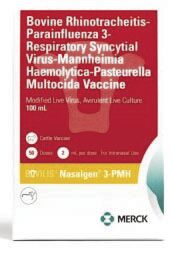 Merck Animal Health introduced Nasalgen 3-PMH, an intranasal vaccine that protects beef and dairy cattle from the five most common pneumonia-causing viral and bacterial pathogens. The vaccine provides early, broad-spectrum respiratory protection in a needle free, animal- and BQA-friendly administration.
Nasalgen 3-PMH offers six-and-a-half-month duration of immunity (DOI) against infectious bovine rhinotracheitis (IBR), an 11-week DOI against bovine respiratory syncytial virus (BRSV), three-month DOI against parainfluenza 3 (PI3), as well as a four-month DOI against Mannheimia haemolytica and Pasteurella multocida. Nasalgen intranasal vaccines are unique because they are delivered to mucosal surfaces in the nose – an area loaded with immunologically active tissues – to avoid interference from maternal antibodies. Also, intranasal vaccines are also less stressful on calves compared to similar injectable vaccinations.
To learn more visit www.merck-animal-health-usa.com/species/cattle.