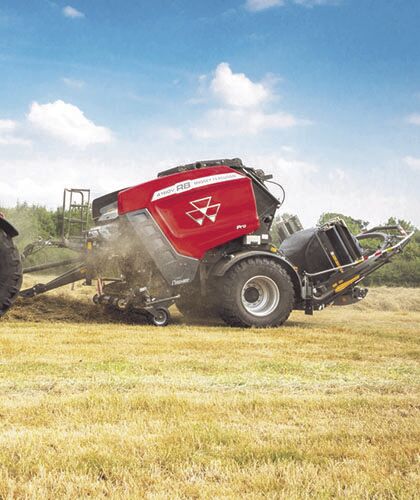 With the new Massey Ferguson RB 4160P Protec combo baler from AGCO, producers can focus on harvesting forage at optimum condition. The baler features an integrated bale-wrapping unit, allowing producers to harvest and ensile high-moisture forages in one simple process.
The RB 4160P combines features found on the company's RB Series silage balers with an integrated bale-wrapping unit. This allows growers to produce high-quality "baleage," ideal for both dairy and cow-calf operations. Onboard net wrap and film capacity allows an operator to wrap up to 280 bales in one trip to the field.
With the exception of replenishing net wrap and film, all aspects of harvest are controlled through the in-cab monitor. Operators can easily remedy issues such as pickup plugging without leaving the cab, thanks to HydroFlex Control, the baler's hydraulically controlled floating floor. More time in the seat increases productivity.
Like other RB Series balers, the RB 4160P is equipped with a cam-less pickup. Fewer moving parts makes the baler quieter and more reliable. The compact wrapping unit also folds for transport and storage.
For more information visit masseyferguson.us.