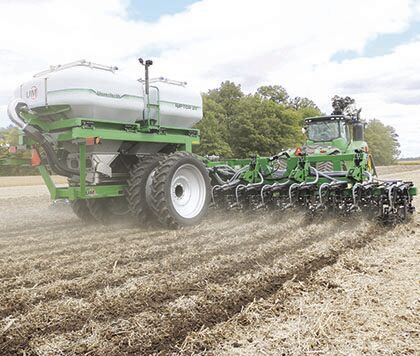 With evolving farming practices, technology and increased demand for in-row fertilizer placement, Unverferth Mfg. announces the introduction of the Raptor strip-tillage tool. This versatile tool tills a strip of soil for planting, while leaving between-row residue intact to help increase organic matter and sequester carbon.
Raptor strip-till tools are available in pull-type 12 or 16 row models with 30" spacings or 3-pt. mounted units in 6- 8- and 12-row models with 30", 36" or 38" row spacings. Pull-type models are constructed with a heavy-duty 7" x 7" toolbar for reliability and feature a narrow folded width of 13'6" for easier transport and storage. The toolbar features 15 degrees of upward and 5 degrees of downward flex to follow uneven terrain. Mounted 3-pt. MT models are manufactured with heavy-duty double-wall steel with 6" x 6" rear mounting bar for long-term operation. A flex-frame is available as an option for 12-row 3-pt. MT models.
Pull-Type models can be equipped with liquid or dry fertilizer distribution systems for one-pass tillage solution.
For more information visit umeqeuip.com or unverferth.com.